Yu enters final year of first MLB contract
Rangers anticipate full-strength Darvish in 2017, interested in extension beyond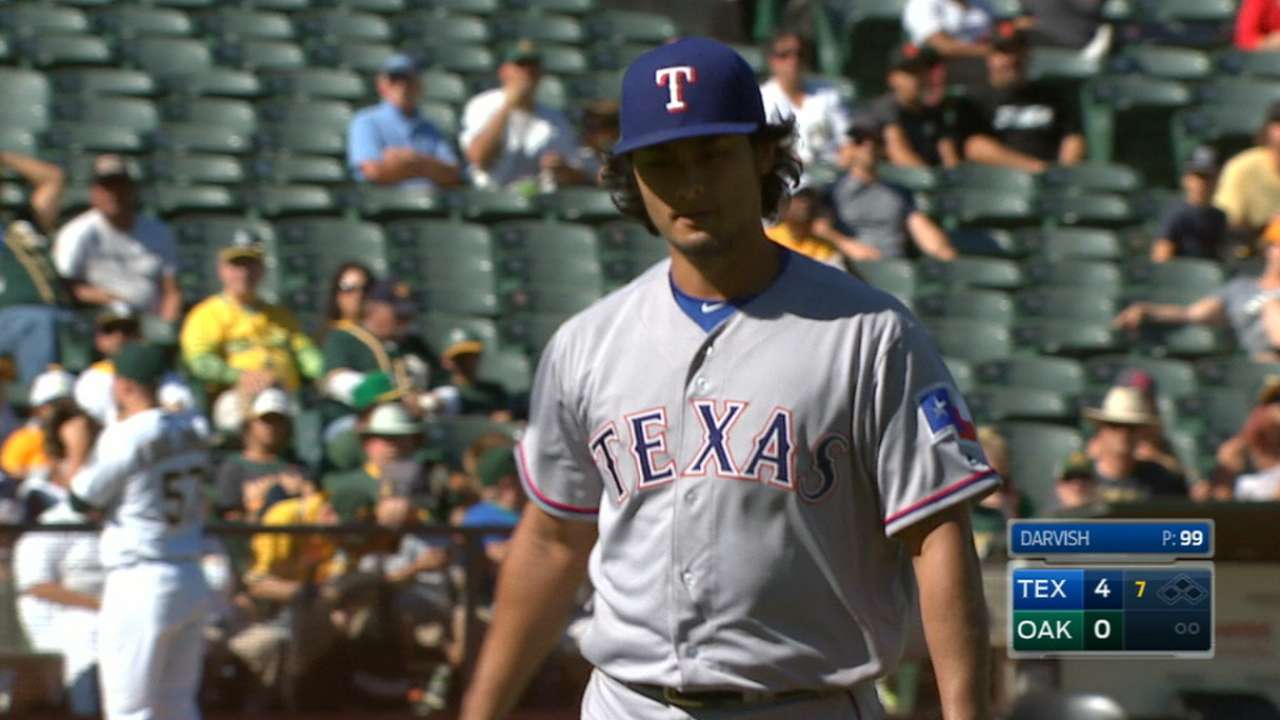 ARLINGTON -- The clock is winding down on Rangers pitcher Yu Darvish.
The Rangers just celebrated the five-year anniversary of submitting the winning bid on Darvish after he was posted by the Nippon Ham Fighters in Japan. The Rangers' bid, announced on Dec. 19, 2011, was approximately $51.7 million, and they signed Darvish for six years and another $56 million.
Their $107 million investment is about to expire. Darvish will become a free agent after the 2017 season if the Rangers don't sign him to a contract extension.
General manager Jon Daniels has made it clear the Rangers are interested in doing that, but he has been putting together the 2017 team. The Rangers will likely broach the subject with Darvish's representatives after the new year or in Spring Training.
There is a strong chance that it will take more than $107 million to extend Darvish, 30, who is 46-30 with a 3.29 ERA in 100 starts for the Rangers while missing all of the 2015 season recovering from Tommy John surgery.
Darvish made 17 starts for the Rangers last season, going 7-5 with a 3.41 ERA. He allowed five runs in five innings in a 5-3 loss to the Blue Jays in Game 2 of the American League Division Series.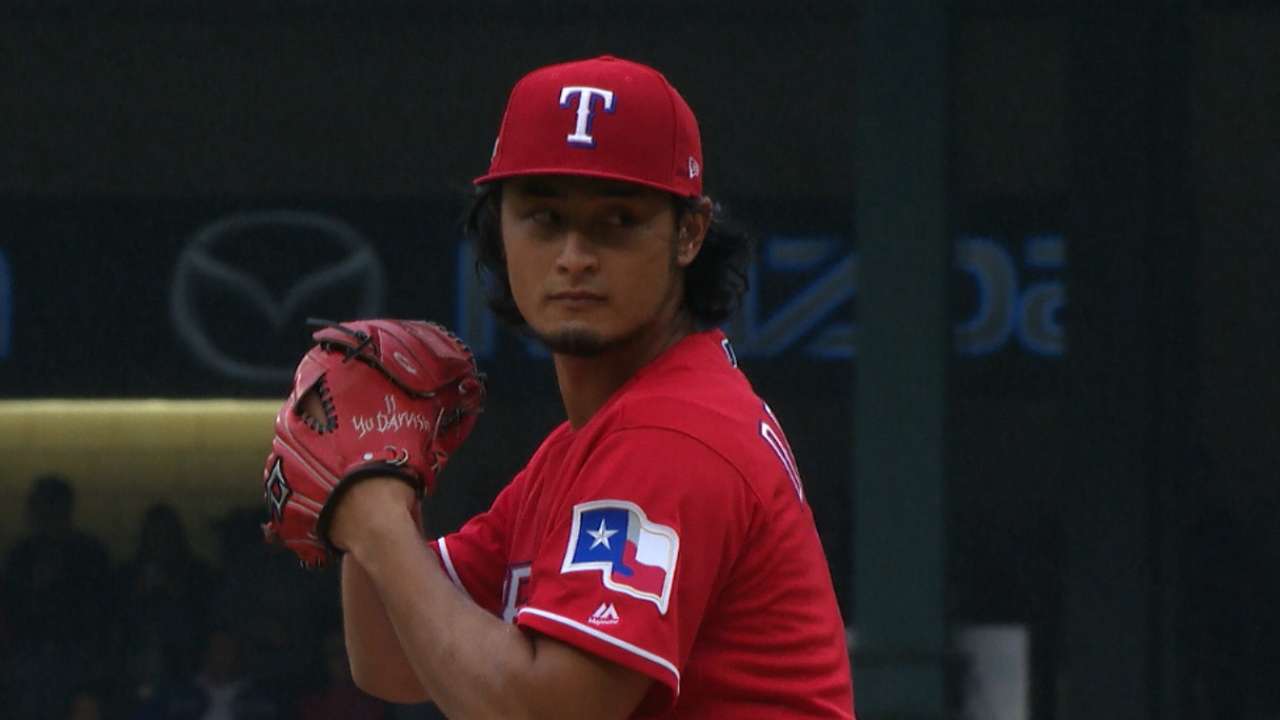 The Rangers are counting on Darvish being at full strength in his first full year back from surgery.
"I think this guy is obviously trending up, in the sense that he's got a fresh arm," Rangers manager Jeff Banister said. "He's prepared, learned how to pitch in the sense of what it feels like. When these guys come back from Tommy John surgery, it's time off, time away. It's a new feel for them. They have to learn what it feels like again.
"We saw that kind of transformation. We saw some games where he didn't quite have the necessary feel that it takes with the breaking stuff, with the curveball, slider and the change. However, then we saw some dynamic fastball life and velocity ... how he was able to combine the two down the stretch. I think that makes me think that this guy is poised this coming year to have a pretty dynamic year."
If he does, it will set Darvish up for a substantial contract with the Rangers or somebody else.
There are four starting pitchers in the Major Leagues with average annual salaries of $30 million or higher. Zack Greinke of the D-backs is the highest at just over $34 million, followed by David Price of the Red Sox ($31 million), Clayton Kershaw of the Dodgers ($30.7 million) and Max Scherzer of the Nationals ($30 million).
That's the neighborhood Darvish could command on the open market with a big season. The Rangers' tepid approach to free agents this winter might be motivated by the knowledge of what future financial commitments it will take to re-sign Darvish.
But the Rangers also know that it has been three years since Darvish was at the top of his game and performed like a pitcher who deserves to be paid among the best in the game.
The Rangers know what Darvish can do when he is at his best. He can dominate the opposition as he did in 2013, when he went 13-9 with a 2.83 ERA and a league-leading 277 strikeouts in 209 2/3 innings. He finished second to Scherzer in the AL Cy Young voting.
That set up Darvish with the option of becoming a free agent this past season. He would have triggered an option in his contract if he had won a Cy Young in any of the past three years. Instead, elbow issues set him back, and '13 remains the only season he has pitched 200 innings in the Majors.
The Rangers' ability to remain contenders beyond the 2017 season may depend on their being able to re-sign Darvish. Their organizational starting-pitching depth has been stretched thin by multiple trades over the past few years.
The Rangers have Cole Hamels signed at $23.5 million for each of the next two seasons and a club option of $24 million for 2019. Martin Perez is signed through 2017 with yearly club options through '20. Andrew Cashner is a free agent after this season.
A.J. Griffin, Nick Martinez and Chi Chi Gonzalez will compete for the fifth-starter spot. Rule 5 pick Mike Hauschild and waiver claim Tyler Wagner are unproven, as are top prospects Yohander Mendez, Connor Sadzeck, Brett Martin and Ariel Jurado.
The Rangers' rotation looks much better with Hamels and Darvish up front. A trade is always a possibility, especially if the Rangers are clearly out of contention by the July 31 non-waiver Trade Deadline.
But the Rangers are determined to be contenders in 2017 and beyond, and having Darvish as a part of that effort is clearly a priority for them. A big 2017 would reinforce that confidence.
"I think he's motivated," Banister said. "I think that the body feels good, the arm feels good, and the mindset is that he's ready to go out and trust and pitch very well."
T.R. Sullivan has covered the Rangers since 1989, and for MLB.com since 2006. Follow him on Twitter @Sullivan_Ranger and listen to his podcast. This story was not subject to the approval of Major League Baseball or its clubs.