Inbox: Will Gamel be a factor next season?
Beat reporter Greg Johns answers fans' questions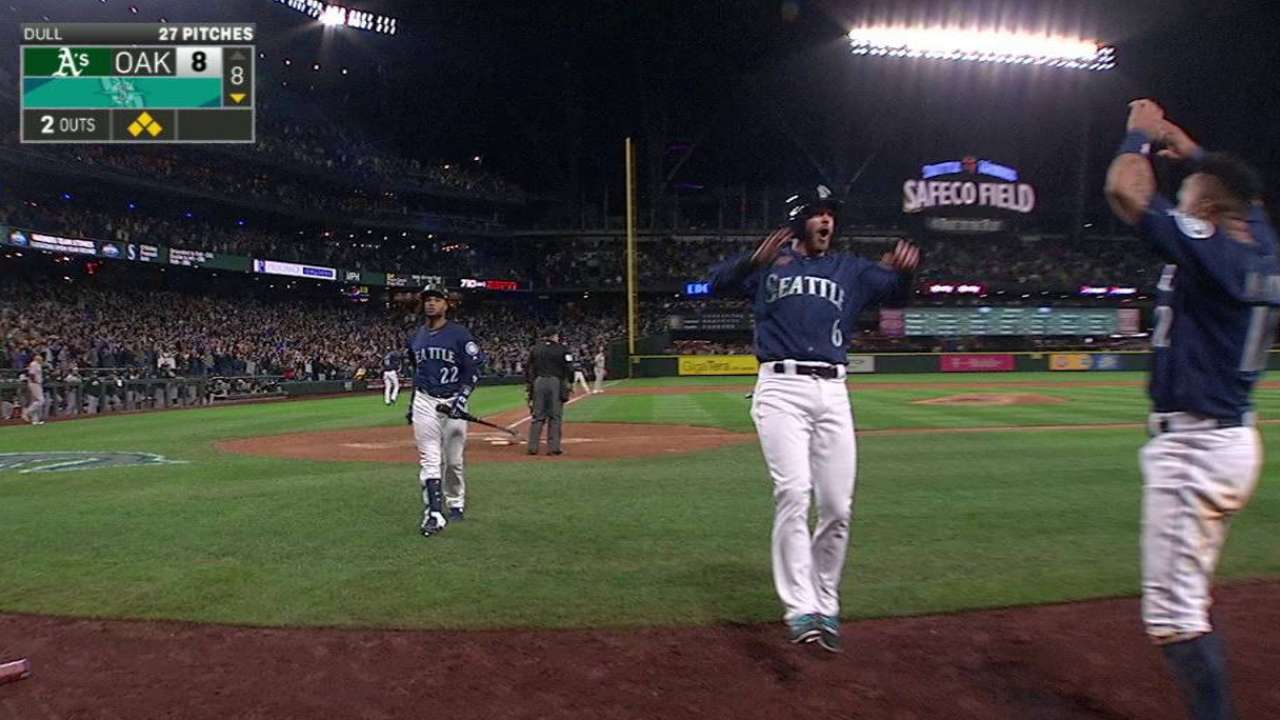 I keep hearing about how high the Mariners are on Ben Gamel, but other than being a defensive upgrade, I'm not sold on his bat. What does the Mariners' brass see in his potential?
-- Paul E., Salt Lake City, Utah
Jerry Dipoto feels Gamel has done everything possible the past two years in Triple-A for the Yankees to show he's ready for a Major League opportunity. The 24-year-old hit .300 and .308 those two seasons for Scranton/Wilkes-Barre and was the International League MVP last year when he posted a .365 on-base percentage, scored 80 runs, had 26 doubles, five triples, six homers and stole 19 bases in 116 games.
Gamel gets on base, runs well, plays good defense and is a left-handed hitter who had even better numbers against lefties than righties the last two years, which makes him a solid candidate to play every day if he can produce as hoped. The youngster put up just a .200/.289/.325 line in 40 at-bats in his month with the Mariners, but don't put much stock into such a small sample size in his first real MLB exposure. He'll get a chance to play a lot this spring and see where that leads.
• Submit a question to the Mariners Inbox
Will the offseason "hitting summit" be an annual thing?
-- Chris K., Silverdale, Wash.
Last year's initial gathering of the franchise's young hitters in Arizona went so well that the Mariners have added a similar "pitching summit" from Jan. 9-12 at the team's facility in Peoria. That will be followed by this year's "hitting summit" from Jan. 13-16. The idea is to get four solid days of instruction for most of the team's top young players and Minor League prospects with manager Scott Servais and the Major and Minor League coaching staffs, so the players know exactly what they should be working on heading into Spring Training and beyond. Whether this turns into an annual event remains to be seen, but the club certainly felt it went well last year and helped set a tone that carried through the organization.
Do you see the Mariners re-signing Tom Wilhelmsen?
-- Christopher P., Gig Harbor, Wash.
I don't have any insight on Wilhelmsen's plans, other than knowing that the 32-year-old loves Seattle and fared much better after returning to the Mariners following a rough period with the Rangers last year. And Dipoto said the door wasn't closed on the big reliever after the team designated him for assignment in November. Wilhelmsen was projected to make about $3.8 million in his final season of arbitration eligibility by MLBTradeRumors.com, and I presume the Mariners would be interested in bringing him back at a lower number, if that can be worked out.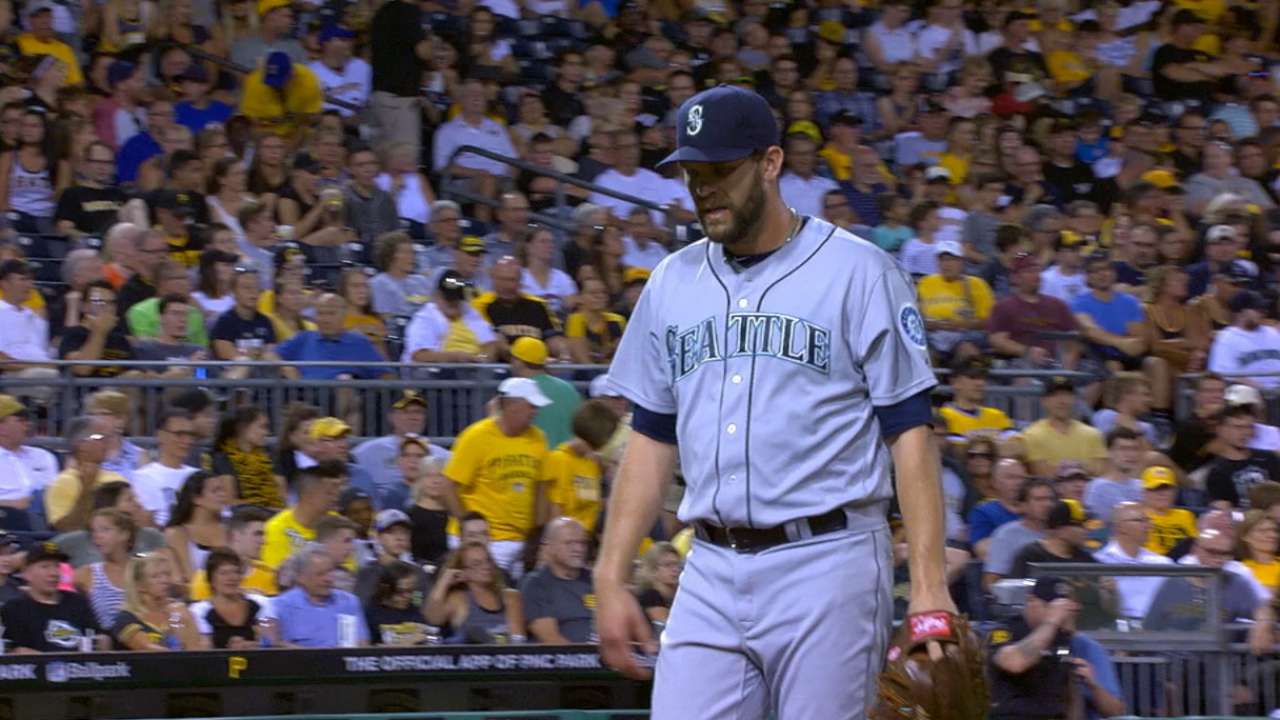 Given the Mariners are trying to improve their outfield, could Nelson Cruz be converted to a part-time first baseman?
-- Rodger R., Redmond, Wash.
I suppose that's not out of the question eventually, but Cruz seems to be converting more toward a full-time designated hitter at this point in his career. After playing 80 games in right field in 2015, he was there just 48 games last year, and only three of those came in the final two months. Cruz has never played first base and the Mariners acquired Danny Valencia to be their right-handed option there this year, so early indications are Cruz will remain part of the right-field mix in a limited number of games.
Any tips for fans going to Spring Training?
-- Lindsay Z., Seattle
My biggest suggestion is to make sure to get out to a morning workout or two at the Mariners' facility in Peoria and not just go to the afternoon games, since the workouts allow fans to get up close to the players a lot more and offer pretty good autograph opportunities when the players come off the field around 11:30 to noon. And this year, it's worth remembering that a lot of the big-name players -- including Robinson Cano, Felix Hernandez and Cruz -- will be gone to the World Baseball Classic for their respective countries from sometime in the first week of March until possibly as late as March 22, depending how long their teams last.
How likely is it we see Tyler O'Neill or D.J. Peterson win a Major League roster spot this spring?
-- Blake L., Corvallis, Ore.
O'Neill had a big year at Double-A Jackson, while Peterson started to perform better last year and earned a midseason promotion to Triple-A Tacoma before hurting his hand. I expect both will start the year in Tacoma and be among the top contenders for a midseason promotion if they play well and the need arises.
Since Felix Hernandez is getting older, is there any chance the Mariners would sign a younger ace to pitch behind him and help bring the Mariners to a playoff spot?
-- Dylan E., Houston, Miss.
Every team would love to add another ace, but there aren't a lot of those floating around. The Red Sox acquired Chris Sale from the White Sox, but it cost them infielder Yoan Moncada -- the No. 1 ranked prospect in baseball by MLBPipeline.com -- plus No. 30 prospect Michael Kopech along with two other very well-regarded prospects. Seattle doesn't have that sort of prospect package to give up. Kyle Lewis is the Mariners' top prospect -- ranked No. 28 overall by MLBPipeline -- and he's out until midseason while recovering from knee surgery. That same issue makes it difficult to compete on the trade market for other potential big-time trade targets like Jose Quintana of the White Sox and Chris Archer of the Rays.
This year's free-agent crop doesn't have any available aces, but next year's potential class will be intriguing with Jake Arrieta, Yu Darvish, Danny Duffy, Chris Tillman and Michael Pineda among those who may be on the market, while Masahiro Tanaka, Johnny Cueto, Wei-Yin Chen and Ian Kennedy all have opt-out clauses that could allow them to become free agents as well.
Greg Johns has covered the Mariners since 1997, and for MLB.com since 2011. Follow him on Twitter @GregJohnsMLB and listen to his podcast. This story was not subject to the approval of Major League Baseball or its clubs.