Top 5 Major League games of 2016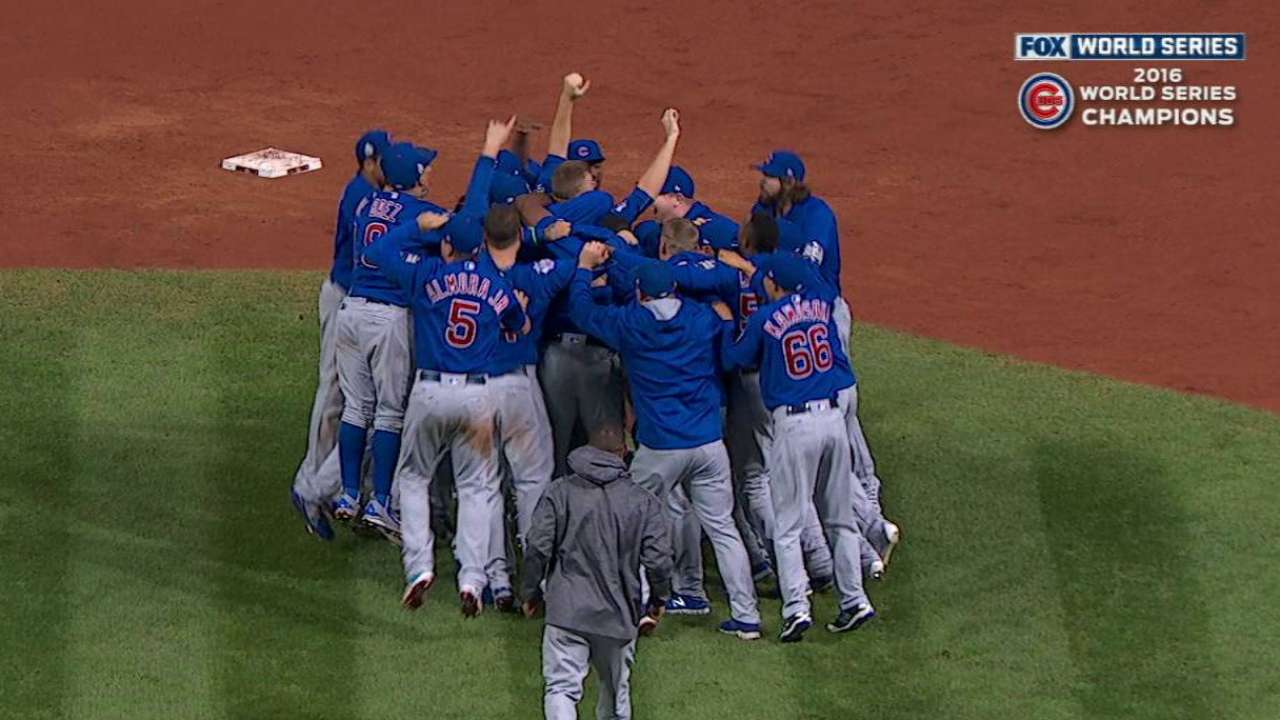 The 2016 regular season was full of homer-fueled slugfests, tense pitching duels, riveting rallies, dramatic walk-offs and meaningful personal milestones. It concluded with an exciting stretch run that set up a memorable postseason, capped by the Cubs' first championship since 1908.
With the end of the year approaching, MLB.com decided to look back at the best of those games.
• Most amazing American League games of 2016
We first narrowed down the pool to one candidate from each team, with input from the MLB.com beat reporters. Next, we created a formula that accounted for several factors, including a game's stakes and level of competitiveness, giving credit for factors such as late comebacks and walk-off wins.
• Most amazing National League games of 2016
Without further ado, here is a look at the top five games of 2016.
1. Nov. 2: Cubs 8, Indians 7
What made it special: The Cubs broke the longest championship drought in professional sports (108 years), winning a World Series they trailed three games to one. They did so in a dramatic Game 7 at Progressive Field, blowing a 6-1 lead before triumphing in 10 innings.
How it happened: Dexter Fowler went deep to open the game, and Javier Baez and David Ross added homers as the Cubs jumped ahead. But in the bottom of the eighth, Rajai Davis tied the score with a two-run shot off closer Aroldis Chapman.
After Chapman's perfect ninth and a brief rain delay -- during which Jason Heyward provided a pep talk -- the Cubs retook the lead on RBI hits from Ben Zobrist and Miguel Montero. Cleveland rallied again to pull within one, but Mike Montgomery retired Michael Martinez for the final out. Full recap >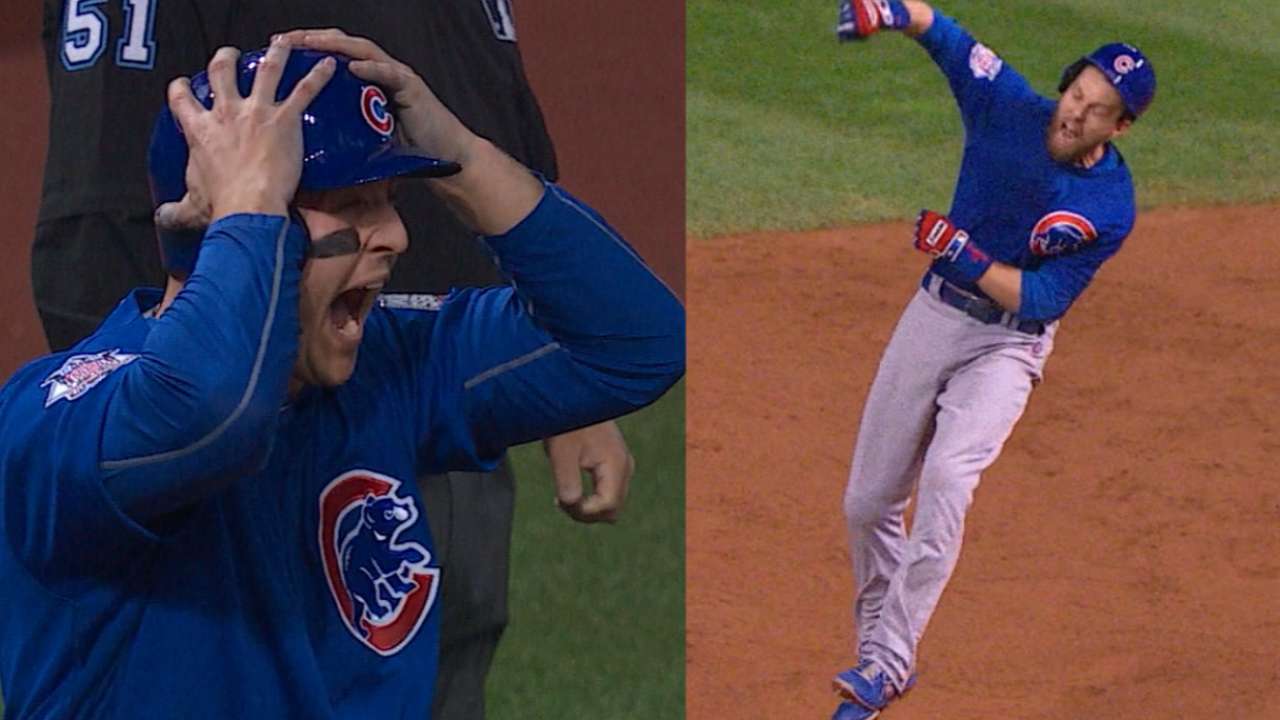 2. Oct. 13: Dodgers 4, Nationals 3
What made it special: The Dodgers rallied late and held on (barely) in the winner-take-all finale of a hard-fought National League Division Series in D.C.
How it happened: Eventual NL Cy Young Award winner Max Scherzer mostly cruised through six innings with a 1-0 lead, but Joc Pederson homered on the first pitch of the seventh. The Dodgers added three runs in the frame against the Washington bullpen, two on Justin Turner's triple.
After Chris Heisey's two-run shot in the seventh made it a one-run game, L.A. leaned on closer Kenley Jansen for seven outs. When Jansen could go no further, Clayton Kershaw entered, two days after starting Game 4, retiring Daniel Murphy and whiffing Wilmer Difo. Full recap >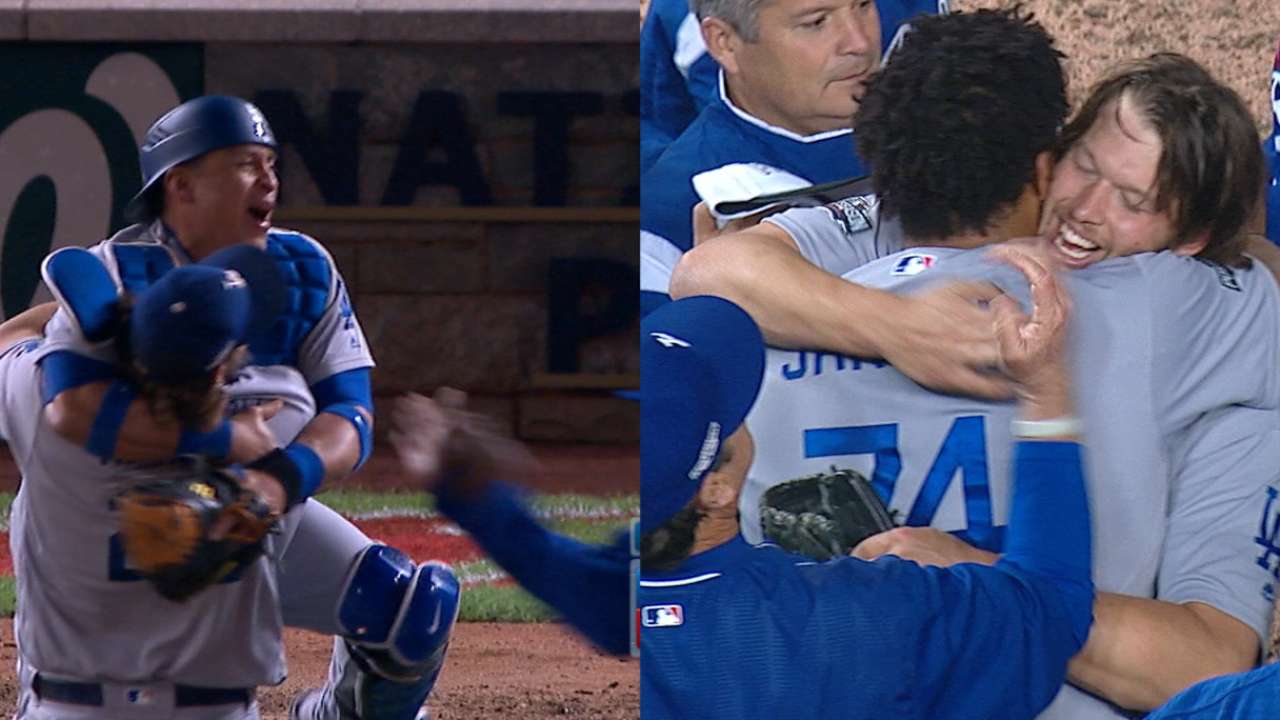 3. Oct. 9, 2016: Blue Jays 7, Rangers 6
What made it special: Game 3 of the American League Division Series began as a back-and-forth slugfest between two intense rivals and ended with an unorthodox extra-innings walk-off as Toronto advanced.
How it happened: The Jays and Rangers bashed their way to a 6-6 tie, with both clubs homering twice along the way. Mitch Moreland's two-run double put Texas ahead, 6-5, in the top of the sixth, but Troy Tulowitzki scampered home on a passed ball in the bottom of the frame.
After that, the bullpens combined to set down the next 22 batters before Josh Donaldson led off the bottom of the 10th with a double off Matt Bush. Three batters later, Russell Martin grounded into a forceout, but second baseman Rougned Odor made a poor throw going for an inning-ending double play. Donaldson raced home, setting off a celebration at Rogers Centre. Full recap >
(It should be noted here that had we allowed for more than one finalist per team, Edwin Encarnacion's walk-off homer in Toronto's win over Baltimore in the Wild Card Game would've certainly made the list.)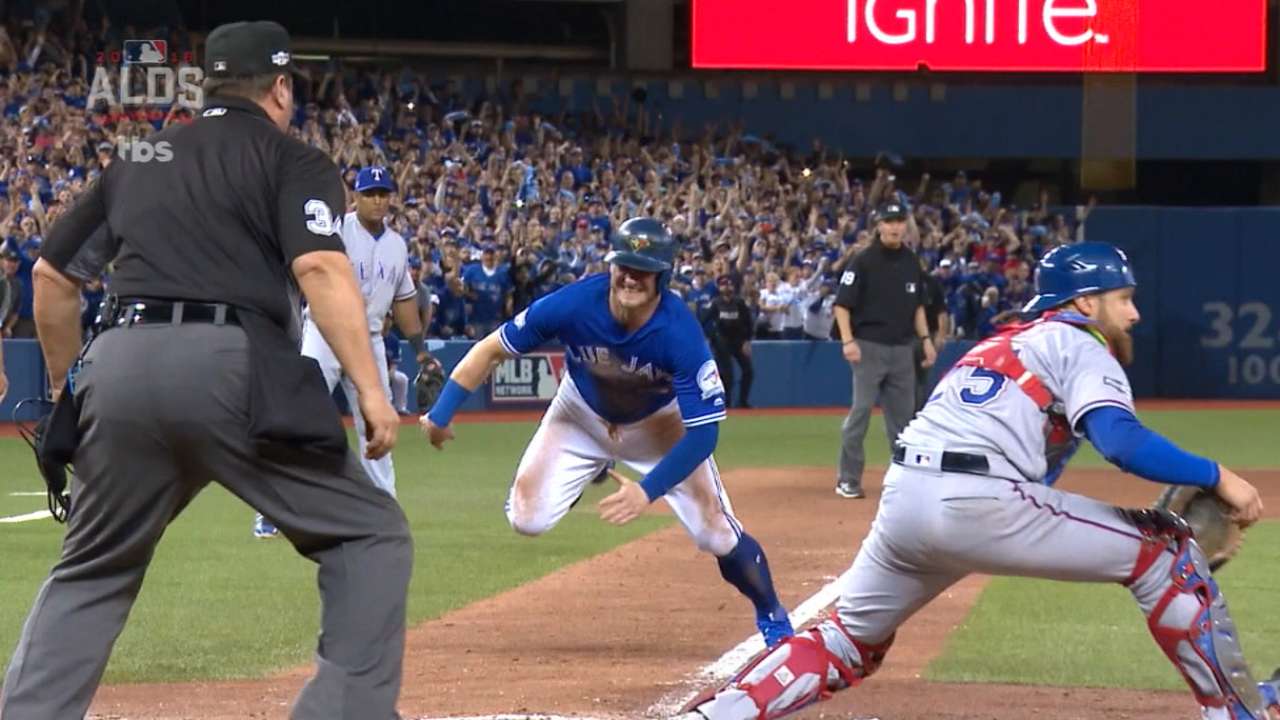 4. Sept. 22: Mets 9, Phillies 8
What made it special: The Wild Card-contending Mets triumphed in a seesaw, late-season affair featuring five lead changes and three dramatic homers, including a walk-off blast.
How it happened: With the Mets holding a 4-3 lead in the top of the eighth, Philly's Maikel Franco smacked a go-ahead three-run homer. But Jose Reyes tied things up with a two-run shot in the bottom of the frame.
After the Phillies pushed across two runs in the top of the 11th, the Mets' win expectancy dropped as low as 3.5 percent. The Mets roared back again, however, as Michael Conforto walked, Reyes singled and Asdrubal Cabrera celebrated a game-winning three-run blast with an epic bat flip. Full recap >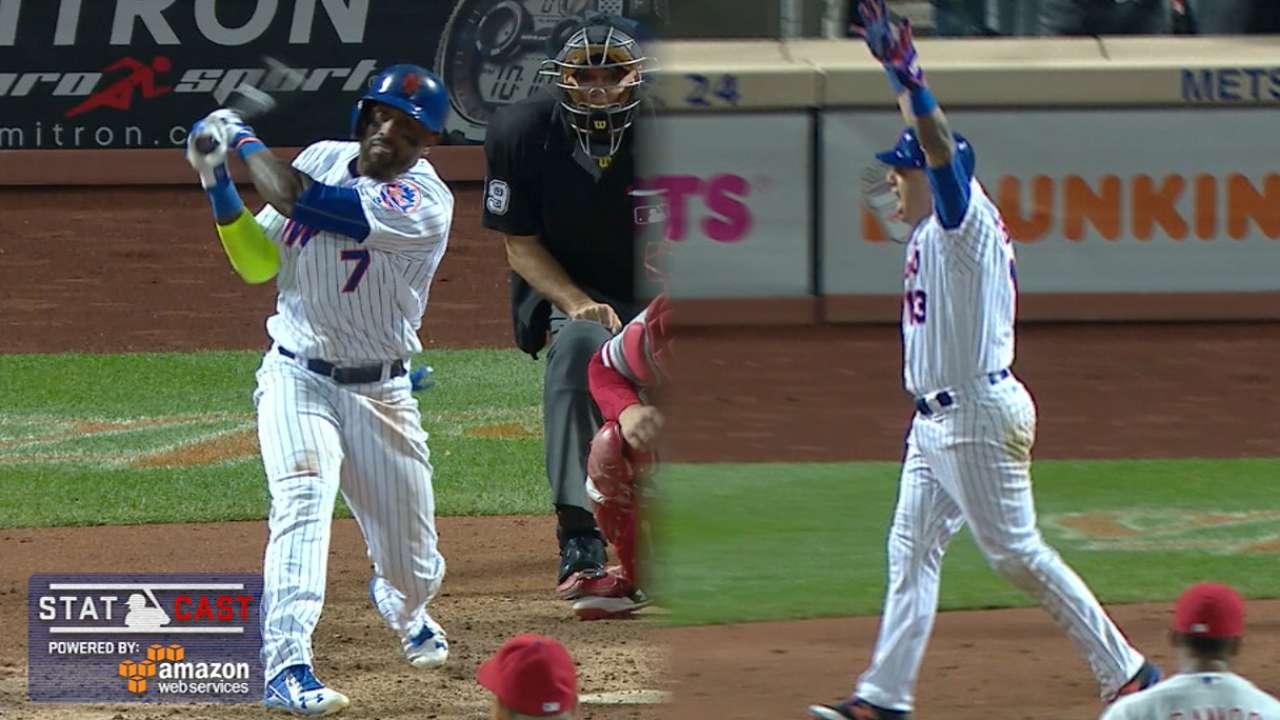 5. Sept. 28: Orioles 3, Blue Jays 2
What made it special: A dramatic late comeback over a division rival kept the Orioles in position for an AL Wild Card berth in the season's final week.
How it happened: Toronto led 2-0 through two innings, and Francisco Liriano had one of his best outings of the year (6 1/3 scoreless innings, 10 strikeouts), but Baltimore rallied after being down to its last four outs.
With two outs in the top of the eighth, Mark Trumbo extended his MLB-leading homer total to 46 by crushing a solo shot down the left-field line off Jason Grilli. An inning later, South Korean rookie Hyun Soo Kim belted a Roberto Osuna pitch just over the right-field wall for only his sixth homer, a go-ahead two-run shot. Zach Britton then struck out two in a perfect frame for his 47th save. Full recap >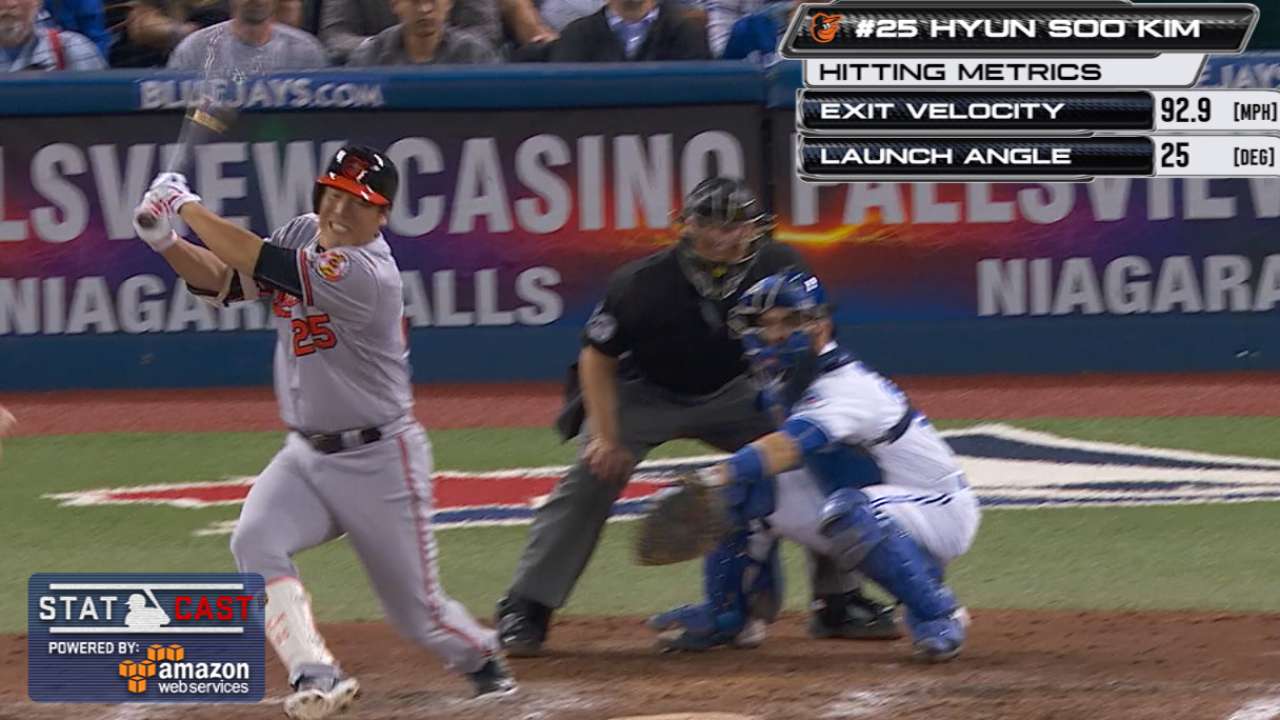 Honorable mentions
• Oct. 19: Indians 3, Blue Jays 0 -- In his second big league start, Ryan Merritt throws 4 1/3 scoreless innings to help send Cleveland to the World Series. Full recap >
• May 28: Royals 8, White Sox 7 -- Kansas City rallies for seven runs in the bottom of the ninth inning, winning on Brett Eibner's walk-off hit. Full recap >
• Sept. 21: Braves 4, Mets 3 -- Ender Inciarte goes over the wall to rob Yoenis Cespedes of what would have been a walkoff three-run home run in a game with major playoff implications for New York. Full recap >
• May 17: A's 8, Rangers 5 -- Khris Davis caps a three-homer, six-RBI game with a walk-off grand slam. Full recap >
• May 11: Nationals 3, Tigers 2 -- Scherzer becomes the fourth pitcher to strike out 20 batters in a nine-inning outing. Full recap >
• May 11: Astros 5, Indians 3 -- Cleveland ties the game in the ninth, and Marwin Gonzalez finally ends it with a walk-off, two-run homer in the 16th. Full recap >
• July 17: Pirates 2, Nationals 1 -- Washington's Daniel Murphy ties the score with a two-out homer in the ninth, but nine innings later, Pittsburgh's Starling Marte hits a go-ahead solo shot. Full recap >
• June 2: Mariners 16, Padres 13 -- Seattle rallies from 12-2 down, becoming the first team since 2009 to erase a 10-run deficit to win. Full recap >
Andrew Simon is a research analyst for MLB.com. Follow him on Twitter @AndrewSimonMLB. This story was not subject to the approval of Major League Baseball or its clubs.