Inbox: How will Cubs restock rotation depth?
Beat reporter Carrie Muskat answers fans' questions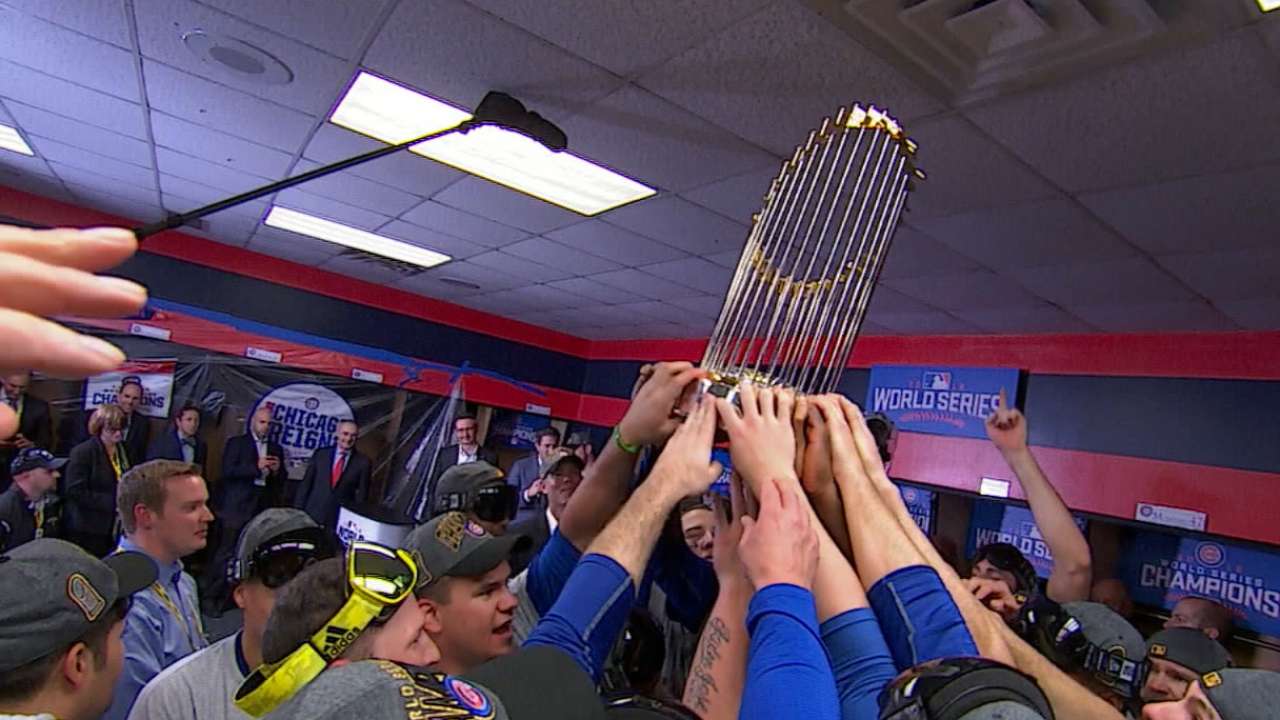 Do you have a question for the Cubs Inbox? Send it to CubsInbox@gmail.com, and please include your full name and hometown.
Let's talk about the Cubs' starting rotation. Theo Epstein & Co. have preached and shown us fans how much they value starting pitching depth. With the loss of Jason Hammel, Travis Wood and a sort of depleted farm system, what do you foresee the Cubs doing this offseason to address the rotation? Is Wood most likely headed elsewhere?
-- Will L., Plainfield, Ill.
The Cubs will likely add at least one more starter this offseason, and there have been reports that they are looking at free agent Tyson Ross. Ross, 29, is coming off surgery for thoracic outlet syndrome, and because of Chicago's rotation strength, he could ease back into action and not be expected to throw 200 innings.
The Cubs know they were fortunate to get through 2016 relying on five starters, and they have projected Mike Montgomery for the rotation in '17, replacing Hammel. Wood, Trevor Cahill, and Adam Warren were considered the backups last season.
• Submit a question to the Cubs Inbox
Epstein, the Cubs' president of baseball operations, has said the pitchers considered "insurance" heading into 2017 will include Rob Zastryzny, Jake Buchanan, Aaron Brooks and Seth Frankoff, who are projected to start at Triple-A Iowa. Zastryzny made quite an impression in his eight games with the big league team. He went 7-3 with a 4.33 ERA in 15 games (14 starts) at Iowa last season.
With the addition of Brian Duensing, Koji Uehara and Caleb Smith, it would appear the Cubs have enough options versus left-handed hitters, and that Wood, a free agent, will not return. He'll be missed in the clubhouse. By the way, with Wood gone, Anthony Rizzo is now the longest-tenured Cubs player on the roster.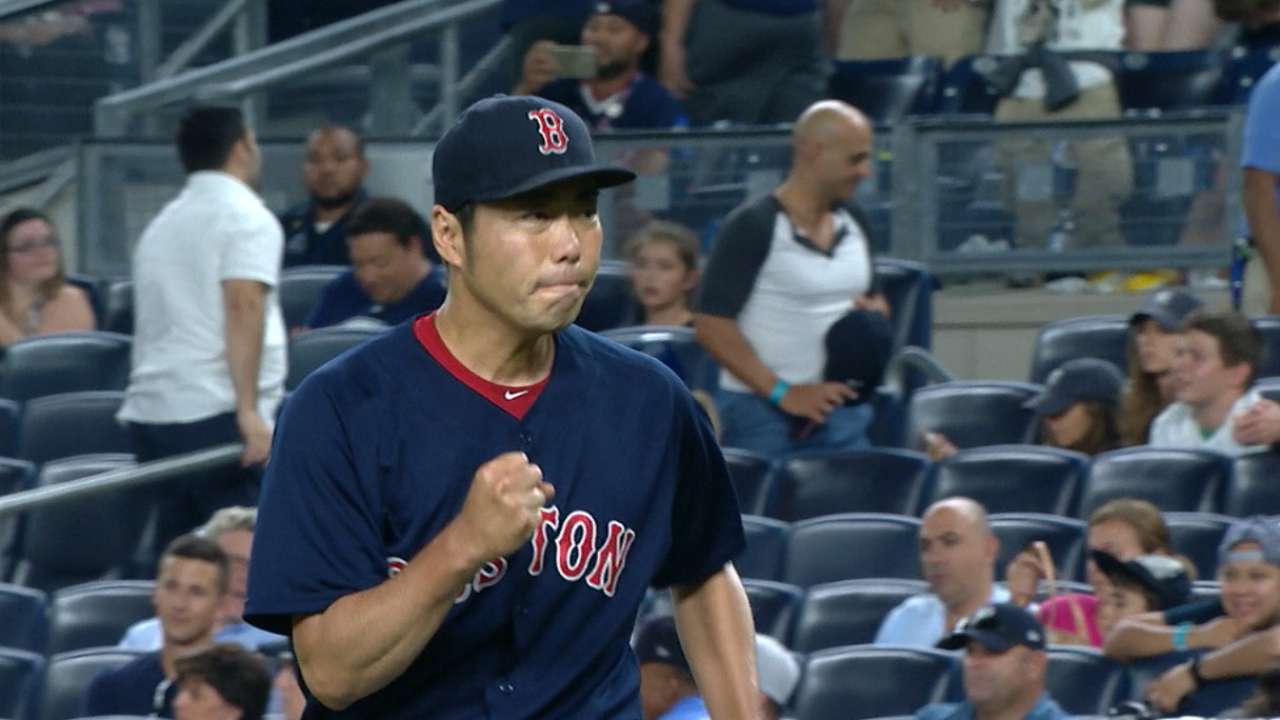 With Kyle Schwarber back and healthy in 2017, will he be back in the outfield or go back to being a catcher?
-- Veronica S., Bensenville, Ill.
If you ask Schwarber, he'll play both. The Cubs' stance this offseason is they want to avoid overworking Schwarber in Spring Training, since he's coming back from two torn ligaments in his left knee. Whether he gets to catch will be a hot topic of conversation this spring.
With all the commentary regarding Jon Lester's inability to throw to first base, I've been trying to find out how many bases were stolen off him, and more importantly, how many went on to score. It couldn't have been very many.
-- Tim S., Des Moines, Iowa
Lester led the Cubs with 28 stolen bases against, which ranked third in the Major Leagues behind the Mets' Noah Syndergaard (47) and the Brewers' Jimmy Nelson (30). Lester also led the Majors with 13 baserunners caught stealing while he was on the mound (kudos to catcher David Ross). Of the 28 basestealers not thrown out, nine scored.
With the emergence of Javier Baez at second and a crowded outfield, where will Ben Zobrist find playing time?
-- Steve M., Valdese, N.C.
You'll see Zobrist, 35, at second and the outfield again. The Cubs plan on playing a seven-month season in 2017, and that means manager Joe Maddon will make sure players get a breather now and then whether they want one or not. We've seen how Maddon likes versatility, and he'll take advantage of Zobrist's talent to move him around. Baez also can play shortstop when Addison Russell gets a breather.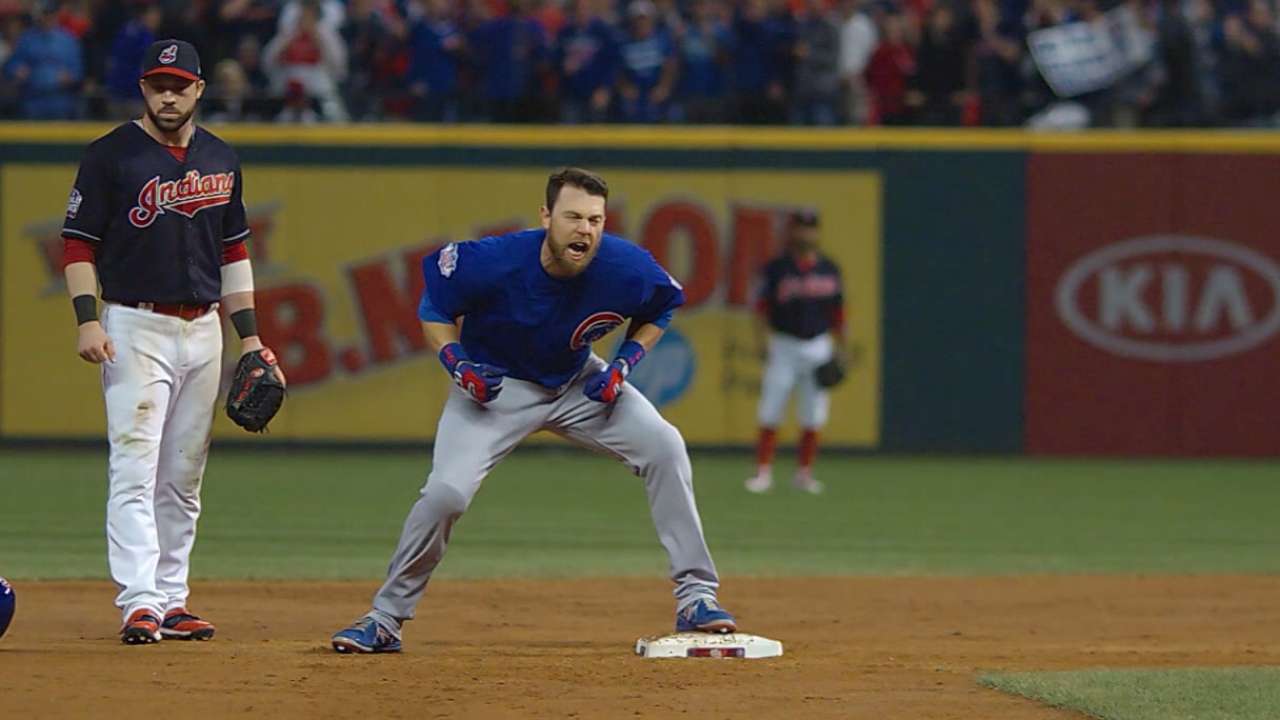 When was the last time the reigning Rookie of the Year won the Most Valuable Player the following year?
-- Drew B., Louisville, Ky.
Twenty players have won the top rookie honors and been named MVP, but the Cubs' Kris Bryant is the first since Dustin Pedroia (2007-08) to win the award in back-to-back seasons. Ryan Howard (2005-06) and Cal Ripken Jr. (1982-83) also did so.
Carrie Muskat has covered the Cubs since 1987, and for MLB.com since 2001. She writes a blog, Muskat Ramblings. You can follow her on Twitter @CarrieMuskat and listen to her podcast. This story was not subject to the approval of Major League Baseball or its clubs.