Wilson preparing for 'whatever role' will aid O's
Righty appreciates competition within team, feels experience from last season will be valuable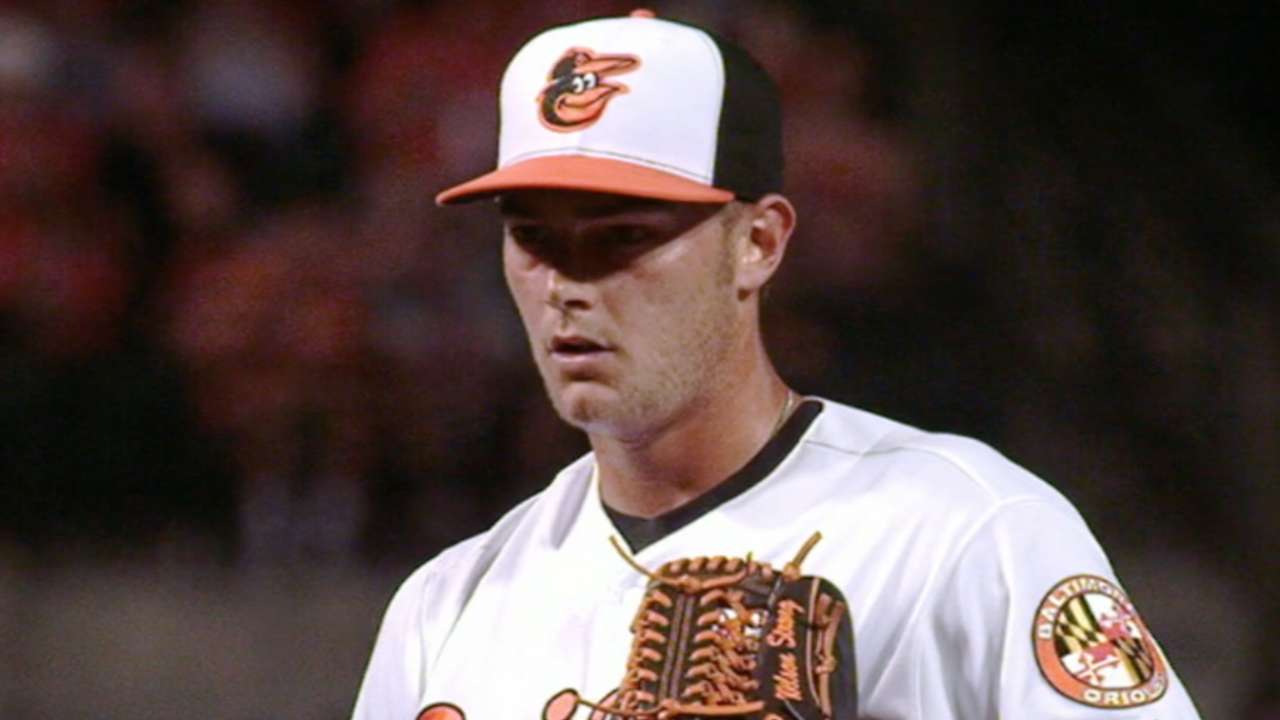 BALTIMORE -- The Orioles have six starting pitchers competing for five spots. That's good news for the O's, as it will foster competition and give manager Buck Showalter some depth. But it makes fitting in a guy like Tyler Wilson a little tricky.
The 27-year-old Wilson went 4-6 with a 5.27 ERA in 24 games (13 starts) for Baltimore this past season. In parts of two seasons, the right-hander is 6-8 with a 4.78 ERA in 33 games (18 starts).
"We had really good pitchers last year, and it was a battle to be in the mix sometimes," Wilson said at last week's OriolesREACH holiday party. "That intra-team competition is a really good thing. It's a good problem to have, too much starting pitching or trying to decide who's going to be the guy.
"It doesn't change my motivation. It doesn't change anyone's motivation. You go out there and train to do whatever you can to help the team. And whatever role that ends up being, I'll be prepared for it."
With the O's non-tendering long man Vance Worley, Wilson could be a multi-inning option out of the 'pen. In 11 relief appearances this season, he pitched 21 innings and allowed nine runs on 25 hits with five walks and 16 strikeouts. One of Wilson's most memorable relief stints came on Opening Day after a rain delay chased starter Chris Tillman and Wilson tossed three scoreless innings.
Wilson, along with Mike Wright, is expected to be stretched out as a starter this spring, and the righty's role will largely be dictated on performance and team need from there.
"I think there was a lot of good and a lot of bad," Wilson said of his 2016 season. "I think the bad is part of the development. My first couple years in the big leagues, there's a lot of things I've learned, and that's a product of those struggles. I'm thankful for that. Obviously, you don't want those struggles as far as results go, but you have to face adversity to be able to learn and grow as a player. So I'm looking forward to the upcoming season."
One of the things Wilson is hoping to learn is how to better pace himself for the 162-game grind. After a solid start to the season, he hit some obstacles and was sent down prior to the All-Star break to "get crisp."
"I've made some adjustments in my offseason training," Wilson said, "and hopefully can be on the incline going into the second half rather than maxing out earlier in the season when it's not as valuable.
"It's putting a little bit more time into my body and not throwing quite as early. In years past, I've felt like coming into Spring Training, you always want to drive something and set a tone and let your teammates know that you've put your time in in the offseason and are ready to go. I think I maybe started throwing too early, and the quantity of work has been a little too much. I felt great in Spring Training, but it's a marathon, not a sprint type of sport. I think pushing back my timeline a little bit and alleviating some of that volume is going to lead to a better second half."
Brittany Ghiroli has covered the Orioles for MLB.com since 2010. Read her blog, Britt's Bird Watch, follow her on Facebook and Twitter @britt_ghiroli, and listen to her podcast. This story was not subject to the approval of Major League Baseball or its clubs.