Baseball's connections to Christmas run deep
The Man of Steal's birthday among MLB ties to Dec. 25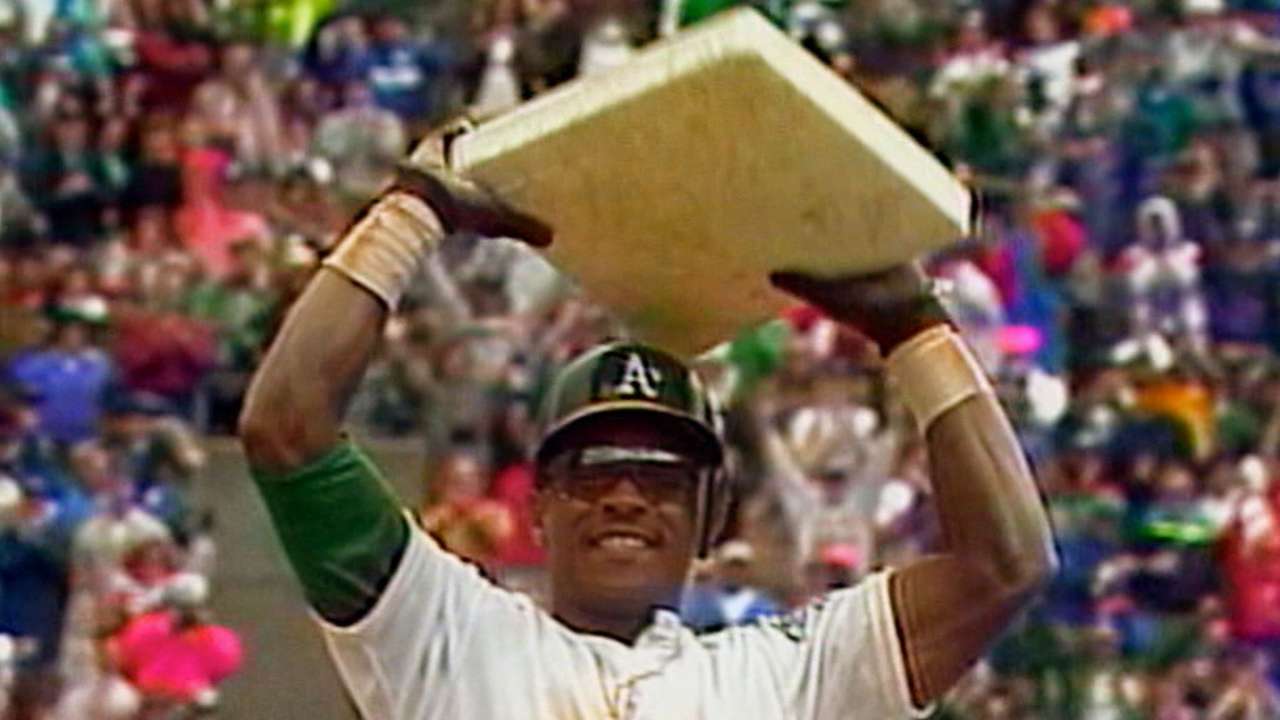 Christmas is upon us, and while it's one of the most beloved days on the calendar, filled with gifts and family, it's not a holiday traditionally associated with baseball.
That said, baseball still shares more connections to Christmas than it first appears. From the births of some of the game's greatest players to the staging of some unorthodox games, baseball and Christmas have been intertwined through history -- no matter how frightful the weather is outside.
Stars are born
The list of Hall of Famers in Cooperstown is now up to 314, and nearly every day on the calendar features at least one Hall of Famer's birthday. Christmas Day, however, has the distinction of having three Hall of Fame birthdays, with each player defining the popular style of play from his era.
We may primarily associate figgy pudding as the pudding of choice for Christmas, but James Francis "Pud" Galvin, born on Christmas Day 1856 in St. Louis, deserves to be on equal footing. Galvin earned his memorable nickname for the way he turned hitters into pudding, and the 5-foot-8 right-hander did so with regularity in the late 1800s. In a time when two-man rotations were commonplace, Galvin's durability (6,003 career innings, second-most in history behind Cy Young) still stood out. Galvin was baseball's first 300-game winner, and he tossed a combined 143 complete games -- 60 more than were thrown across the Majors in 2016 -- in the span of just two seasons (1883-84).
Christmas Day 1927 saw the birth of one of the best second basemen in American League history in Jacob Nelson "Nellie" Fox. Standing just 5-foot-10 and 160 pounds, Fox became the embodiment of the hard-charging, small-ball "Go Go" White Sox when he was traded from Philadelphia to Chicago after the 1949 season. Beginning in 1951, Fox was selected to 11 straight All-Star Games, captured three Gold Glove Awards (though he surely would have garnered more if the award had been given out prior to 1957) and the AL MVP in 1959, when he helped lead Chicago to the AL pennant. Part of Fox's legacy is that he was one of the toughest outs in history, striking out only 216 times in 10,351 plate appearances.
Of course, we'd be remiss if we didn't mention the most famous player born on Christmas Day 1958 in Chicago. Rickey Henderson owns two records that may never be broken -- 1,406 steals and 2,295 runs scored -- over an incredible 25-year career that established him as the best leadoff hitter (and really, one of the best hitters, period) in history. With 110.8 career wins above replacement, sandwiched between Lou Gehrig and Mickey Mantle for 14th on the all-time list, there's no doubt that "The Man of Steal" set an extremely high bar for all Christmas Day babies-turned-future ballplayers to come.
In the cozy confines
And the weather was likely frightful in Philadelphia on Christmas Day 1888, when a pair of intracity teams staged the first sanctioned indoor game of baseball in front of 2,000 spectators in the State Fairground Building. The idea of indoor baseball began long before the Astrodome arrived -- seemingly from outer space -- in the mid-1960s. In fact, the legend reportedly began in a gymnasium in the Farragut Clubhouse in Chicago in 1887, when a club member pulled a boxing glove off his hand and "threw it in a spirit of fun toward a spectator at the opposite end of the room," according to an account later printed in the New York Times. A third bystander grabbed a broomstick and swung at it, leading to an impromptu game of baseball with the broom and glove that soon blossomed into the official ballgame staged in Philadelphia a year later.
The "Downtowners" defeated the "Uptowners" by a 6-1 score on that Christmas Day in Philly. There is no account of whether any catwalks came into play, a la Tropicana Field.
Fire on the South Side
Smoke filled the frigid sky above Chicago on Christmas Day 1940 when South Side Park, an old wooden baseball stadium, met the same demise as so many of its brethren by burning to the ground. Though it was largely reduced to a pile of ash, South Side enjoyed the longest existence of any of the Major League wooden stadiums. Only Terrapin Park in Baltimore -- which was also destroyed by fire in 1944 -- lasted longer into the 20th century.
Though the White Sox left South Side for the new steel-and-concrete Comiskey Park in 1910, the grounds continued to play host to plenty of baseball over the coming decades. South Side became home to the Chicago American Giants of the Negro Leagues, who had the distinction of being owned and managed by future Hall of Fame member Rube Foster. The Giants went on to claim five pennants in the Negro National League after Foster founded the new league in 1920, and South Side played host to the club's back-to-back championships in 1926-27.
A tragic ending
Billy Martin had already left a huge imprint on baseball by Christmas Day of 1989. A career that saw Martin begin as an All-Star infielder for four World Series champion Yankees teams led Martin into a colorful and ultimately successful managing career with five clubs -- including, memorably, five stints with George Steinbrenner's Bronx Bombers. Martin was rumored to be on Steinbrenner's short list to manage the Yankees again in 1990, but a car accident on Christmas Day on an icy road near Martin's home in Port Crane, N.Y., tragically ended his life at age 61.
Martin's influence in the game was apparent at his funeral service, when he was laid to rest just 150 feet from Babe Ruth's gravesite with Steinbrenner and former President Richard Nixon -- along with many others -- in attendance. The epitaph on Martin's headstone -- featuring the words he spoke at his Yankees number retirement ceremony three years prior -- portrays his unforgettable personality: "I may not have been the greatest Yankee to put on the uniform, but I was the proudest."
Matt Kelly is a reporter for MLB.com. Follow him on Twitter at @mattkellyMLB. This story was not subject to the approval of Major League Baseball or its clubs.