MacPhail pleased with Phillies' offseason inroads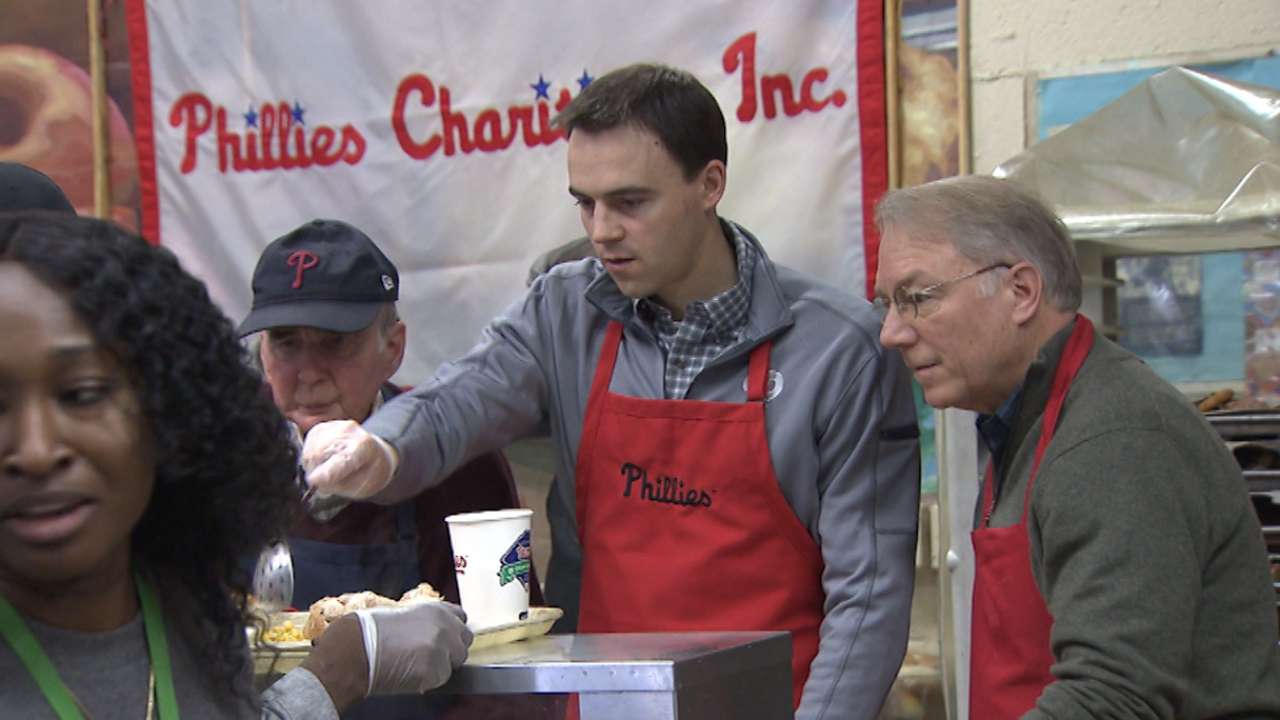 PHILADELPHIA -- Phillies president Andy MacPhail obviously knew something was up Monday afternoon as he discussed the Phillies' offseason.
The team had made a concerted effort throughout the winter to improve its roster by acquiring veterans on one-year contracts, providing it roster and financial flexibility for the future. The Phillies need roster flexibility because it will allow them to give more opportunities to its young players and prospects. They need financial flexibility because it will allow them to hit the free-agent market hard as early as next winter.
"I'm pleased," MacPhail said after the Phillies' front office served lunch at the Bethesda Project's Our Brothers' Place. "We've stayed true to our major objectives to this point. I don't think we're done yet. I would be surprised if we don't continue to use that offseason to make selective improvements where we can."
Of course, less than 24 hours later the Phillies announced they had acquired right-hander Clay Buchholz in a trade with the Red Sox for second-base prospect Josh Tobias. The Phillies look at Buchholz as a bounceback candidate entering the final season of a four-year, $30 million contract. He will make $13.5 million next season, but if he pitches well he could be traded by the non-waiver Trade Deadline.
Buchholz joins Jeremy Hellickson, Howie Kendrick, Joaquin Benoit, Pat Neshek and Andres Blanco as veterans the Phillies either retained or acquired this offseason on one-year contracts. Each is a trade candidate next season.
The Phillies are expected to acquire at least one more hitter before Spring Training, but it won't be somebody like free-agent outfielder Jose Bautista, who is one or the more high-profile players available. The Blue Jays made him a qualifying offer, which means the rebuilding Phillies would have to forfeit a top Draft pick to sign him.
That just doesn't make any sense right now.
Back in September, when asked about the free-agent market, MacPhail said the Phillies did not want to make a long-term commitment to a player who is not a "game changer," especially if they think they have an internal option that might be better.
The Phillies think they have those players already in the organization. And if they prove not to be better options in the long term, then they see some serious game changers -- like Bryce Harper) -- in the free-agent market in upcoming offseasons.
"I think those opportunities will only grow over time," MacPhail said. "It's just the normal dynamics of teams that are maybe looking down the road in their future and have to make certain adjustments to their current roster of good players because they know they're approaching free agency.
"I would expect that we would get into that business really any time now. Particularly, as the season unfolds in '17 and we get an idea who the winners and losers are via the standings, we need to stay vigilant for opportunities there."
Next season will be an important one for the Phillies' young players and prospects, but MacPhail does not view 2017 as make or break for them.
He is keeping the long view.
"Players aren't robots," he said. "They come at different times. I think you make a mistake if you give them a brief period and figure it's never going to happen. I think there's room for both. I don't think one has to come with expense of the other."
But as the Phillies break for the holidays they like the fact they have stuck to their plan: incrementally improve the roster with veterans on short-term deals, allowing the young players an opportunity to prove themselves.
"I think this offseason has been about what we anticipated it was going to be," MacPhail said. "But saying that it's important to be alert to certain opportunities should they present themselves. You can never foreclose yourself from that."
Todd Zolecki has covered the Phillies since 2003, and for MLB.com since 2009. Follow him on Twitter and listen to his podcast. This story was not subject to the approval of Major League Baseball or its clubs.