(W)inning is everything! Top half-frames of '16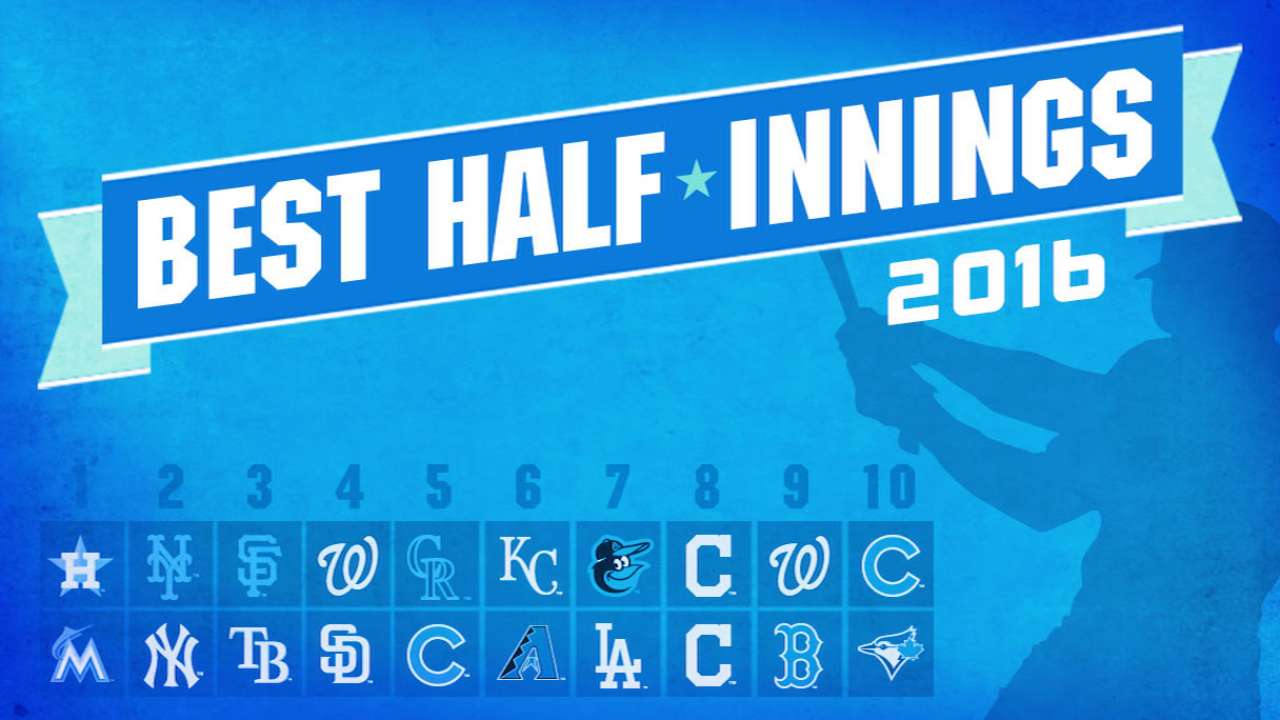 Now that the holiday gifts are cluttering the house and we're thinking of a New Year and the day pitchers and catchers report in February, it seems like the 2016 Major League Baseball season -- from Opening Day to the epic Game 7 of the World Series between the Cubs and Indians -- went by way too fast.
With that in mind, here's a new way to remember some of the highlights. We've combed through the archives to come up with a "game" comprised of the most unforgettable individual half-innings of the year.
Let's recall the best of 2016, frame by frame.
TOP OF THE FIRST
Astros at Royals, June 24: How's this for a brilliant beginning? Houston scored nine runs right away off Edinson Volquez, with George Springer doing historic damage. The Astros right fielder led off the game with a triple and then came up to bat again in the frame and hit a grand slam. He became the first player in the modern era with a bases-loaded homer and three-base hit in the first inning.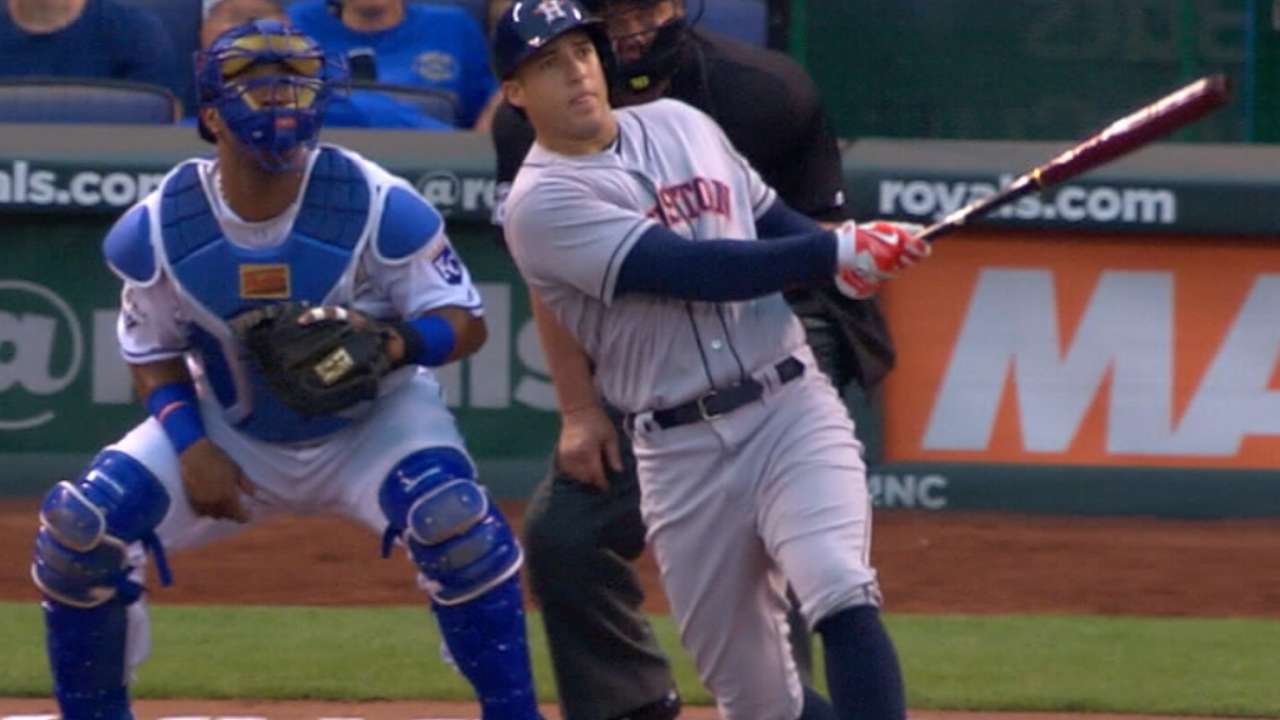 BOTTOM OF THE FIRST
Mets at Marlins, Sept. 26: Miami's star pitcher, Jose Fernandez, had died tragically the day before in a boating accident at the age of 24, stunning the baseball world and his teammates. The Marlins had to take the field, however, and they made it an unforgettable night of emotion and honor. Every player wore Fernandez's uniform number (16) to set a tone of remembrance. And the real became the surreal when the Marlins' first batter, Dee Gordon, stepped into the box.
Gordon took a pitch right-handed in honor of Fernandez, then turned around to his regular left-handed side and blasted a home run to right field -- his first long ball of the season. Gordon began tearing up as he rounded the bases and broke down in the dugout while surrounded by his grieving teammates.
"It was for [Fernandez], because he loved to hit as much as he loved to pitch," Gordon said. "I thought that was just my way of showing him that, 'I love you. I miss you. I'm always going to miss you.'"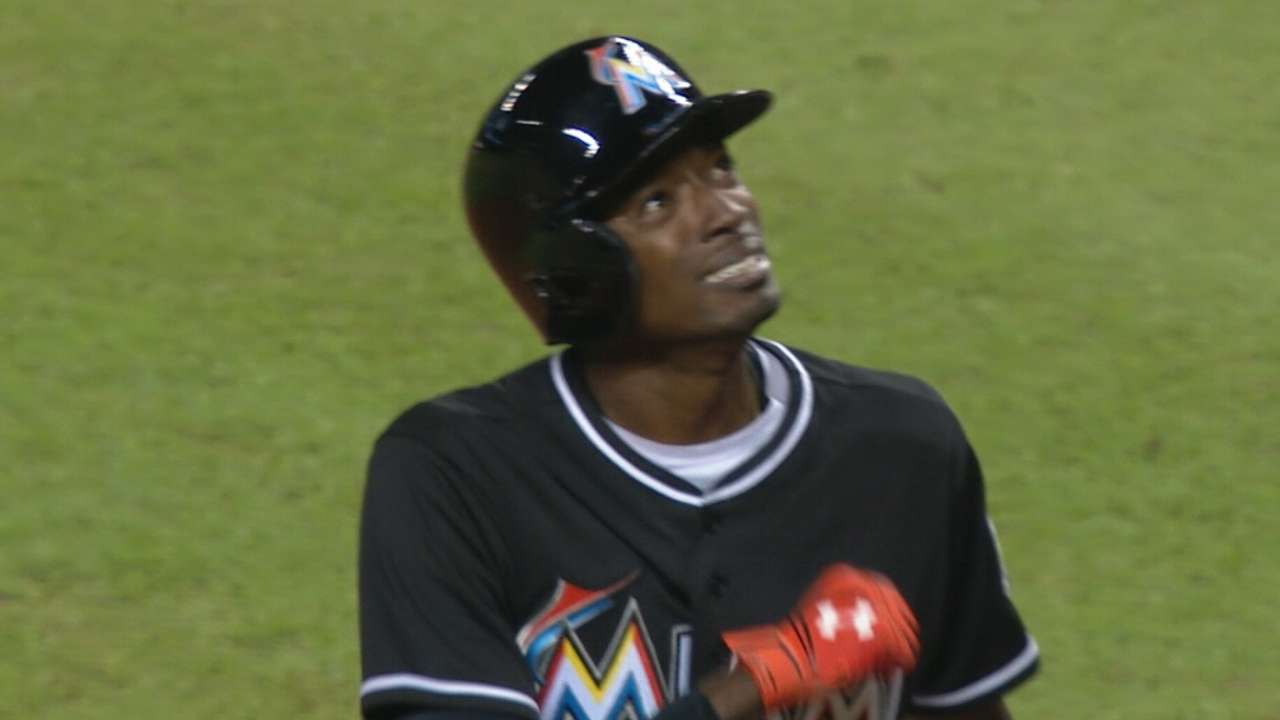 TOP OF THE SECOND
Mets at Padres, May 7: "And Bartolo has done it! The impossible has happened! This is one of the great moments in the history of baseball!" Mets broadcaster Gary Cohen's eruption of joy from the Petco Park booth said it all. The lovable 42-year-old Mets pitcher unloaded on a James Shields pitch and became the oldest player in Major League history to hit his first career homer. WATCH »
BOTTOM OF THE SECOND
Rays at Yankees, Aug. 13: The Yankees are excited about their future, and the Rays and the rest of baseball got a good glimpse of it in this game. Rookies Tyler Austin and Aaron Judge, both making their big league debuts, hit back-to-back homers in their first career at-bats, becoming the first teammates to go deep in their first Major League at-bats in the same game.
"I don't think I could've asked for anything better," Austin said. "I think that was pretty awesome."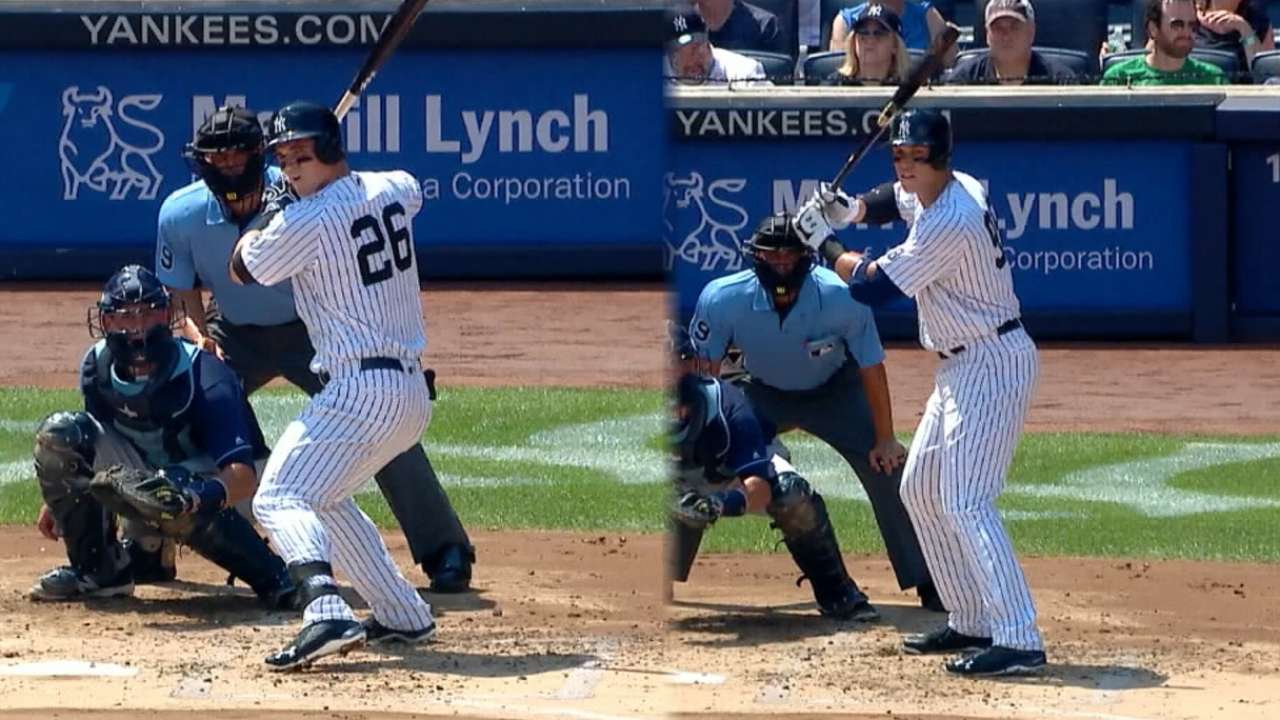 TOP OF THE THIRD
Giants at A's, June 30: How good is Madison Bumgarner … at hitting? Good enough to make baseball history. The Giants, playing in an American League stadium, took a stand against convention and for their wildly gifted starter by opting not to use the designated hitter. It's the first time a team has made this decision since the White Sox allowed starter Ken Brett to hit for himself in 1976, and it's a good decision. Bumgarner doubles in his first at-bat, sparking a six-run third. WATCH »
BOTTOM OF THE THIRD
Yankees at Rays, Sept. 21: The Rays got their power stroke going early and often, lighting up New York starter Masahiro Tanaka. Bobby Wilson, Evan Longoria, Brad Miller and Corey Dickerson all hit solo home runs in the frame, setting a franchise record for long balls in one inning. The last three were hit in succession in a game the Rays would go on to lose. WATCH »
TOP OF THE FOURTH
Nationals at Braves, Aug. 20: The Nationals were trailing,3-1, entering their half of the fourth, but they got something going … to say the least. Daniel Murphy got one run back by leading off with a homer, and after a walk and an out, Washington's lineup began to crank away. First came four singles in a row, then a Trea Turner three-run homer, then three more consecutive singles. That's eight straight hits if you're scoring at home, with nine in all in an eight-inning frame.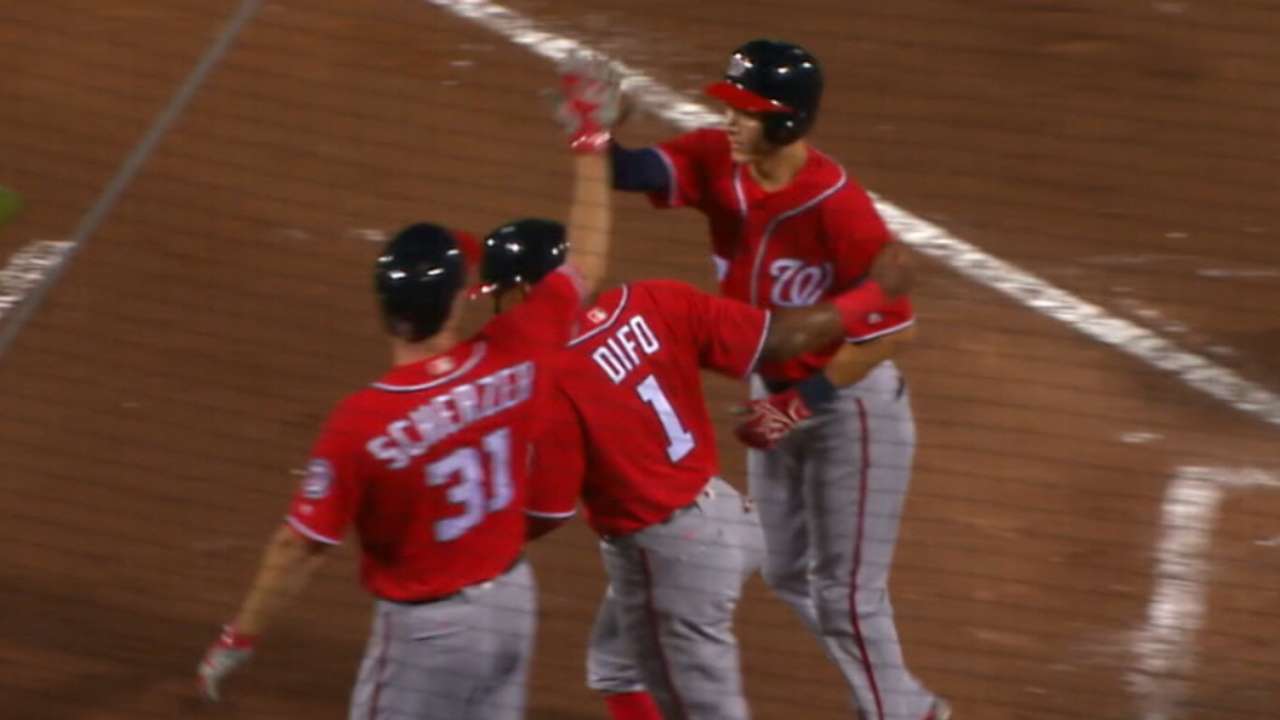 BOTTOM OF THE FOURTH
Rockies at Padres, June 3: It doesn't happen nearly enough in today's game, but a straight steal of home plate is always something exhilarating to watch. Melvin Upton Jr. pulled off a memorable one in this bottom of the fourth with Padres pitcher Drew Pomeranz at the plate. He timed Rockies starter Chris Rusin's move perfectly and orchestrated a deft slide to avoid the tag by catcher Nick Hundley. Statcast™ had Upton at 3.42 seconds from third to home with a maximum speed of 20.4 mph. WATCH »
TOP OF THE FIFTH
Rockies at Giants, May 5: Everyone knew the Rockies had a good lineup, and everyone knew that they could explode with lengthy rallies at any given moment. The fact that they did it against the Giants, in San Francisco, in such ridiculous fashion made this half-inning an unforgettable one. Colorado set a franchise record with 13 runs in the top of the fifth on this day, making it the most productive half-inning output by any team in 2016. WATCH »
BOTTOM OF THE FIFTH
Cubs at Indians, World Series Game 7, Nov. 2: In the first installment of a recurring theme, a.k.a. the last and possibly best baseball game of the entire year, Cubs manager Joe Maddon reached into his bag of All-Star tricks. With the Cubs leading, 5-1, with two out, a runner on first and some of the life taken out of the Progressive Field crowd, Maddon removed starter Kyle Hendricks and brought in starter Jon Lester for a rare relief role along with his personal catcher, David Ross.
Things got interesting in a hurry and the ballpark got loud again as Jason Kipnis' infield single turned into runners on second and third on a Ross throwing error, and the Indians then scored twice on a Lester wild pitch. WATCH »
TOP OF THE SIXTH
Royals at Red Sox, Aug. 28: The Royals of 2016 looked like the Royals of the previous two seasons in this inning, scoring eight runs to storm to a 10-4 win in Fenway Park. The key hit was a go-ahead three-run triple from Raul Mondesi. WATCH »
BOTTOM OF THE SIXTH
Cardinals at Diamondbacks, April 25: Shortstop Jean Segura was off to a career year by this time, and he put an exclamation point on this stirring sixth-inning rally. Arizona entered the frame down by a score of 5-2, but the D-backs scored nine runs in the inning, and Segura's three-run homer put them over the top. WATCH »
TOP OF THE SEVENTH
Orioles at Rangers, April 15: Mark Trumbo would end up as the Major League leader in home runs for 2016 with 47. He hit two of them in this inning two weeks into the season as Baltimore scored nine times in the frame to roll to victory.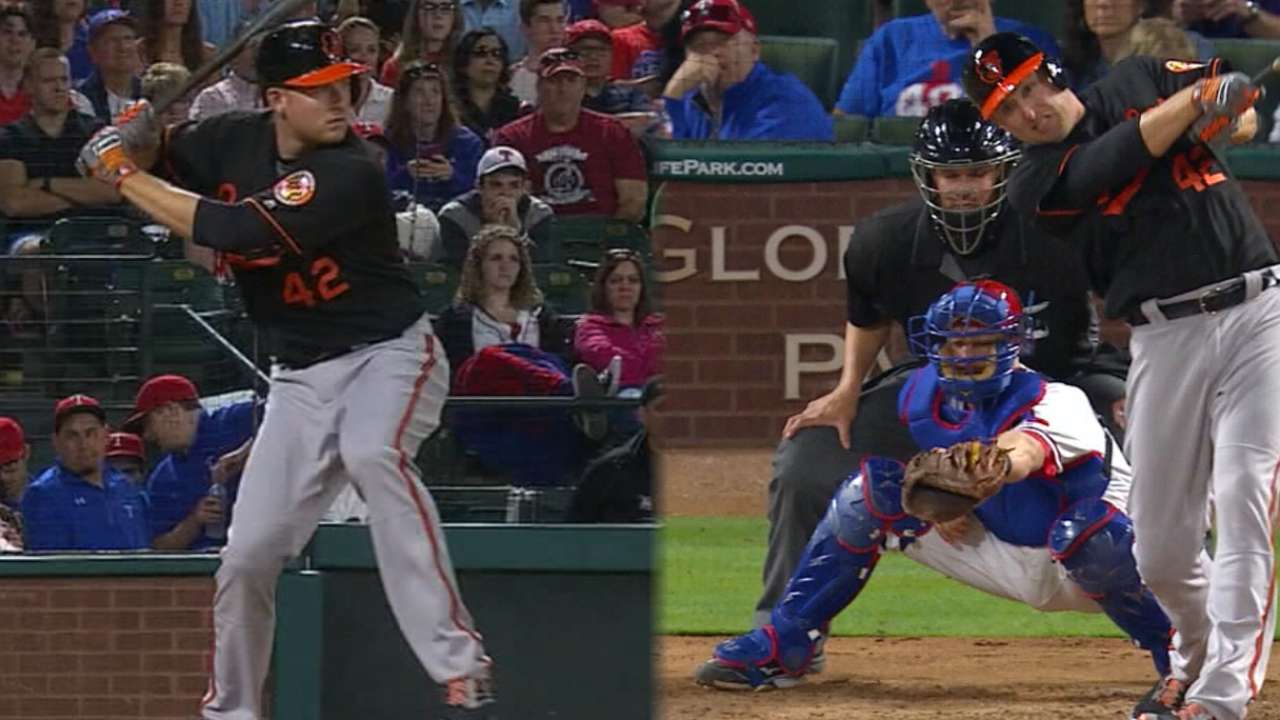 BOTTOM OF THE SEVENTH
Dodgers at Nationals, National League Division Series Game 5, Oct. 13: The Nationals entered the deciding game of the series trailing by four runs, but Chris Heisey got Nationals Park rolling with a pinch-hit two-run homer. After Clint Robinson singled, Dodgers manager Dave Roberts brought in closer Kenley Jansen to get out of trouble. Jansen made it interesting, giving up a single to Bryce Harper and walking Murphy intentionally to load the bases, but he struck out Anthony Rendon to end the threat. WATCH »
TOP OF THE EIGHTH
Blue Jays at Indians, AL Championship Series Game 1, Oct. 14: Here's an example of peak Andrew Miller, the left-handed reliever who became one of the dominant forces of the 2016 postseason. Miller had already gotten the last two outs of the seventh inning, both on strikeout, and then continued his tour de force by punching out the side -- Edwin Encarnacion, Jose Bautista and Russell Martin -- in the eighth to protect his team's 2-0 lead.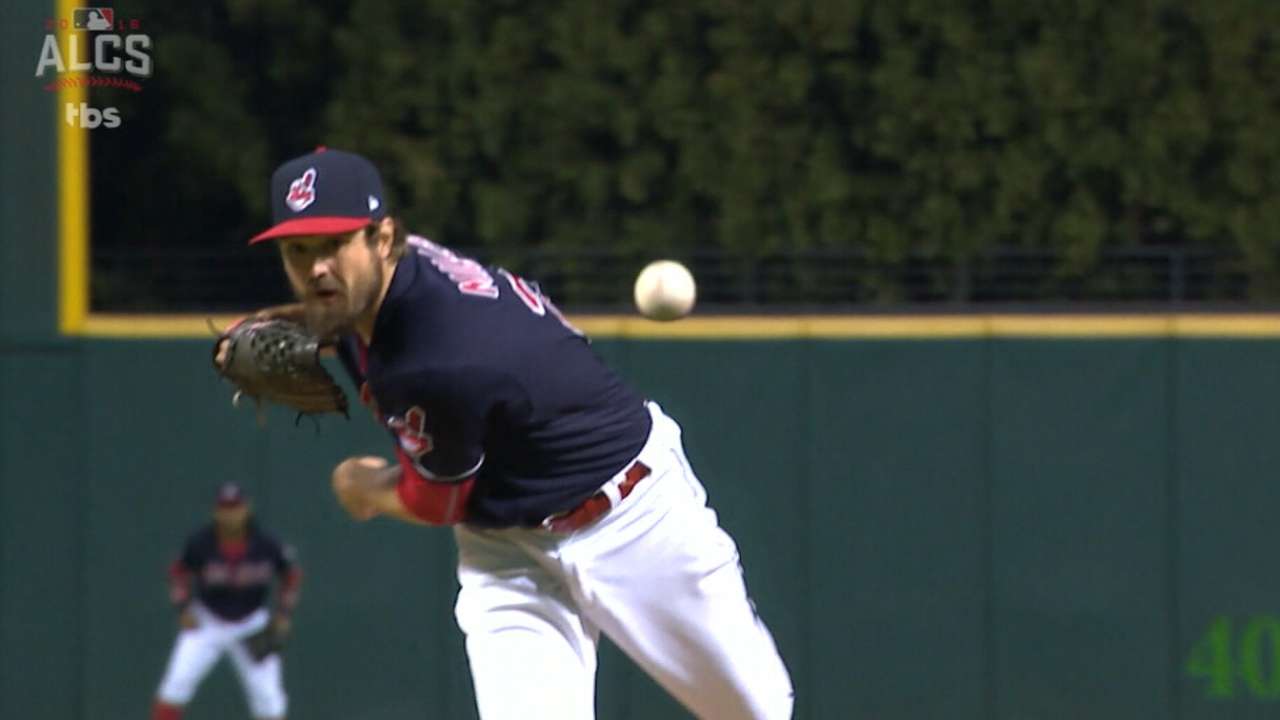 BOTTOM OF THE EIGHTH
Cubs at Indians, World Series Game 7, Nov. 2: The biggest homer of the year came from one of the least likely candidates. Speedy outfielder Rajai Davis, known more for his base-stealing prowess, got four huge bases for his team at the best possible time, homering off Cubs closer Aroldis Chapman to tie Game 7 in the eighth and sending Progressive Field into a frenzy. It was the latest game-tying homer in World Series Game 7 history.
"I was just thinking, 'This is me against him,'" Davis said. "We're going to see who wins this battle."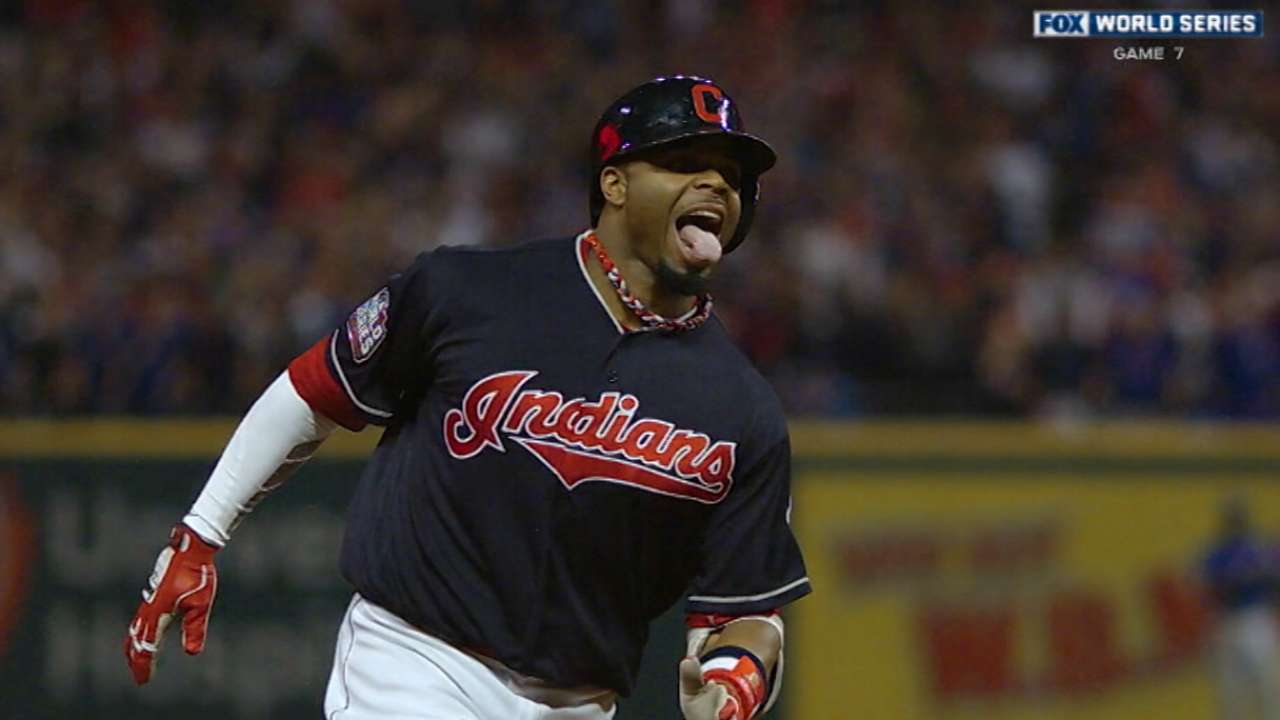 TOP OF THE NINTH
Tigers at Nationals, May 11: Max Scherzer pitched two no-hitters in 2015, and it took him a little more than a month to do something truly historic in 2016. Scherzer punched out two Tigers in the top of the ninth inning to reach 20 in the game. With that lofty total, Scherzer became the fourth pitcher in MLB history to strike out 20 batters in a nine-inning outing.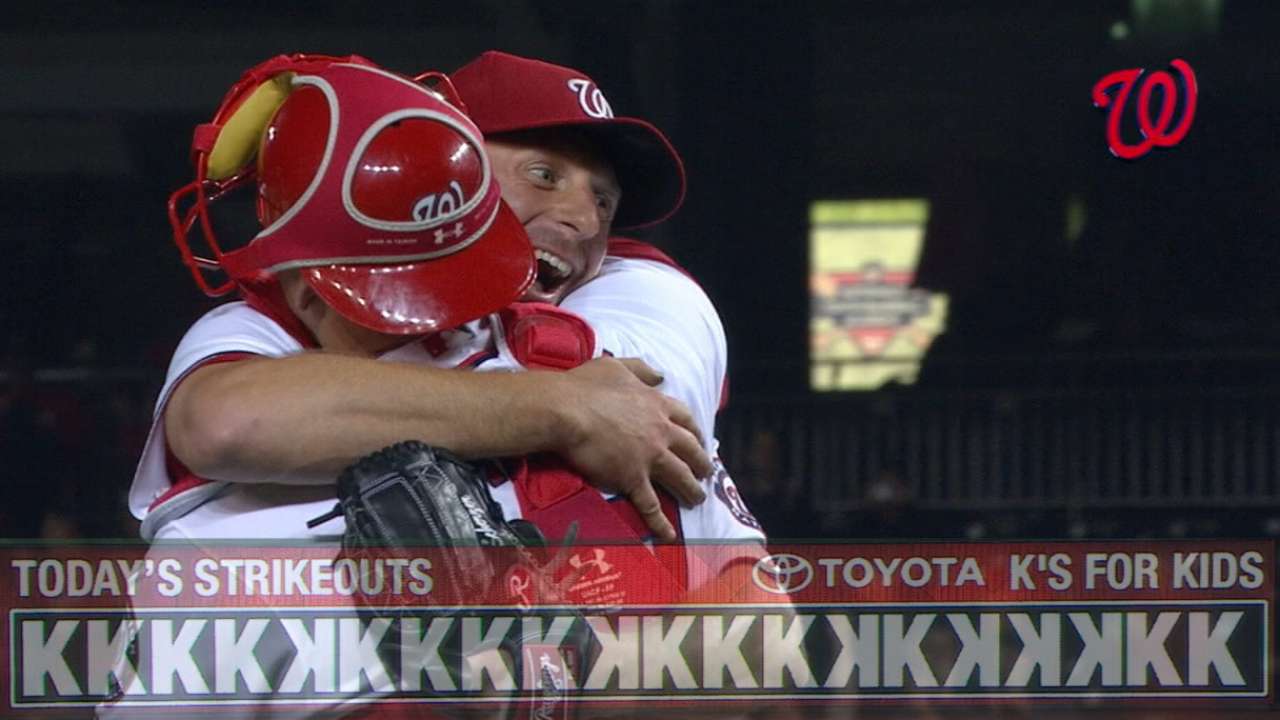 BOTTOM OF THE NINTH
Yankees at Red Sox, Sept. 15: Hanley Ramirez picked a good time to hit the second game-winning home run of his career. It came in the heat of a pennant race at a jammed Fenway Park against one of the best closers in the AL, New York's Dellin Betances. The Red Sox had fought back from a deficit throughout the game, put some runners on base in the ninth and set it up for Ramirez, who hit a 99.3-mph fastball deep into the Boston night for a three-run walk-off piece that capped a five-run ninth inning.
"I was trying to go to the moon," Ramirez said. "That's why I was sitting on a fastball the whole time. Just stay back and let it rip."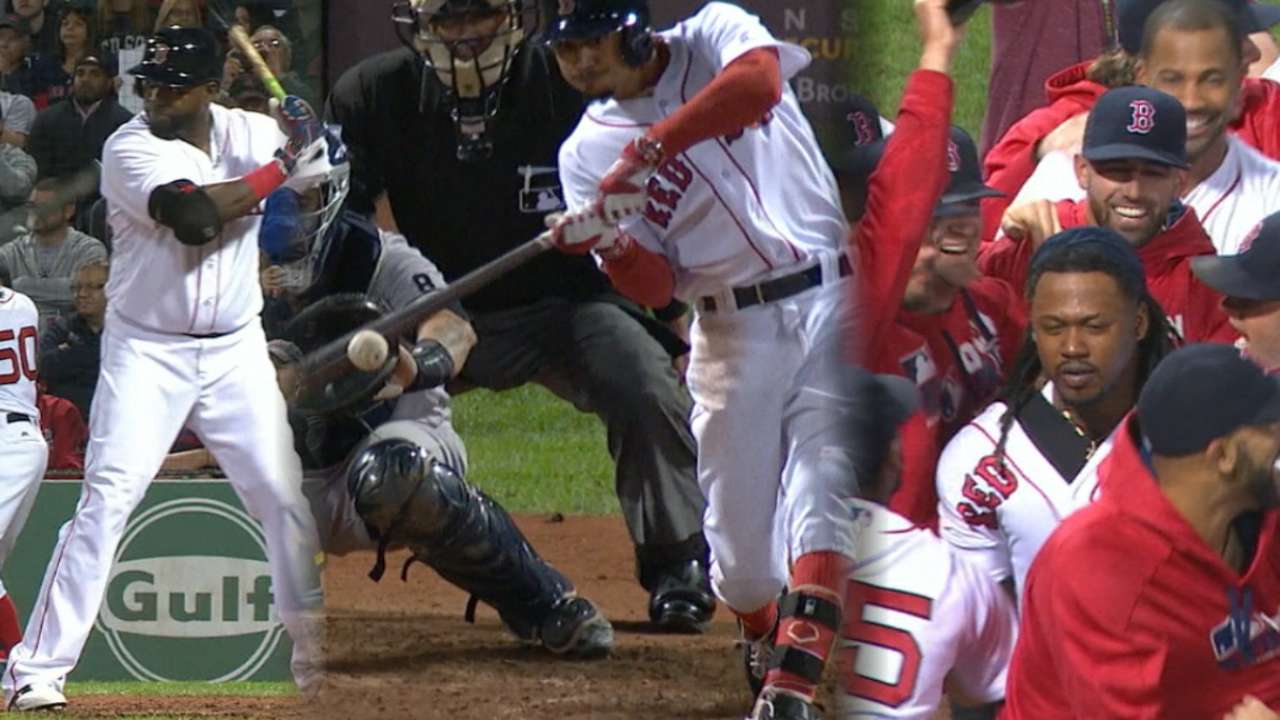 TOP OF EXTRA INNINGS (ANY INNING)
10th inning, Cubs at Indians, World Series Game 7, Nov. 2: Cubs fans had waited 108 years, so there was clearly no problem with one more inning. After a brief rain delay, the Cubs went back to work in the top of the 10th, with Ben Zobrist getting the big hit, doubling in the go-ahead run. Miguel Montero followed with a single to score Zobrist for what would turn out to be a huge insurance run when the Indians scored again in the bottom of the frame.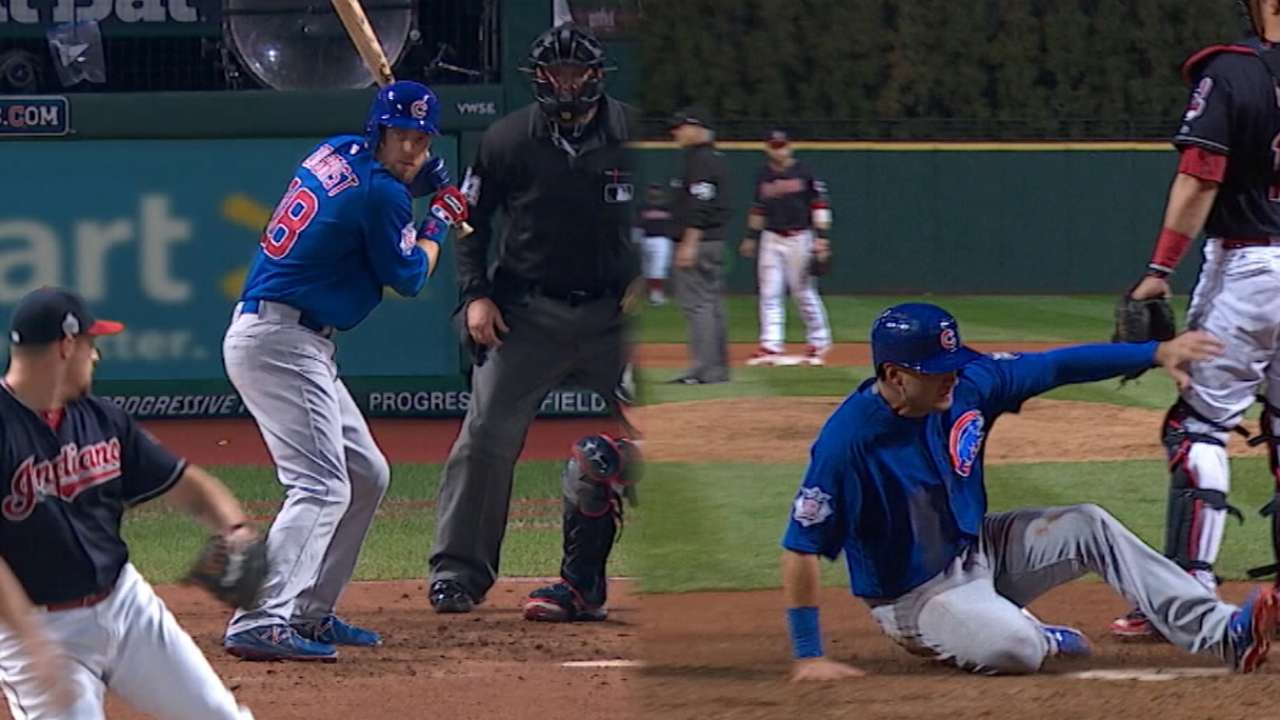 BOTTOM OF EXTRA INNINGS (ANY INNING)
11th inning, Orioles at Blue Jays, AL Wild Card Game, Oct. 4: Encarnacion was not facing Zach Britton, and that was half the story of the three-run homer in the bottom of the 11th that won the Wild Card Game in Rogers Centre. The other part of the story was Encarnacion's dramatic blast, which came against Ubaldo Jimenez and was only the fourth walk-off long ball in a winner-take-all postseason game in history.
"I was looking for a fastball, and I was trying to put a barrel on it," Encarnacion said after the game. "A little bit in front of it because the infield was playing in, and I actually got it. ... I was really happy, mostly because it was an extra-inning game. It was just a very special moment for us."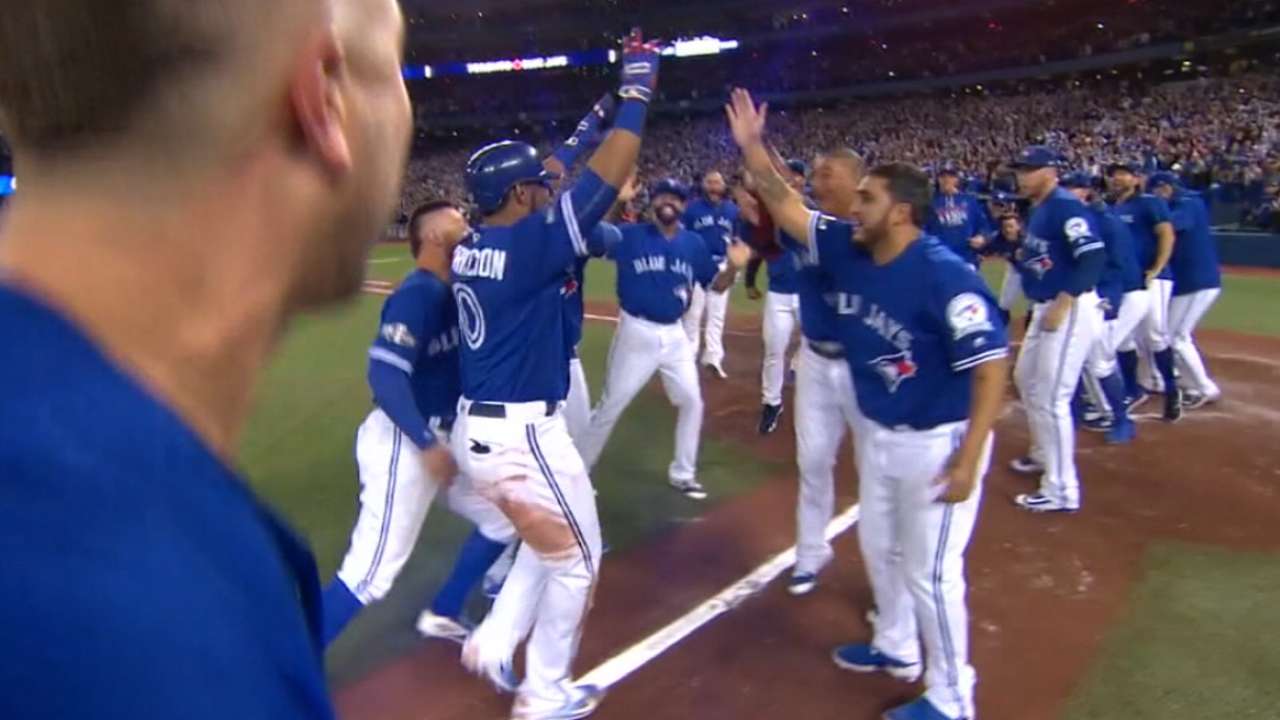 Doug Miller is a reporter for MLB.com. Follow him on Twitter @DougMillerMLB. This story was not subject to the approval of Major League Baseball or its clubs.