Hudson's gritty path brings him to Steel City
Righty to join Bucs bullpen after tough journey back from two TJ surgeries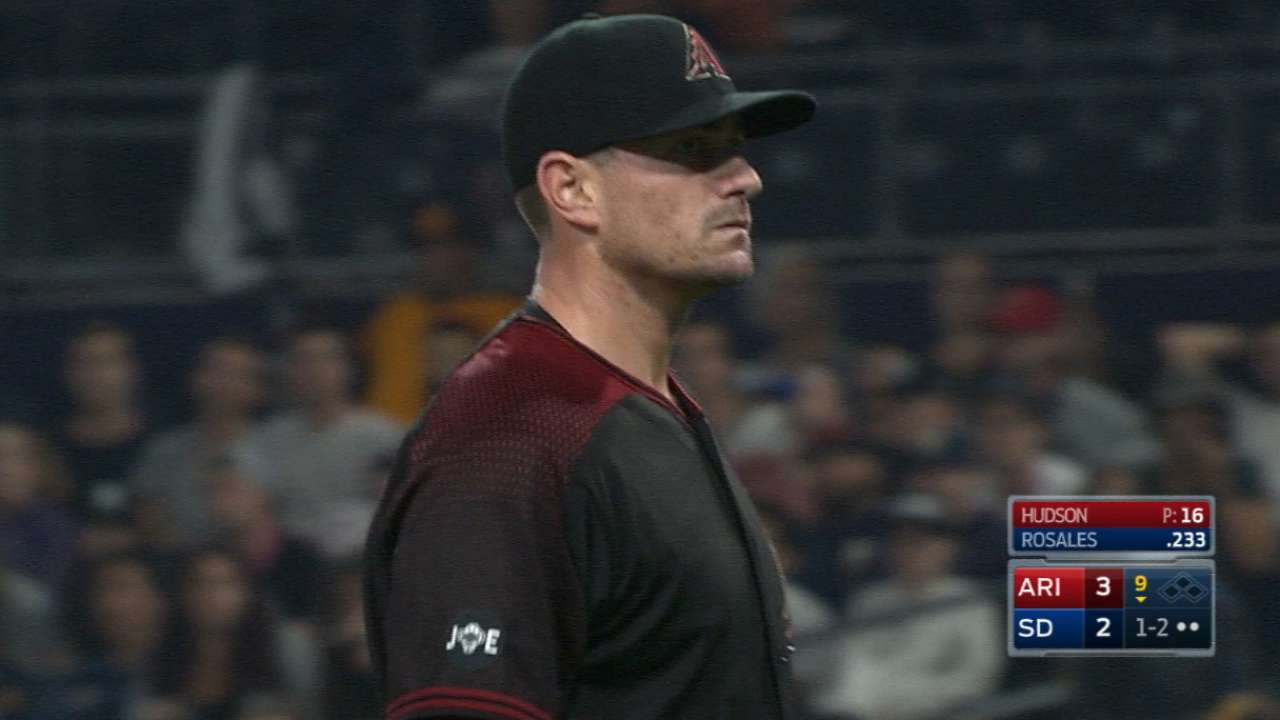 PITTSBURGH -- Three years ago, Daniel Hudson was working his way back from a second major reconstructive elbow procedure, wondering if he'd ever pitch in another game. He had undergone Tommy John surgery twice, grinding through two long rehabilitation programs, and he was still months away from getting on the mound.
But Hudson came all the way back, emerging as a solid late-innings reliever for the D-backs in 2015-16, and his perseverance was rewarded over the weekend when he agreed to a two-year, $11 million contract with the Pirates.
"If you'd asked me three years ago if I'd get to this point, I would have laughed in your face," Hudson said Tuesday in a phone interview. "I didn't even know if I was going to pitch again."
The agreement was finalized over the weekend and officially announced on Wednesday morning. The Pirates designated right-hander Brady Dragmire for assignment to clear a spot for Hudson; the Bucs have now acquired, waived, claimed and now dropped Dragmire off the roster, all within the last 2 1/2 months.
This is not the end of Hudson's path, but it is a fitting time to observe how far he's come. Hudson's journey was documented in "The Arm: Inside the Billion-Dollar Mystery of the Most Valuable Commodity in Sports" by Jeff Passan. Hudson blew out his elbow for the first time in June 2012. He had his second surgery in June 2013.
In Passan's book, Hudson revealed that he saved an email from the D-backs in the spring of 2012 that outlined a $15 million contract offer. He turned down the deal and entered free agency having made less than $5 million in his career. Now, Hudson is set to earn a guaranteed $11 million over the next two years.
"I'm definitely still soaking it in," Hudson said. "After all that happened, I didn't know if that type of deal would ever come my way again. ... To get to this point, it's definitely rewarding. I'm grateful for everything that this has turned out to be and everyone that's helped me along the way."
Hudson threw 222 innings with a 3.49 ERA as a starter for the D-backs in 2011. Upon his return, he competed for a spot in the D-backs' 2015 rotation but, recognizing his significant workload limits, volunteered to move to the bullpen.
He thrived there, posting a 3.86 ERA with 71 strikeouts in 67 2/3 innings in 2015, and quickly graduated from Arizona's swingman to a trusted late-innings arm.
"I think it's turned out well for my arm and my health. Knock on wood, I haven't had any major issues the last couple years," Hudson said. "Hopefully with my preparation and my routines in between outings and whatnot, I can keep going that way."
This past season, Hudson sandwiched one ugly slump -- with a 24.21 ERA in 15 appearances from June 23 to Aug. 2 -- between two brilliant stretches. The 29-year-old right-hander posted a 1.55 ERA in his first 30 games and closed the season with a 1.66 ERA in his final 25 outings.
"He went into the offseason as a priority target for us to add to our bullpen," general manager Neal Huntington said. "We feel like there's quality pitches, a pitch arsenal and experience to pitch in a high-leverage role for us. ... He certainly has battled impressively and admirably through tremendous adversity. He's got two healthy seasons under his belt, and we feel we can help him continue to be productive as we move forward."
The Pirates aggressively pursued Hudson as soon as free agency opened, he said. He likely will join left-hander Felipe Rivero as a setup man for closer Tony Watson. But with one year of club control remaining, Watson is at least a nominal trade candidate, so Hudson could be a candidate to pitch the ninth inning if Watson were dealt before reaching free agency next offseason.
For now, Hudson is simply looking forward to Spring Training and the opportunity to meet a new group of teammates and work with manager Clint Hurdle and pitching coach Ray Searage.
"I heard nothing but positive things about everybody," Hudson said. "Once they expressed their interest and how badly they wanted me, it was a no-brainer."
Adam Berry has covered the Pirates for MLB.com since 2015. Follow him on Twitter and Facebook, read his blog and listen to his podcast. This story was not subject to the approval of Major League Baseball or its clubs.