Inbox: Delve into details with Statcast queries
Beat reporter Jenifer Langosch answers questions from fans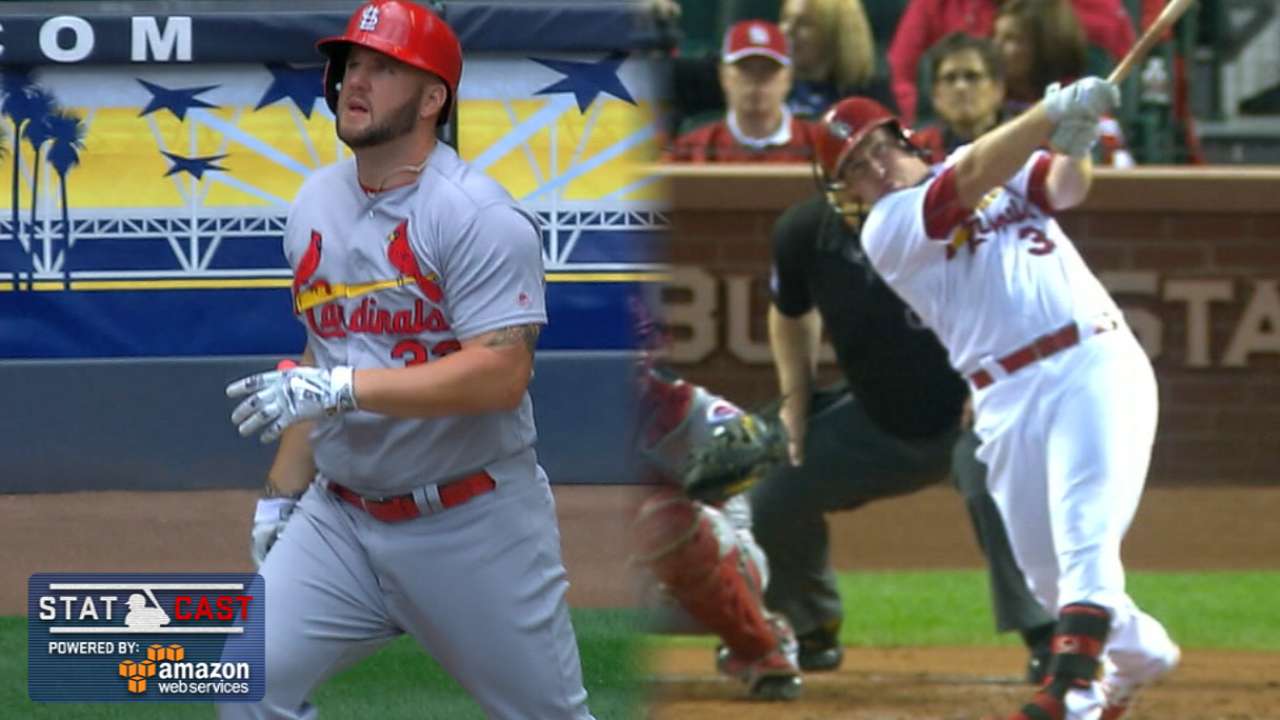 ST. LOUIS -- Two years ago, Major League Baseball introduced Statcast™ tracking technology into all 30 of its stadiums. The state-of-the-art system can track the location and movements of every player, pitch and hit, allowing for unparalleled insight into a game that is no longer viewed merely through the prism of baseball-card stats.
In order to introduce fans to a sliver of the data now available, I held a Statcast™ Q&A session via Twitter on Tuesday. Fans asked questions; Statcast™ provided the answers. Here are highlights of that chat, along with some additional commentary.
Ever wonder how many HRs Busch Stadium swallows up? Here's a @statcast look at where the #STLCards 2016 road HRs would have landed at home. pic.twitter.com/oZIhAWca3o

— Jenifer Langosch (@LangoschMLB) December 20, 2016
The Cardinals hit 121 of their 225 homers on the road in 2016, which begged the question of how much Busch Stadium may have tempered the team's homer total at home. While this graphic doesn't account for atmospheric conditions, it does show that more than a dozen of the team's road home runs would have been no deeper than the warning track if hit in St. Louis.
Here's a fun one: #stlcards Yadier Molina got 1,109 called strikes on pitches outside the zone in 2016. That was the highest total in MLB. pic.twitter.com/L0lZ8UdEMf

— Jenifer Langosch (@LangoschMLB) December 20, 2016
Though Molina watched his consecutive Gold Glove streak come to an end in 2016, he did finish the season with more called strikes on pitches outside the strike zone than any other catcher. Of course, it helps that he also logged more innings behind the plate than anyone else. Perhaps the fairest comparison is percentage of stolen strikes; Molina ranked ninth in the Majors (minimum 10,000 pitches) with 5.62 percent.
• Submit a question to the Cardinals Inbox
@Andy_Kroeger Carpenter had 179 called strikes outside the zone (7.51% of pitches). That was 6th highest % in MLB (min. 1500 pitches). pic.twitter.com/T06ZCpZVh7

— Jenifer Langosch (@LangoschMLB) December 20, 2016
Matt Carpenter has long been lauded for his keen eye and plate discipline. But that doesn't always mean he's rewarded for laying off borderline pitches, as this Statcast™ data show. However, his luck actually did improve in 2016. A year earlier, Carpenter led the Majors in percentage of pitches (9.38) called a strike that were outside the zone.
. @ColbieWacker Randal Grichuk swung at 424 pitches outside the strike zone in 2016. He swung at 567 pitches inside the zone. #stlcards pic.twitter.com/OqKBRLveod

— Jenifer Langosch (@LangoschMLB) December 20, 2016
Plate discipline was not a strength of Grichuk's last season, and contributed to his pair of midseason demotions. And yet, while he swung at 424 pitches outside the zone, that did not represent the highest percentage among the Cardinals' position players. That distinction went to Matt Adams.
. @CodyBarrett15 J. Garcia led #STLCards pitchers w/ 42 pitches in the zone called balls. Behind him: Wacha (35), Martinez (35), Waino (27). pic.twitter.com/fpK7dFlVWG

— Jenifer Langosch (@LangoschMLB) December 20, 2016
The bad luck didn't help Garcia, who endured the most inconsistent season of his career. One explanation for the high number of in-the-zone pitches called balls could be the unique movement Garcia gets on his sinker. Statcast™ notes that 24 of these 42 pitched balls were two-seam fastballs. Nevertheless, these calls only accounted for 1.63 percent of the pitches Garcia threw all year.
. @Nick_Stevens20 Kolten Wong swung at 126 pitches outside the zone with two strikes. This chart shows the result of those swings. pic.twitter.com/fAQos0uk2M

— Jenifer Langosch (@LangoschMLB) December 20, 2016
This doesn't come as much of a surprise, given how free-swinging Wong can be. Stephen Piscotty led the Cardinals with 241 two-strike swings, but Piscotty also took 269 more at-bats than Wong.
@CardBall59 Adams hit the hardest opposite field HR (110.9 mph) for #STLCards. The hardest by an opponent: Chris Carter (109 mph) off Wacha. pic.twitter.com/L3nb5PMvF7

— Jenifer Langosch (@LangoschMLB) December 20, 2016
Adams was intentional about trying to reduce his pull-heavy tendencies, and he did show some opposite-field power last season. No one else on the team had a higher exit velocity on an opposite-field blast all season. The hardest-hit opposite-field homer by a right-handed-hitting Cardinal came off the bat of Grichuk. He sent a Jacob deGrom fastball into the right-field seats with an exit velocity of 106.8 mph.
Jenifer Langosch has covered the Cardinals for MLB.com since 2012, and previously covered the Pirates from 2007-11. Read her blog, follow her on Twitter, like her Facebook page and listen to her podcast. This story was not subject to the approval of Major League Baseball or its clubs.