Inbox: How will Edgar fare in Hall of Fame vote?
Beat reporter Greg Johns answers fans' questions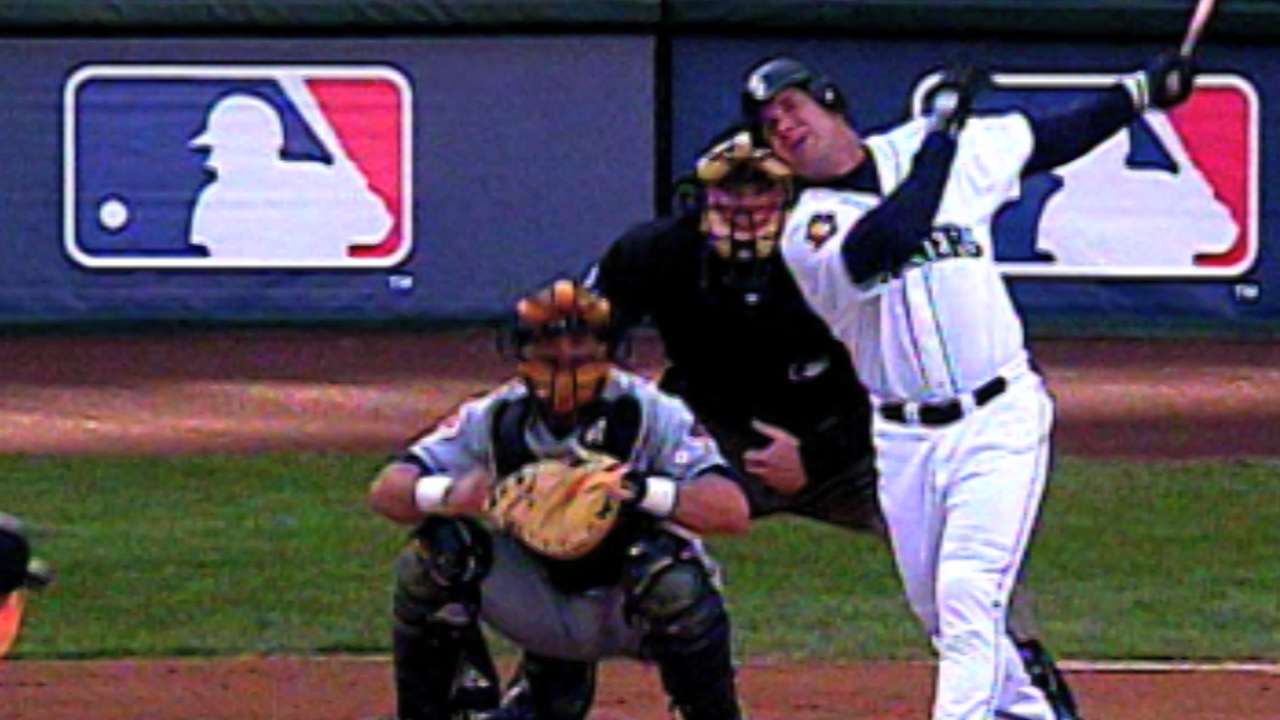 How likely do you think it is that Edgar Martinez gets into the Hall of Fame?
-- Andrew P., Mukilteo, Wash.
It's not going to happen this year, but I'm certainly more optimistic about Martinez's chances in his final two seasons of eligibility now in 2018 and '19 after seeing the early returns from Hall of Fame voters who have published their ballots in advance of the Jan. 18 official announcement on the 2017 class.
Martinez seems to be picking up considerable momentum among voters who share their thoughts on social media for several reasons -- increased awareness of his sabermetric numbers, a slightly less-crowded ballot after nine players have been elected over the past three years, more writers using all 10 available votes, perhaps the long-term David Ortiz factor in regard to designated hitters being valid Hall of Famers.
• Submit a question to the Mariners Inbox
For whatever reason, Martinez has been named on 65 percent of the first 68 ballots made public, per the Baseball Hall of Fame Tracker put together by Ryan Thibodaux, which is a significant jump from the 43.4 percent he finished with last year. That percentage will almost certainly drop when more of the anonymous votes are tallied, since voters who publish their ballots tend to be the younger, more progressive writers who are willing to look more at the sabermetric argument. Last year, public voters favored Martinez by 12 percent more than private voters.
But clearly Martinez is poised to make a solid jump, and if he finishes with somewhere between 50-60 percent support, that would dramatically increase his chances of continuing that momentum toward the necessary 75 percent for induction in his final two years on the ballot.
Any chance of seeing Franklin Gutierrez back with the Mariners in 2017?
-- Clark Y., Anchorage, Alaska
Haven't heard much on Gutierrez this winter, though that's not surprising since at his age (34 in February) and with his health condition and reduced defensive mobility, he's probably more a candidate to sign a Minor League deal with a camp invite somewhere. He'll likely survey the market and see what might be the best fit when it gets closer to Spring Training. That doesn't seem like Seattle, where they're trying to get younger and more athletic in the corners, but Gutierrez does offer a solid right-handed veteran bat and has survived several makeovers with the Mariners. So while I don't expect Gutierrez to return, I'll never say never with him.
If the Mariners acquire another starter, do you think the nod would go to Nathan Karns over Ariel Miranda for the fifth spot?
-- Josh W., Seattle
They'd prefer Karns in the rotation, given he didn't fare well in his brief relief trial in July. Miranda doesn't have much bullpen background either, but he could be an interesting prospect there as a lefty in the Mike Montgomery mode. But it's rare to keep five starters healthy for a full spring, let alone the regular season, and both those guys may well be needed in the rotation at some point.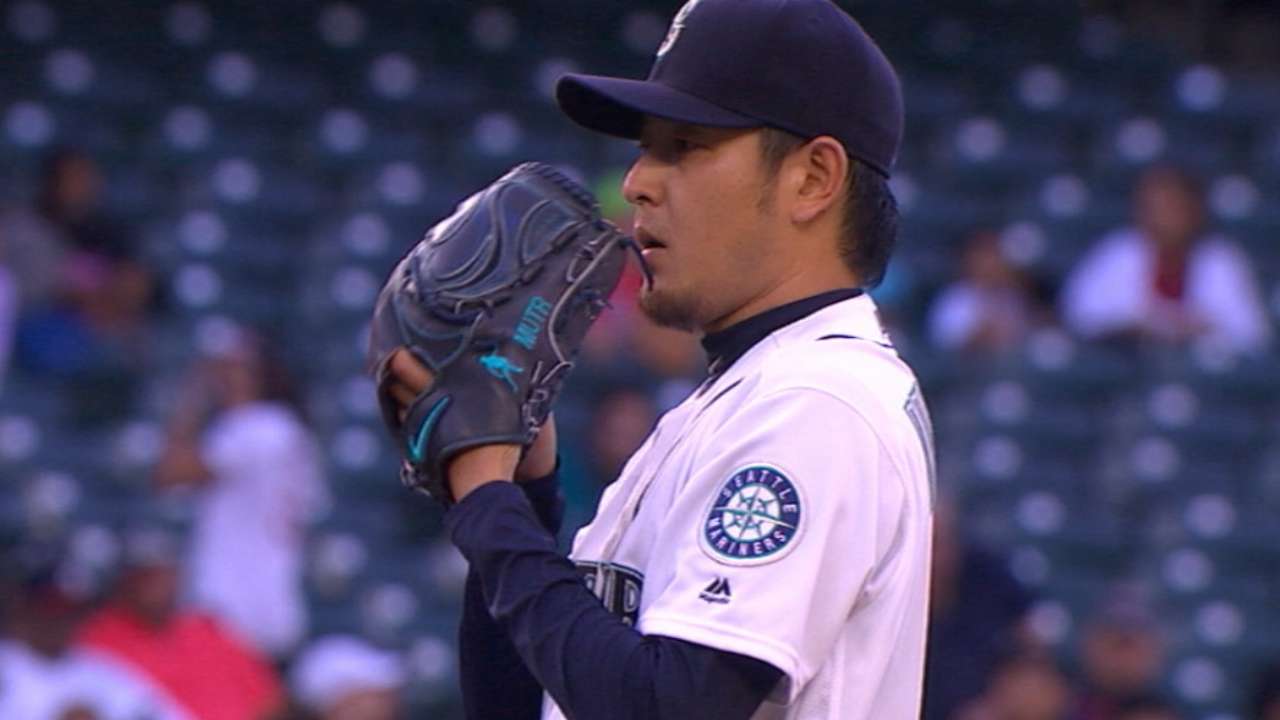 Why did the Mariners release Arquimedes Caminero? I thought he showed some promise.
-- Steve J., Vancouver, Wash.
The hard-throwing right-hander had an offer in hand from the Yomiuri Giants to play in Japan next season, and the Mariners agreed to let him pursue that, knowing he's out of Minor League options and was a long shot to make their 25-man roster. The 29-year-old can throw 100 mph, but command has been an issue (4.9 walks per nine innings and a 1.648 WHIP in his 57 MLB appearances in 2016), which is why the Marlins and Pirates previously let him go as well.
Is Daniel Vogelbach the real deal at first base?
-- Simon M., Norton, Mass.
That's one of the key questions to be answered this coming season, as the 24-year-old will be given a shot to show what he can do at the big league level. The Mariners feel his considerable power potential, combined with outstanding plate discipline (he had a .417 on-base percentage last season in Triple-A), make for an intriguing prospect. But they also hedged their bet by acquiring Danny Valencia to offer a right-handed platoon or full-time alternative should Vogelbach struggle.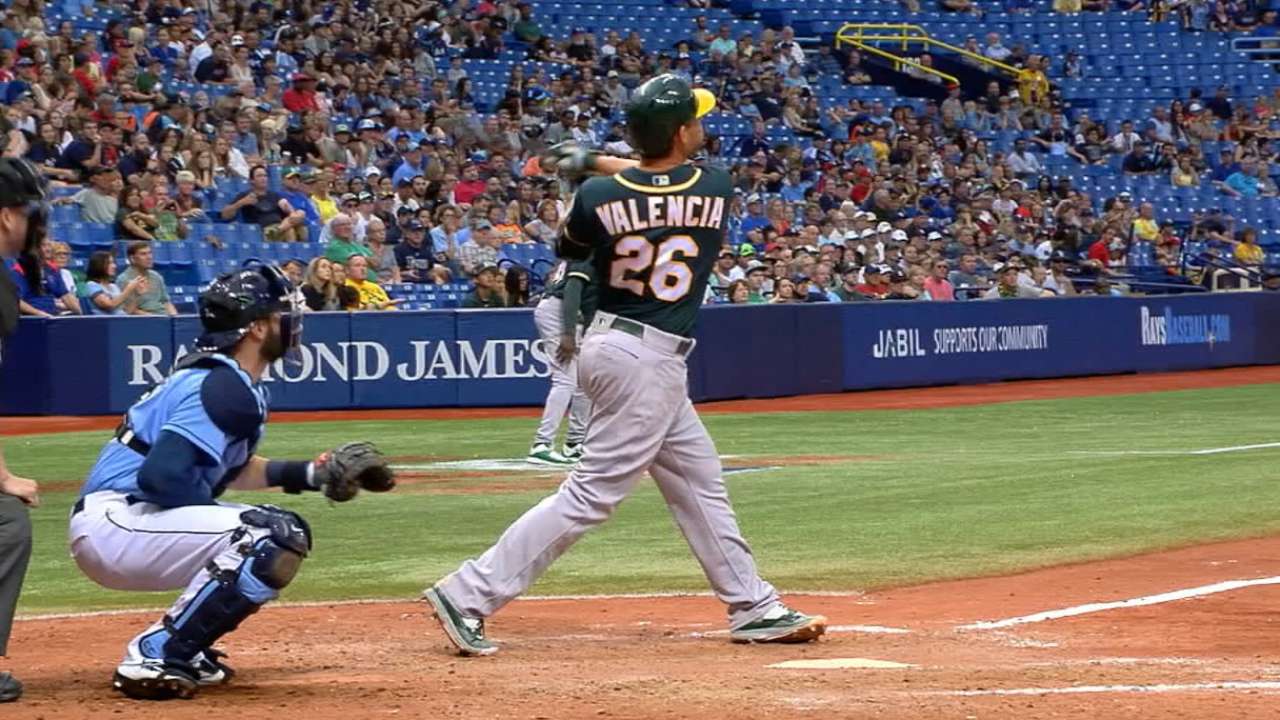 How do you see the Mariners splitting time behind the plate in 2017?
-- Sam G., Meadville, Pa.
Mike Zunino will be the regular starter, but newly acquired veteran Carlos Ruiz figures to see his fair share of time. If things go according to plan, I'd suspect Zunino will start 110-120 games and Ruiz would get the other 40 to 50. Ruiz is a good-hitting catcher, but he turns 38 in January. Zunino is regarded as the better defender and will be looking to take another step forward offensively at age 25.
Do you think the final pieces that are missing on the Mariners are going to come via trade, or is Jerry Dipoto getting ready for a free-agent signing, such as Doug Fister?
-- Iker B., Bilbao, Basque Country, Spain
While Dipoto prefers the trade route, the odds of signing a free-agent starter are ticking upward because of the high asking price of the few teams that do have excess arms. Pitching supply and demand is in full play this winter, both in trades and free agency. But teams are under no pressure to deal extra arms, whereas free agents eventually need to find a team. That could mean mid-range free agents like Fister or Colby Lewis, or perhaps even higher-end starters Ivan Nova or Jason Hammel, eventually come into play if the trade market doesn't loosen up.
Greg Johns has covered the Mariners since 1997, and for MLB.com since 2011. Follow him on Twitter @GregJohnsMLB and listen to his podcast. This story was not subject to the approval of Major League Baseball or its clubs.