Best of rest: Top 10 remaining free agents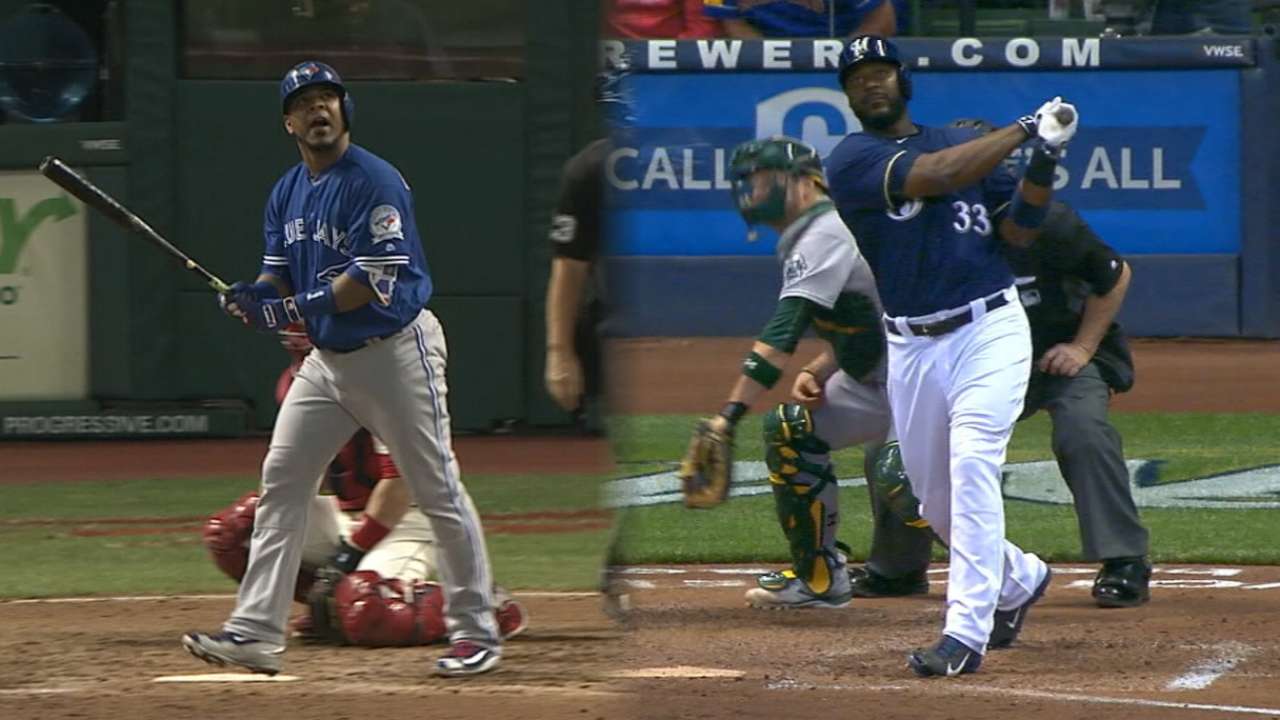 When Hot Stove season officially began six weeks ago, MLB.com released its list of the top 25 free agents, based on a projection system devised by MLB.com's analytics guru Tom Tango.
It's a WAR-based version of the Marcel projection system that Tango created years ago and gives the most weight to 2016 and the least to '14, while also adjusting for age. (For more details on this new system, aka WARcel, read Tom's blog, and check out the original top-25 list.)
With the Winter Meetings in the rearview mirror and the calendar almost ready to flip to 2017, the majority of those 25 players have signed. But eight remain on the open market, and they have been joined by two who were non-tendered after the original list was released.
It's important to remember that these projections are estimates and that players who fall within a few tenths of a win could easily be flipped. In other words, take the exact order with a grain of salt.
With that in mind, here are the top 10 remaining free agents of the 2016-17 offseason, based on WARcel projections for 2017. (Note: Ages listed are "seasonal ages," meaning as of July 1, 2017.)
1. Edwin Encarnacion, DH/1B
2017 WAR projection: 3.2
2017 age: 34
Encarnacion's age, his attachment to a Draft pick and the glut of power bats on the market all could be contributing to a slow free-agent process for the slugger. Clubs with an obvious hole at first base, such as the Rangers and Indians, still make a great deal of sense, though. If Encarnacion lowers his demands and considers a shorter-term deal, that could widen his appeal, especially for a National League team such as the Rockies or Cardinals that would have to play him in the field.
Educated guess: Rangers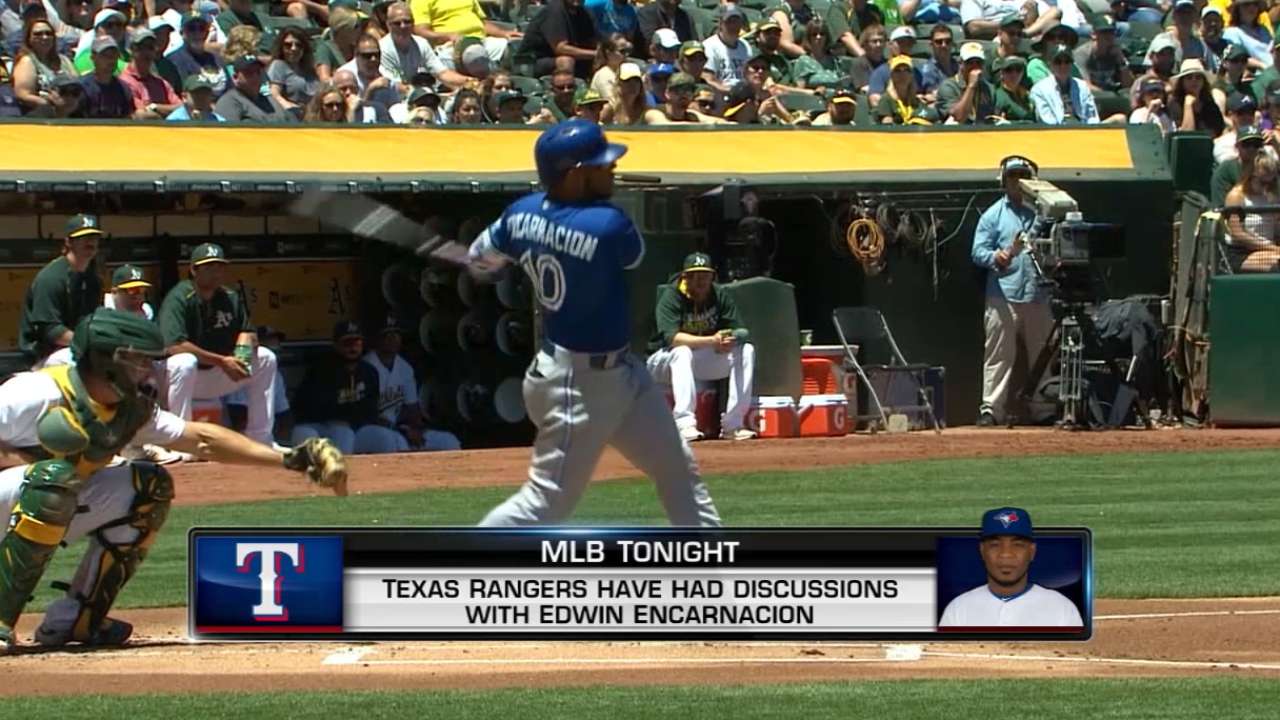 2. Luis Valbuena, 3B/1B
2017 WAR projection: 1.8
2017 age: 31
Valbuena is looking for a multiyear deal that will set him up to play every day, the New York Post has reported. Unfortunately for Valbuena, few teams are in the market for a third baseman this offseason. In fact, those that have been tied to Valbuena thus far (Rays, Yankees) already have a regular at the hot corner.
Educated guess: Yankees
3. Colby Rasmus, OF
2017 WAR projection: 1.8
2017 age: 30
Rasmus' name hasn't come up in many rumors, though the Orioles, Blue Jays, Giants, Indians and Mariners are among the logical landing spots. Finding one may take a while because Rasmus is coming off postseason surgeries on his hip and core muscles. The left-handed hitter, who also had a cyst removed from his ear during the season, started hot but hit .191/.252/.297 after April. However, he posted a .789 OPS with 25 homers in 2015, something WARcel remembers well.
Educated guess: Orioles
4. Jose Bautista, OF/DH
2017 WAR projection: 1.6
2017 age: 36
Like Encarnacion, Bautista has felt the burden of age and Draft-pick compensation. The Blue Jays would seem to be among the best fits, and the two sides are said to be keeping in touch. Others could jump in if the price is right, including a team with a protected top-10 Draft pick, such as the Rays.
Educated guess: Blue Jays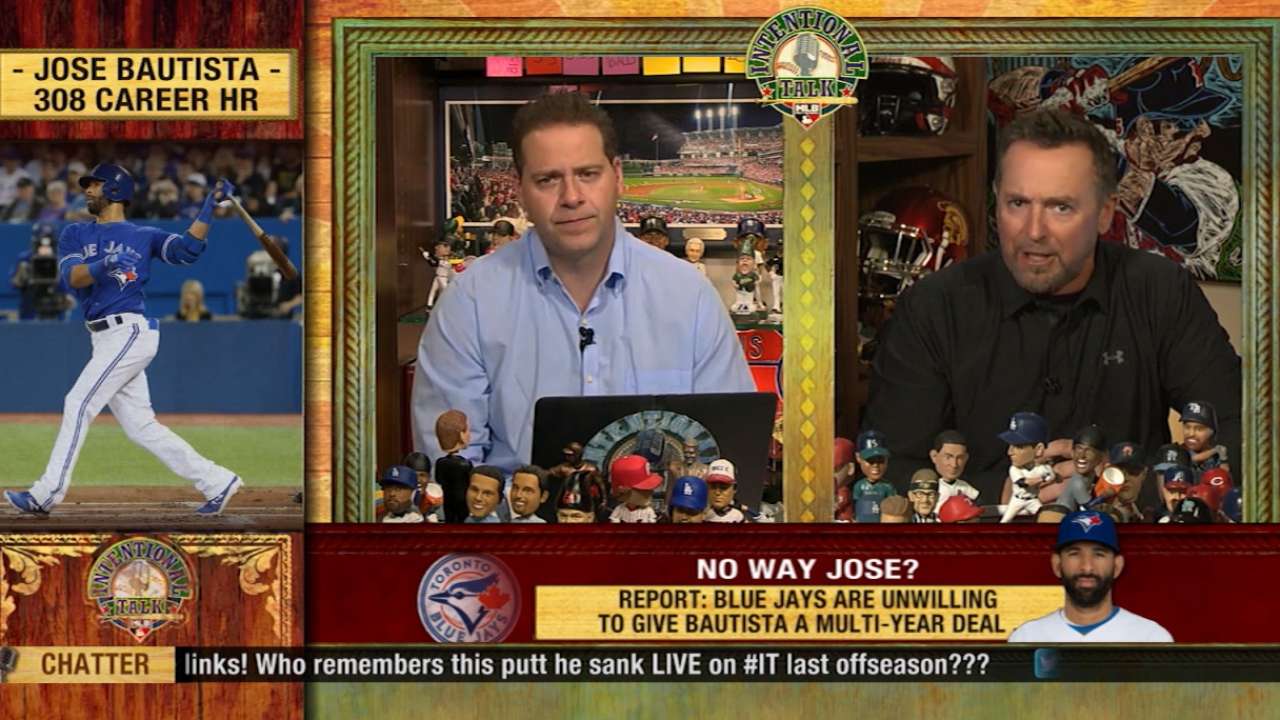 5. Mark Trumbo, 1B/OF/DH
2017 WAR projection: 1.1
2017 age: 31
The Orioles haven't closed the door on bringing back Trumbo and wouldn't have to surrender a Draft pick to do it. On the other hand, the 2016 MLB home run leader likely would be better suited to a team that could play him only at first base and/or DH. The Rangers and Indians fit that description, as could the Rockies and Cardinals -- provided they swing trades to clear space in their lineups.
Educated guess: Rockies
6. Matt Wieters, C
2017 WAR projection: 1.1
2017 age: 31
The Orioles signed Welington Castillo, and clubs such as the Nationals, Astros, Twins and Rays have found other solutions behind the plate. Yet ESPN's Buster Olney reported this past weekend that there is "rampant" industry speculation that Wieters still will end up in Washington, with the club presumably flipping recent trade acquisition Derek Norris. The Braves, White Sox, Rockies and Angels are among those who also could look to Wieters for an upgrade.
Educated guess: Nationals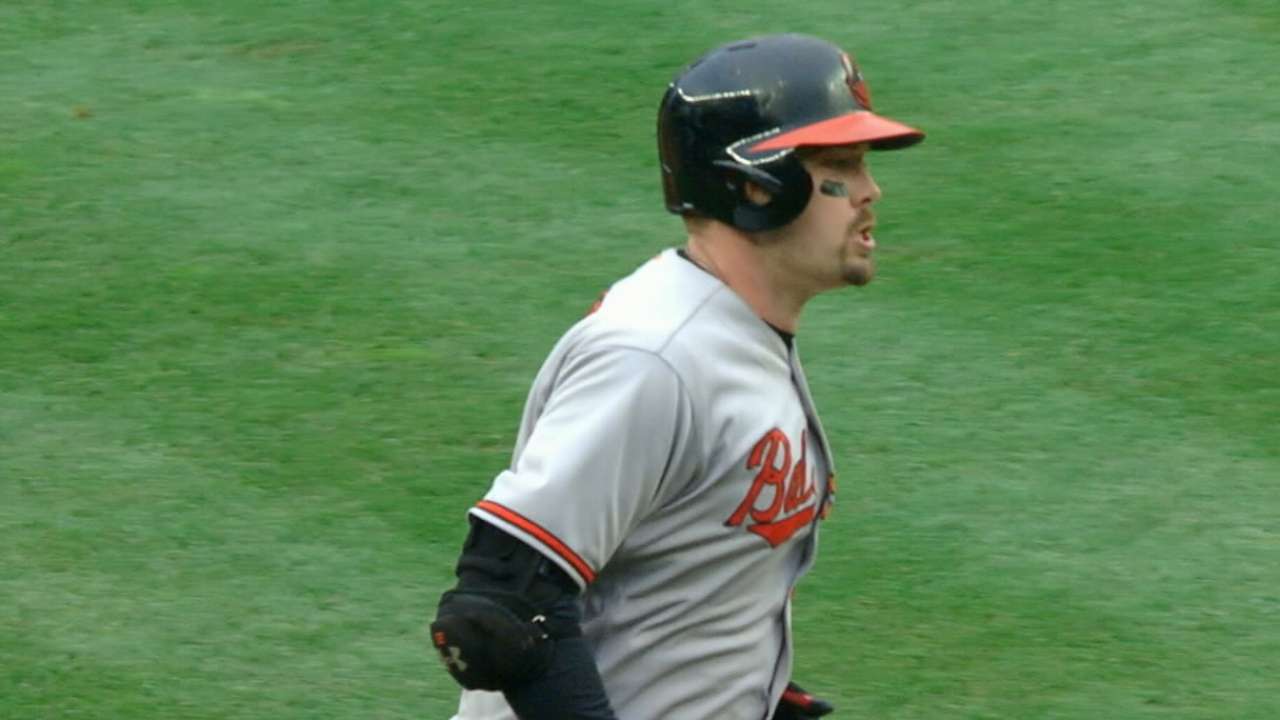 7. Trevor Plouffe, 3B/1B
2017 WAR projection: 1.1
2017 age: 31
Plouffe hasn't been involved in many substantive rumors since the Twins let him go following an injury-marred season. If he doesn't find a regular job at the hot corner, Plouffe still could land somewhere as a platoon bat, thanks to a .268/.344/.465 career line against left-handed pitchers. The A's, Indians and Braves all make some sense.
Educated guess: A's
8. Michael Saunders, OF
2017 WAR projection: 0.8
2017 age: 30
A rough second half surely hasn't helped Saunders, despite a solid overall line of .253/.338/.478. As a lefty-hitting outfielder, he could find a similar group of possibilities as Rasmus, although Saunders is more limited defensively. He still could find his way back to Toronto or wind up somewhere like Baltimore or Cleveland.
Educated guess: Blue Jays
9. Alex Avila, C
2017 WAR projection: 0.7
2017 age: 30
Avila may have to settle for a backup role somewhere after hitting .213/.359/.373 with seven homers in 57 games for the White Sox in 2016. ESPN's Jerry Crasnick has reported that the Tigers -- whose GM is Avila's father, Al -- want Avila back but might not be able to afford him. The Cardinals also make sense, especially if they want to lighten Yadier Molina's arduous workload.
Educated guess: Tigers
10. Chris Carter, DH/1B
2017 WAR projection: 0.6
2017 age: 30
Milwaukee non-tendered Carter, even after he smacked 41 home runs and slugged .499. On the other hand, he hit .222 with a .321 OBP and 206 strikeouts. Carter would make the most positive impact back in the AL, where he could spend the bulk of his time as a DH. That positions him as a much less costly alternative to Encarnacion or Trumbo for teams such as the Rangers, Indians and Orioles. He also could fit for a budget-conscious club, such as Tampa Bay or Oakland.
Educated guess: Rays
Best of the rest
Teams still in need of power are in luck, as there are several other options that fell outside of the top 10. From the right side of the plate, Mike Napoli (0.5 projected WAR) is a highly respected veteran who hit 34 home runs last season for the AL-champion Indians. From the left side, Pedro Alvarez (0.5), Adam Lind (0.5), Logan Morrison (0.4) and Brandon Moss (0.2) all could be solid platoon bats, if not more.
The choices are much slimmer when it comes to starting pitchers, but Tyson Ross (0.5) stands out as a high-risk, high-reward play, coming off surgery for thoracic outlet syndrome. Fellow righties Jason Hammel (0.4) and Colby Lewis (0.3) are capable veterans who could slot in nicely at the back end of a rotation.
In the infield, Chase Utley (0.6) remained effective in his age-37 season for the Dodgers, and Stephen Drew (0.3) had an .864 OPS as a reserve in Washington. Behind the plate, Nick Hundley (0.2), Chris Iannetta (0.2) and Kurt Suzuki (0.2) are among the veterans still searching for a spot.
Andrew Simon is a research analyst for MLB.com. Follow him on Twitter @AndrewSimonMLB. This story was not subject to the approval of Major League Baseball or its clubs.