Indians battled to final inning in memorable 2016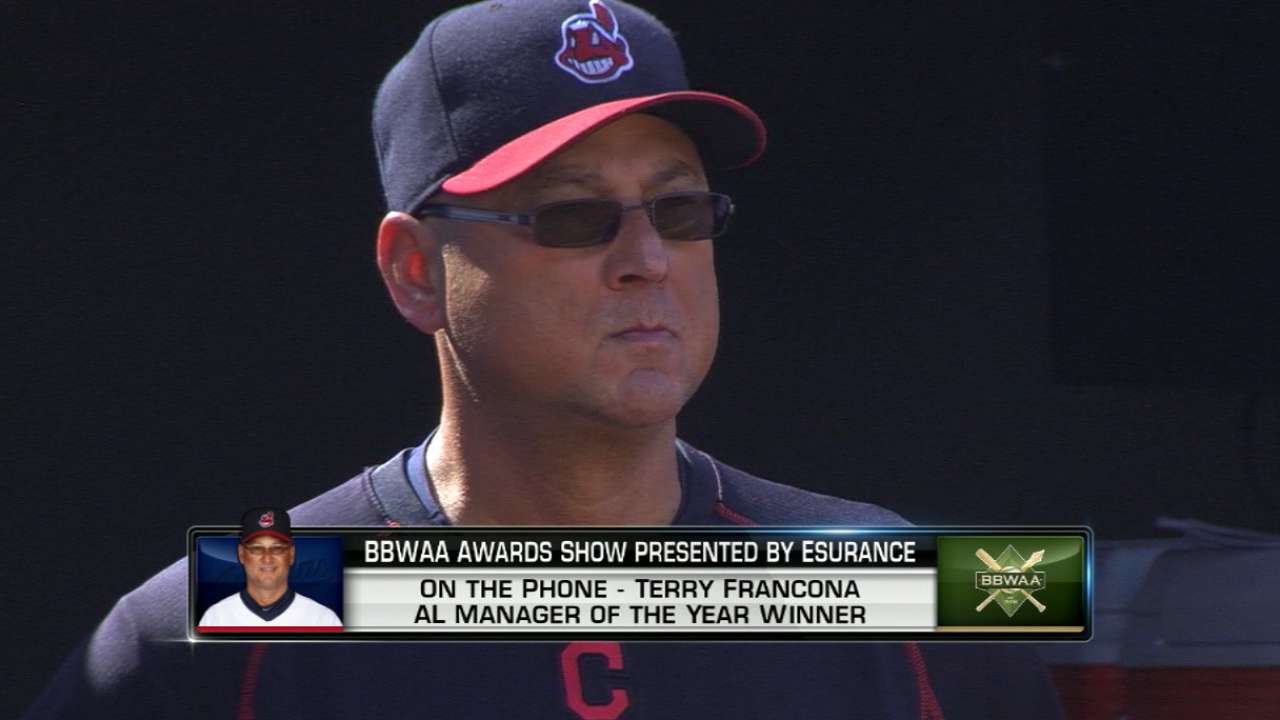 CLEVELAND -- The Indians wanted to give the city of Cleveland a second parade in a single year. Against all odds, with an injury-riddled roster, they nearly got it done, too.
After all the Tribe overcame to claim its first pennant in nearly two decades, the sight of the Cubs partying on the Progressive Field infield was not the storybook ending the local fans had in mind. That said, there is real optimism that this Indians team has the ingredients to contend for a World Series crown next year.
"All of those experience that a lot of those players got will benefit us moving forward," Indians team president Chris Antonetti said. "There won't be any firsts for us moving forward. That group has now experienced as much as you can experience in baseball, including an epic Game 7 of the World Series."
Terry Francona won the American League's Manager of the Year Award for his masterful work with the 94-win AL Central champions. In his first full season, shortstop Francisco Lindor was named an All-Star and won a Gold Glove Award. Ace Corey Kluber and outfielder Tyler Naquin finished third in voting for the AL Cy Young Award and AL Rookie of the Year Award, respectively. And to cap off a memorable 2016, the Tribe agreed to a three-year deal with slugger Edwin Encarnacion, who averaged 39 homers and 110 RBIs per year over the last five seasons.
This was a year that will be remembered for ages among Tribe fans. There were 11 walk-off wins in the regular season, with nine different heroes. A franchise-record 14-game winning streak, capped by a 19-inning victory over Toronto on July 1.
The signature moment of the regular season may have been Aug. 19, when Naquin pulled off a walk-off, inside-the-park home run to beat the Blue Jays, the Indians' first such feat in over 100 years.
Here are five moments that stood out during Cleveland's memorable '16 campaign:
1. It's Miller Time
On July 31, Cleveland sent four prospects to the Yankees in order to land Andrew Miller, one of the game's elite relievers.
"We gave up a lot, but it's all about winning," Indians owner Paul Dolan said amidst the celebration after his team clinched a spot in the World Series. "Yeah, years from now I suspect we'll look at some of these guys that we traded and say, 'Why did we trade them?' But then, we'll look at the couple trophies we have and we'll know why we did it."
Miller was a force down the stretch in the regular season and otherworldly in October. The big lefty set single-postseason relief records for innings (19 1/3), strikeouts (30) and multi-inning outings (10). Francona used Miller as a high-leverage weapon rather than a traditional closer. In the postseason, that meant entering as early as the fifth inning on occasion. With a depleted rotation, Miller and Co. helped pick up the slack.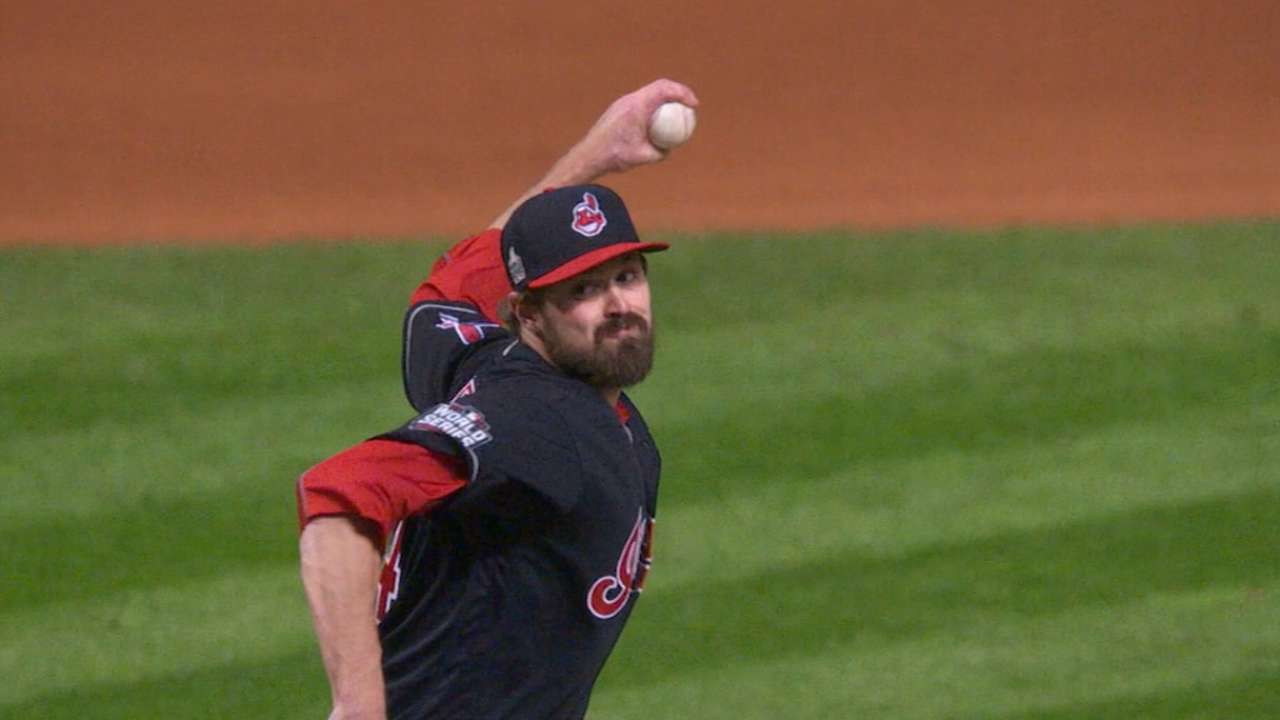 2. Bauer's bloody pinkie
Before the AL Championship Series, Trevor Bauer sustained a deep laceration on his right pinkie finger during "routine maintenance" of one of his drones, which have been a longtime hobby.
In the first inning of Game 3 of the ALCS, Bauer's wound began bleeding on the mound, staining his uniform, spikes and the dirt below his feet. Toronto manager John Gibbons called for Bauer's removal, and the pitcher was forced to exit. Cleveland's bullpen then turned disaster into a classic postseason performance.
"Our bullpen," Francona said, "that's one of the most amazing jobs I've ever seen."
The bullpen combined for 8 1/3 innings in a 4-2 victory, becoming the first team in postseason history to have no pitcher record more than five outs. Cleveland also set an AL postseason record by using seven pitchers in a nine-inning win.
"What words do you even put on that?" Bauer said after Game 3 of the ALCS. "Unbelievable, right?"
It was reminiscent of Sept. 17, when the Indians' bullpen combined for 10 shutout innings en route to a 1-0 win after Carlos Carrasco exited with an injury against the Tigers.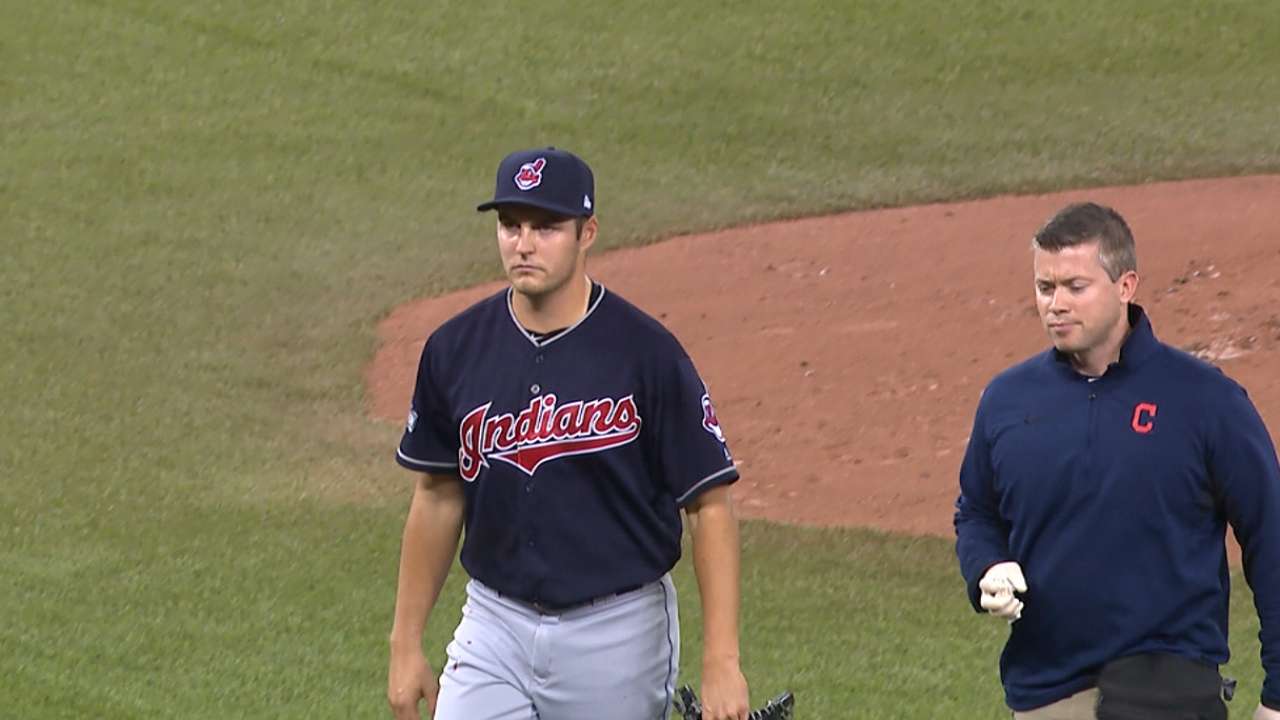 3. Jerry and Josh Tomlin
For three days in August, Tomlin was away from the team for unspecified family reasons. It was eventually learned that his father, Jerry, whom Tomlin calls his best friend, needed emergency surgery to treat arteriovenous malformation, which is a rare blood tissue abnormality. It left Jerry Tomlin paralyzed from the chest down.
When the Indians reached the postseason, Jerry watched from his hospital bed at Dallas' Baylor Rehab Institute as his son took on the Red Sox in the AL Division Series and then the Blue Jays in the ALCS. In Game 3 of the ALDS, Tomlin helped the Indians to a three-game sweep of Boston.
On Oct. 19, Jerry was released from the hospital. That just so happened to be Josh's birthday, and the day the Indians clinched a spot in the World Series against the Cubs. Josh was then trusted with the ball for Game 3 at Wrigley Field. In Chicago, Jerry watched from a wheelchair as his son stifled Chicago's bats over 4 2/3 shutout innings in a 1-0 victory for Cleveland.
"It's hard to put into words," Jerry said. "The way everything played out and the way people helped me to get here, man, it's definitely a dream come true. There was no way I was going to miss this."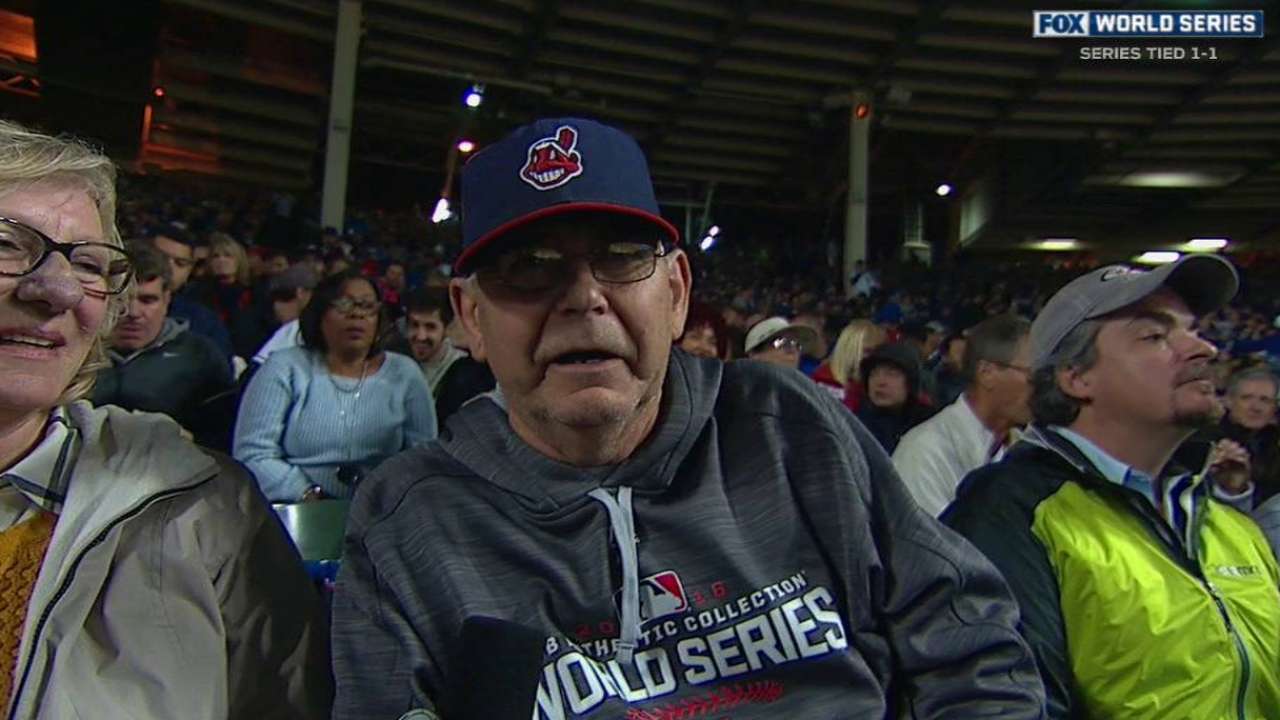 4. Merritt and his boots
Working with a thin rotation, Cleveland announced that rookie lefty Ryan Merritt would take the ball for Game 5 of the ALCS in Toronto. The skinny, soft-spoken kid from Texas would be stepping into the raucous Rogers Centre environment and asked to face one of the game's most powerful lineups. Even with the Indians holding a 3-1 edge in the series, the Blue Jays were feeling confident.
"I'm pretty sure he's going to be shaking in his boots more than we are," said Toronto slugger Jose Bautista.
Cleveland trusted Merritt, though, because throughout his professional career, the lefty had shown a knack for being unflappable. Besides that, the Indians trusted their scouting, which indicated that Toronto's offense tended to struggle against strike-throwing lefty pitchers like Merritt.
Beginning with a groundout off the bat of Bautista, Merritt spun 4 1/3 shutout innings in a 3-0 pennant-clinching win over the Blue Jays. During the postgame champagne celebration, at the urging of his teammates, Merritt hoisted his boots in the air. In the days that followed, Indians fans found the wedding registry of Merritt and his fiancee and purchased all kinds of items as a show of thanks.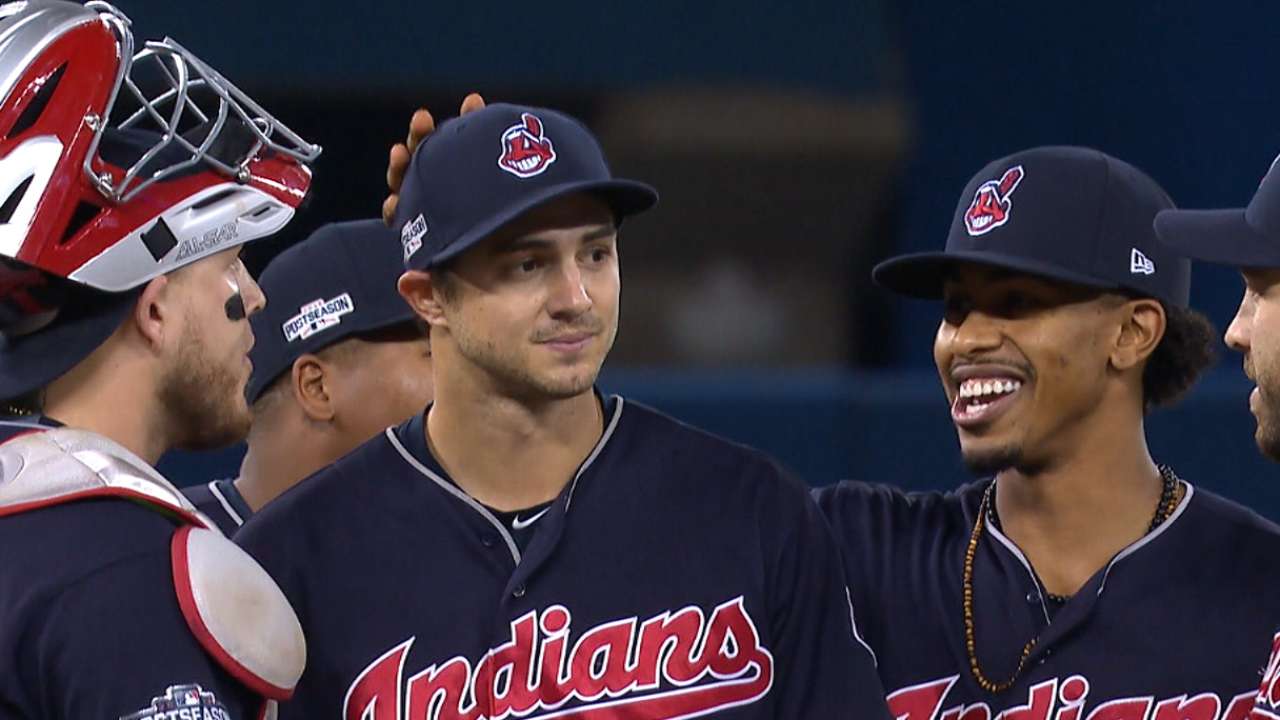 5. A Game 7 for the ages
The Tribe had not won the World Series since 1948. The Cubs' drought dated back to 1908. Naturally, the teams were not only paired against one another, but were forced to play into extra innings in Game 7.
"We were on the losing end of it," Indians closer Cody Allen said after the 8-7 loss in 10 innings. "But that's going to probably be looked at as one of the greatest World Series of all-time. It absolutely stinks right now, but we didn't go out there and beat ourselves. We just got beat by a really good team."
It is hard to sum up all that happened in those 10 innings. Game 7 was so incredible that barely anyone talks about the fact that Cleveland scored two runs on a wild pitch. In his final career game, David Ross homered off Miller. Lindor made a defensive play in the ninth inning that looked like a historic play for a moment. The Cubs were up, 5-1, by the fifth, but were pushed to the limit by the Tribe.
"It was like a heavyweight fight, man," Cubs outfielder Ben Zobrist said. "Just blow for blow, everybody playing their heart out. The Indians never gave up."
Rajai Davis hit one of the iconic home runs in Indians postseason history, belting a game-tying two-run shot in the eighth inning off fireballer Aroldis Chapman. Progressive Field went into a frenzy and Davis' teammates poured onto the field in celebration as he sprinted around the bases. Had Cleveland won, Davis may have had a statue in the works.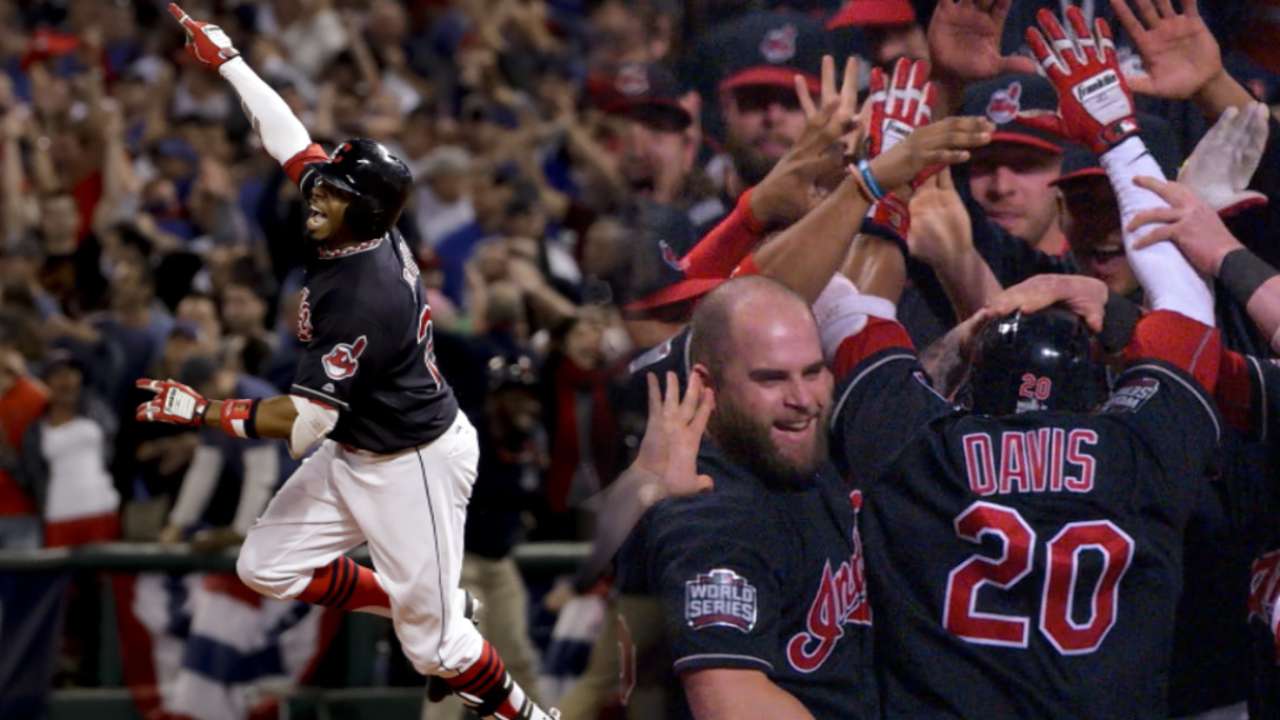 It was the Cubs, though, who pulled ahead for good with a two-run 10th inning.
"We lost. But, you cannot sit back and say this was a missed opportunity or a failure of a season," Allen said. "We were one of the last two teams standing. ... You think about every publisher, outlet or whatever, picked [the Cubs] to win it from the get-go. They were supposed to win it. They were not supposed to even lose three games to us. And we took them to the 10th inning of Game 7 of the World Series, and we lost by a run."
Jordan Bastian has covered the Indians for MLB.com since 2011, and previously covered the Blue Jays from 2006-10. Read his blog, Major League Bastian, follow him on Twitter @MLBastian and listen to his podcast. This story was not subject to the approval of Major League Baseball or its clubs.