Inbox: Should Braves work to improve at 3rd?
Atlanta beat reporter Mark Bowman answers fans' questions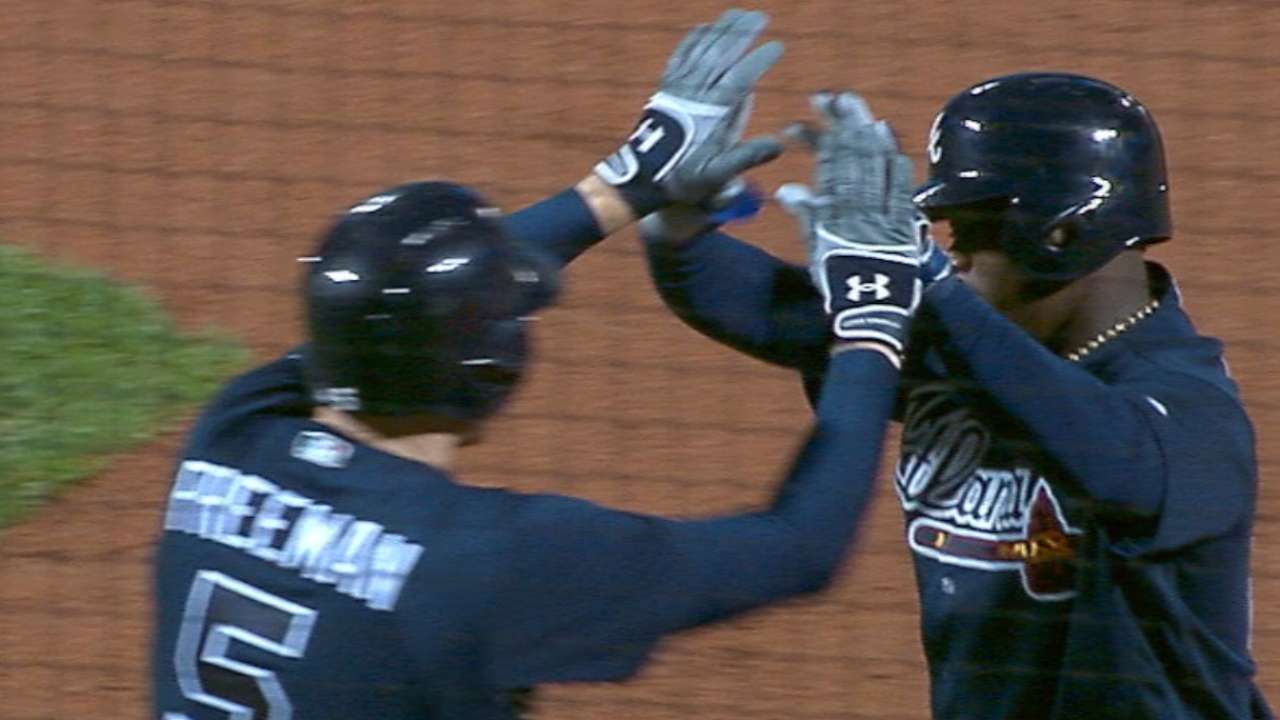 I have been watching pieces come into place, but the Braves need to improve at third base. Don't you agree?
-- G.T. Davis, Fayetteville, Tenn.
It might have been nice to think about adding Justin Turner to the lineup, but the Braves didn't want to give up the Draft pick attached to his qualifying offer. They'd also likely have had to move one of their big contracts to create the payroll flexibility necessary to compete with the four-year, $64 million contract Turner signed with the Dodgers.
Adonis Garcia produced a .784 OPS and .952 fielding percentage over his final 94 games, becoming at least a serviceable option as the Braves get a better feel for Rio Ruiz's immediate value and the ETA for No. 14 prospect Austin Riley, who stands as the organization's most likely long-term solution at the position.
• Submit a question to the Braves Inbox
Could Braves general manager John Coppolella trade for a Major League-ready hitter? He seems to trade for pitchers and position players from the Class A level.
-- Virgil M., Hayesville, N.C.
I guess it depends on whether you consider Ender Inciarte, Dansby Swanson and Matt Kemp to be Major League-ready hitters. Yeah, a majority of the deals completed over the past two years have included pitching prospects, but the most immediately impactful moves within this rebuild have come courtesy of the trades that landed Inciarte, Swanson and Kemp, a trio that significantly influenced the Braves' offensive success over this past season's final two months.
Trading for an established hitter is not easy or cheap. So even if you're a firm believer in Wins Above Replacement, I'll ask: How would you rank the following three trades? The Nationals received outfielder Adam Eaton (9.7 fWAR since start of 2015) from the White Sox for two of MLBPipeline.com's top 10 right-handed pitching prospects (Lucas Giolito and Reynaldo Lopez). The Braves received Inciarte (6.8 fWAR since the start of '15), Swanson (MLBPipeline's fourth-best prospect) and Aaron Blair (entered '16 as the game's 56th-best prospect) from the D-backs for Shelby Miller. Atlanta received Kemp from the Padres for a sunk cost named Hector Olivera.
Yeah, the Braves have compiled a lot of pitching prospects with the hope of eventually being able to separate a Glavine and a Smoltz from a Mercker, Avery or Smith. But at the same time, they have managed to quickly improve their offense courtesy of these two trades made over the past two years.
We saw glimpses of Mallex Smith's potential in 2016, but when would you project the likes of Smith and prospect Ozzie Albies to break into the regular lineup in Atlanta?
-- Seth W., Clarkston, Ga.
As recently as this past summer, I might have answered this assuming both would become everyday players at some point during the upcoming season. Now, the immediate future is cloudy for both talented young players.
It's encouraging to hear Albies, the Braves' No. 2 prospect, is ahead of schedule as he rehabs the fractured right elbow he sustained in September, but it's impossible to know exactly what the long-term effects of this injury might be. He'll need to regain strength and confidence that he can swing a bat without consequence. Fortunately, he's still just 19, and there's no reason to rush the rehab or developmental process.
As for Smith, time will tell whether he evolves into an everyday player or finds his optimal role to be a fourth outfielder. He has time to refine his defensive routes, improve against left-handed pitching and simply complete the development process. It makes sense for him to begin the upcoming season at Triple-A Gwinnett, but we'll almost certainly see him back at the big league level at some point during the season.
• Braves mulling Mallex's role for 2017 season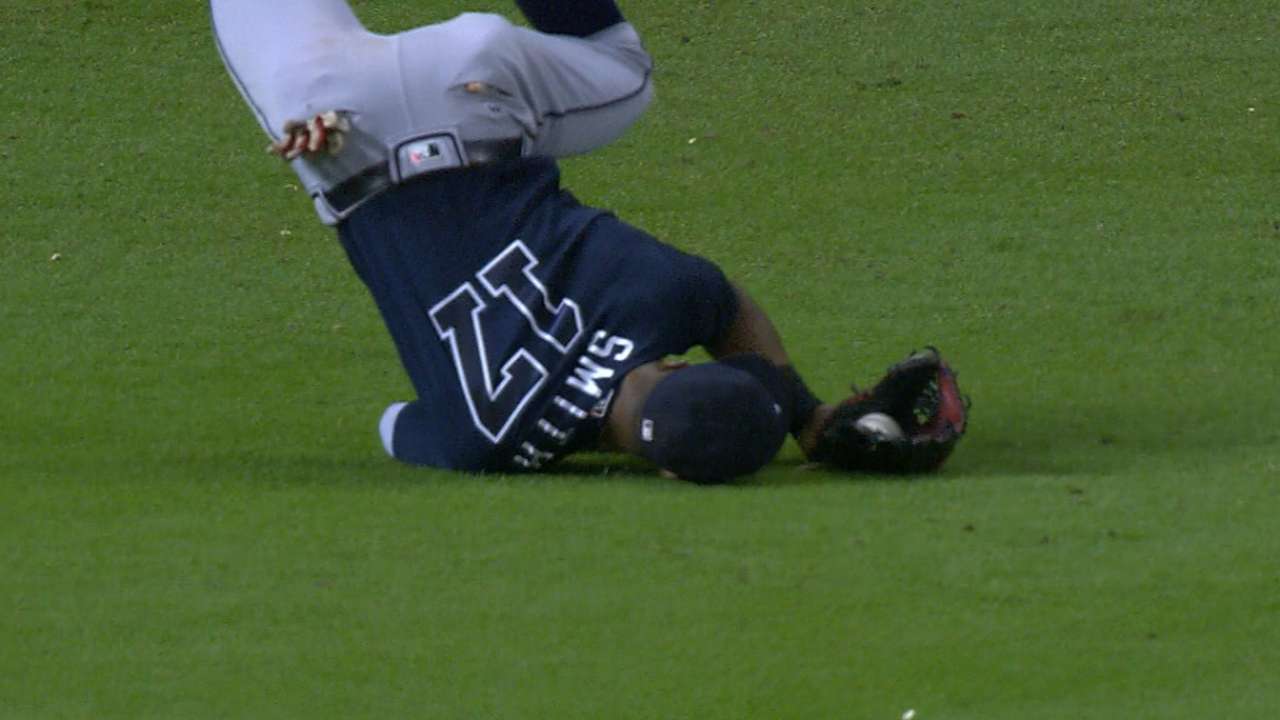 Why didn't the Braves sign Jeff Locke instead of trading for Jaime Garcia? They could have saved $8 million, filled another need and kept three prospects.
-- Jimmy W., Conyers, Ga.
I get the health and durability concerns that surround Garcia, but I don't really see the benefit of giving Locke the one-year, $3 million deal he signed with the Marlins when Matt Wisler, Blair and maybe even non-roster invitee John Danks are better options.
By giving up three prospects (John Gant, Chris Ellis and Luke Dykstra) who didn't really fit their plans for this season or beyond, the Braves took a chance on Garcia, who when healthy has the potential to be more consistently effective than the current version of Wisler or Blair. It's concerning how drastically Garcia faded at around the 140-inning mark this past season, but if he gets off to a good start, Atlanta can try to sell high and then fill the rotation vacancy with Wisler, Blair or any of their other rising prospects who might become big league-ready at some point in June or July.
Mark Bowman has covered the Braves for MLB.com since 2001. This story was not subject to the approval of Major League Baseball or its clubs.