Hill: Offensive 'game plan' key for Marlins' '17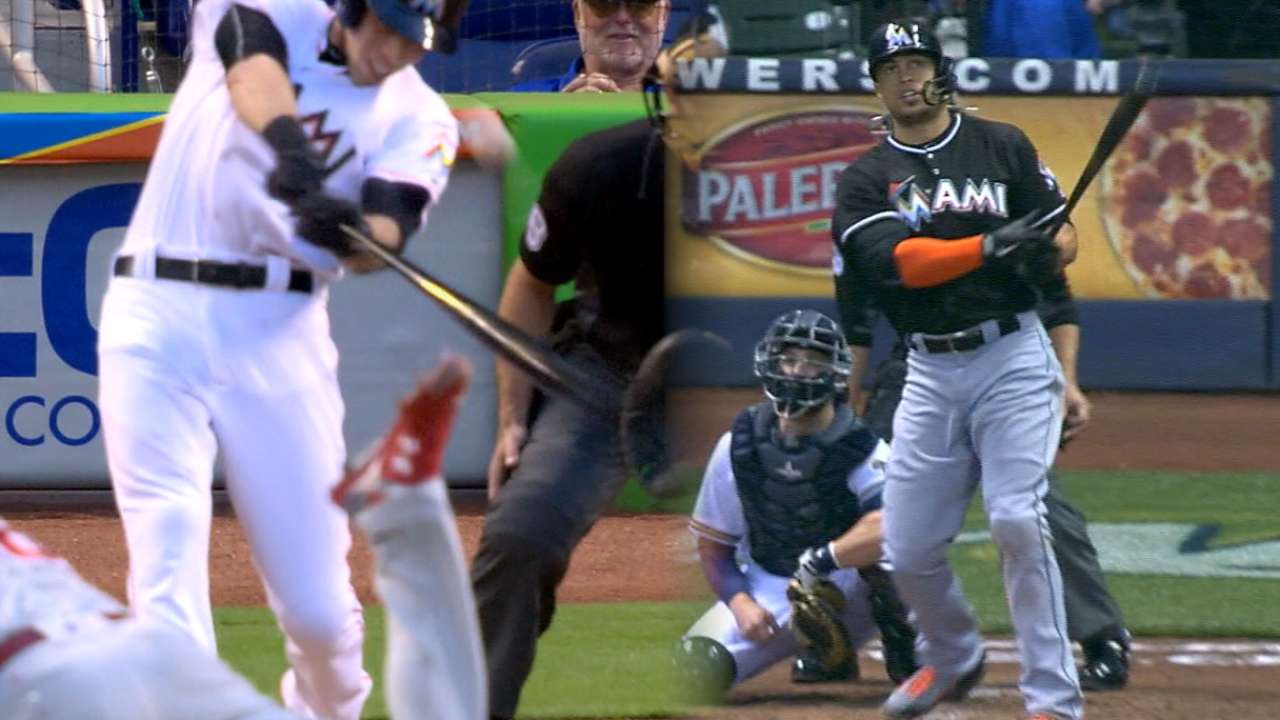 MIAMI -- For the most part, the names are expected to be the same. It's the results the Marlins are hoping will be different in 2017.
The organization remains committed to its core position players, and barring any unexpected additions, the starting eight projects to be the same as it was on Opening Day in 2016. The club is confident there is plenty of talent in the lineup and potential to be highly productive at the plate.
The Marlins ranked fourth in the Majors in team batting average at .263, but when it came to scoring runs, they ranked 27th (655).
Injuries did play a factor, as did inconsistencies. That happens to all clubs.
The most significant switch the Marlins have made when it comes to their offense is changing hitting coaches; Mike Pagliarulo will take over for Barry Bonds. The new focus is on developing a more detailed game plan and approach.
"It's more of a mindset and preparation going into a game," president of baseball operations Michael Hill said. "Knowing that you're fully equipped with information for what you're facing, both starter and reliever, and an actual game plan of what you want to be to be successful."
The Marlins are placing a greater emphasis on analytics.
"Analytics is part of it as well," Hill said. "Knowing what you're dealing with and an actual game plan of eliminating zones."
The Marlins had some players turn in impressive seasons in 2016. Christian Yelich had career highs in home runs (21) and RBIs (98), and he has transitioned nicely to the No. 3 spot. J.T. Realmuto finished with a .303 batting average, and Martin Prado was at .305. Marcell Ozuna, an All-Star for the first time, added 23 home runs and 76 RBIs.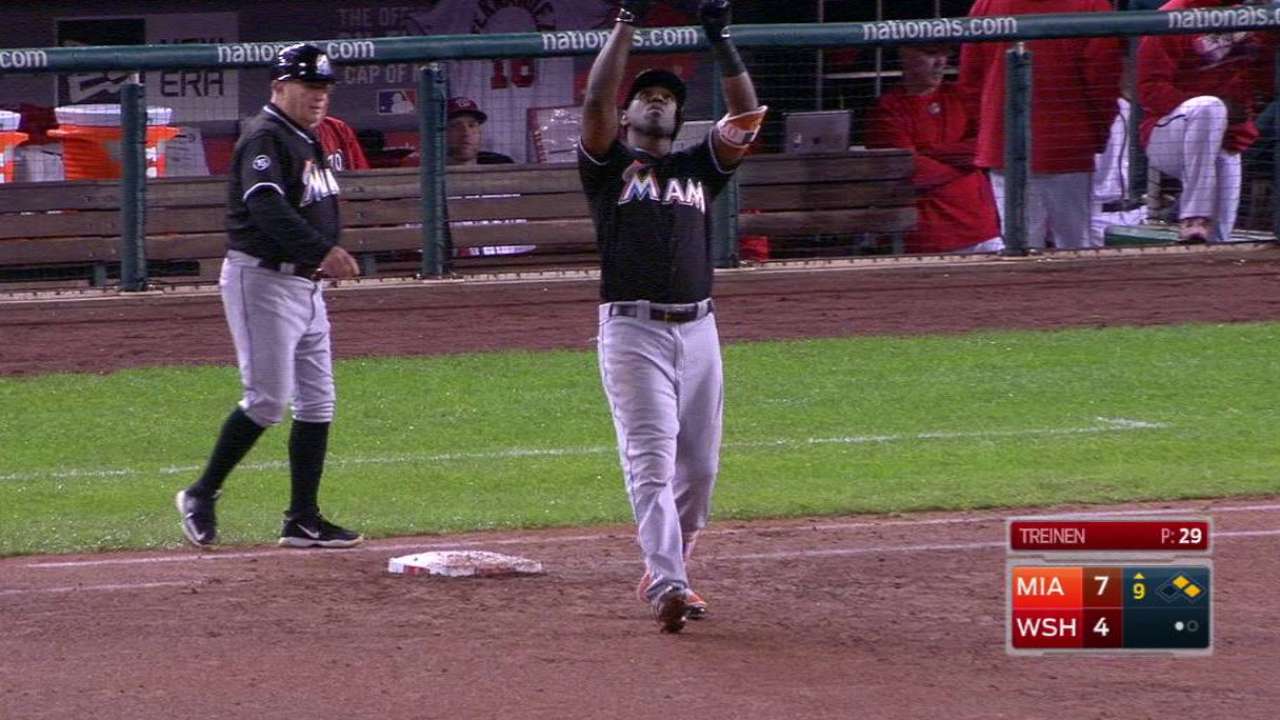 Ichiro Suzuki, coming off the bench, was an inspiration. Along with collecting his 3,000th career hit, the iconic veteran outfielder finished with a slash line of .291/.354/.376.
"The raw talent is definitely there," Hill said. "I use the adage that batting average is talent, scoring runs is approach. That's sort of the sense we're following."
The downside was that three key regulars missed substantial time. Giancarlo Stanton (Grade 3 left groin strain) was limited to 119 games, while Justin Bour (ankle) finished at 90, and Dee Gordon (80-game suspension) at 79.
To contend, the Marlins will have to be able to sustain injuries and lack of performance. They will be in trouble if a key player, like Stanton, misses prolonged stretches again.
"We have an immensely talented group," Hill said. "You see that. When we're clicking, it's on display. But for us to be a playoff team, we have to be more consistent. That's where the preparation and game planning come into play. That's where you win more games."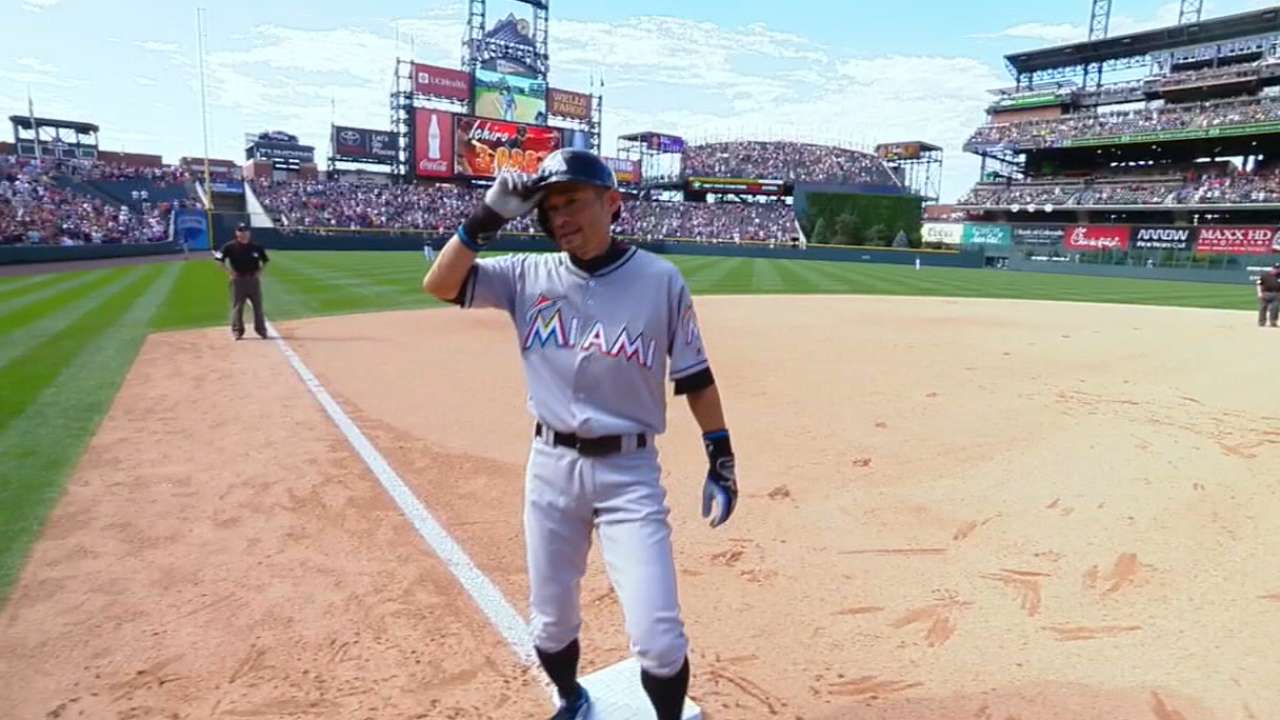 For all their ups and downs, the Marlins were in playoff contention the first four months of 2016. On July 31, they were nine games above .500, yet finished 79-82.
Even when they were above .500, they had trouble scoring runs. That was a constant in every month. Only in July, when they scored 120, were they in the top 10 in the Majors in runs for the month.
In April they ranked 18th (92); in May, 24th (113); and in June, tied for 14th (126).
Their struggles were really felt in the final two months, when Stanton and Bour were out for long stretches. They were 29th in runs in both August (97) and September/October (107).
The preparation for picking up the pace in 2017 has already started. Since he was hired, Pagliarulo has been in the process of familiarizing himself with the players.
"Pags is a guy that we know is going to be ready," manager Don Mattingly said. "As soon as we made the hire, he's been working since. Watching video on our guys, studying them, assessing that season, start to go make contact with guys. I think he's going to be a guy that's prepared, that will be there from sunup to sundown. He's going to be a grinder with us all year long, and guys are going to know that he's going to be in the foxhole with them. He's going to bring a mentality to our club that we want."
Joe Frisaro has covered the Marlins for MLB.com since 2002. He writes a blog, called The Fish Pond. Follow him on Twitter @JoeFrisaro and listen to his podcast. This story was not subject to the approval of Major League Baseball or its clubs.