Buchholz era ends in trade for Phils prospect
After 10 roller-coaster seasons in Boston, righty dealt for 2B Tobias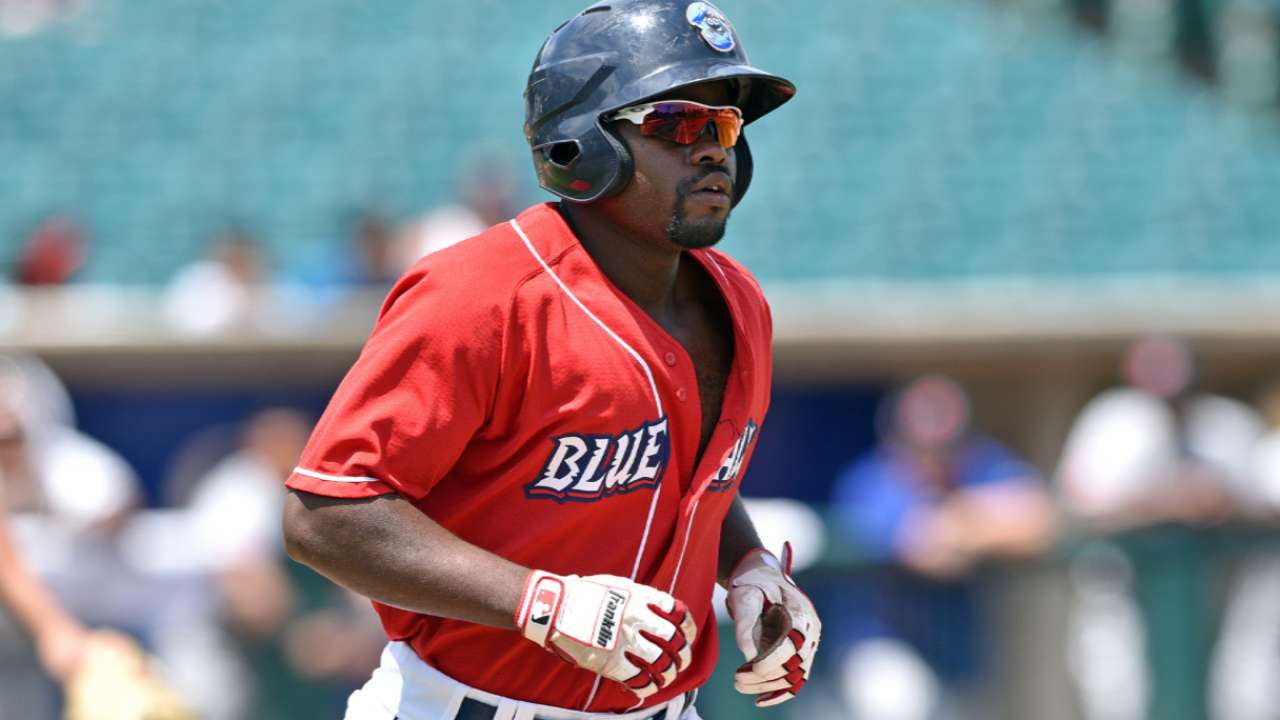 Red Sox president of baseball operations Dave Dombrowski said other clubs had "interest in basically all" of the members of the rotation, but "I think for us, when it came down to it and we looked at all the scenarios, the deal that made the most sense was dealing Clay.
"It was really our choice to really pursue this one more than some of the other guys."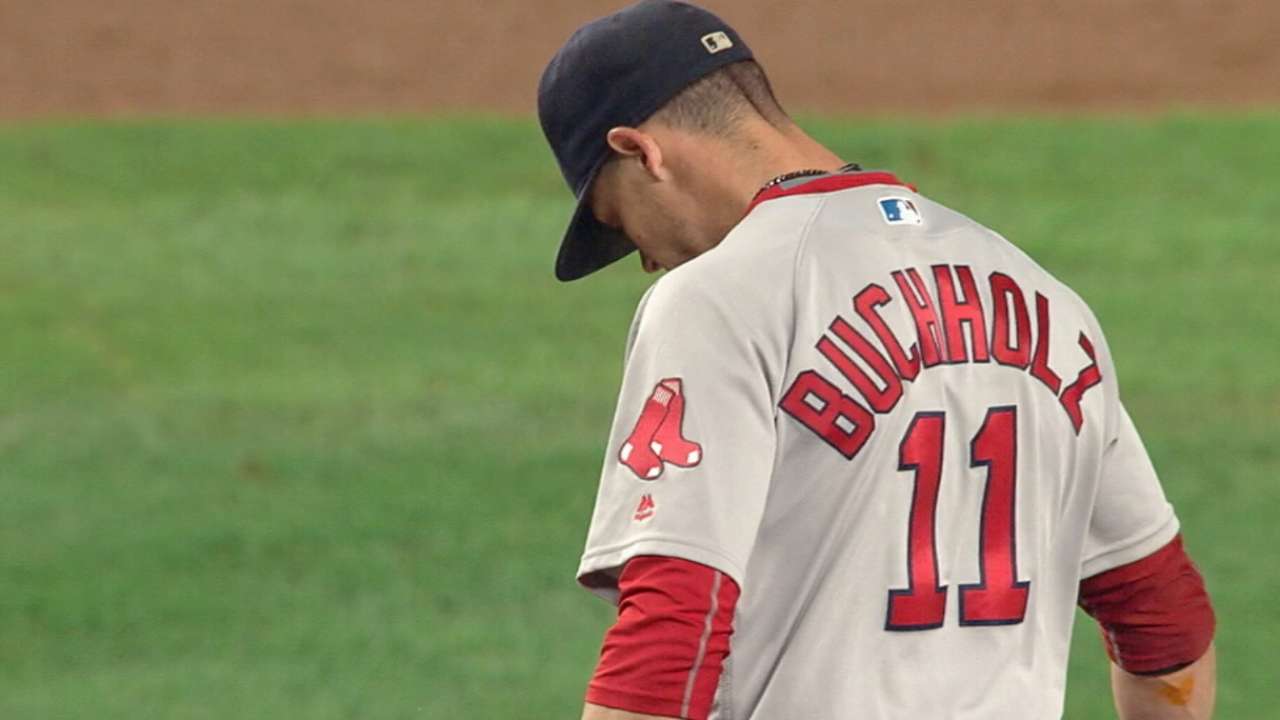 The Red Sox had picked up Buchholz's $13.5 million option for the 2017 season, after which he will become a free agent.
According to Dombrowski, the Red Sox's salary cap calculations indicate they do not have to do any maneuvering to avoid exceeding the limit.
"In fact, we have some flexibility to do things that we want to," he said. "But again, it's not a driving force."
Dombrowski noted that Tuesday's trade "was not made to create the flexibility to go and pursue other individuals who would be perceived as the big names out there. But I wouldn't want to speculate what we want to do the rest of the winter in that regard."
Dombrowski was asked to tip his hand about which starters might fill the final two rotation spots behind Sale, Price and Porcello, who are locks. He pointed out that Wright and Pomeranz both made the All-Star team last season, but finished by saying the Red Sox would "just sort of sort through that as we go through [the decision process]."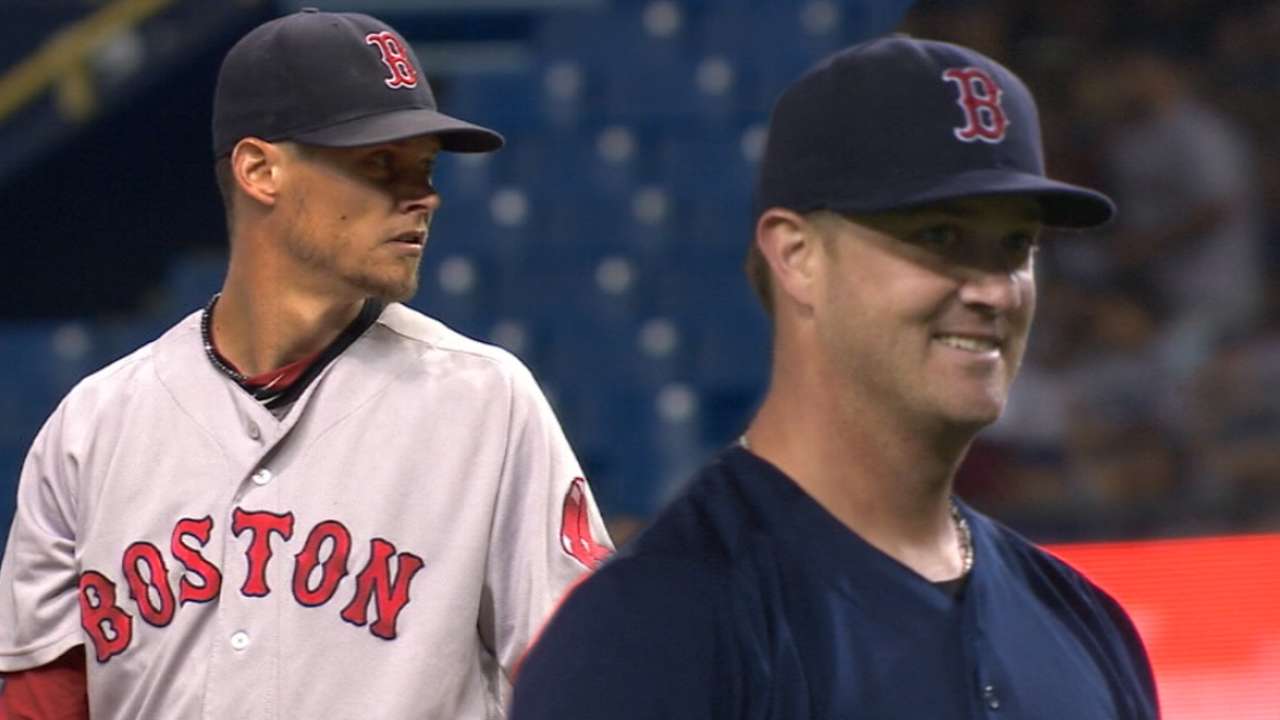 Tobias, 24, has batted .301 with a .362 on-base percentage in 188 Minor League games since being selected by the Phillies in the 10th round of the 2015 MLB Draft.
Dombrowski called Tobias a "good hitter" who can play second base and has "played a few games in the outfield." He pointed out that he began switch-hitting "about a year ago."
"We really like his bat," Dombrowski said. "We think he has a chance to hit as he continues to progress up the ladder."
Tobias earned South Atlantic League midseason and postseason All-Star honors in 2016, batting .291 with 31 doubles, three triples, nine home runs, 69 RBIs, 70 runs and 10 stolen bases between Class A Lakewood and High Class A Clearwater.
Buchholz went 8-10 with a 4.78 ERA in 37 appearances for the Red Sox in 2016. From July 27 through the remainder of the season, the right-hander was 5-1 with a 2.80 ERA and a .212 opponent batting average.
An American League All-Star in 2010 and '13, Buchholz finished the '16 season as the longest-tenured member of the Red Sox's staff, having appeared in the Major Leagues in each of the past 10 years. In 206 appearances (188 starts), he is 81-61 with a 3.96 ERA and nine complete games, having thrown a no-hitter against the Orioles on Sept. 1, 2007, his second game in the Major Leagues.
Dombrowski said he talked to Buchholz on Tuesday morning and described the conversation as professional and cordial.
"He was very understanding, thankful," Dombrowski said. "I thanked him for everything he did with the organization while with us. He was understanding of the situation. He was also thankful and appreciated everything that was done for him throughout the years by everyone in the organization. He enjoyed his time here."
Fantasy spin | Fred Zinkie (@FredZinkieMLB)
Buchholz has battled longstanding inconsistency, finishing five of his 10 seasons with a sub-3.50 ERA and the other five with a mark north of 4.20 (4.78 in 2016). After posting a career-high 1.4 HR/9 rate and a personal-low 1.7 K/BB ratio in '16, he can go undrafted in the majority of mixed leagues next season.
Back in Boston, Buchholz's departure thins out the competition for the Red Sox's final two rotation spots. Among baseball's best starters during the first half of '16, veterans Wright and Pomeranz may have a leg up on the 23-year-old Rodriguez. With the support of Boston's potent offense, every member of the club's season-opening rotation will warrant a spot on mixed-league rosters. Accordingly, fantasy owners should watch this situation closely.
Bill Chastain has been a reporter for MLB.com since 2005. This story was not subject to the approval of Major League Baseball or its clubs.