Q&A: Friedrich on holiday plans, goals for '17
SAN DIEGO -- It was a busy 2016 for Christian Friedrich.
The 29-year-old left-hander began the year being released by both the Rockies and the Angels before Spring Training had even begun.
Ultimately, Friedrich latched on with the Padres in early March. He pieced together a very nice start to his tenure in San Diego before tiring in August, when his numbers suffered.
• Friedrich pores over video for adjustments
So what does 2017 have in store? Well, it seems as though Friedrich has a rotation spot wrapped up. In advance of the holiday season, the southpaw from Illinois took some time to chat with MLB.com about his expectations going forward, his holiday memories and his offseason plans.
MLB.com: You ended the season with a rotation job after starting the year somewhat in limbo. How would you assess your year as a whole?
Friedrich: The biggest value I got out of it was experience, and then trust. I learned that if I put in the work, everything else will take care of itself and then fall into line.
I couldn't have been in a better position to gain that experience [than in San Diego]. And I feel like I set myself up for a big offseason, where I'll come back ready to work and to win next year.
MLB.com: What are some of the things you hope to accomplish in 2017?
Friedrich: I hope to get a really tight-knit clubhouse, with a bunch of guys that are ready to put their heads down and go out and work for each other. I want to make sure we play every game like it was when you were playing in the backyard going to beat those other kids, because they're not better than your group of boys. I want a "Who cares who's on the other side?" kind of mentality.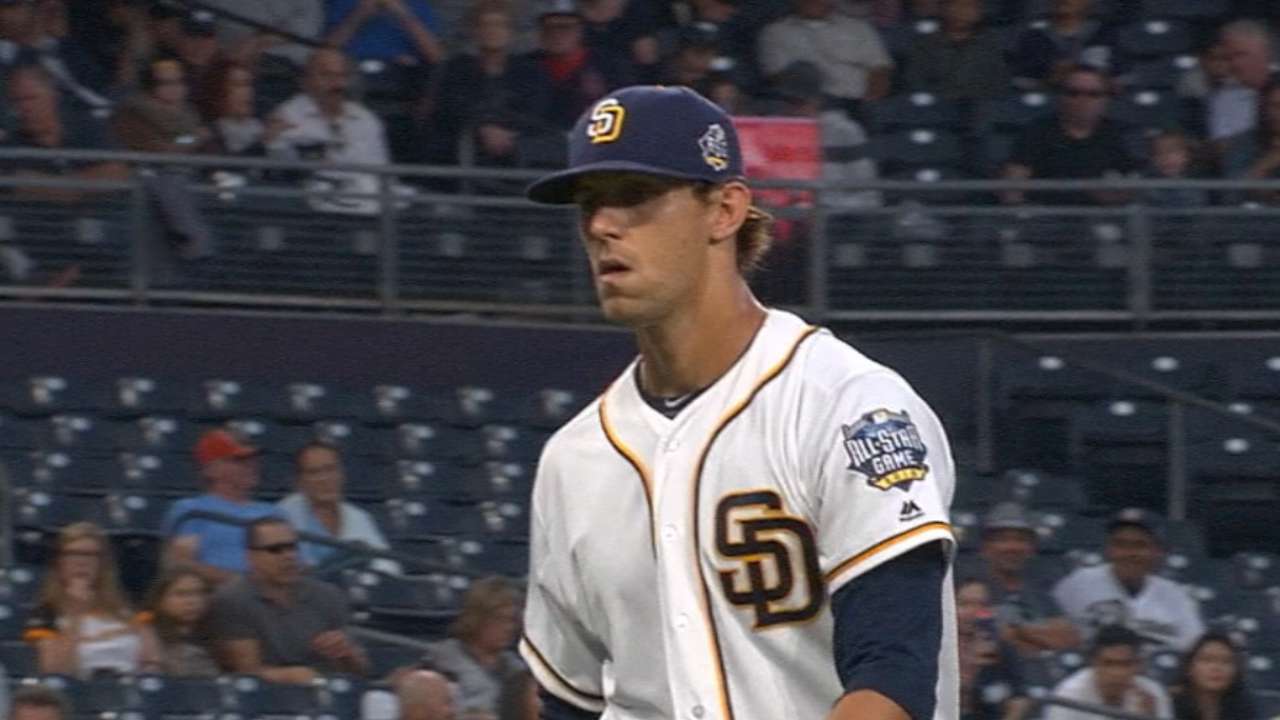 MLB.com: What are some of your plans for this Christmas season?
Friedrich: I'm going to be in Disney World with my two sisters for about three days. We have the fast passes all set up for that, and we're ready to go.
After that, I'll be in North Florida with my folks and sisters. We'll celebrate Christmas down there, and then around the turn of the new year, I'll be heading out toward San Diego.
MLB.com: What's your favorite holiday memory as a kid?
Friedrich: With my dad, we'd set up the Christmas tree as always, then we'd set up the Christmas lights outside. Christmas Eve, we'd be walking up the ladder, putting more lights on.
I have a lot of good memories, from putting the lights on, to the train going around the tree. We'd be putting up Christmas lights and winning the Griswold Award in the neighborhood. [I also remember] having the train go around and playing with the toy soldiers.
MLB.com: What's on your Christmas wishlist for 2017?
Friedrich: A division title would be nice. As competitive as it is, it's not going to be a cakewalk to come into San Diego and play against us. It's exciting to get that fresh start. I don't know what the other moves are going to be, but I feel like we're not even done. And it's just exciting to go back and feel like this group that we have is going to be a group that's well committed to each other.
AJ Cassavell covers the Padres for MLB.com. Follow him on Twitter @ajcassavell. This story was not subject to the approval of Major League Baseball or its clubs.