Tigers host dinner, shopping spree for kids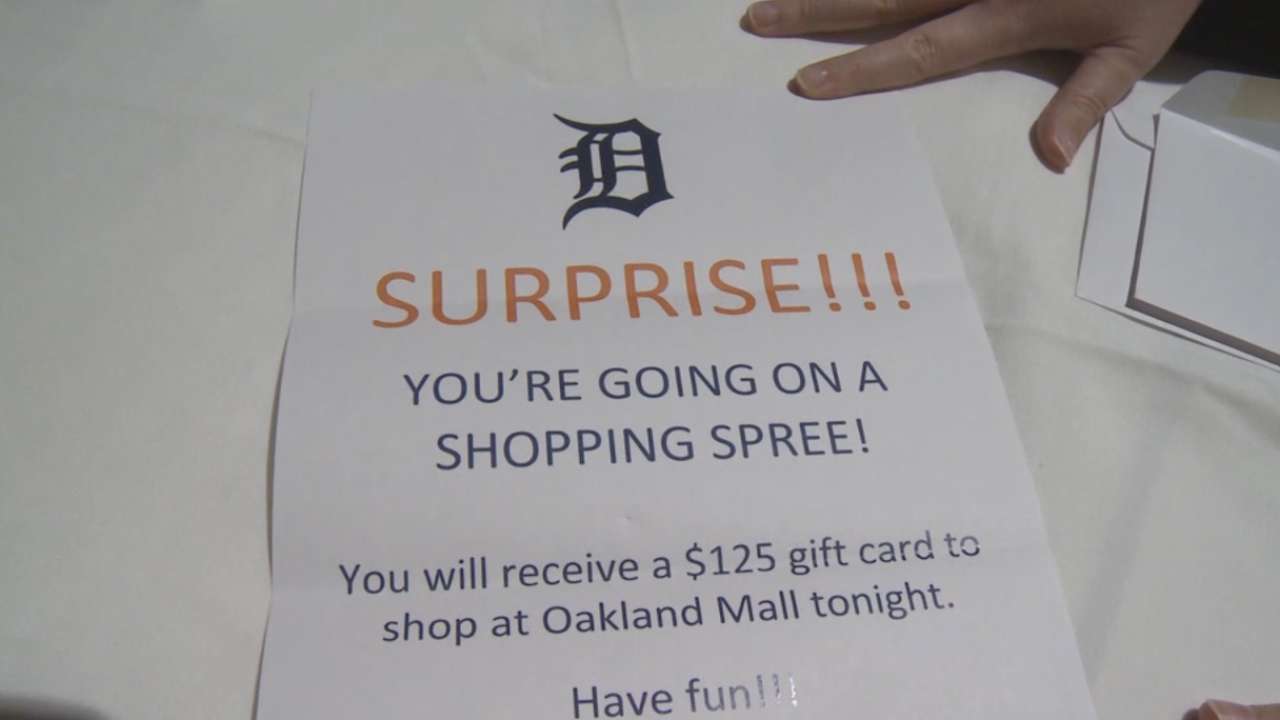 TROY, Mich. -- Rod Allen patiently stolled through the aisles at the sporting goods store at Oakland Mall, checking out the selection of new baseball gloves. The former Tigers player and longtime team television analyst wasn't shopping himself, as much as he was waiting on a friend who had a list to pick out.
It's the kind of task that can give a reluctant, impatient holiday shopper a bout of nerves. Some might wish they could be anywhere else. This early December evening, however, was a reminder that holiday shopping is a gift itself for many, especially those who struggles to put presents under the tree.
The shoppers were close to 50 children from the South Oakland Shelter as well as HAVEN, a program that provides shelter and counseling for victims of domestic violence and sexual assault.
The tag-alongs were Allen, Tigers' broadcaster Dan Dickerson, former Tigers pitching coach Jeff Jones, their wives and front-office employees, who donated their time and money to make the event possible along with a donation from Fox Sports Detroit.
"It just reminds you -- and it sounds trite, but it does -- about how fortunate we are in our jobs and having a job that we love and getting paid for it," Dickerson said. "To see the people that don't have as much and what it means for them to be able to come out here and shop, it fires you up. It's a good reminder to think about this all year long, not just for a few weeks."
It's a labor of love the Tigers have put together the last several offseasons.
Some players have taken part or helped fund the shopping spree, such as Torii Hunter did a few years ago. Jones and Dickerson, who live in Michigan year-round, and Allen have been a part of it the last several years. The quiet constant each year has been Tigers employees, many of whom work behind the scenes without credit.
"They proposed the idea to me to not just be a part of it, but show up," said Allen, who flew in from his offseason home in Arizona. "I showed up and I saw the kids, and then I started giving as well, [of money] and of time. It's just another way to give back. The Ilitch family is a wonderful family, and the Tigers are a wonderful organization. Obviously, Fox Sports Detroit backs everything that I do as well.
"It's just great to come see the smiles on the faces. You let the kids get a hot meal, and then you also give them enough money to where they can go downstairs [into the mall] and then they have themselves a very nice shopping spree. I don't know what all of their situations are like, but I'm pretty sure that many of them wouldn't get the opportunity if it weren't for all the people here that donate their time and their money and everything else to make sure that these kids aren't forgotten."
The evening began with a dinner for kids and families at Macy's Lakeshore Grille. From there, the kids were paired up with Tigers employees and guests and ventured into the mall with gift cards to spend on whatever they chose.
"You're stuck with me," Dickerson joked to his young guest, Justin.
Some found a store or two to fill their list and finished up with time to spare. Others were scrambling from store to store, trying to find the perfect gift. All of them were happy to experience the hustle and bustle of holiday shopping.
Jason Beck has covered the Tigers for MLB.com since 2002. Read Beck's Blog, follow him on Twitter @beckjason and listen to his podcast. This story was not subject to the approval of Major League Baseball or its clubs.