At Christmas, McKeons gather by dozens, talk baseball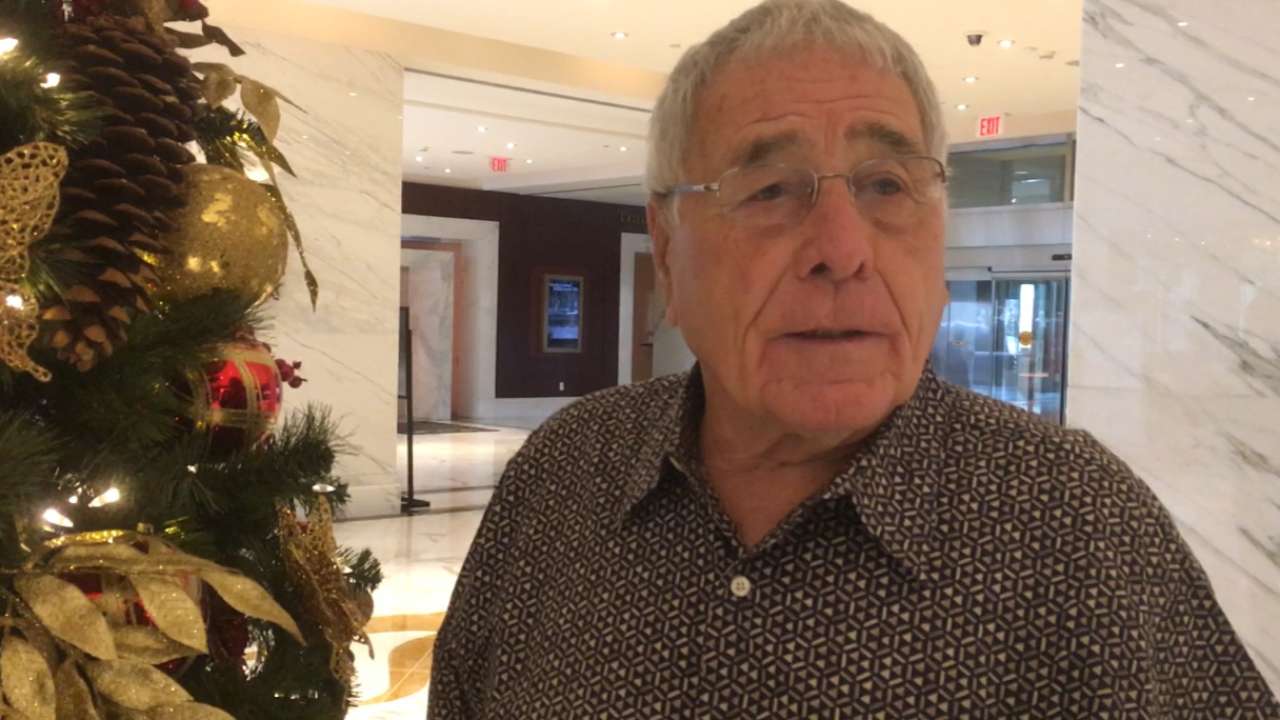 MIAMI -- There are plenty of helpings of ham and turkey at the dinner table on Christmas Day at the McKeon household. There's also an endless amount of storytelling -- particularly baseball stories.
Jack McKeon, as energetic as ever at age 86, never runs out of material when it comes to discussing the game that flows through his blood. The holiday season is a time he gathers with family and, not surprisingly, there are McKeon connections spread across the Major Leagues.
McKeon's son, Kasey, is director of player procurement with the Nationals. His son-in-law, Greg Booker, is a scout with the Dodgers. Grandsons Zach Booker and Kellan McKeon are with the Orioles and Phillies, respectively.
"We don't talk too much about turkey and Christmas traditions; we talk baseball," Jack McKeon said.
McKeon remains a big part of the Marlins, in the present and past. He's a longtime special assistant to the owner.
To Marlins fans, McKeon's legacy will forever be linked to 2003. When the season began, he was out of the game, but he was brought back on May 11 that year to take over an underperforming club.
Then 72, McKeon directed the Marlins to one of the great turnaround seasons in baseball history, guiding them back from 10 games under .500 to a World Series championship.
McKeon has been a presence in the organization since then.
A devout Catholic who goes to church every day and works out at the YMCA every weekday, McKeon enjoys spending time at home for Christmas. But it's not necessarily a quiet time, as typically 28-30 family members are at his 6,400-square-foot Elon, N.C., home.
"It's pretty interesting, because we do have a number of people in our family who are connected with baseball," McKeon said.
The guests at his house, which has four bedrooms on the top floor alone, typically include 10 grandchildren and four great-grandchildren, and they often bring their dogs. With a packed house, there's always conversation and commotion.
"I'm glad to have them around for Christmas," McKeon said. "Some of them come from all over the country, from California, to Reno, to Boston -- they all come back. But when they leave, what a relief. I get a chance to watch television or watch a ballgame or something. But it's nice to have them all together."
Getting together wasn't always easy for a baseball lifer like McKeon.
When he was younger, McKeon often managed Winter League ball in Puerto Rico.
"I've been away for a lot of Christmases," McKeon said. "A lot of times, I could bring the family down, but sometimes I'd miss Christmas."
In recent years, the celebrations have grown larger, starting with Christmas Eve and carrying over to Christmas Day.
"Years ago, we didn't have celebrations like that," McKeon said. "We didn't get together as early. It was Christmas Day. Now, it's Christmas Eve. It seems Christmas Eve is more important now than Christmas Day."
Now, gifts are exchanged on Christmas Eve, and the family engages in various games or sings songs.
"The thing that's most important is you get together," McKeon said. "That's the one time of the year you generally get everybody together, and it's special."
As a family, the McKeons have their own traditions. But this year, they're considering changing what's on the dinner table.
"They've decided now on Christmas Eve that they're going to have Italian food, and on Christmas Day, they're going to have barbecue," McKeon said.
Joe Frisaro has covered the Marlins for MLB.com since 2002. He writes a blog, called The Fish Pond. Follow him on Twitter @JoeFrisaro and listen to his podcast. This story was not subject to the approval of Major League Baseball or its clubs.