7 stars who found a late-career spark in new cities
Rollins latest veteran eyeing turnaround with fresh start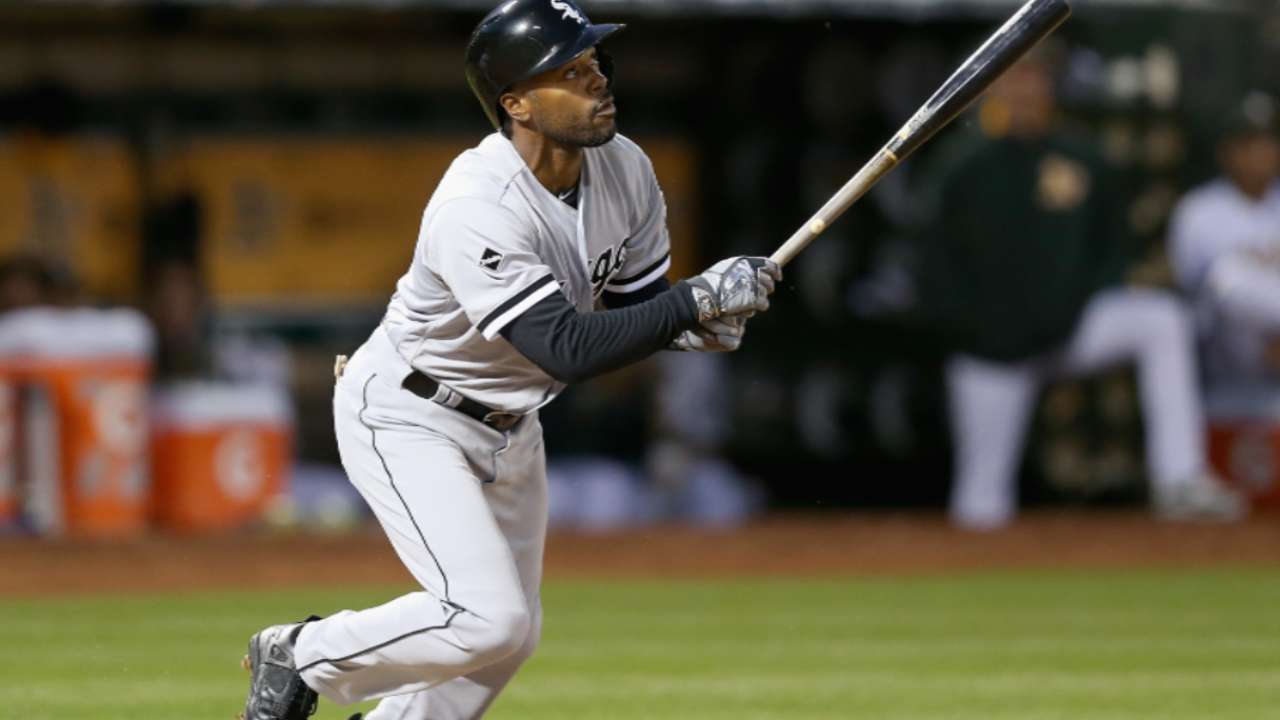 Veteran shortstop Jimmy Rollins agreed to a Minor League contract with the Giants on Monday, seeking to rejuvenate a career that looked as though it might be at an end. The 38-year-old former National League MVP can look back at several former stars who were in a similar situation but managed to return for one last hurrah with a new team:
Pedro Martinez with the Phillies in 2009
With three Cy Young Awards, eight All-Star appearances and a World Series title to his name, Martinez sat out the first half of the 2009 season before signing with the defending World Series-champion Phillies for the stretch run.
At age 37, the right-hander started nine games and posted a 3.63 ERA for Philadelphia, followed by seven scoreless innings in Game 2 of the NL Championship Series against the Dodgers. The Phillies won the NL pennant but lost to the Yankees in the World Series.
Martinez was inducted into the National Baseball Hall of Fame in '15.
Frank Thomas with the A's and Blue Jays from 2006-07
Thomas became one of the most feared sluggers in the game during his 16 years with the White Sox, winning the American League Most Valuable Player Award in 1993 and '94, and being selected to the American League All-Star team five straight years from '93-'97. But Chicago did not re-sign The Big Hurt following a World Series victory in 2005, a season in which Thomas was injured and only played in 34 games.
The free agent signed with the A's and hit .270/.381/.545 with 39 home runs and 114 RBIs in 2006. Thomas' WAR that season, per Baseball-Reference.com, was 3.2, and he finished fourth in AL MVP voting.
The future Hall of Famer signed another free-agent deal that winter, joining the Blue Jays on a two-year contract. He posted an .857 OPS with 26 home runs and 95 RBIs in 2007. It was his final productive season before being released and returning to the A's in '08, retiring thereafter.
Mike Piazza with the Padres in '06
Following eight seasons with the Mets in which he was a six-time All-Star, a 37-year-old Piazza was a free agent for the first time in his 14-year career. He signed a one-year deal with the Padres and hit .283/.342/.501 with 22 home runs and 68 RBIs in 126 games in '06. His .843 OPS and 2.9 WAR were his best since '02.
Piazza played one more season, with the A's in '07, before retiring. He was inducted into the Hall of Fame last July.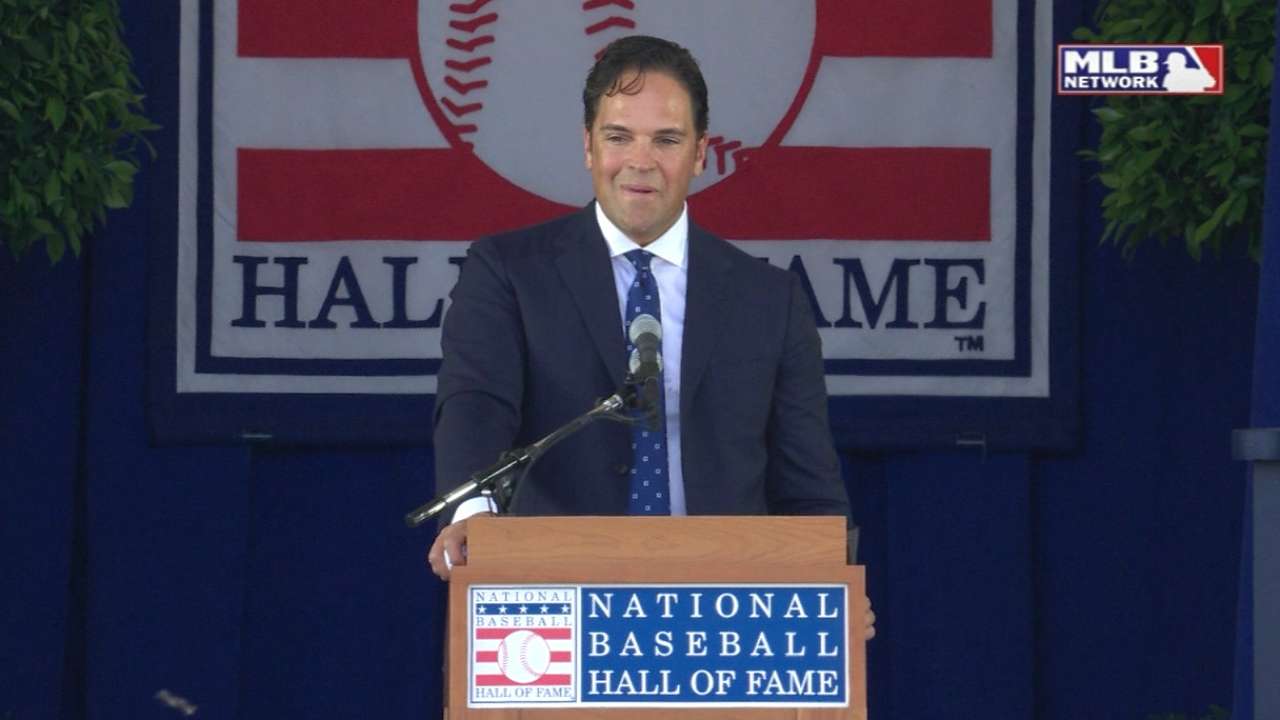 Rickey Henderson with the Mets in 1999
The Majors' all-time leader in stolen bases and widely considered the greatest leadoff hitter in baseball history, Henderson made the Mets his sixth team, joining New York as a free agent following the '98 season.
In '98, Henderson had posted the lowest OPS+ (94) of his career, save for his rookie season. But the 40-year-old outfielder hit .315/.423/.466 with 30 doubles, 12 home runs, 42 RBIs and 37 stolen bases in 121 games for New York in '99, good for a 128 OPS+. He also had six steals in the NL Division Series against the D-backs, which New York won before losing to Atlanta in the NLCS.
The '99 season was Henderson's last productive campaign, though he'd play for four clubs in four seasons before retiring after the 2003 season. He was inducted into the Hall of Fame in '09.
Bret Saberhagen with the Red Sox in 1998-99
A two-time AL Cy Young Award winner with the Royals and a three-time All-Star, Saberhagen missed the entire '96 season with shoulder problems before signing a Minor League deal with the Red Sox in '97.
Saberhagen was promoted to the Major League roster and started six games, posting a 6.58 ERA. But in '98, he was named the AL Comeback Player of the Year after going 15-8 with a 3.96 ERA in 31 starts, striking out 100 and walking just 29.
Saberhagen was even better for Boston in '99, finishing 10-6 with a 2.95 ERA, good for a 2.6 WAR, his best mark in five years. He missed the 2000 season with another shoulder surgery, and retired after the '01 season.
Paul Molitor with the Twins in 1996
After 18 big league seasons with the Brewers and Blue Jays, during which he compiled seven All-Star appearances and led the league in hits twice, Molitor joined his hometown club, the Twins, as a free agent in late '95.
Molitor was 39 years old and coming off his worst offensive season in a decade. But he was rejuvenated with Minnesota, hitting .341/.390/.468 with 113 RBIs in '96. His 3.7 WAR was his highest since '93, when he helped the Blue Jays win the World Series and was named MVP of the Fall Classic.
Molitor played two more seasons with the Twins before retiring in '99. He was inducted into the Hall of Fame in 2004.
Joe Morgan with the Giants in 1982
Morgan was a key cog in the Reds' Big Red Machine clubs of the mid-1970s, helping Cincinnati win back-to-back World Series titles in '75 and '76. But after producing Hall of Fame stats over his first 15 seasons, winning back-to-back NL MVP Awards in '75 and '76, Morgan's performance slid in '80, when he signed as a free agent with the Astros.
Houston released Morgan after that season, and he signed with the Giants. In '82, Morgan had his finest season since '77, hitting .289/.400/.438 with 14 home runs, 61 RBIs and 24 steals in 134 games
Morgan also hit a famous three-run home run on the final day of the '82 season, lifting the Giants to a win over the rival Dodgers and knocking Los Angeles out of the postseason.
Morgan would play two more seasons, with the Phillies and A's, before retiring in '84. He was inducted into the Hall of Fame in '90.
Manny Randhawa is a reporter for MLB.com. This story was not subject to the approval of Major League Baseball or its clubs.