Tribe phenom Aiken ready for healthy '17
Indians' No. 2 prospect excited for new year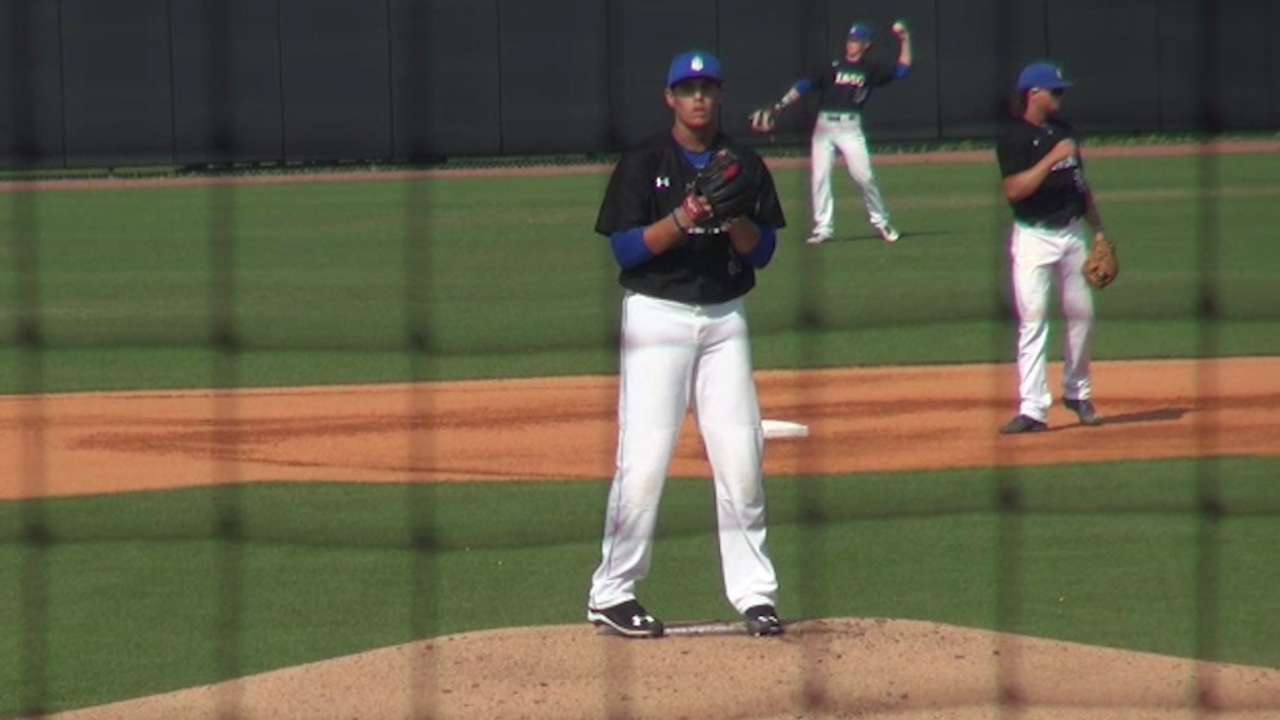 GOODYEAR, Ariz. -- As Brady Aiken looks ahead to 2017, he'll do so without lingering questions about his health, a feeling he hasn't experienced in a couple of seasons.
The past couple of years have been filled with obstacles, but the Indians' No. 2 prospect (No. 64 overall) not only used the time to rehab, but also to mature and grow as a person and a player.
"The greatest thing about Brady is he's just one of the guys," Indians assistant general manager Carter Hawkins said. "He's gone through so much early in his career, he's had so much attention on him. He certainly does not see himself as any different than any of his teammates, which is really high praise considering what he's been through."
Aiken has been through more than most and it easily could have derailed his career, but in persevering through all the obstacles, the 20-year-old showed the Indians the fortitude that can help him live up to his potential.
But the past is the past and Aiken is focused on the future.
After undergoing Tommy John surgery in March 2015, a couple months before the Indians selected him with the 17th overall pick in the Draft, Aiken made his professional debut on June 20, 2016.
"It was very important for me this year to get out of that rehab mindset and compete and get back to where I was before," Aiken said. "Get used to competing again and used to being in a baseball environment."
The left-hander pitched in nine games in the rookie-level Arizona League, before he was bumped up to Class A Short Season Mahoning Valley, where he fared a bit better, going 2-1 with a 4.43 ERA in five starts.
#Indians Brady Aiken throwing in extended spring today. Mostly fastballs 90-92, few really sharp curves as well. pic.twitter.com/tBdeL5eMS9

- William Boor (@wboor) May 28, 2016
"We were pleased to get him on the mound, build a foundation, and we believe what he did on the mound was really just scratching the surface," Hawkins said.
After walking 21 and striking out 57 in his 46 1/3 frames, Aiken finished his season at instructs.
"I felt like my mechanics were good," Aiken said. "My pitches were coming along, I struggled with my changeup a lot at the beginning. I don't know if it was a mental thing, but I was cutting it off a little bit. It got a lot better as the season progressed, same with the curveball."
Although Aiken was clearly starting to find his rhythm as the season wore down, it was important for him not to rush things. If there's one thing he learned during rehab, it was patience. Therefore, despite throwing just 46 1/3 innings this season, Aiken kept the workload light at instructs and then eventually shut it down, looking forward to a healthy spring with a clean slate.
"I think the big thing for me now is taking the time off, rest, let the arm get a break and come into Spring Training ready to go," Aiken said. "The fastball velocity will be back and all my pitches will be ready to go. I'm excited for that."
William Boor is a reporter for MLB.com. Follow him on Twitter at @wboor. This story was not subject to the approval of Major League Baseball or its clubs.