Rockies begin, end 2016 with hope for future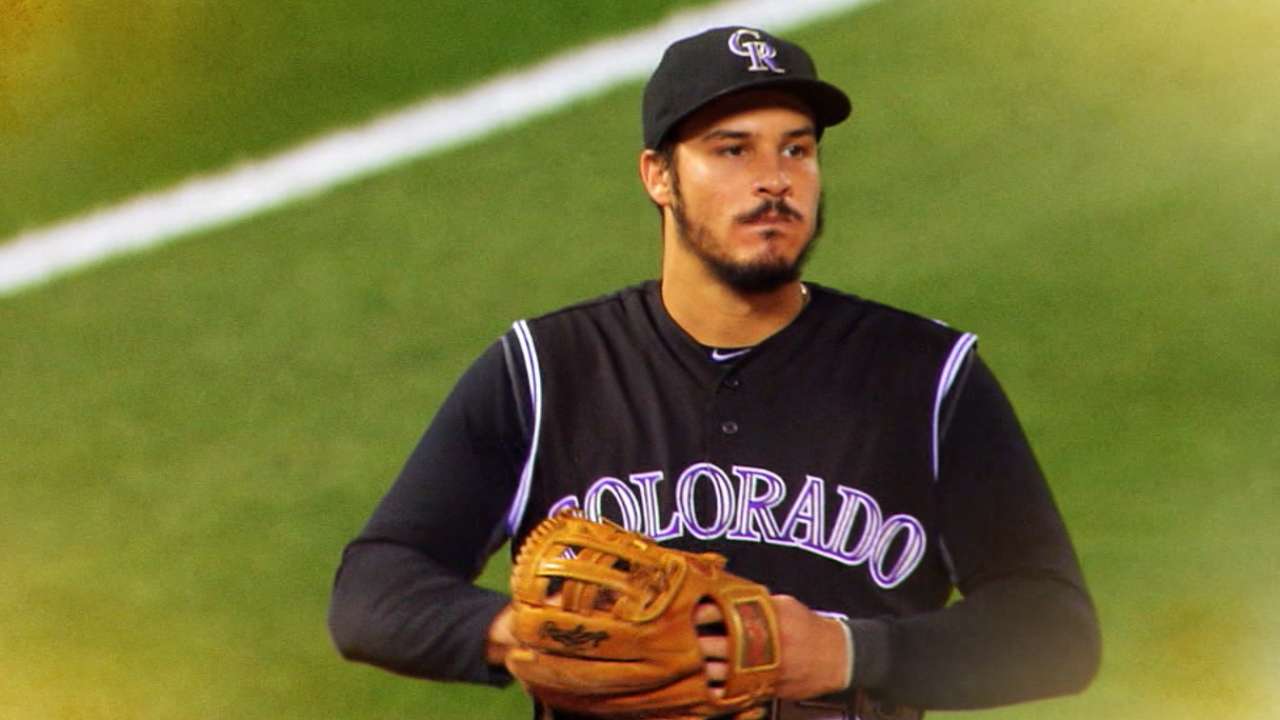 DENVER -- The Rockies' 2016 was mostly a year of hope. While it's true that disappointment and discord marred the final months of the season, the Rox finished the calendar year sparking even more hope.
Colorado's offense showed greater execution than it did during a 68-94 finish in 2015, as Nolan Arenado and Carlos Gonzalez kept up their power and were helped by career years from DJ LeMahieu and Charlie Blackmon, as well as an eye-popping rookie performance from Trevor Story. The Rockies' starting pitching -- former top Draft picks Jon Gray and Tyler Anderson, savvy former second-round pick Chad Bettis, and Tyler Chatwood in his return from Tommy John surgery, along with veteran Jorge De La Rosa (now a free agent) -- came together and had the club in legitimate National League Wild Card contention into August.
But a weak and injury-riddled bullpen simply couldn't keep the Rockies in the race, and the club finished 75-87 -- its sixth straight sub-.500 season. There was a lot to like, but one thing was missing.
Fourth-year manager Walt Weiss had embraced the information age and used defensive shifts and modern, data-based strategies. But he and general manager Jeff Bridich, who took over in October 2014, never bonded. At season's end, Weiss announced he was not coming back, and Bridich agreed that a parting was necessary.
However, that situation didn't dim future hopes. The Rockies hired Bud Black as the first manager in club history with a pitching background. He'll be greeted by a solid rotation that possesses power in Gray, savvy in Bettis and Chatwood, and raw competitiveness in Anderson. Plus there is plenty of starting talent on the way.
In December, the Rockies made a free-agency splash in the form of Ian Desmond to play first base and lefty Mike Dunn to bolster the bullpen. Both expressed that the Rockies were seen as well-built and ready for the next step.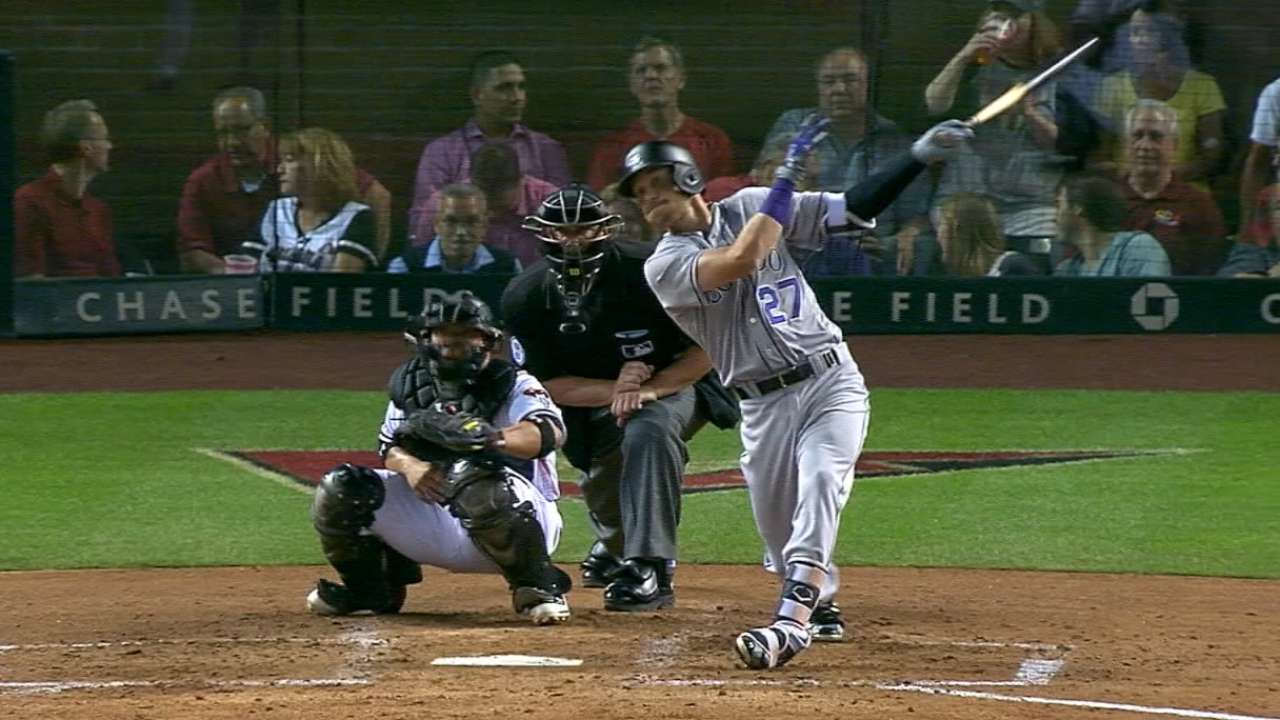 Here are some key points from 2016:
1. Nolan keeps rolling: Is Arenado morphing into the next Todd Helton -- a special player who can spend more than a decade in Purple Pinstripes? Arenado, like Helton from 1997-2013, adds more historic accomplishments with each passing season.
Arenado has tied for the NL lead in home runs and led the league in RBIs the past two years. The last player at the top of the league in those categories two times in a row was Hall of Famer Mike Schmidt, 1980-81. Arenado joined Hall of Famers Jimmie Foxx and Chuck Klein among players with multiple 40-homer, 130-RBI seasons before the age of 26. And he became the first third baseman in history to earn Rawlings Gold Glove Awards in the first four seasons of his career.
The Rockies are in the second of four arbitration seasons with him, and he is a logical candidate for an extension beyond those years.
2. Exciting beginning: The Rockies traded Troy Tulowitzki late in 2015 and his replacement -- Jose Reyes, who came from the Blue Jays in the deal -- was arrested in a domestic violence incident after the season. With a suspension hanging over Reyes, the Rockies challenged Story, a high MLB Draft pick, to show he could do the job.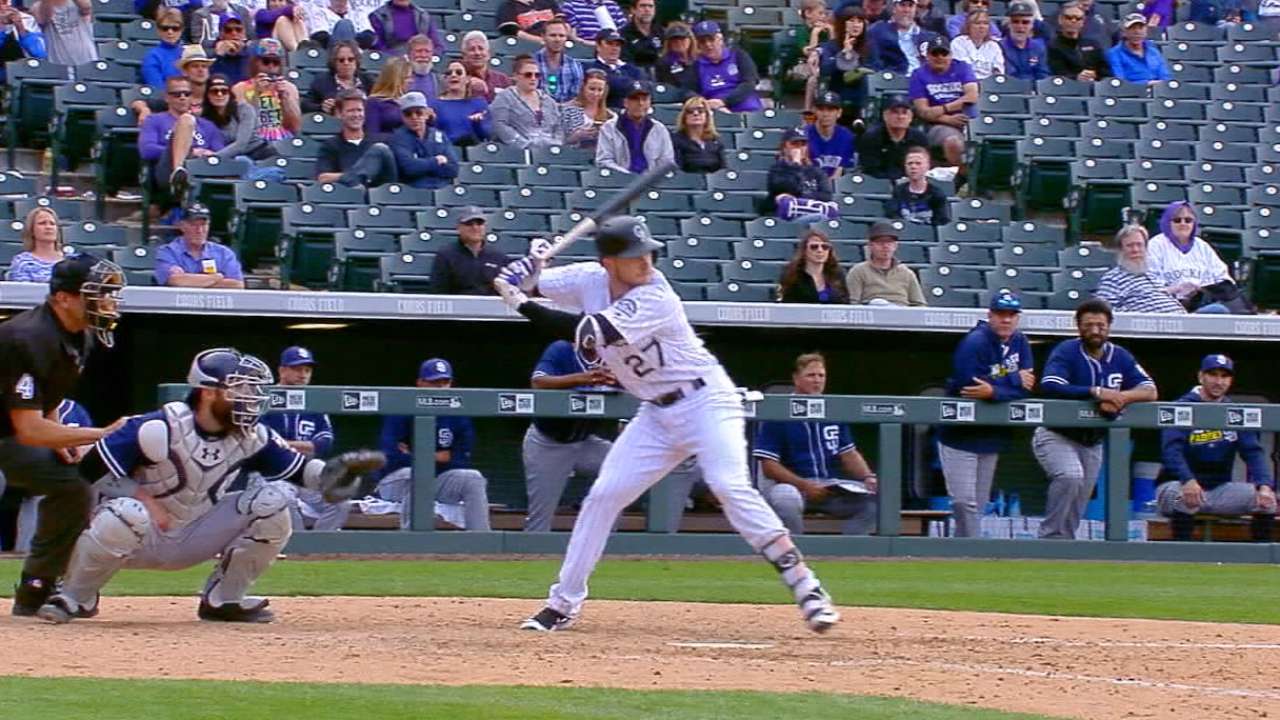 All Story did was become the first rookie in history to homer twice during an Opening Day debut, homer six times in the first four games, tie a Major League record with 21 homers before the All-Star break (Dave Kingman, 1972; Albert Pujols, 2001), and set the NL rookie shortstop record and lead all Major League rookies for the season with 27 homers. Story sustained a season-ending left thumb injury on July 30.
3. Rockies? Good starting pitching? Sounds too good to be believed, but when the Rockies rose to contention after the All-Star break, the starters were the reason. After a rough beginning, Rockies starters were 11th in WAR (wins above replacement) in May, 10th in June and a stunning third in July, according to Fangraphs. The young rotation couldn't carry the team all the way to the postseason, but it might have been the beginning to a brighter pitching future.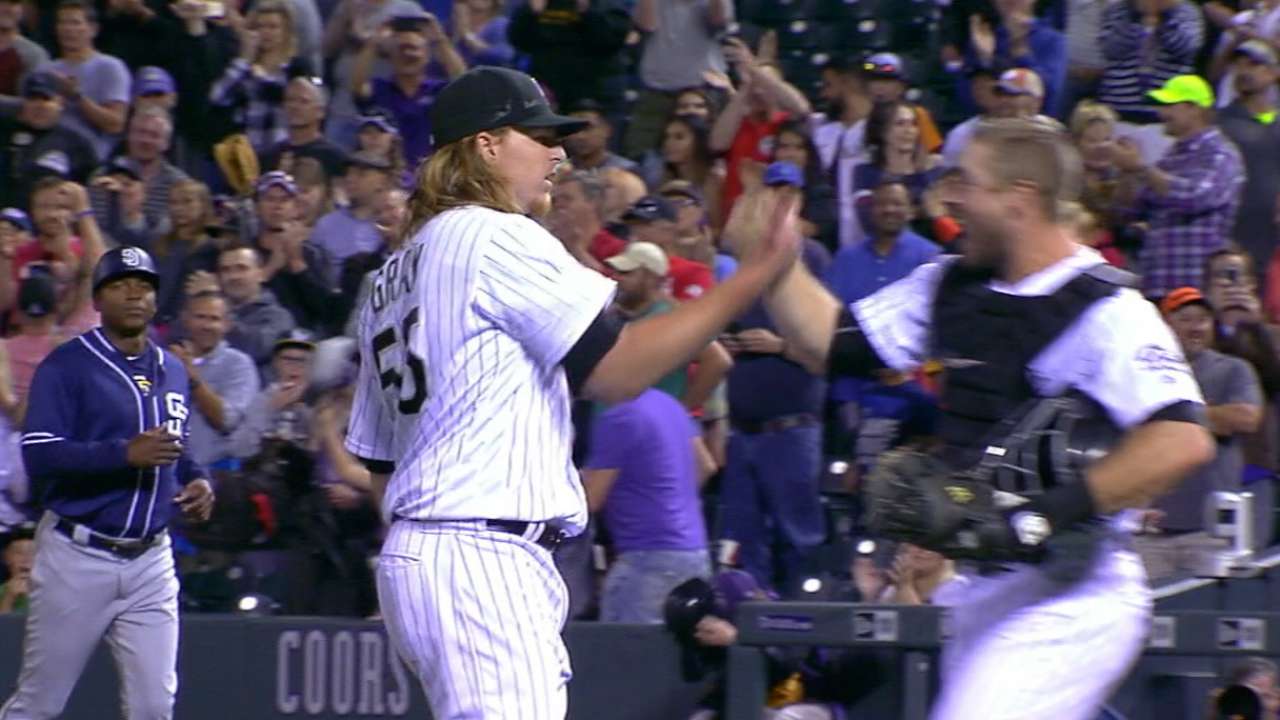 4. Bullpen breakdown: Rookie Carlos Estevez blew two saves in early August, against the Marlins and the Rangers, and the Rockies sank from there. But this can't all be put on his shoulders. Offseason acquisitions Jake McGee, whose July knee injury forced Estevez into the ninth inning, Jason Motte and Chad Qualls all missed significant time with injuries. Hard-throwing righty Jairo Diaz, a candidate to close, blew out his elbow in Spring Training and didn't pitch all year. Miguel Castro, impressive in April, had recurring shoulder issues. And Scott Oberg, who closed games at Triple-A Albuquerque, suffered blood clots in his right forearm.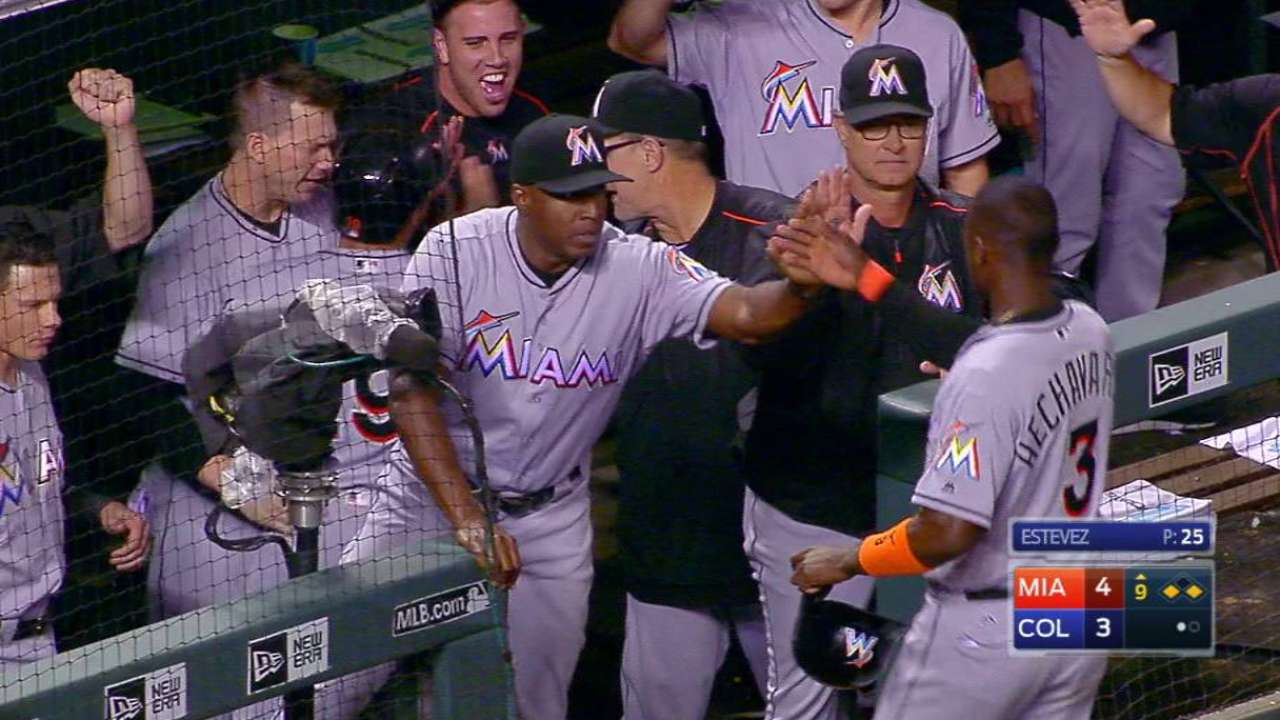 But the situation could improve because Adam Ottavino, himself coming off Tommy John surgery, finished the year healthy; Dunn represents another arm capable of any late inning, including the ninth; Estevez is back with more experience, and all of the injured relievers are expected to be healthy.
5. Setting high standards: Did LeMahieu and Blackmon move into the star category?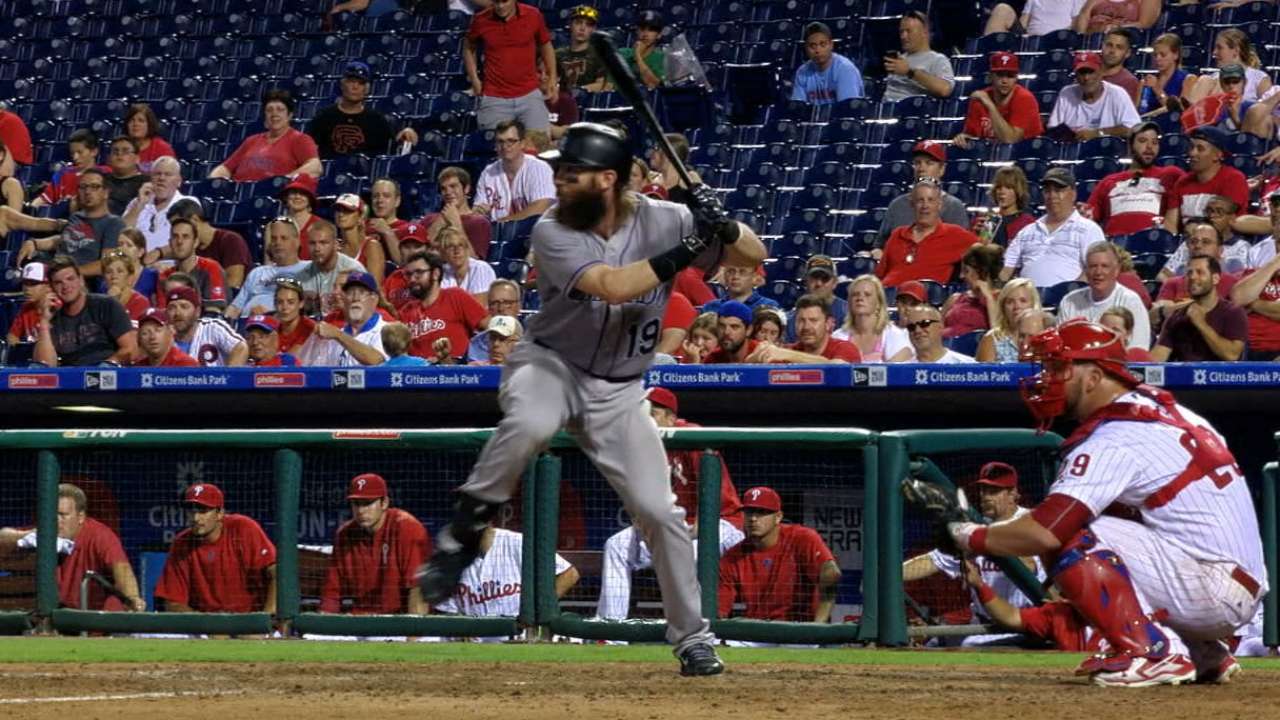 Respected as heady players with talent, both had career years by addressing specifics. LeMahieu made harder contact, especially on balls the opposite way. Blackmon evened his home and road splits, and hit a career-high 29 home runs. A strong follow-up in 2017 could increase the profile of both players, especially if the Rockies fulfill their postseason dreams.
Thomas Harding has covered the Rockies since 2000, and for MLB.com since 2002. Follow him on Twitter @harding_at_mlb, listen to podcasts and like his Facebook page. This story was not subject to the approval of Major League Baseball or its clubs.