New arrivals, veteran farewells mark Cards' 2016
Rookie debuts and Fowler signing high points of Holliday's final season in St. Louis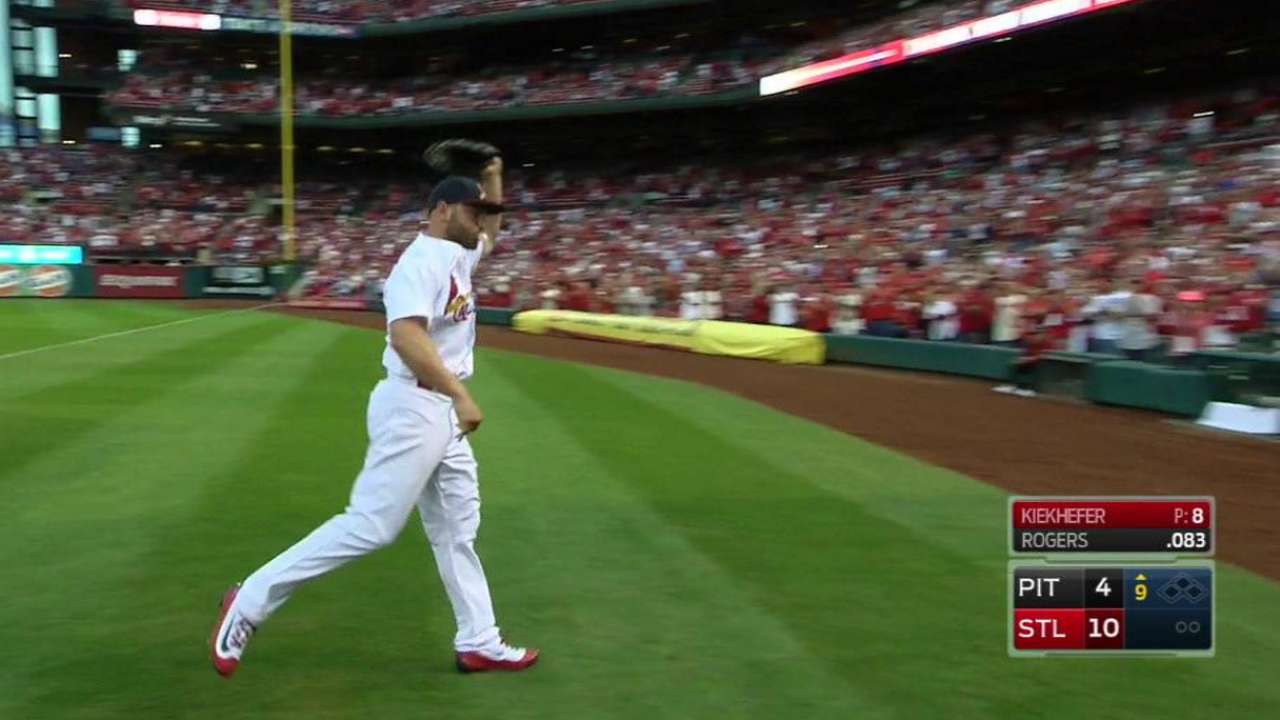 ST. LOUIS -- The ending did not go as scripted, but the Cardinals' 2016 season nevertheless brought with it a bundle of memorable storylines from a team whose identity took on unexpected forms.
The 2016 Cardinals flexed unforeseen power but also flubbed too often in the field. The up-and-down year included struggles to win at home, historic pinch-hit production, a slew of injuries and a postseason push that fell just short of fruition. It seemed, in many ways, to also be a year of transition, with young players finding their place as core pieces and veterans finding new norms.
So with the calendar about to flip ahead to another year, let's take one last look back at five signature moments from 2016:
5. Dazzling debut: Following weeks of speculation about when he would arrive, Alex Reyes joined the Cardinals in early August and lived up to the hype in his big league debut. Pitching in relief, Reyes, the organization's top prospect, hit 101 mph, recorded his first career strikeouts and eased through a clean inning on 11 pitches.
"Ever since I played baseball in Little League, this is the kind of moment I've dreamed about," Reyes said afterward. "My heart was pumping, definitely, but I felt kind of relaxed out there."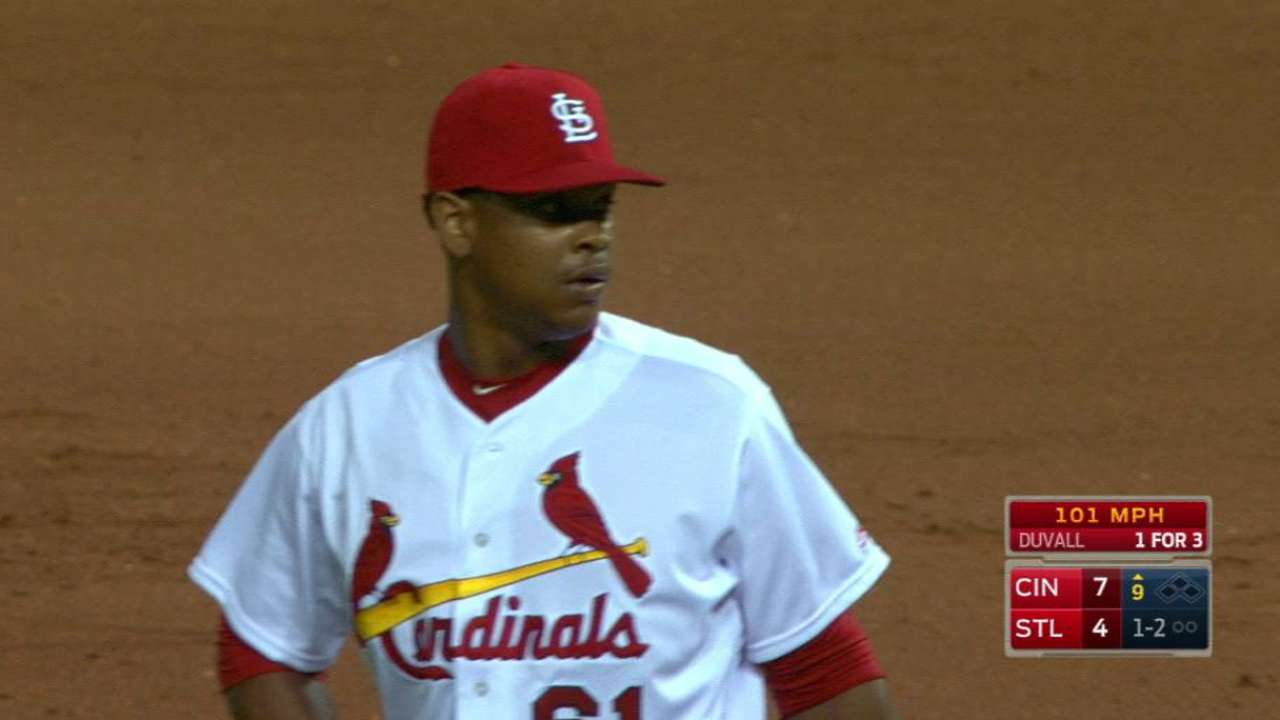 Reyes went on to play a key role for the Cardinals down the stretch after being plugged into the rotation. He was never more impressive than at AT&T Park on Sept. 18 when, with seven scoreless innings, Reyes pulled the Cardinals to one game behind the Giants in the National League Wild Card race. He finished the season with a 1.57 ERA over 46 innings.
4. Big spenders: After profiling as a power-hitting but defensively porous club in 2016, the Cardinals sought to change that identity this Hot Stove season. General manager John Mozeliak was especially keen on building a roster with increased athleticism, agility and speed. With an opening also to fill in the outfield, the Cardinals made their big splash just after the Winter Meetings by reaching a five-year agreement with Dexter Fowler.
• Fowler joins Cardinals on 5-year deal
"You obviously have a great presence at the top of the lineup," Mozeliak said of Fowler. "The athleticism, the excitement of bringing in a player that has all the physical attributes -- but also those others, the ones that are behind the scenes that we put a lot of faith into."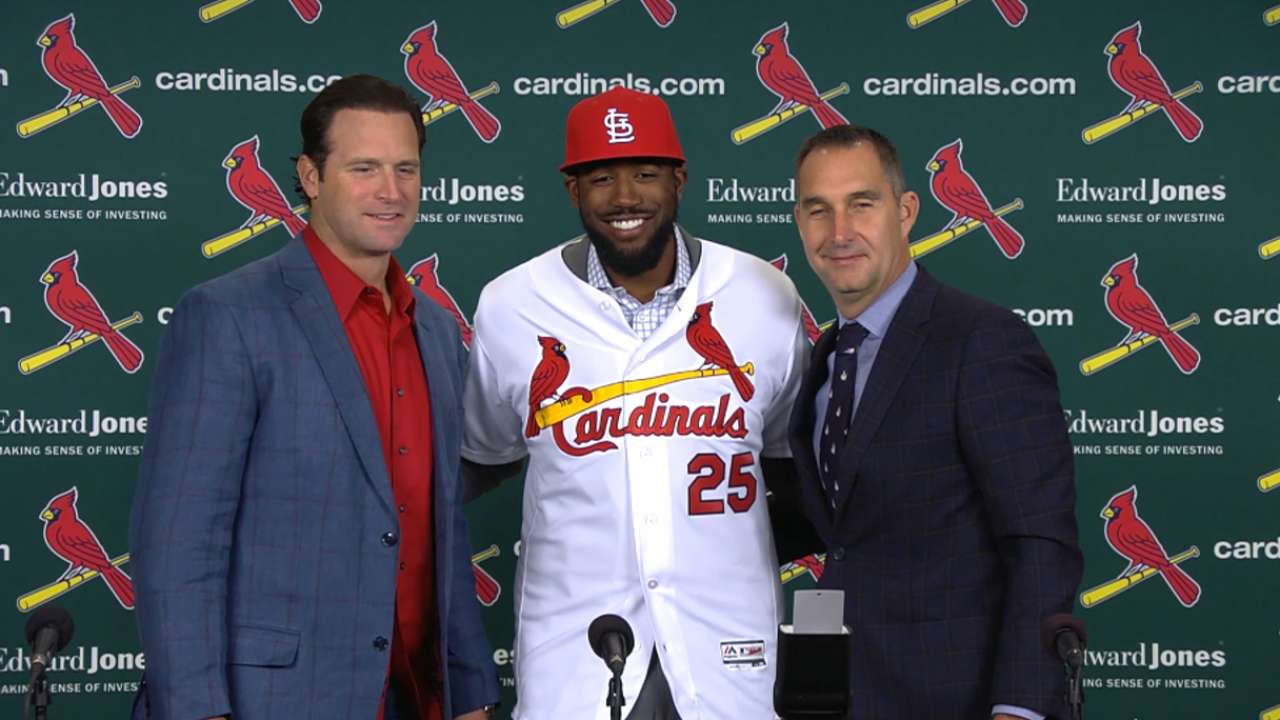 The contract, worth $82.5 million over five years, is the largest the Cardinals had ever given to a free agent from outside the organization. It came just weeks after they handed Brett Cecil the biggest contract for a relief pitcher in franchise history. The Cardinals, who have long found success by being judicious in their spending, utilized a different method of talent acquisition this winter.
3. Homer for Jose: Two days after learning that his childhood friend, Jose Fernandez, had died in a boating accident, Cardinals shortstop Aledmys Diaz produced one of the most poignant moments of the season. Diaz had just returned from visiting with Fernandez's mourning family when he stepped to the plate with the bases loaded on Sept. 27. With one swing, he then connected for his first career grand slam.
The home run was a critical one for a team deep in a Wild Card race, but it was also an emotional one for Diaz. He doffed his helmet to the sky while a No. 16 jersey hung behind him in the dugout, and he wiped tears from his eyes. Fernandez and Diaz grew up together in the Cuban neighborhood of Santa Clara, and they had played together as NL All-Stars just a few months earlier.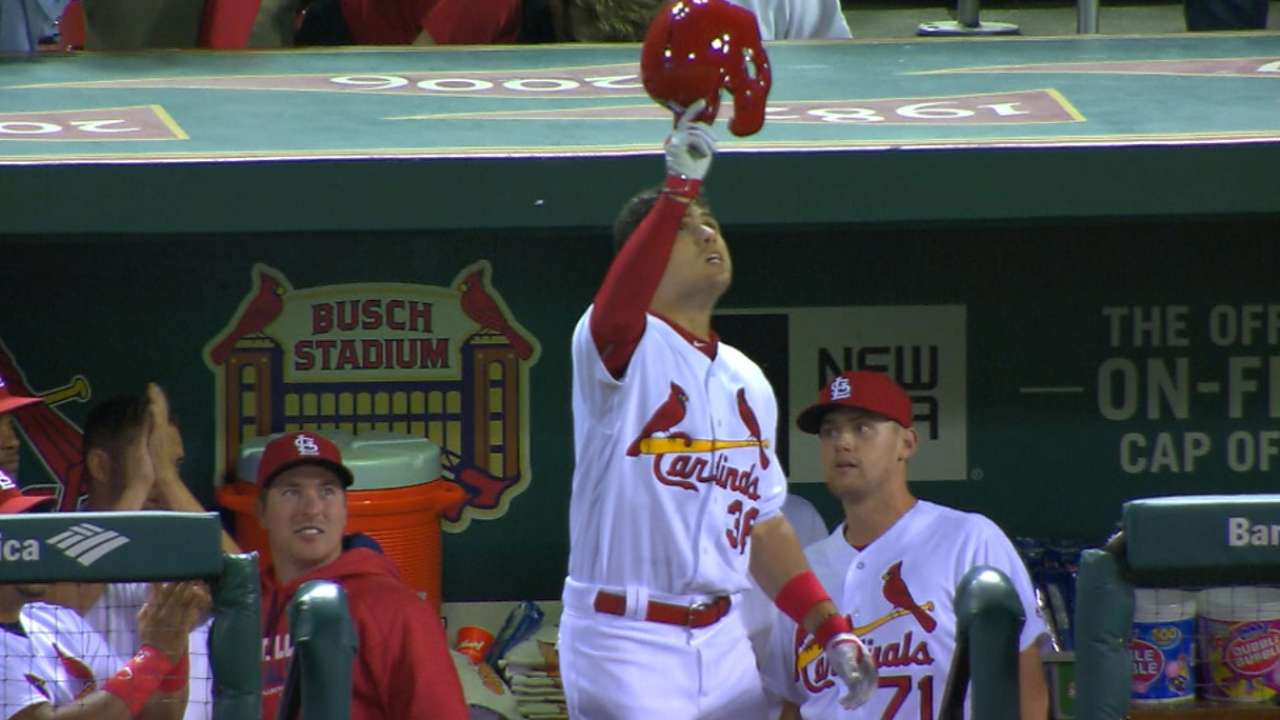 "He reminded us how fun this game is," Diaz said. "He loved this game. He liked to compete. Going forward, I have to love the game even more. Every chance I have to put on the uniform, I have to give everything I have today. That's the legacy he gives us."
2. Fond Farewell: The process of altering the look of the roster began with the club's decision to part ways with Matt Holliday, their everyday left fielder since 2009. Before officially moving on, however, the Cardinals provided a proper farewell. Still limited by a recovering right thumb, Holliday came off the disabled list for the final weekend of the season and had a flourish of a finish. He received a standing ovation as he stepped in for a pinch-hit appearance on Friday, Sept. 30, and, with tears in his eyes, delivered an improbable opposite-field home run.
"I don't even remember rounding the bases," Holliday said afterward. "It felt like something that God gave me, a moment that was surreal."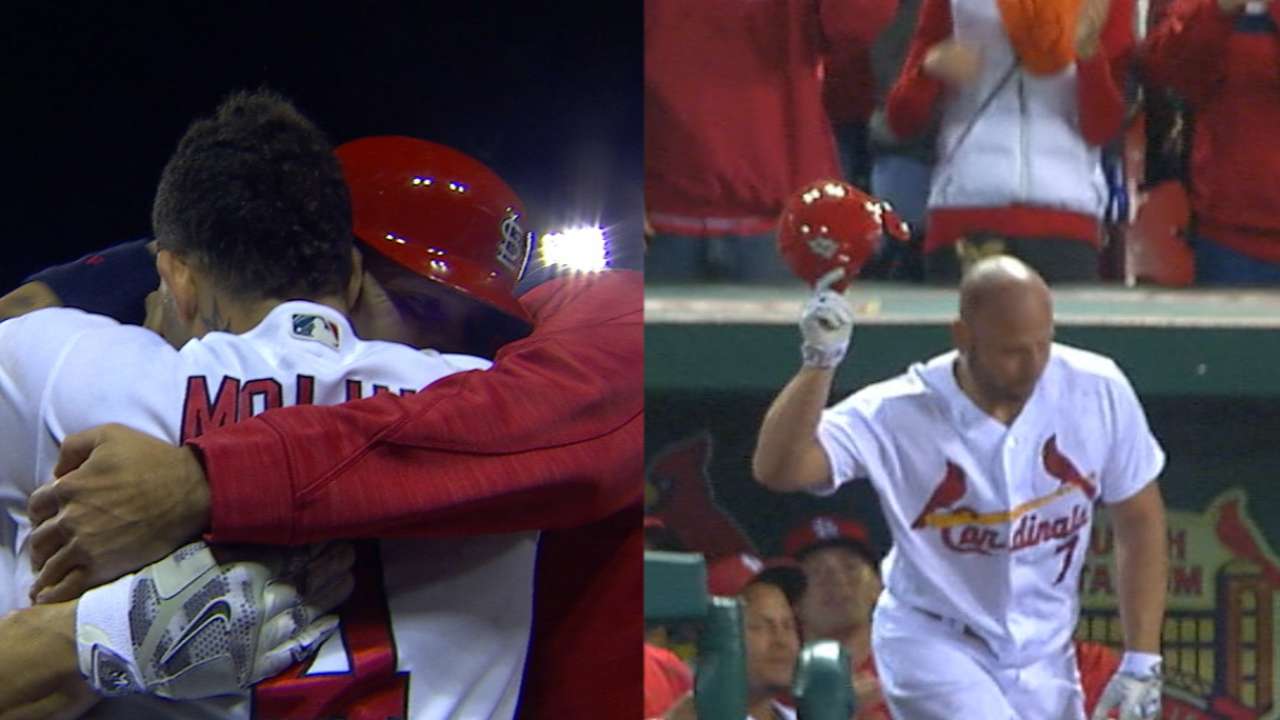 Holliday capped the weekend with a pinch-hit RBI single the next day and by taking the field, alone, before the last inning of the team's regular-season finale. He tipped his cap amid a standing ovation before returning to the dugout. It was Holliday's final moment in a Cardinals uniform, as the veteran signed a one-year deal with the Yankees on Dec. 7.
1. Falling short: A win on the final day of the season pushed the Cardinals 10 games above .500 for the first time in 2016. That benchmark became mostly meaningless, however, when a San Francisco win on that October Sunday officially knocked the Cardinals out of NL Wild Card contention. It marked the first time under manager Mike Matheny that St. Louis had fallen short of the postseason.
The Cardinals finished with 86 wins, one fewer than the Mets and Giants, snapping a string of five consecutive postseason appearances, while the eventual-champion Cubs ended the team's run of three straight NL Central division titles.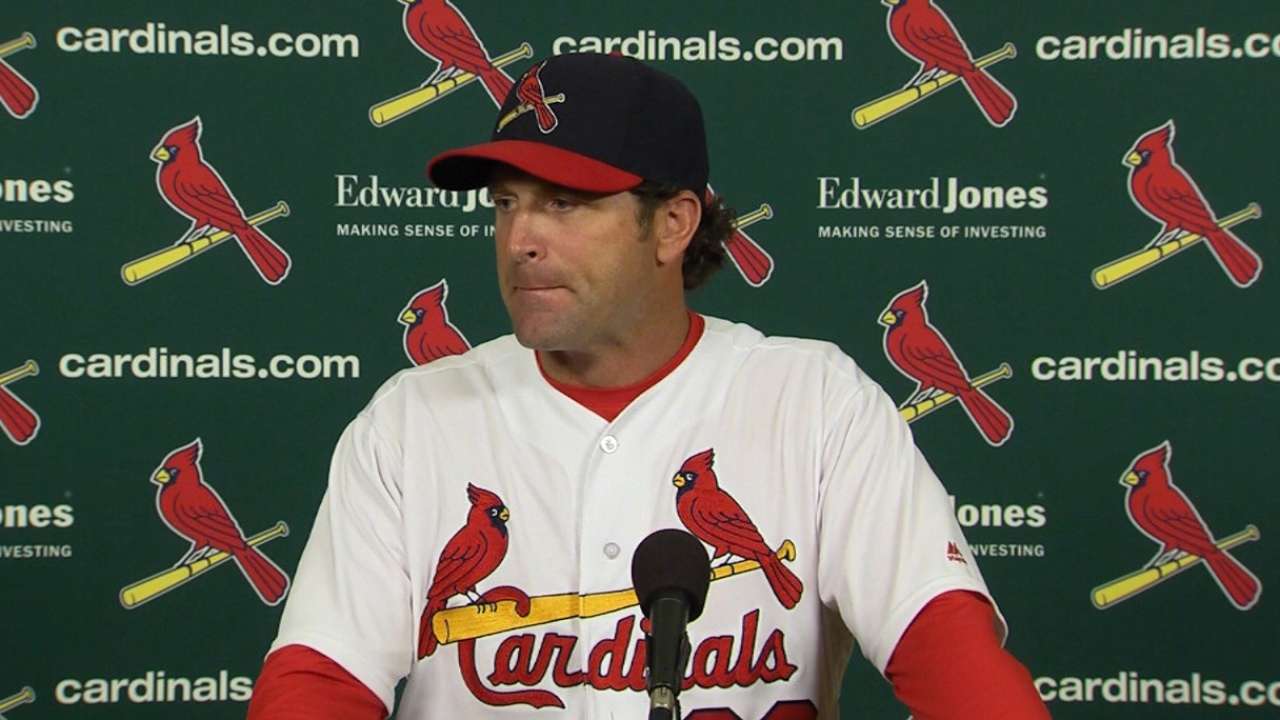 "Missing the playoffs by one game, that's hard to swallow with all the different ways," Adam Wainwright said. "It's certainly more painful to know that you just missed out."
Jenifer Langosch has covered the Cardinals for MLB.com since 2012, and previously covered the Pirates from 2007-11. Read her blog, follow her on Twitter, like her Facebook page and listen to her podcast. This story was not subject to the approval of Major League Baseball or its clubs.