Inbox: Which club is trade partner for Dozier?
Beat reporter Rhett Bollinger answers fans' questions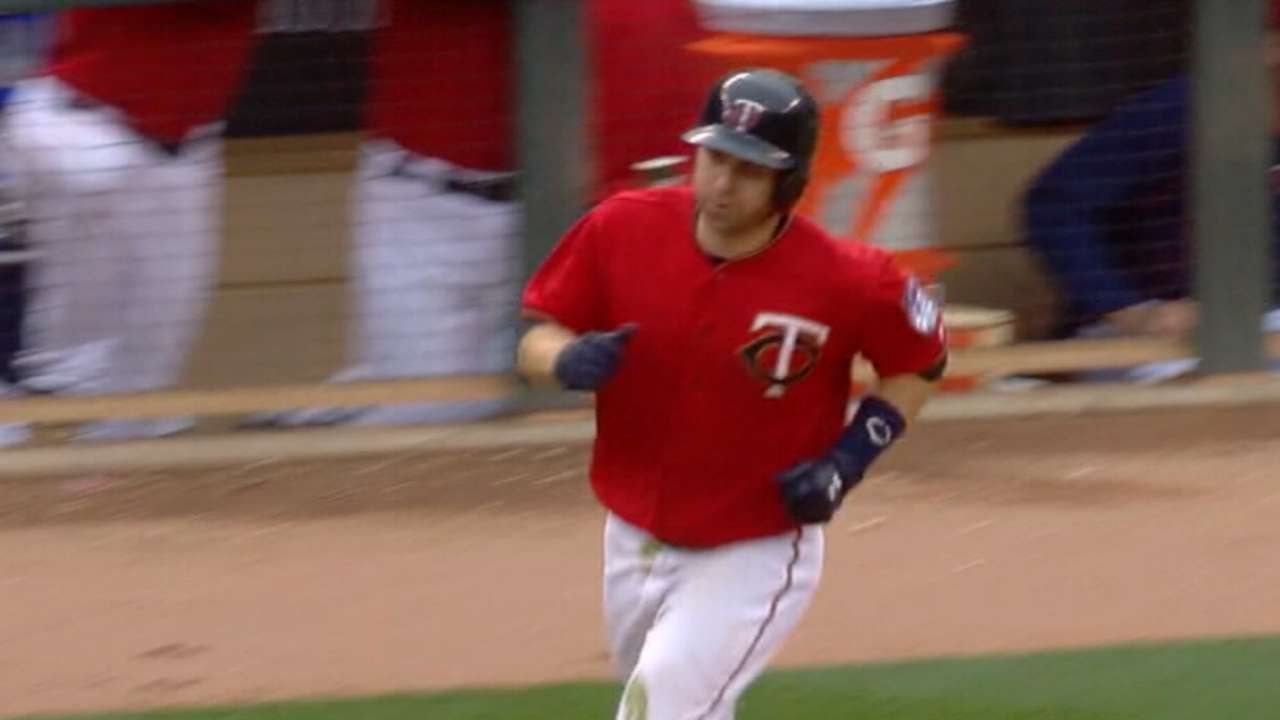 MINNEAPOLIS -- There continues to be buzz around the potential of a Brian Dozier trade this offseason, but the Twins have yet to deal the slugging second baseman.
The Dodgers remain the most logical trading partner, but multiple teams have reportedly called to check in on Dozier. The issue, however, is that there aren't many contending teams looking for a second baseman, so it's hard to see a fit outside of the Dodgers. Teams could get creative, however, and that leads directly into the first question of this week's Twins Inbox:
@RhettBollinger Which teams make sense in a possible Dozier trade outside of the Dodgers?

— Tim Zieroth (@Twins_guyTJZ) December 19, 2016
The Dodgers have the assets to make the trade, especially if right-hander Jose De Leon is the centerpiece of a deal. The Twins are looking for close-to-Major League-ready arms, and De Leon certainly fits the bill. Right-hander Brock Stewart also could make sense as another prospect the Twins would be interested in for Dozier.
:: Submit a question to the Twins Inbox ::
But outside of the Dodgers, most contending teams seem set at second base. The Yankees have been mentioned as a possibility, but they have Starlin Castro at second and general manager Brian Cashman has publicly downplayed the club's interest in Dozier. The Cardinals could make some sense, but they have Kolten Wong at second and seem more in the market for a slugging first baseman. The Angels recently traded for Danny Espinosa and likely don't have the prospects to get it done.
The wild card would be whether a team sees Dozier as a third baseman. It's certainly a risk, as he hasn't previously played the position, but he said at the Winter Meetings that he's willing to play anywhere. If Dozier moves to third, it could open up the possibility for a team looking for third-base help like the Red Sox to get involved.
But for now, the Dodgers still make the most sense and a deal seems more and more likely.
@RhettBollinger When will the team name the new first base coach and who are they looking at?

— James Carlson (@MNsportsfan1991) December 19, 2016
Twins chief baseball officer Derek Falvey said at the Winter Meetings the club was close to making its new hire, so it should happen soon, and could be as soon as this week. One thing to note is that it doesn't necessarily have to be a first-base coach, as the Twins seem likely to shuffle some roles from last year.
The hire, however, is expected to be well-versed in analytics to help serve as a conduit between the front office and coaching staff. Several teams have a coach with a similar job title as "quality-control coach," but general manager Thad Levine joked they won't call it that because it assumes quality was lost somewhere along the way.
@RhettBollinger are the Twins ever going to have a formidable pitching staff again because I don't see it.

— Ty M Olschlager (@TyMatthewW) December 19, 2016
Given Minnesota's rotation woes over the last six seasons, it's understandable to be frustrated about the state of the pitching staff. Right-hander Ervin Santana is the club's lone sure thing in the rotation next year, as there are a lot of ifs associated with other in-house starters such as Phil Hughes, Hector Santiago, Kyle Gibson and Jose Berrios.
But the good news is the Twins have several top pitching prospects in the upper levels of the Minors such as Stephen Gonsalves, Tyler Jay, Adalberto Mejia and Kohl Stewart. And that doesn't even count hard-throwing right-hander Fernando Romero, who is expected to start at Double-A in 2017, and some believe he is the closest thing to an ace the club has in the organization.
Trading Dozier would also add to this young pitching depth, and while prospects obviously don't always pan out, they at least have a wave of potential impact arms coming.
@RhettBollinger Do the Twins plan to have Justin Haley start or will he come to camp as a reliever?

— Dan Bohnker (@DBohnk8) December 19, 2016
The Twins acquired right-hander Justin Haley in the Rule 5 Draft, so he'll have to remain on the roster the entire season or be offered back to the Red Sox. Haley was used nearly exclusively as a starter at Double-A and Triple-A last year, and he will get the chance to compete for a job as a starter in Spring Training.
Haley, 25, is coming off a solid season that saw him post a combined 3.01 ERA with 126 strikeouts in 146 2/3 innings in the Minors in 2016, but he has a more realistic chance of making the team as a reliever. He's more likely to be used in a long-relief role similar to J.R. Graham in '15 or Ryan Pressly in '13.
Rhett Bollinger is a reporter for MLB.com. Read his blog, Bollinger Beat, follow him on Twitter @RhettBollinger and listen to his podcast. This story was not subject to the approval of Major League Baseball or its clubs.