Yanks get first glimpse of future in 2016
Baby Bombers add thrilling touch to second half despite no postseason entry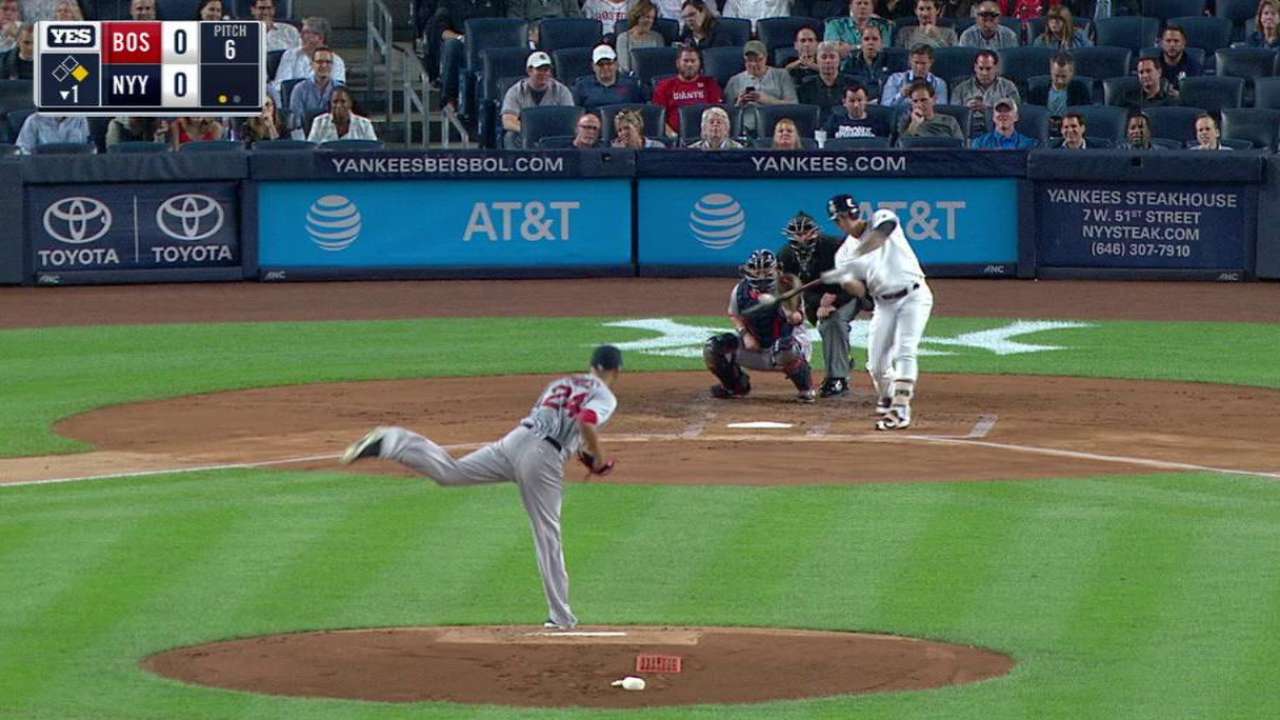 NEW YORK -- For the fourth consecutive season, the Yankees returned to their respective homes without a playoff victory, though an exciting late-season surge offered promise that they will be able to accomplish that -- and much more -- in the near future.
Creating room to call up talent like power-hitting catcher Gary Sanchez, the Yankees remained in the postseason chase until the season's final week. Dogged by inconsistency early, they had become an exciting club to watch, one that believed in their abilities even when most observers had counted them out.
"I think there are some good things that happened this year; we just didn't reach our goals," Yankees manager Joe Girardi said. "But there are some good things that took place where you saw some players come up and do some good things and get some valuable experience, and that should help us moving forward."
Here are five of the key storylines that defined the Yankees' 2016 season:
5. April showers
The Yankees stumbled early, posting a 9-17 record in April that left them battling until June 10 to get their record above .500. Chase Headley went the entire first month without an extra-base hit, but he wasn't alone. Jacoby Ellsbury and Brett Gardner struggled at the top of the lineup, while offseason pickup Aaron Hicks hit .191 in his first 95 games as a Yankee before turning it on late.
"We talk about it in Spring Training -- every game means the exact same amount," Headley said. "Toward the end of the season, you feel like you're playing bigger games, but the reason they're bigger games is because of the games in the beginning that you didn't take care of business."
4. Banking on the old guard
The Yankees' hopes for 2016 rested heavily on the belief that Alex Rodriguez and Mark Teixeira would repeat their production from a year prior, when they combined for 64 homers and 165 RBIs. Teixeira's hopes were high in particular; with free agency looming, he said in Spring Training that he planned on playing five more seasons.
Though 39-year-old Carlos Beltran delivered, posting an .890 OPS before being traded to the Rangers in July, both Rodriguez and Teixeira fizzled. Rodriguez hit .200 with nine homers before playing his final game as a Yankee in August, sitting at 696 career homers, while Teixeira announced his intention to retire at the conclusion of a year that saw him hit .204 with 15 homers.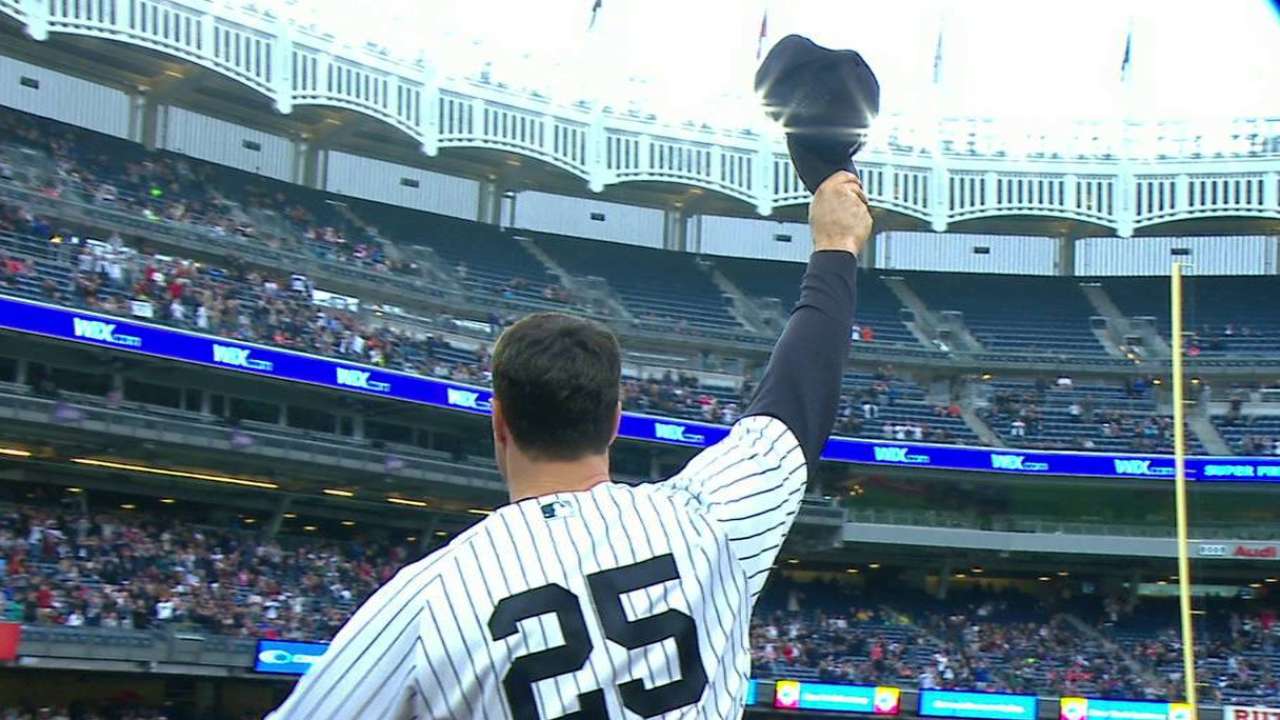 3. Tanaka Time
Masahiro Tanaka seemed to put any lingering concerns to rest concerning his ability to pitch with the partially torn ulnar collateral ligament he sustained during his Major League debut season in 2014.
The right-hander was unquestionably the ace, logging a career-high 14 victories while working 199 2/3 innings and finishing third in the American League with a 3.07 ERA. He was able to make 31 starts and came one out shy of reaching the 200-inning plateau for the first time in his career, while finishing the year 8-1 with a 2.28 ERA over his final nine starts.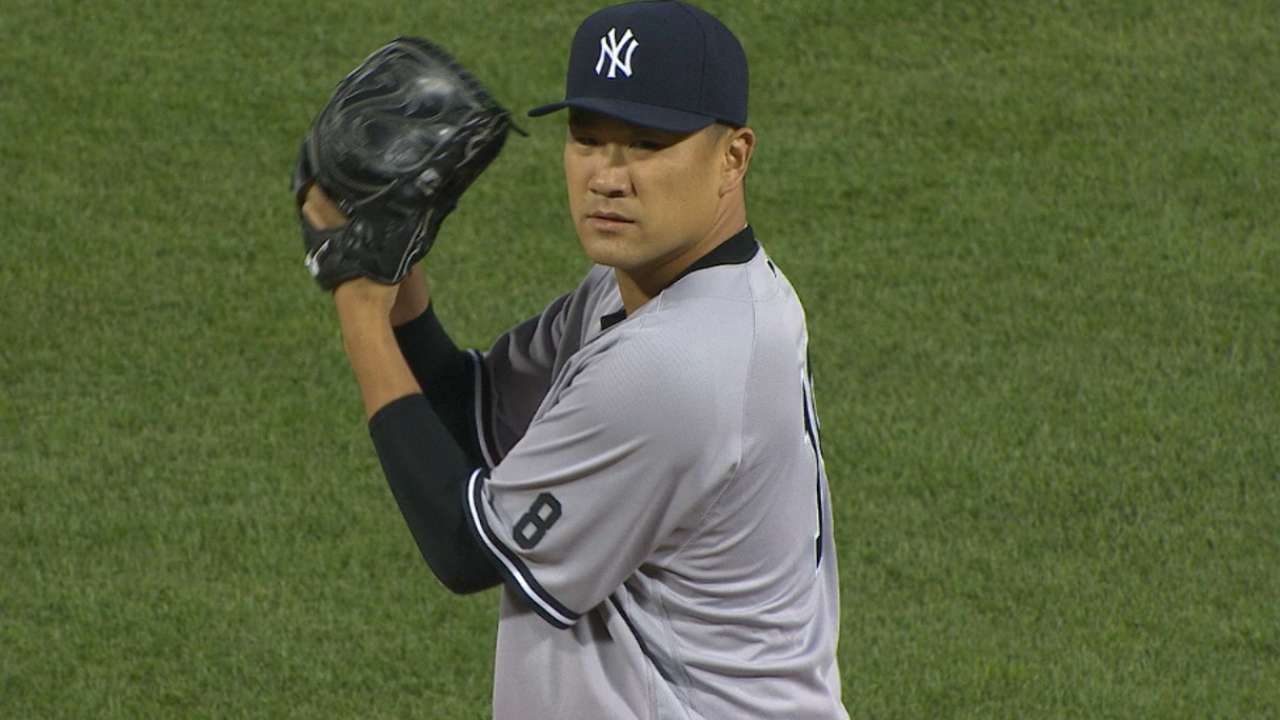 "As a result, I guess you could say I'm satisfied with that," Tanaka said through an interpreter. "The more important thing here was that I was able to pitch a full season. … I was able to pitch throughout the whole season. That part means a lot to me."
2. "No Runs DMC"
The vaunted relief trio of Aroldis Chapman, Andrew Miller and Dellin Betances -- quickly christened "No Runs DMC" -- was as good as advertised; the Yanks were 19-2 when all three pitched, combining for a 1.36 ERA and 13.70 strikeouts per nine innings in those games. A collection of talent that Chapman and Miller yielded in July may turn out to be even more impressive.
Chapman went to the Cubs for the future Arizona Fall League MVP, infielder Gleyber Torres, right-hander Adam Warren and outfielders Rashad Crawford and Billy McKinney. Miller netted a four-player package from the Indians, bringing back outfielder Clint Frazier and pitchers J.P. Feyereisen, Ben Heller and Justus Sheffield.
The Cubs and Indians got what they bargained for, as Chapman and Miller both played key roles in helping their new teams advance to the World Series. The Yankees then re-signed Chapman to a five-year, $86 million deal in December.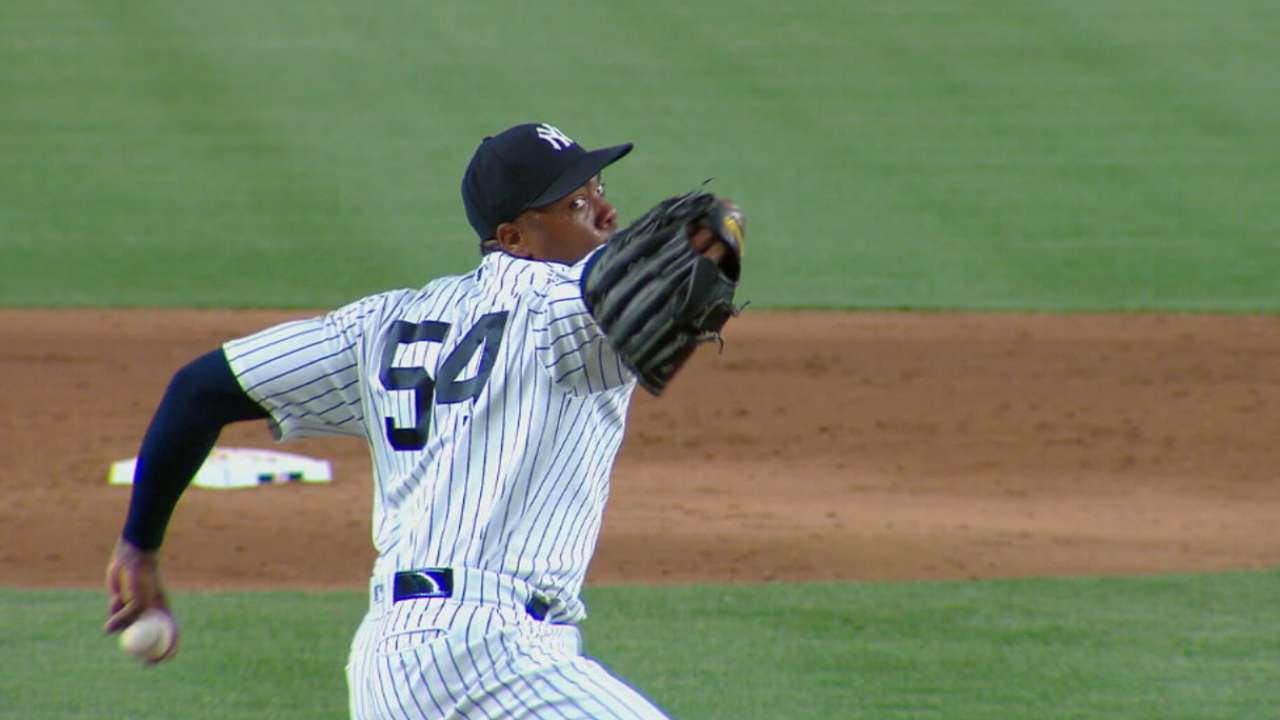 1. Make way for "El Gary" and the Baby Bombers
The Yankees were forced to make a hard pivot in late July, as an extended losing skid prompted management to shuffle their roster and accelerate a youth movement that included the arrival of Sanchez, who made the league take notice by tying an 86-year-old record with 20 home runs in his first 51 games.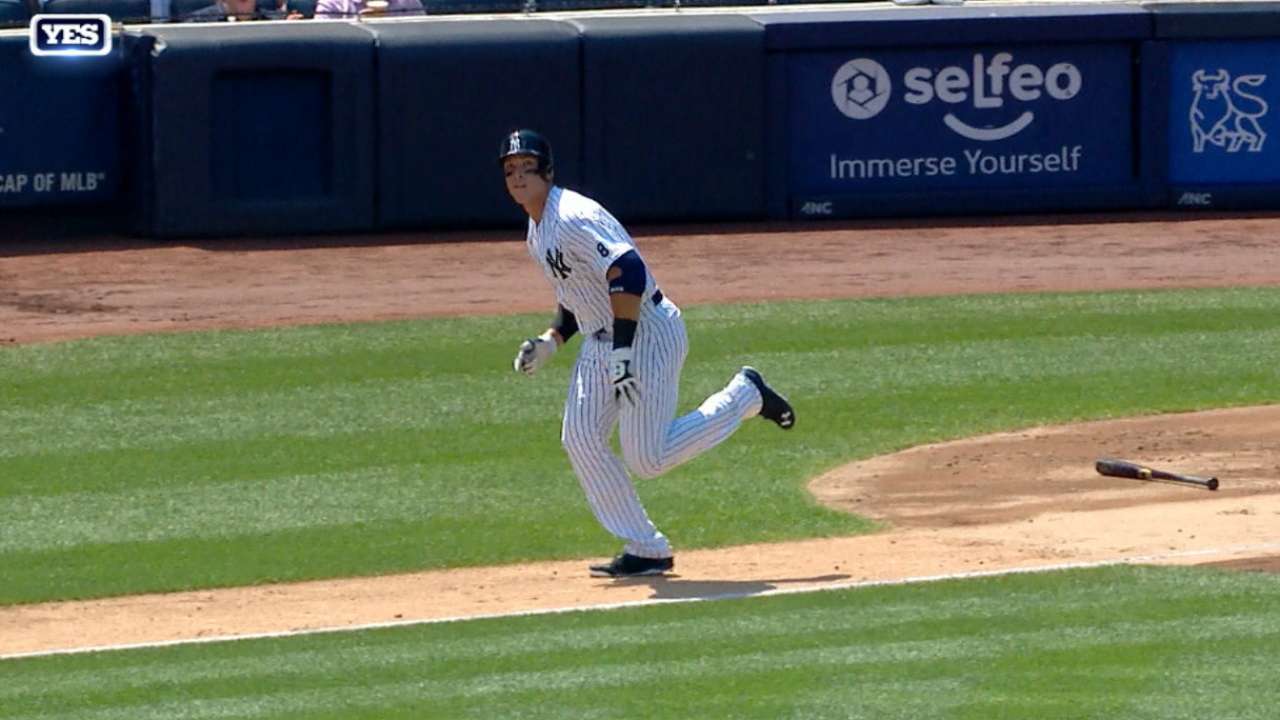 Tyler Austin and Aaron Judge made history on Aug. 13, becoming the first players to homer back-to-back in their first at-bats. The youth movement will continue, as the Yankees plan to have Judge and Hicks battle in right field, while allowing the same for Austin and Greg Bird at first base. Brian McCann was traded in November, clearing the way for Sanchez as the starting catcher.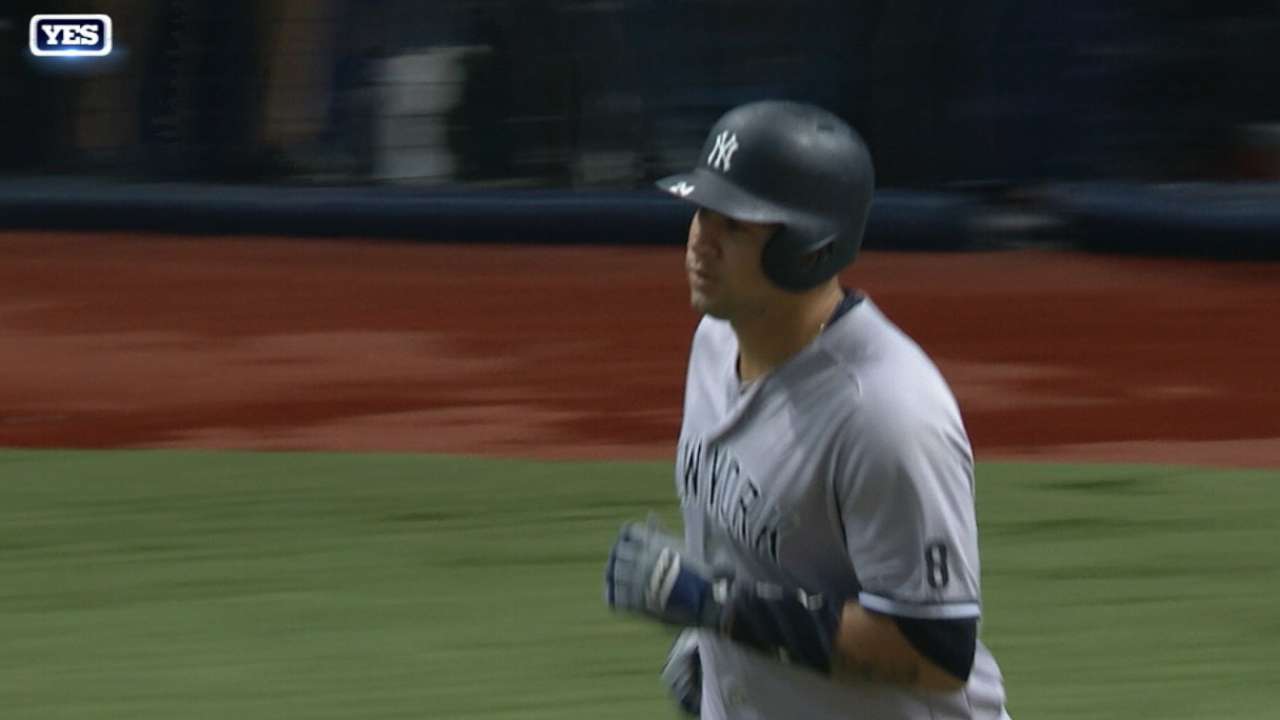 "We have a lot of talent here," Sanchez said through an interpreter. "We have a lot of young players here and we also have veterans, which I believe is a good combination. For the last couple months, we played good baseball, I think. We want to keep doing that."
Bryan Hoch has covered the Yankees for MLB.com since 2007. Follow him on Twitter @bryanhoch and on Facebook. This story was not subject to the approval of Major League Baseball or its clubs. This story was not subject to the approval of Major League Baseball or its clubs.