Khrushed it: Davis a bright spot for A's in 2016
Left fielder posted career-high 42 homers, 102 RBIs last season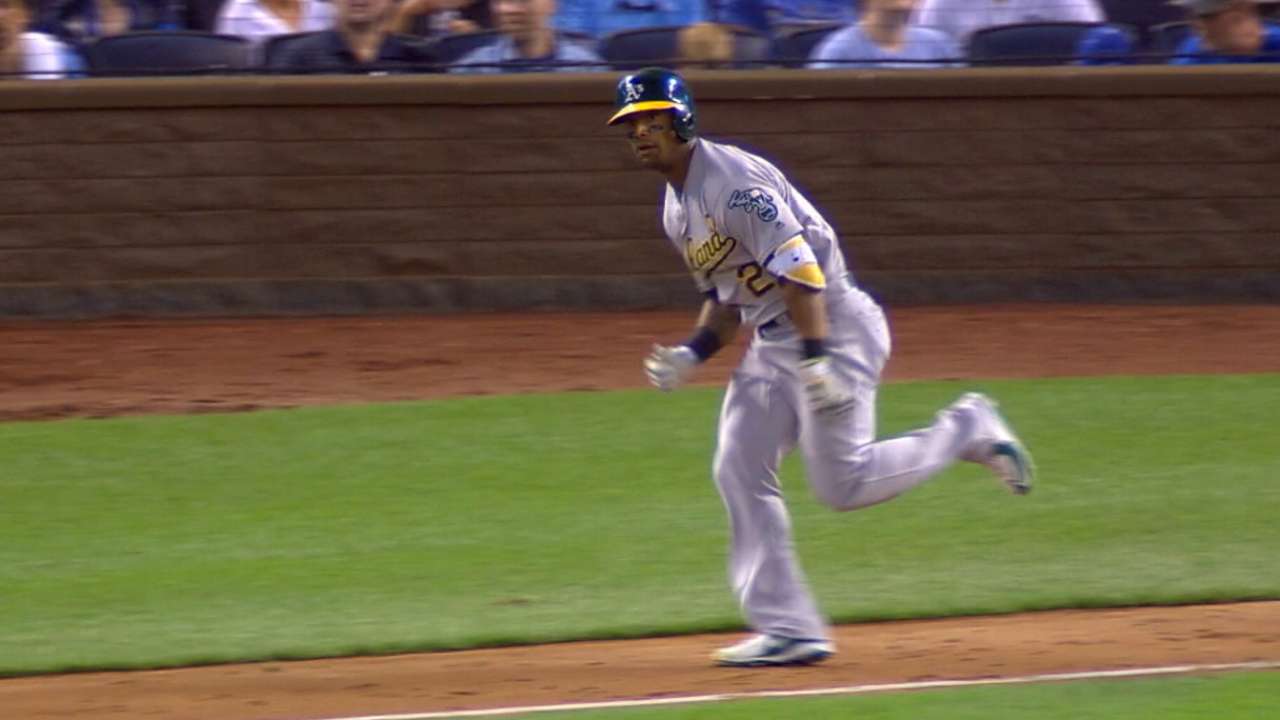 OAKLAND -- The A's endured more difficulties in 2016, sustaining their second consecutive last-place American League West finish in a season marred by injuries and inconsistencies, with few bright spots chronicled along the way.
The growing pains will likely spill into 2017, as the A's continue to piece together a youthful core while waiting on a potential new stadium site. First, let's revisit the A's top five storylines of 2016, which features both the good and bad:
5. Khrushed
Acquired from Milwaukee in February, left fielder Khris Davis made himself right at home in Oakland, greeting the American League with 42 home runs and 102 RBIs, both career highs. In doing so, Davis became just the fifth player in Oakland history to reach the 40-homer mark, joining the likes of Jose Canseco, Jason Giambi, Reggie Jackson and Mark McGwire.
4. Youth movement
Oakland's disappointing play in the first half accelerated a youth movement that brought about the arrival of third baseman Ryon Healy after the All-Star break. Healy, who began the year at Double-A Midland, immediately took over everyday third-base duties and thrived, counting off 13 home runs and 37 RBIs in just 72 games.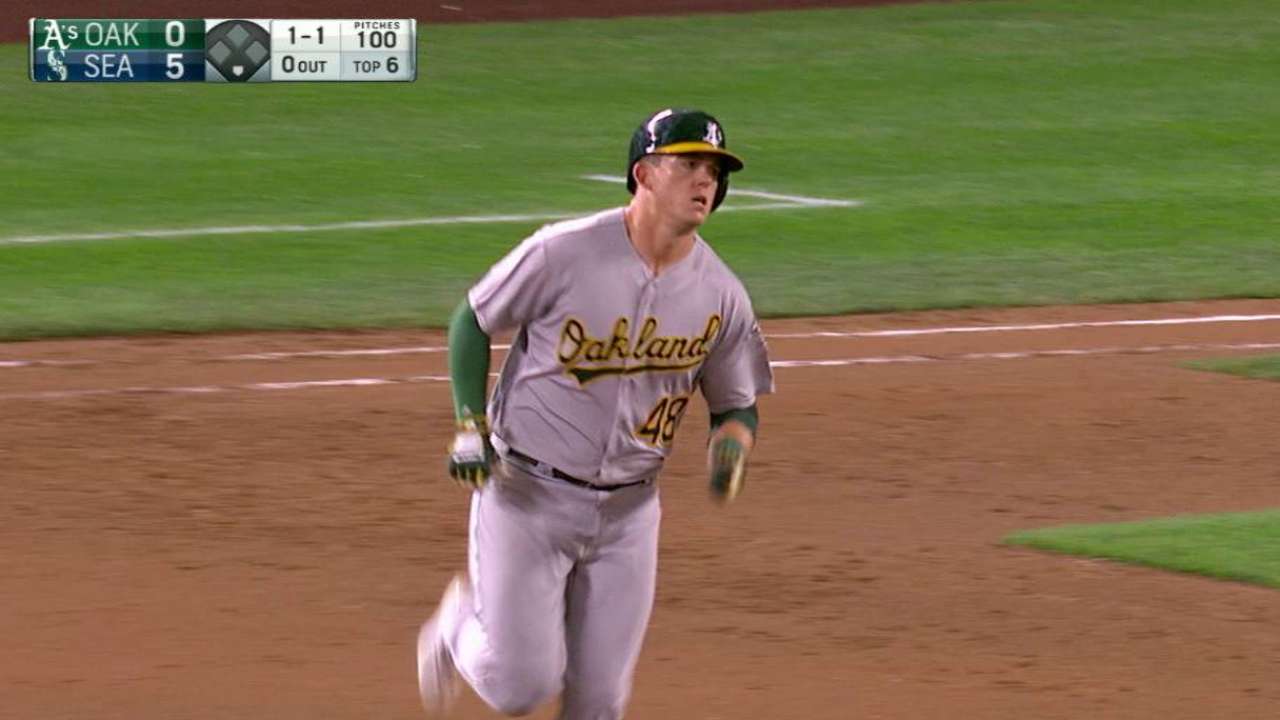 Healy wasn't the only rookie who shined. Starters Sean Manaea and Jharel Cotton and second baseman Joey Wendle, among others, showcased the kind of talent that could point the way for better days ahead for these A's.
3. Sonny slips
The A's roster was decimated by poor health all season, and the injury bug even hit stalwart Sonny Gray -- twice. Oakland's ace not only went on the disabled list on two occasions, but struggled when healthy, going 5-11 with a 5.69 ERA in 22 starts. This, just one year removed from a 2015 All-Star season in which he went 14-7 with a 2.73 ERA and finished third in AL Cy Young Award voting.
Though Gray is coming off a down year, the A's hope it was nothing more than an anomaly. So do other teams; Gray's name has been a mainstay in trade rumors, and it seems only a matter of time before this homegrown All-Star is on the move.
2. Reddick, Crisp dealt
A's fans, unfortunately all too familiar with saying farewell to their favorites, had to do so twice this year. First, Josh Reddick was dealt with Rich Hill to the Dodgers at the Aug. 1 non-waiver Trade Deadline. Then, Coco Crisp departed for Cleveland in an Aug. 31 trade. Both players were significant contributors to the crew that made three straight playoff appearances in 2012-14, and both shared a special connection with A's fans.
1. Wolff steps down
November brought about a significant ownership shakeup in Oakland, with Lew Wolff stepping down as managing partner and selling the majority of his stake in the team. Majority owner John Fisher took over the reins and with him brought in Dave Kaval to replace Michael Crowley as the club's president. Kaval, who serves the same role with the San Jose Earthquakes, has been charged with leading the A's stadium search, and he's ensured the matter will be met with urgency.
Jane Lee has covered the A's for MLB.com since 2010. Follow her on Twitter @JaneMLB. This story was not subject to the approval of Major League Baseball or its clubs.