Clemente honored at clinic during Puerto Rico goodwill tour
Current, former MLB players attend event on second day of trip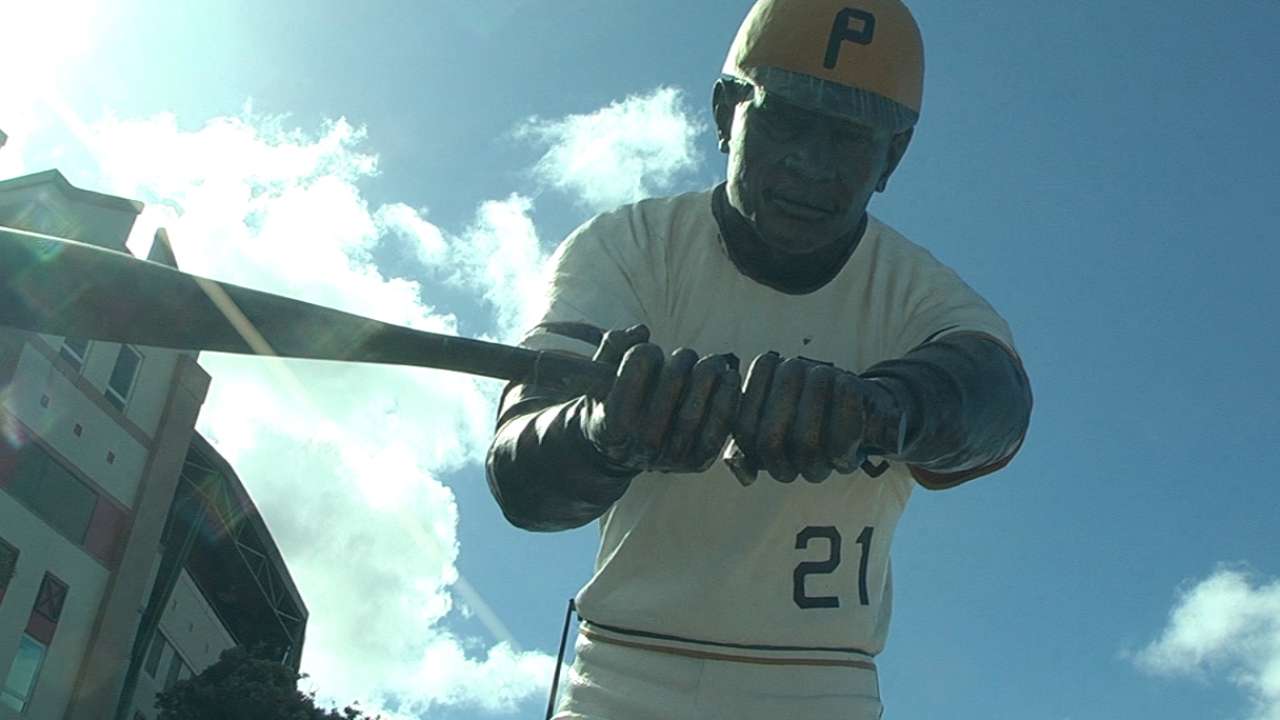 CAROLINA, Puerto Rico -- The children's chants started in the middle of the infield, spread to the outfield and echoed throughout Estadio Roberto Clemente, located just east of San Juan, on Friday night.
Famous baseball men, twice their age, watched with delight as they clapped along to the beat.
"Uno, dos, tres, Roberto Clemente! Uno, dos, tres, Roberto Clemente! Uno, dos, tres, Roberto Clemente!"
The chant could be heard every 10 minutes when the young ballplayers rotated stations.
The Puerto Rico goodwill tour "Peloteros Por Puerto Rico," an event spearheaded by the Major League Baseball Players Association in conjunction with Major League Baseball, made its first stop in Carolina with a baseball clinic for 150 young players in the stadium named after the island's legendary baseball hero. The star-studded tour, which started Thursday with a reception hosted by Astros outfielder Carlos Beltran, is designed to spotlight Clemente's humanitarian efforts while celebrating baseball legends and promoting the development of baseball in Puerto Rico.
A baseball clinic at Manuel Gonzalez Stadium in Salinas is scheduled for Saturday afternoon. A gala honoring baseball in Puerto Rico is scheduled for later that night.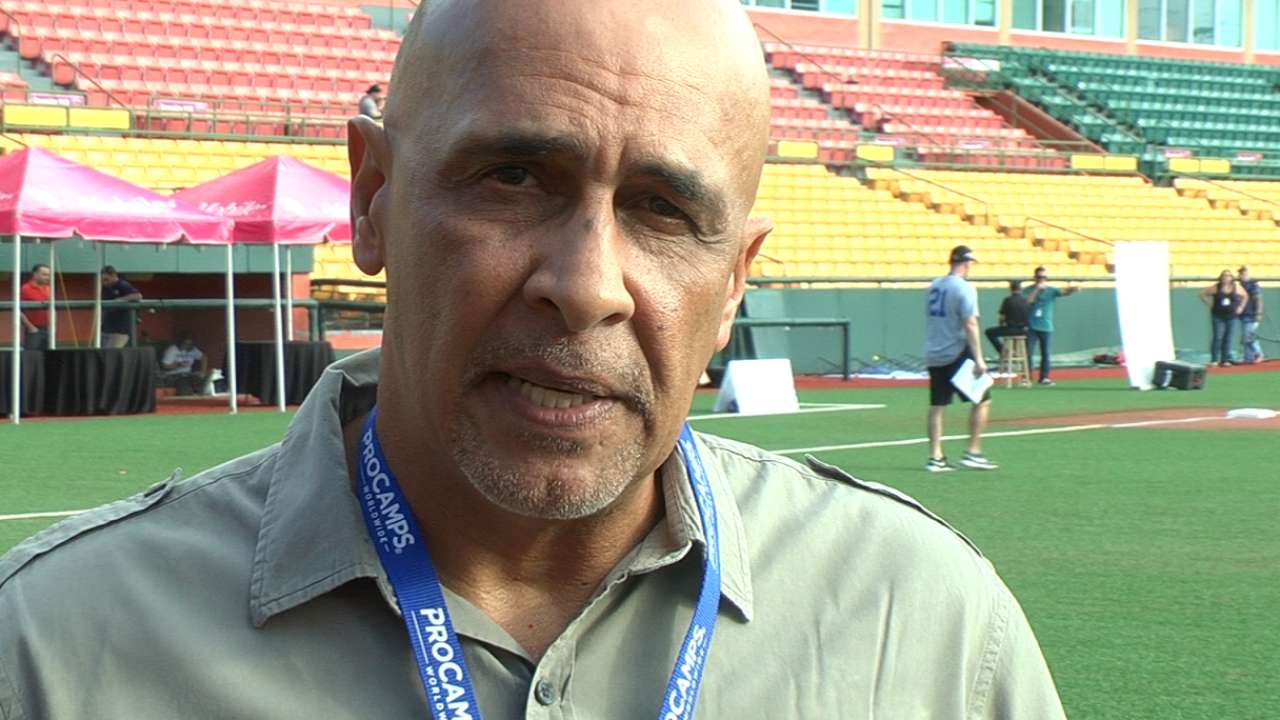 "We are here for baseball and we are here for Roberto Clemente," Beltran said. "As a Puerto Rican player, I feel it's my job to follow in his footsteps and help the young players whether they are in the big leagues or here at the clinic. He was a professional and he also defended the rights of Latinos. That is something everyone admires."
Beltran was joined by Nationals reliever Oliver Perez (Mexico), Indians shortstop Francisco Lindor (Puerto Rico), White Sox pitcher Jose Quintana (Colombia), Rays closer Alex Colome (Dominican Republic), Astros second baseman Jose Altuve (Venezuela), Cubs second baseman Javier Baez (Puerto Rico), Mariners closer Edwin Diaz (Puerto Rico) and Rays starter Chris Archer.
Archer, wearing a black Team USA backpack, was the first player to arrive at the stadium Friday afternoon. He later changed into to a white World Baseball Classic jersey with USA stitched across his chest when the clinic started. The other players also wore the jerseys of the countries they will represent in the tournament.
The scene at Estadio Roberto Clemente in Carolina for the Puerto Rico goodwill tour. Check @MLB and @LasMayores for coverage. pic.twitter.com/51qWswDfaT

— Jesse Sanchez (@JesseSanchezMLB) December 16, 2016
"[Clemente] is the example for every player to not only know what to do on the field, but also to know your role in society and the community as well," Archer said. "He's a perfect role model for everybody, and I'm trying to do a small percentage of what he did. If I can do my little fair share, then I will feel like I have had a successful career."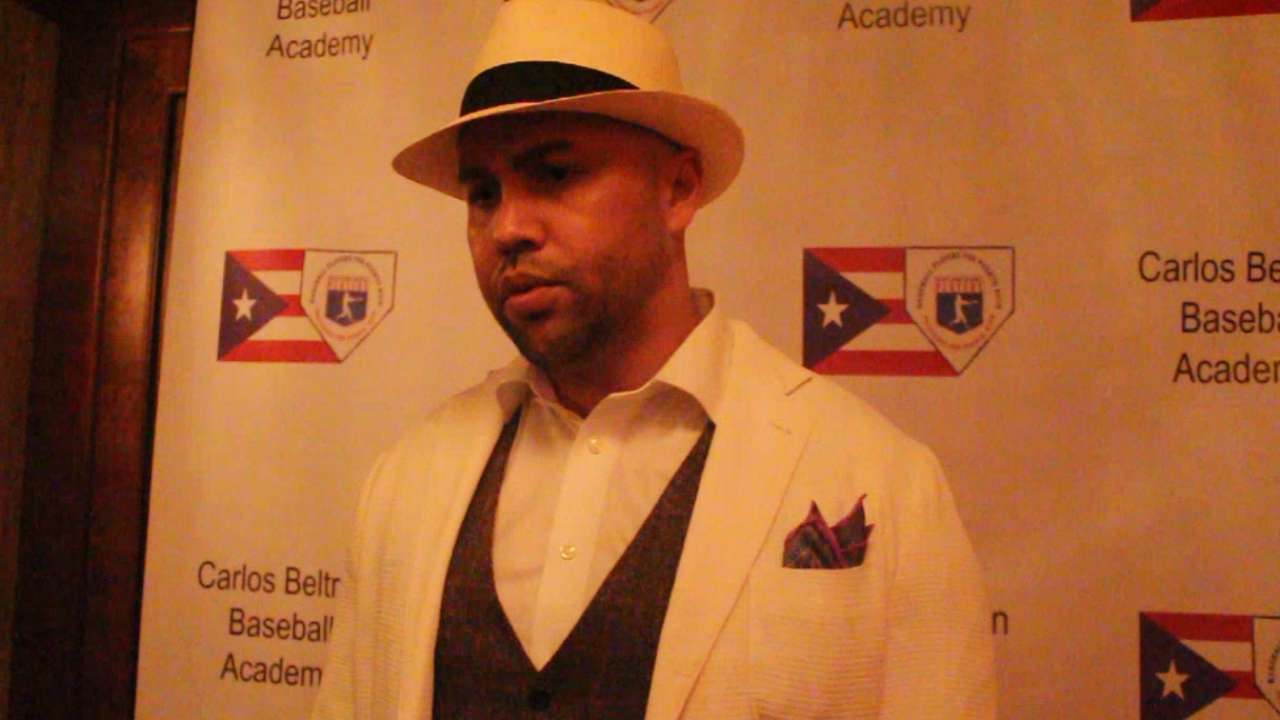 In addition to the current stars, former Major League players Carlos Delgado, Alex Cora, Bernie Williams, Eduardo Perez, Javier Vazquez, Bobby Bonilla, Jose Cruz Jr., Jose Cruz Sr. and Dennis Martinez also participated in the clinic. Hall of Famer Roberto Alomar made a surprise appearance.
"This is where it all starts and it makes me happy to see this," Alomar said. "The game here is growing. Winter ball is hurting a little bit but Little Leagues and some of the leagues here are more active and that makes me very happy. Baseball has been growing and it was really important for me to be here with the kids."
More from Estadio Roberto Clemente. #PuertoRico pic.twitter.com/NSQjle5nPe

— Jesse Sanchez (@JesseSanchezMLB) December 16, 2016
Puerto Rican baseball legends, like Jerry Morales, Mako Oliveras, Guillermo Montanez, were also among the honored guests and participants. Former Major League manager Edwin Rodriguez, who will manage Puerto Rico during the 2017 World Baseball Classic, was there, too.
Luis Clemente, the son of Roberto Clemente, and Tom Walker, Roberto's good friend and former winter ball teammate, both received loud ovations when they were recognized along with the players before the clinic began. Walker helped Clemente load supplies on the airplane to earthquake-torn Nicaragua that crashed on Dec. 31, 1972. Clemente saved Walker's life by talking him out of joining him on the trip.
"Robert Clemente sacrificed his life to help our people in Nicaragua. We have not forgotten that and we will never forget that," Martinez said. "There will never ever be another man like him. That's why I'm here. I know he would want to be here teaching these kids how to be a good person and a good player. That's what we are trying to do. I know he is looking down and smiling with us."
Jesse Sanchez is a national reporter for MLB.com based in Phoenix. Follow him on Twitter @JesseSanchezMLB and Facebook. This story was not subject to the approval of Major League Baseball or its clubs.