Bettis overcomes sudden testicular cancer
Rockies' right-hander hopes to be ready for Opening Day in 2017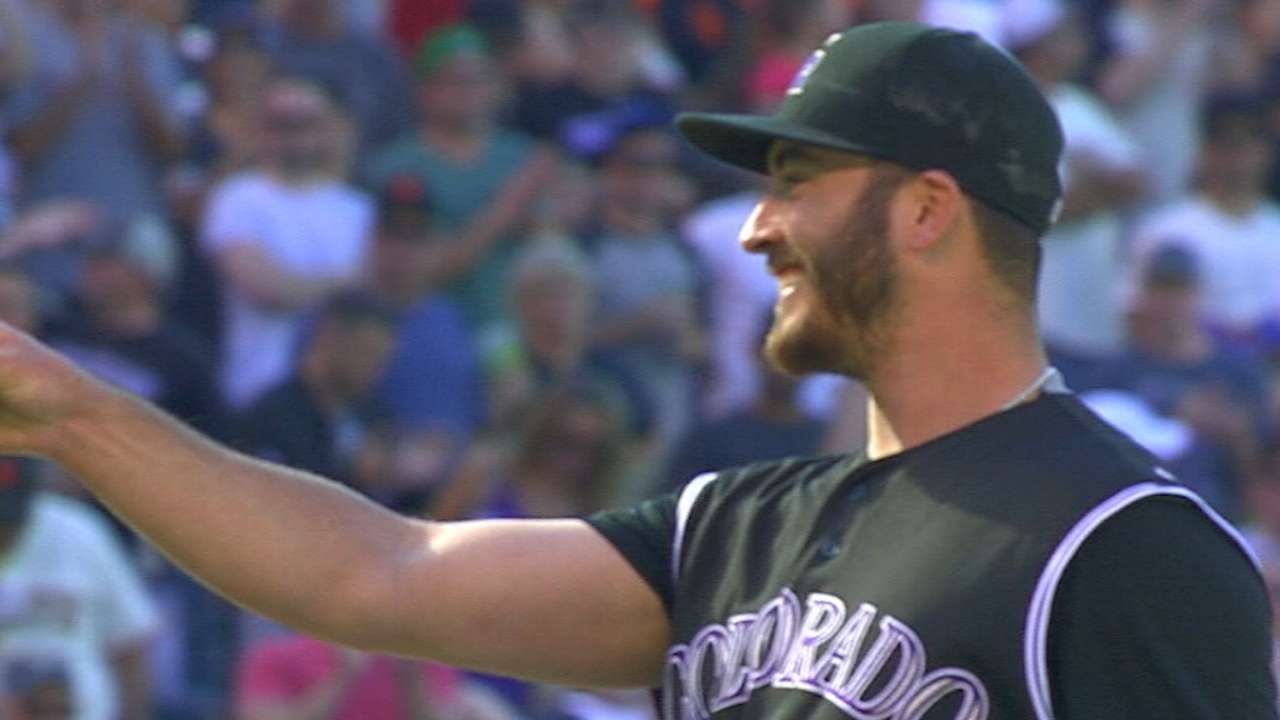 DENVER -- Rockies right-hander Chad Bettis isn't the type to wonder. If there's an issue, he's going to research and plan action.
For example, at season's end, the Rockies have exit meetings in which they discuss offseason areas of improvement. Before anyone spoke to Bettis after a solid 2016 -- 14-8, 4.79 ERA -- he had a plan. Opponents hit .331 on pitches 76-100 of his outings, and he decided, on his own, to focus on the last 15 pitches each game.
"'That sounds like Chad, right?'" smiling Rockies general manager Jeff Bridich said when relayed Bettis' planned approach.
So a recent diagnosis of testicular cancer shook Bettis, 27, but only briefly. Healthy after surgery for a cancer that the surgeon believes had not spread, and armed with knowledge, Bettis will deal with his health with the same meticulousness.
After the diagnosis in mid-November, he armed himself with statistics on the disease and the rates of success after early detections. Since surgery on Nov. 29, he began planning a rehab that will allow him to be ready when the season starts in early April, as long as follow-up blood work comes back as expected.
Even more, Bettis plans to speak to urge men to speak up about their health, the way he did when he noticed something amiss.
"The more I think about it, the more I think that baseball has prepared me for something like this," Bettis said Friday by phone from his offseason residence in Scottsdale, Ariz. "My whole baseball career, not just as a Rockie, but as a child playing baseball all the way through high school to college to now, there are things you learn through baseball that you can apply to life."
Bettis noticed something unsual about a month ago.
"It was just a little lump, and it was no bigger than a grain of rice," he said. "It was no bigger than a pea. I didn't know what to think of it. It was something that, I don't know if it's something that I need to say something about or maybe it's nothing? So sure enough, I checked in the morning, and it was still there, then that's when I started that process."
An ultrasound revealed the cancer, and follow-up work over a little more than a week showed that the cancer had not spread.
"It's something that it is scary. It is something that is a little frightening even," Bettis said. "When you hear those two words, you hear the cancer more than you hear the testicular part."
But Bettis wasn't going to live in fear. He had begun throwing a few days before the diagnosis and kept working out at the Rockies' spring home at Salt River Fields at Talking Stick. Bettis emerged as a leader during the season, even after just two years in the club's rotation. This time he needed his teammates.
"I needed to kind of clear my mind and see my brothers and family up there and kind of get away from this for a little while and reset," Bettis said.
Away from the park, he studied. One paragraph of his statement Monday to ESPN, through his agent, Matt Sosnick, displayed what he learned:
"I was completely caught off-guard by my diagnosis but have subsequently found that the vast majority of cases occur in men 20 to 40 years of age and that the survival rate is 99 percent when contained and caught early," the statement read. "This only reinforces my belief that each of us needs to be totally in tune with our own physical health, and that taking action sooner than later when we feel like something is off can sometimes literally be the difference between life and death."
Bettis didn't have to wait as long as anticipated.
"I met with the urologist on the 28th, and he was saying [it] doesn't look like it had spread anywhere. Surgery is our first option," Bettis said. "I was thinking maybe it's going to be a couple weeks before I get into surgery.
"He came back into the room and said, 'Just to let you know, if you want to do this tomorrow, we can because one of my other patients just canceled on me.' Right when he said that, I knew that it was a blessing. It was, 'Let's go ahead and get this out of me tomorrow so I don't have to worry about this anymore.'"
Surgery took about 45 minutes, along with hours of recovery, but it was a long two weeks between then and his announcement.
During that time, teammates continued to work out and missed Bettis during workouts. He made one visit to Salt River Fields and tried to let "family stuff" explain the situation.
"It was getting exhausting keeping it quiet from everybody, and my brothers asking me, 'How are you? You doing all right? Is everything good?'" Bettis said. "It's like, 'Oh, man, I have something to tell you, but I can't yet.' For me to lie to my teammates, that's something I don't like to do."
Since the statement, Bettis said the response has been overwhelming. As a measure of thanks, he tweeted a picture -- snapped last Saturday at a Scottsdale restaurant, with a Christmas tree in the background -- with his wife, Kristina Bettis, who is pregnant with a girl, due March 29.
My growing family and I would like to say thank you for your thoughts, prayers, and kind words. We will get through this! Better together! pic.twitter.com/cXtYATcpJh

— Chad Bettis (@cbettis35) December 14, 2016
Bettis has returned to his offseason workout routine.
"Today was the fourth day of doing some rehab, just pool work and stuff," Bettis said. "I've got another round of lab work to do next week to make sure everything is good. If all the tumor markers normalize or go to nonexistent, then how we're going to approach it is just to be very proactive and get blood work regularly, get scans regularly and make sure that everything is staying where it needs to.
"But if the tumor markers come back in a different way and we don't necessarily like what they're showing, then we might need to take a different direction to our approach."
A native of Lubbock, Texas, who played college ball at Texas Tech, Bettis said he and his wife plan to go home to see family for the holidays. He'll do body-weight workouts there, then return to Scottsdale and resume throwing.
Bettis said he hopes to execute his usual plan. He usually doesn't throw in the early two-inning outings out of Spring Training because he takes time to work on specifics at his own pace. He'll jump in when outings are 3-4 innings, and should be fine for the start of the regular season.
He'll be just as systematic and efficient when disseminating information on testicular cancer.
"It's going to be OK. We're in this together, and we'll be better from it," Bettis said. "The earlier you catch it, the better off you are."
Thomas Harding has covered the Rockies since 2000, and for MLB.com since 2002. Follow him on Twitter @harding_at_mlb, listen to podcasts and like his Facebook page. This story was not subject to the approval of Major League Baseball or its clubs.