MLB.com Columnist
Paul Hagen
Herrera deal proves Klentak's confidence in Phils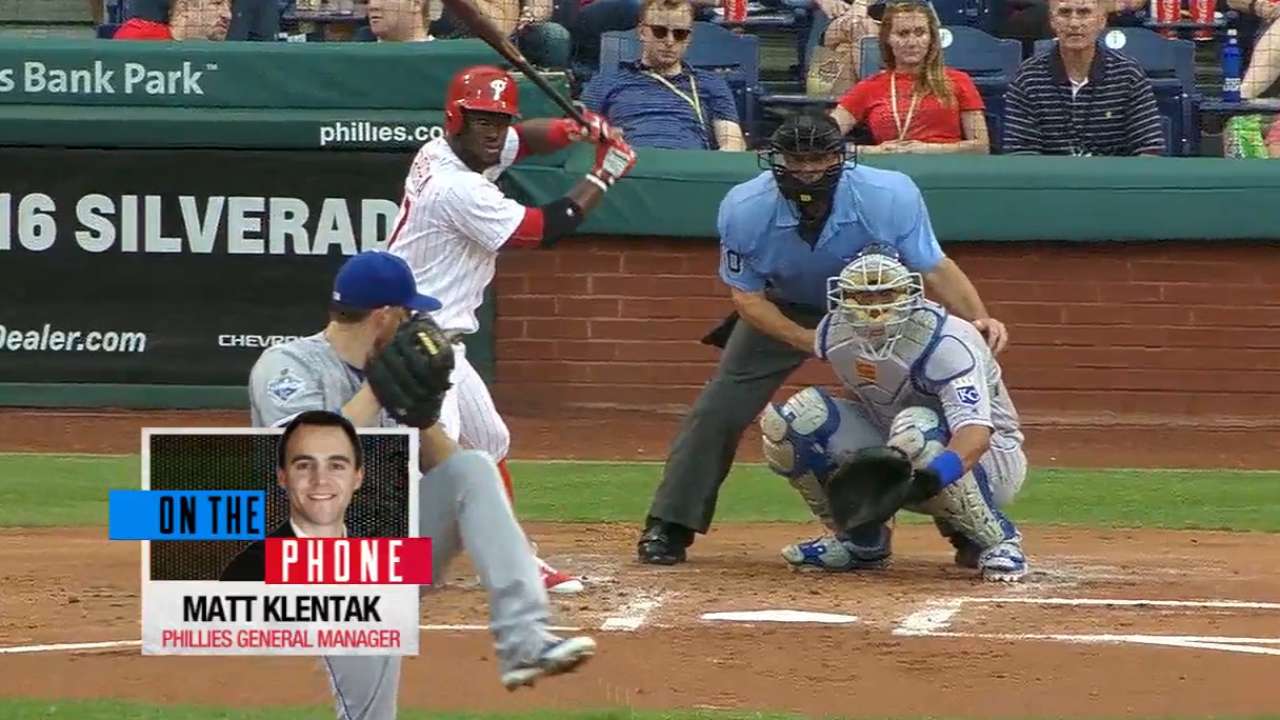 PHILADELPHIA -- On a bitterly cold Friday morning at Citizens Bank Park, Phillies general manager Matt Klentak and center fielder Odubel Herrera sat on a dais to field questions about the young star's new contract, which had been announced the day before.
Still a year away from being eligible for arbitration, Herrera has agreed to a five-year deal worth $30.5 million with two option seasons, which if invoked could lift the total value to $52 million.
That's a big deal, in more ways than one. And it also highlights the fact that exactly one year and four days ago, in his first bold move as the Phillies' new general manager, Klentak traded fireballing young closer Ken Giles to the Astros for five prospects.
Or, to put it another way, almost exactly 12 months after trading a young, controllable player for prospects, the Phillies locked up a young, controllable player for potentially seven years. And this, in its own way, is just as bold.
Now, Klentak is way too smart to go say that he'll never trade a potential young star again. Or even that this is tangible proof that the organization has moved into Phase II of its rebuilding process.
But it is.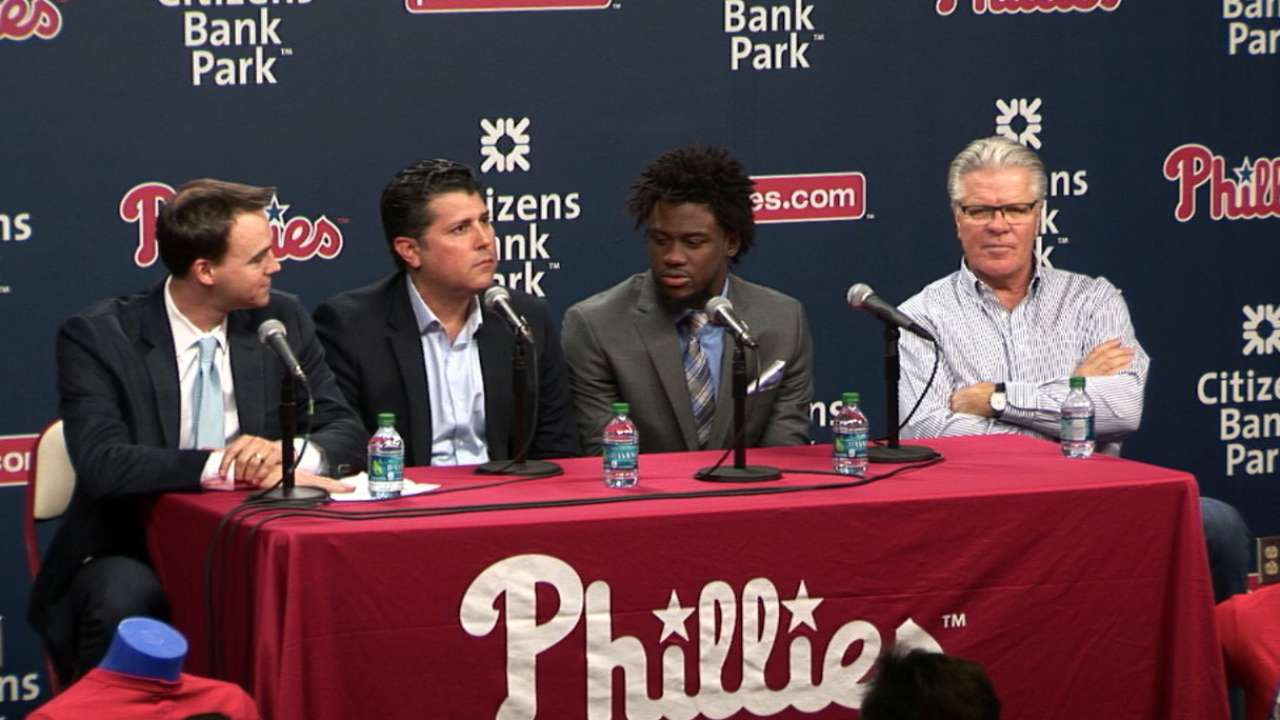 Klentak does make it clear that he's happy with where the organization stands now that he has one regular season behind him.
"We're hopeful that we're going to return to winning sooner rather than later," Klentak said. "And the fact that we're locking up Odubel Herrera should reflect that. We think within the life of this contract that the Phillies will be back to their winning ways. Not to say that we wouldn't have been back to our winning ways in the years of control of Ken Giles. But I think with young players, we have to take things on a case-by-case basis. Sometimes the value in a trade return might be so extreme that we have to pursue it. And other times, the opportunity to extend them might be such that that makes sense as well.
"In our role as a baseball operations department, we have to be open-minded to zigging or zagging."
At the same time, Klentak clearly believes the franchise is trending upward.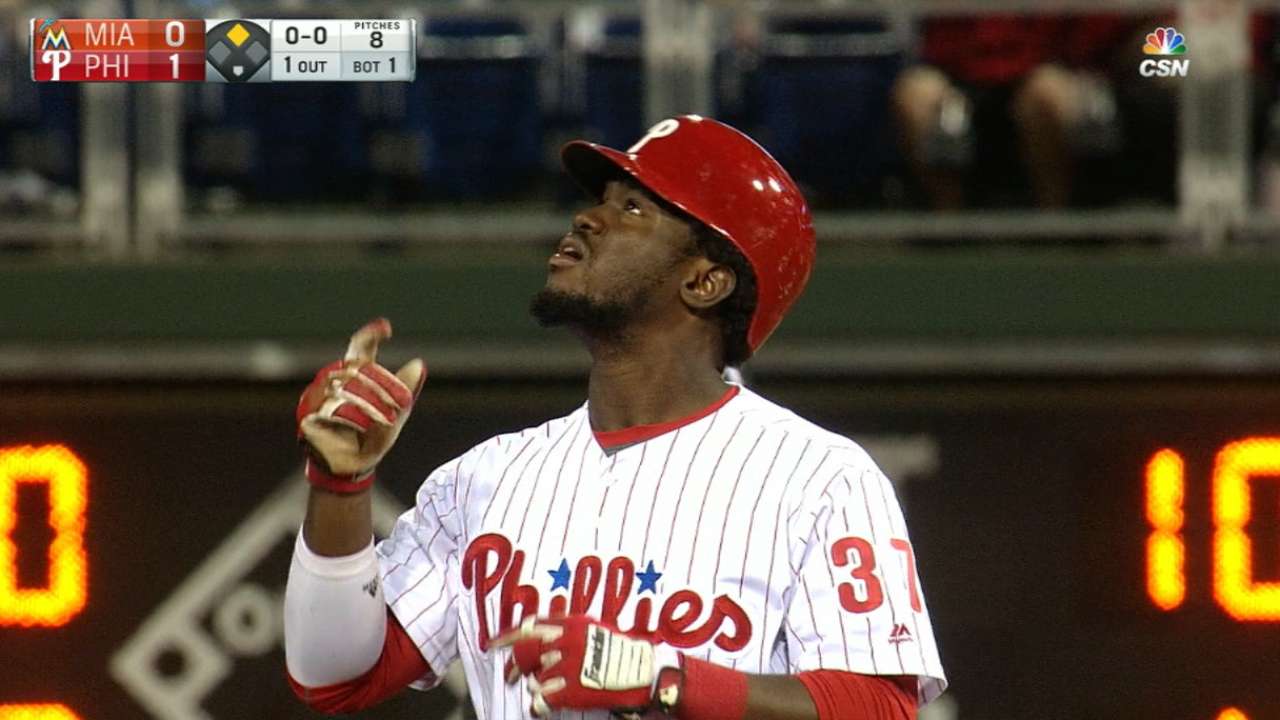 "Given the development of a number of our players at the big league level, but also the maturity of some of our Minor League players getting closer to the big leagues, we feel like 2016 was a step in the right direction," he said.
Shortstop J.P. Crawford, the Phillies' No. 1 prospect, outfielder Nick Williams (No. 3) and right-hander Mark Appel (No. 10) all spent at least part of last season at Triple-A Lehigh Valley. Catcher Jorge Alfaro (No. 4) and outfielder Roman Quinn (No. 7) made their Major League debuts. Outfielder Dylan Cozens (No. 6) spent the year at Double-A Reading, but he has been added to the big league roster after slugging 40 homers with 125 RBIs there.
Herrera's performance in his two seasons since the Phillies took him in the 2014 Rule 5 Draft isn't the only reason for Klentak's optimism.
Mood: pic.twitter.com/qfKAQVRUv1

— Phillies (@Phillies) December 15, 2016
"The strides that [second baseman] Cesar Hernandez made, especially in the second half, gives us confidence," the general manager said. "Probably more than anything, it's the degree to which our starting pitching improved in 2016 relative to 2015 -- dominated mostly by the performance of young players [Jerad Eickhoff, Vince Velasquez, Aaron Nola and Zach Eflin] who we hope will be here for a long time. So those three things by themselves aren't enough. That led to an 8-game improvement, that didn't put us in the playoffs. But I think all of those are signs we're headed in the right direction."
He made similar points late in the season when asked to assess his first year, saying: "If someone had told me [in October 2015] that this was where the franchise would be this September, I would have signed up for that 100 times out of 100."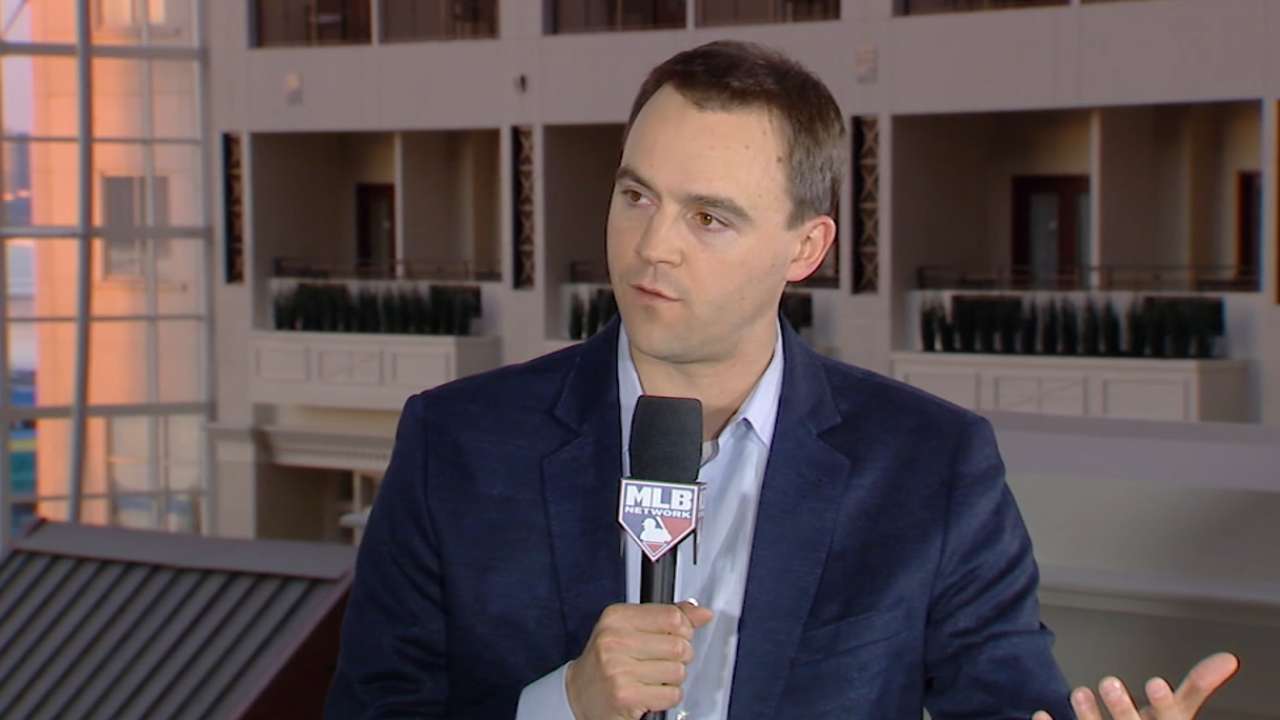 While big changes began before Klentak arrived, it's still a little startling to realize how rapidly the transition continued in his first year on the job. The lineup he inherited had Carlos Ruiz behind the plate, Ryan Howard at first and Cody Asche and Jeff Francoeur as the most-used corner outfielders. Aaron Harang led the rotation with 29 starts, and Jerome Williams was second with 21.
David Buchanan started twice the final week of the 2015 season. Domonic Brown and Darin Ruf were still on the roster. And Giles, of course, was the closer.
Klentak doesn't think of this as "his team" now. Still, he and his department now have their fingerprints all over the roster.
Ensuring that Herrera will be a cornerstone for the next several seasons is the most recent example of Klentak's imprint. It's also a telltale sign that the Phillies are confident that they're on the right track moving forward.
Paul Hagen is a national columnist for MLB.com. This story was not subject to the approval of Major League Baseball or its clubs.