After breakout '16, Duvall not changing approach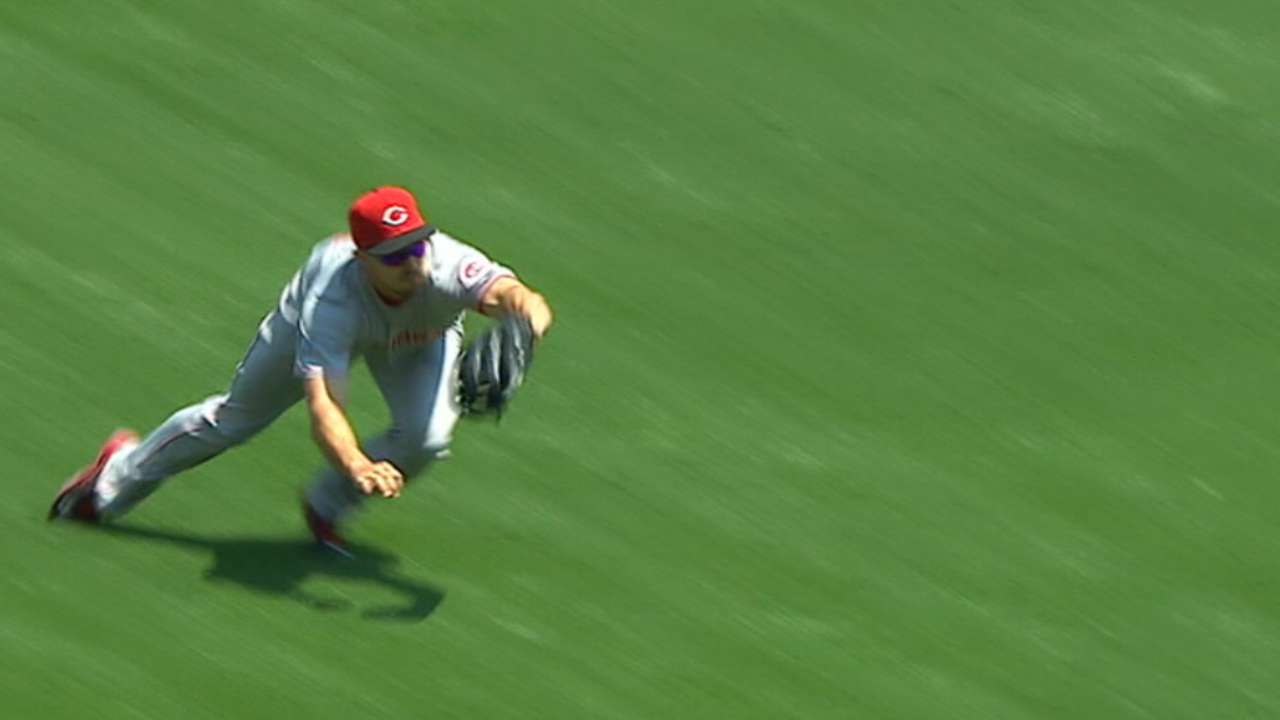 CINCINNATI -- Since Adam Dunn was traded in 2008, the Reds have rarely had stability over who manned left field. Many players tried, with varying degrees of success -- but few lasted long.
Laynce Nix, Jonny Gomes, Chris Heisey, Ryan Ludwick, Skip Schumaker, Donald Lutz and Marlon Byrd are just some of the left fielders Cincinnati has used over the past eight seasons. In 2016, Adam Duvall seemed to have stopped the revolving door.
Spring Training opened with uncertainty as the right-handed Duvall competed for a roster spot and ultimately broke camp sharing a left-field platoon with the lefty-hitting Scott Schebler. But as Schebler faltered and was eventually sent to Triple-A Louisville, Duvall broke out in May and made the job his.
"Last year, I felt like I did a good job taking advantage of the opportunity that I was given," Duvall said during Redsfest.
Duvall slugged 33 home runs with 103 RBIs last season, including 23 homers in the first half. He was named to his first National League All-Star team and participated in the Home Run Derby. His strong defense made him a finalist for a NL Gold Glove Award.
Thus in February, there will be no question over who starts in left field. Perhaps not wanting to appear too comfortable, that's not how Duvall is approaching it.
"This year, I'm looking to really do the same thing," Duvall said. "Nothing is given."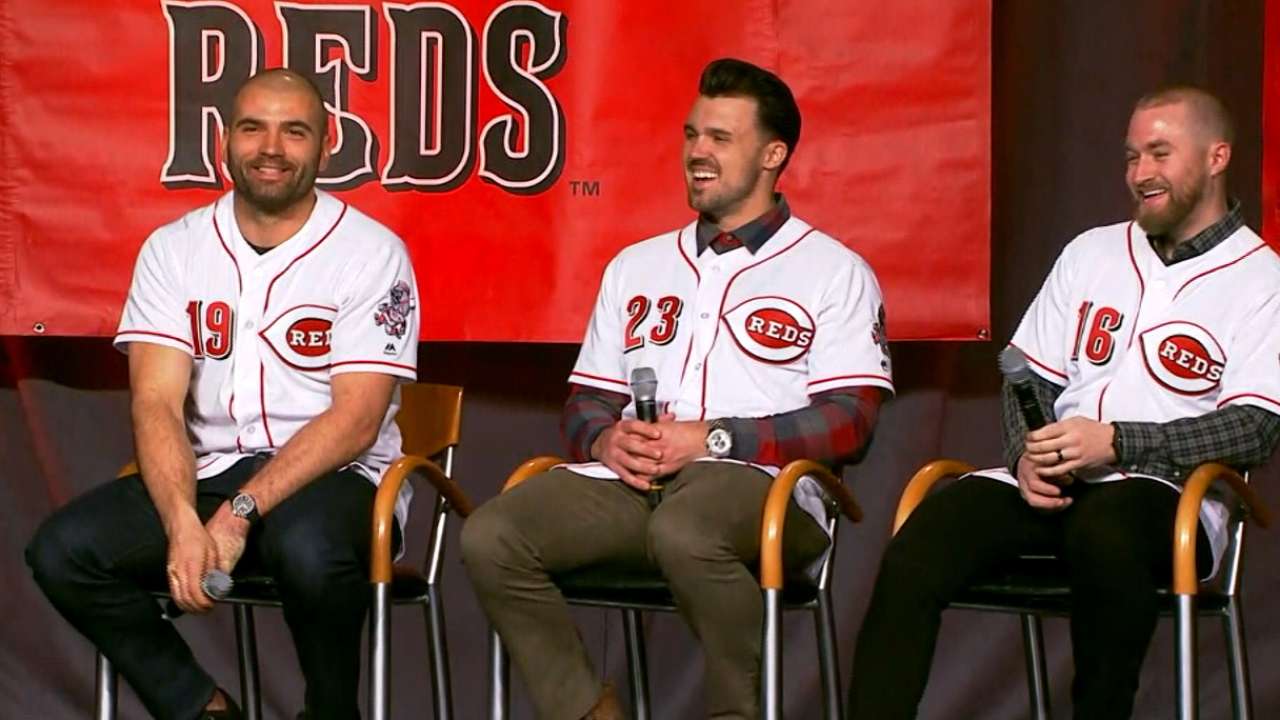 Duvall, 28, was acquired along with pitching prospect Keury Mella from the Giants for pitcher Mike Leake before the 2015 Trade Deadline. Duvall's Minor League track record foretold that he had power and could hit a lot of home runs. But he hadn't been able to establish himself in short big league stints for San Francisco in 2014 and Cincinnati in '15.
Duvall batted .241 with a .297 on-base percentage overall. His power dipped in the second half, but he made some improvement at getting on base and increasing his walk rate.
"After the All-Star break, my forearms and hands were tired from the Derby. Maybe I was a little mentally tired from the adrenaline and everything," Duvall said. "But to be honest with you, at the end of the season, I felt like it was any other season. I took a month off, stayed super busy, did a lot of stuff at home and didn't really think about anything different.
"In September, my body felt pretty good. I had some little things -- like my shoulder from diving -- and my hands. I felt like what I do in the offseason really helps me get through a season. I was lucky to get through a season without any really bad injuries."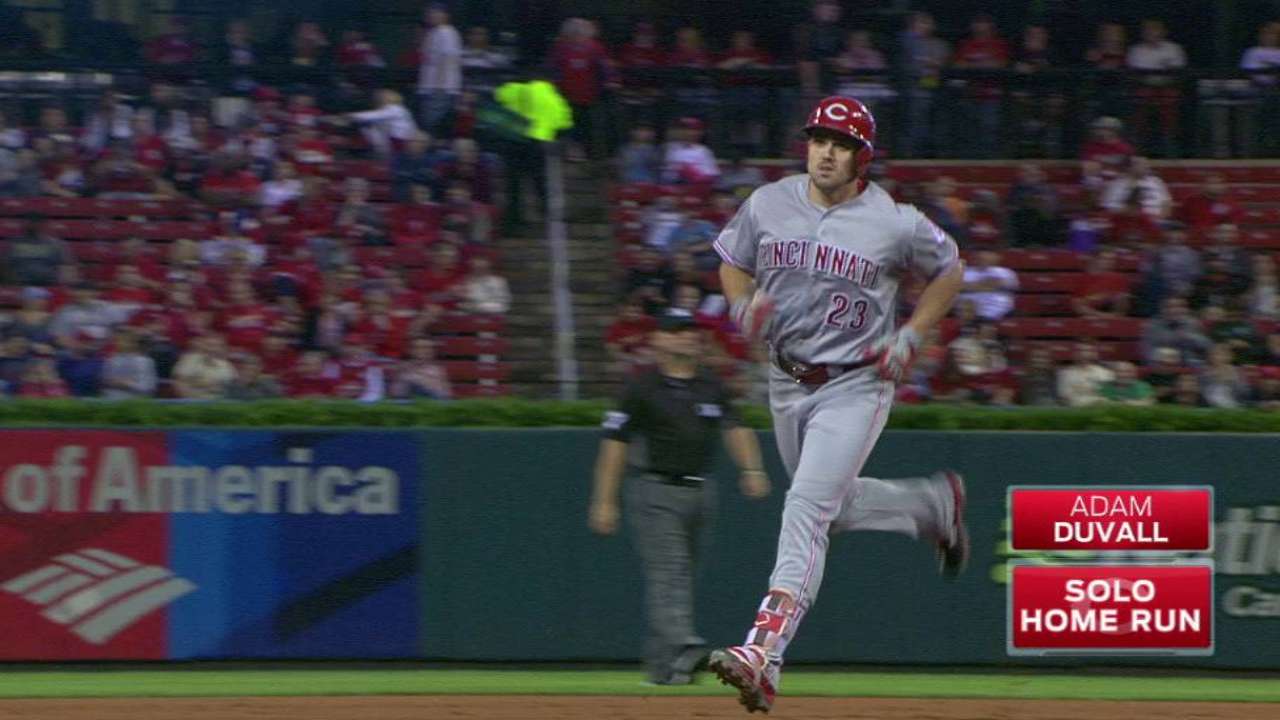 Over Thanksgiving, Duvall got engaged to his girlfriend, Michelle. Following his month-long break, he returned to his usual gym in Louisville for workouts. His does his baseball drills at his old school, the University of Louisville.
Although there is room for improvement, especially with his on-base percentage and strikeout rate after he had 164 K's last season, Duvall isn't feeling pressure to outdo himself.
"I'm looking to just try and get better incrementally at different things," Duvall said. "I won't try to make huge jumps in batting average or home runs. I will just try to get a little bit better and try to be a consistent player, every day."
Mark Sheldon has covered the Reds for MLB.com since 2006, and previously covered the Twins from 2001-05. Follow him on Twitter @m_sheldon and Facebook and listen to his podcast. This story was not subject to the approval of Major League Baseball or its clubs.