Hoffman, Padres were equally great in 1998
Most voters believed closer deserved Cy Young Award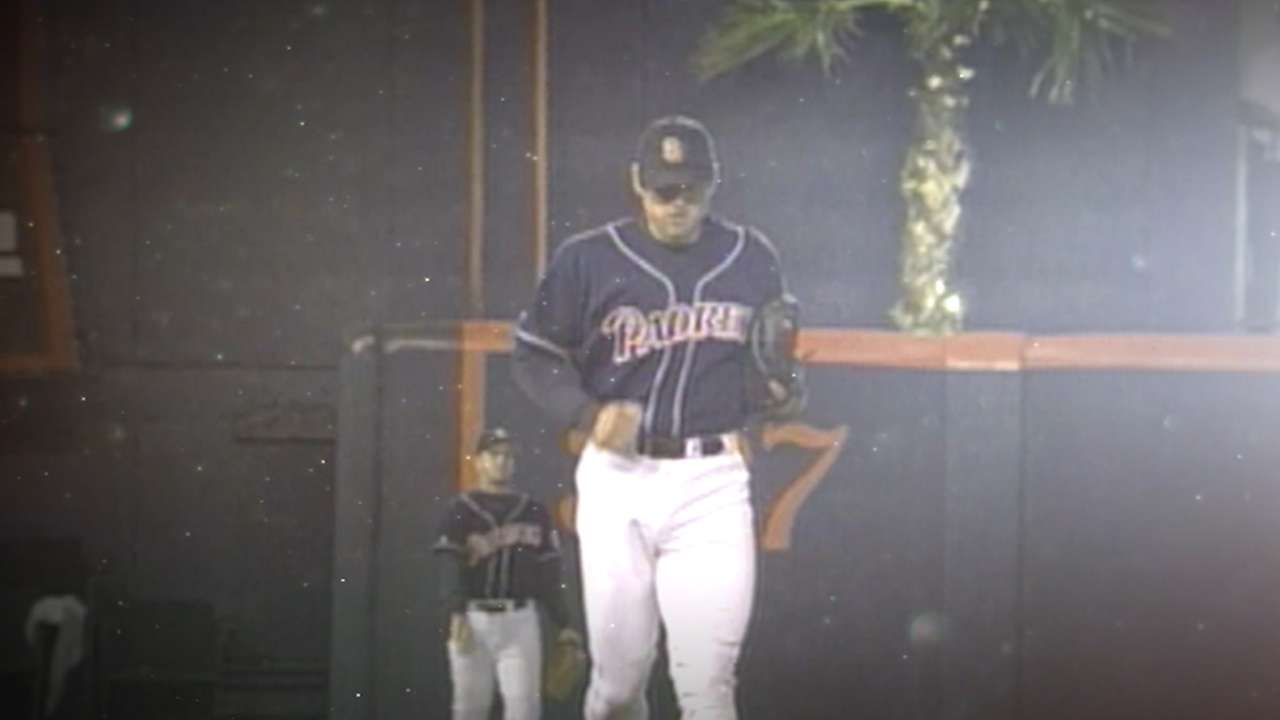 If 1996 was exciting for the Padres, closer Trevor Hoffman and the baseball fans of San Diego, then 1998 was off the charts.
"The 1998 season was the pinnacle," Hoffman said recently while reflecting on his Hall of Fame-worthy career.
"We had so many great players. We were stacked in the outfield, strong at the corners and had a horse behind the plate in Carlos Hernandez. And the starting pitching led by Kevin Brown, Andy Ashby and Joey Hamilton, and in the playoffs Sterling Hitchcock, was exceptional.
"Guys were unselfish in the bullpen. We checked our egos at the door. We had a lot of leaders, totally unselfish in their roles like Mark Sweeney. It was a truly great team and season."
The misfortune of those 1998 Padres -- like the 1984 edition against Detroit -- was to run into a team in the World Series that is ranked among the top dozen in the history of the game. Come the World Series, the Padres were swept by the New York Yankees.
But that didn't diminish at all what the Padres and Hoffman did in 1998.
The Padres set a franchise record with 98 wins and won their third National League West title by 9 1/2 games before defeating Houston and Atlanta en route to their second NL championship.
Left fielder Greg Vaughn -- who had 50 home runs, 119 RBIs and 112 runs scored -- was the only Padre to have a career year offensively in 1998. But every Padre regular had an on-base percentage of over .300.
"We created runs," recalled Hoffman. "We were great at scoring exactly when we needed to score. Like we talked about, everyone was picking up everyone else. I don't think [shortstop] Chris Gomez had a lot of RBIs, but I remember him driving in a lot of game-winning runs. The entire team played that way."
The 1998 Padres won a lot of close games. And close games meant a lot of opportunity for Hoffman, who did have a career year.
Hoffman had 54 save opportunities in 1998. He blew just one. His 53 saves tied the then NL record for saves in a season and was his career high. His 1.48 ERA was also the lowest of his career. Hoffman successfully converted 98.1 percent of his save chances in 1998. The Padres were 62-4 in games he pitched.
Hoffman pitched 73 innings over 66 games in 1998. He allowed 41 hits and 21 walks -- for a 0.849 WHIP -- with 86 strikeouts (or 10.6 per nine innings). Opposing hitters batted .165 against Hoffman. And his ERA in save situations was an incredible 0.49.
Hoffman placed second in the NL Cy Young Award voting for the first of two times in his career (he also placed second in 2006). And most felt he was robbed.
Tom Glavine of the Atlanta Braves won the award. But Hoffman had 13 first-place votes to Glavine's 11. Six voters left Hoffman off their ballots. Hoffman is one of two pitchers in the history of the award to not win the Cy Young after drawing more first-place votes.
In addition to placing second in the Cy Young Award voting, Hoffman was seventh in the NL Most Valuable Player voting.
The night of July 25, 1998, was particularly notable at Qualcomm Stadium. Hoffman's trot from the bullpen was accompanied by AC/DC's "Hell's Bells" for the first time. And on that night, Hoffman successfully converted his 41st straight save to tie a Major League record.
Hoffman struck out Houston's Moises Alou to preserve a 6-5 lead and tie the consecutive saves record. The next night, Alou homered off Hoffman to end the streak.
"That's the beauty of baseball right there," said Hoffman. "You can never get too high. Great checks and balances. It's both exhilarating and humbling. The highs and lows are what makes the game great. At some point, the game brings everyone to their knees."