Difo grateful for experience, set for next step
Young infielder could assume larger role in '17, believes exposure to postseason will prove valuable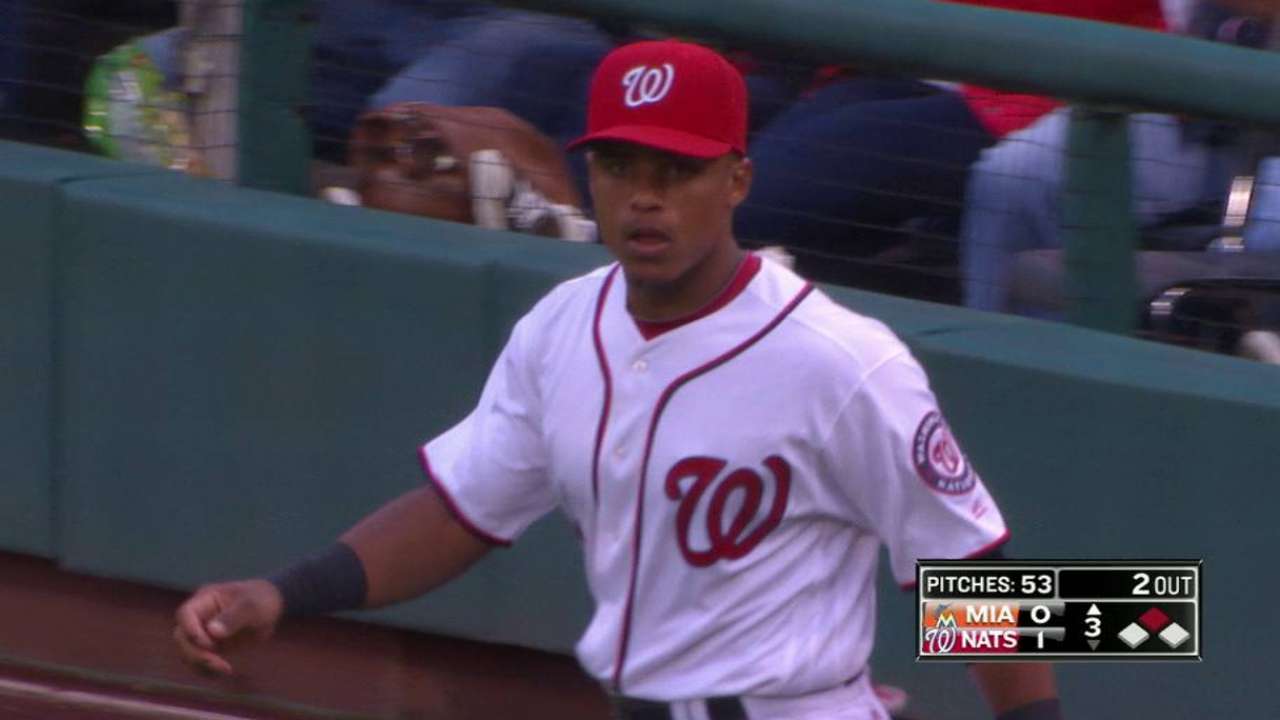 WASHINGTON -- As he reflected on his rookie season, Wilmer Difo came away grateful to be on the postseeason roster even after appearing in just 31 games during the regular season. In that short stint in the big leagues, the Nationals came away impressed by Difo as he showed flashes that he belonged in the Majors full-time.
Now Difo, 24, could be in position to assume a larger role next season. The team traded away Danny Espinosa this past weekend, and Stephen Drew remains a free agent, meaning that perhaps Difo will begin the season as the Nats' primary backup middle infielder. He believes his experiences last season, and especially in the postseason, could prove valuable for him.
"Those kind of high-impact situations that I was in last year will help me for this upcoming season," Difo said through an interpreter at the Nationals' WinterFest this past weekend. "I feel like from now on, I can slow myself down. It seems like that's the big thing to learn, is to be prepared for those situations and be able to slow myself down. I feel like it's going to definitely help me going forward."
The biggest of those pressure situations came in Game 5 of the National League Division Series. Difo represented the Nationals' last hope with two outs in the ninth inning and the tying run standing at second base, the winning run at first and Dodgers left-hander Clayton Kershaw standing on the mound.
That Difo was even the Nats' last option was the result of myriad double-switches by manager Dusty Baker during the final innings of that game. It left the pitcher's spot due up in the 9th inning following Daniel Murphy, whom Kershaw was primarily brought in to face. After retiring Murphy, Kershaw overmatched Difo in the rookie's second career postseason at-bat, striking him out and sending the Dodgers to the NL Championship Series.
"I was prepared for it," Difo said. "I was excited for it. Unfortunately, he struck me out, just like anything else that's part of baseball, but I'll get him next time. I'll be ready for it."
Difo's fearlessness in those situations is one of the reasons the Nationals were happy to place him on their postseason roster and could be prepared to make him a key bench piece next season. He has appeared at second base, shortstop and third base and has primarily played shortstop during winter ball in the Dominican Republic this offseason.
"My main goal is to show up to Spring Training ready for whatever the team has for me and what they think," Difo said. "My main priority is to try to stay with the team, make the big league club and hopefully be used any way I can to help the team out. That's what I work for, and that's what I'm striving for this season."
Jamal Collier covers the Nationals for MLB.com. Follow him on Twitter at @jamalcollier. This story was not subject to the approval of Major League Baseball or its clubs.