Improved defense makes Angels team to watch
Club adds Espinosa to join healthy Simmons for stellar defensive middle infield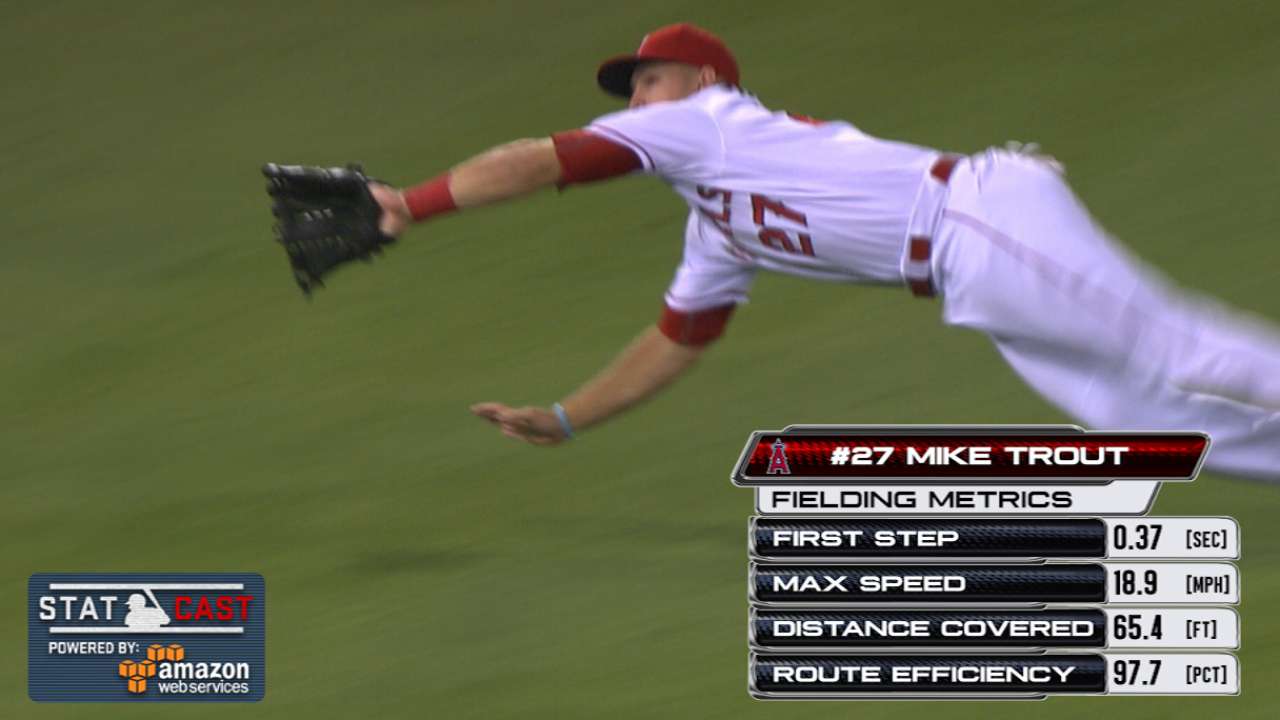 Looking at projected standings in December is probably more useful as a conversation starter than as serious data -- and, of course, those projections will continue to change over the rest of the offseason as more signings and trades occur -- but one of the more interesting conversations they've started this winter revolves around whether the Angels -- who won just 74 games in 2016 -- might actually be contenders in 2017.
Obviously, simply having Mike Trout makes any team interesting. But for the Angels, they have another pretty big strength, which is that they took what was already one of baseball's best defenses and made moves this offseason to make it even better.
That's a good thing to have working in their favor, and it's a big part of why the Angels are currently projected to go 85-77 and finish second in the American League West behind the Astros. Not only that, but those projected 85 wins represent the fourth-highest projected total in the entire AL. Could the defense really be so great that it disguises the obvious uncertainty in the rotation?
• FanGraphs' Jeff Sullivan argues that the Orioles should start Caleb Joseph
If Garrett Richards, Matt Shoemaker, and Tyler Skaggs are healthy and productive, then, sure, the team is in good position to field an improved starting rotation. However, all three of those pitchers carry significant health question marks, making them tough to count on. Certainty in pitcher health is not a thing that exists for any team, but it's a variable that's even more relevant to these Angels than most other teams, because there isn't a lot of depth here. The Halos hope to have a league-average innings-eater type pitcher in Ricky Nolasco and then a gaggle of fifth-starter options, including Jesse Chavez, John Lamb, Alex Meyer, and Nate Smith.
In other words, it's more likely than not that they will sink or swim on the health of Richards, Shoemaker and Skaggs, and so their best strategy is to do what they can to make the lives of those three easier -- and, perhaps, add a bit more certainty to their situation by fielding a strong defensive team.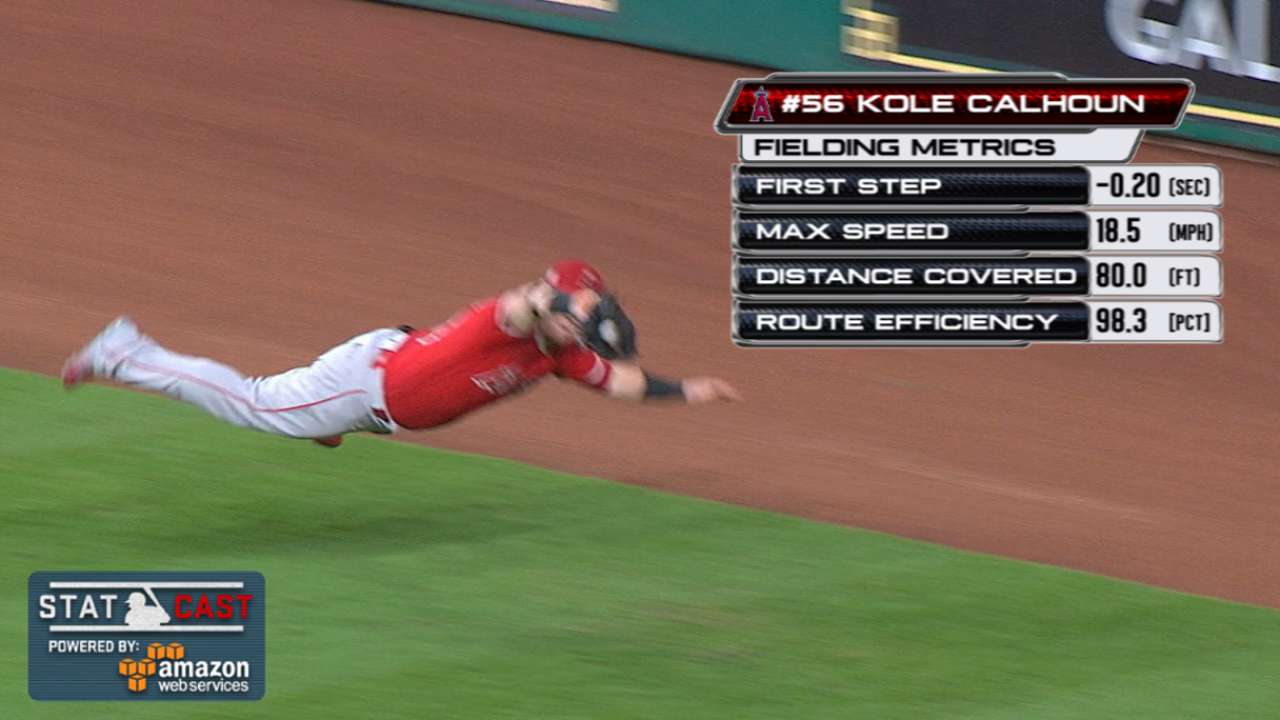 By the comprehensive team defensive metric (DEF), the Angels were already the fourth-best defensive team last season.
2016 Team Leaders, Defensive Runs Above Average
69 -- Cubs
53.7 -- Giants
46.5 -- Royals
45.5 -- Angels
41.6 -- Indians
Definition: the combination of two important factors of defensive performance: value relative to positional average (fielding runs) and positional value relative to other positions (positional adjustment).
Having one of the best defensive teams in the league certainly seems like a great way to outperform Fielding Independent Pitching metrics and, as it turns out, the Angels were the second-biggest FIP overperformers last season, trailing only a Cubs team which was one of the best defensive teams we've ever seen. Can the Angels build upon this strength and be even better defensively next season?
The obvious answer is "yes" for one very basic reason: even as we watch the Indians' Francisco Lindor dazzle with the glove, the best defensive shortstop in the game remains the Angels' Andrelton Simmons. Last season, Simmons missed a little more than a month with a thumb injury. The lost time cost him in the advanced defensive counting metric Defensive Runs Saved (DRS). In 2014 and '15, Simmons was +28 and +25 in DRS, but last year he finished at +18 Runs Saved. A healthy, full season from Simmons could easily be worth at least an additional seven to 10 extra runs in defensive value.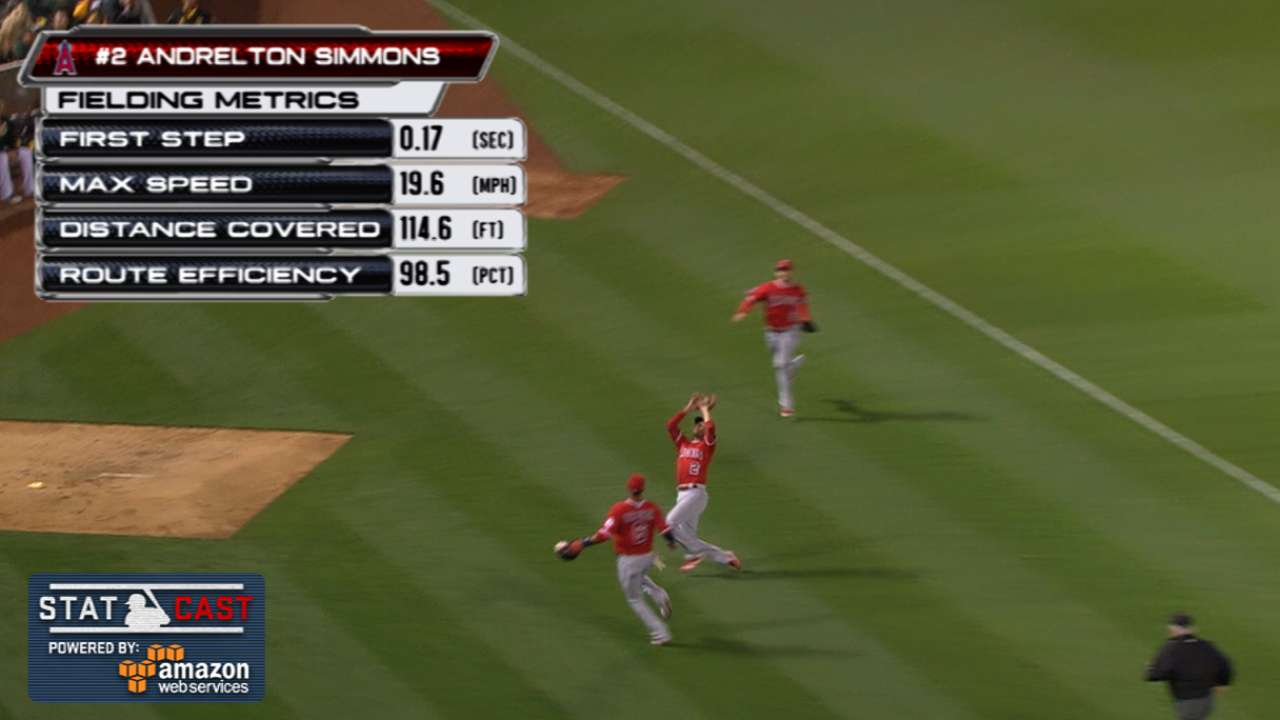 Additionally, this offseason the Angels bid farewell to their primary second baseman from last season, Johnny Giavotella, who was a middling defender at best, and brought in Danny Espinosa to replace him. Espinosa is no Simmons (because who is?), but he was a +8 defender at shortstop last season and is now moving back to a less daunting defensive position. Not only that, but Espinosa has plenty of experience at second base thanks to his many seasons playing alongside Ian Desmond in Washington.
The Halos have also seemingly upgraded at another up-the-middle defensive position: catcher. Martin Maldonado, who was just acquired from Milwaukee in a trade that saw catcher Jett Bandy sent to the Brewers, has one clear edge. Per Baseball Prospectus' catcher-framing metrics, Maldonado has consistently provided positive framing value throughout his career. At the very least, moving from Bandy to Maldonado shouldn't hurt defensively, and if the framing skill translates, the Angels' pitching staff could stand to benefit from its new backstop.
Will that be enough to overcome the uncertainty of their starting rotation, boost the effectiveness of their pitching staff and help the Angels live up to their still-too-early 85-win projection? Maybe. Maybe not. But given market realities, focusing on defense represented their strongest play toward counterbalancing their rotation uncertainty and, so far, they're getting it done.
A version of this article first appeared at FanGraphs.com. This story was not subject to the approval of Major League Baseball or its clubs.