MLB.com Columnist
Hal Bodley
Cutch rumors stir Robinson flashback
After 10 years with Reds, Hall of Famer ultimately propelled by 1965 move to O's
For now, Andrew McCutchen is still with the Pirates. But as rumors of a trade involving the five-time All-Star swirled around last week's Winter Meetings a flashback to 1965 put an uncanny comparison in focus.
A week after I returned from the Winter Meetings that year, on Dec. 9, the Reds dealt All-Star outfielder Frank Robinson to the Orioles.
As I sat among reporters during the O's news conference in Baltimore, we all shook our heads. It was shocking; we wondered what prompted Reds general manager Bill DeWitt Sr. to make the deal. It seemed so one-sided.
Groundwork for the trade was made at the Winter Meetings between DeWitt and Orioles executive Frank Cashen. The O's were elated.
Robinson, like McCutchen is now, was 30. DeWitt said Robinson had reached his peak and was "not a young 30."
During 10 seasons with the Reds, Robinson had become one of the most feared hitters -- and baserunners -- in the National League. He won the NL Most Valuable Player Award in 1961, when he hit .323 with 37 homers and 124 RBIs. The Reds won the NL pennant before losing to the Yankees in the World Series that year.
Yet even though Robinson -- the best run producer in Reds history -- hit 33 homers and drove in 113 runs in 1965, he was dispatched to Baltimore for pitchers Milt Pappas and Jack Baldshun and outfielder Dick Simpson. Pappas was with Cincinnati for only three seasons, while Baldschun and Simpson lasted just two summers.
"I was devastated," Robinson told me. "I was with the organization that signed me, had put in 10 years at the Major League level. I was thinking I'd spend my entire career with the Reds. I was happy and comfortable in Cincinnati. That might have been one bad thing: I was comfortable."
McCutchen, 2013 NL MVP Award, has established himself as one of baseball's top players. Prior to 2016, he was batting .298 and averaging 22 homers, 80 RBIs and 22 steals.
Last season, McCutchen's batting average dipped to .256 and he stole just six bases, but he did hit 24 homers.
"You're going to have your off years, but it's all about what you do and how you come back from that," McCutchen said at last week's PirateFest. "I'm looking forward to this season. I'm ready to go."
Like Robinson with the Reds, McCutchen says, "My dream is to be a Pirate my whole career."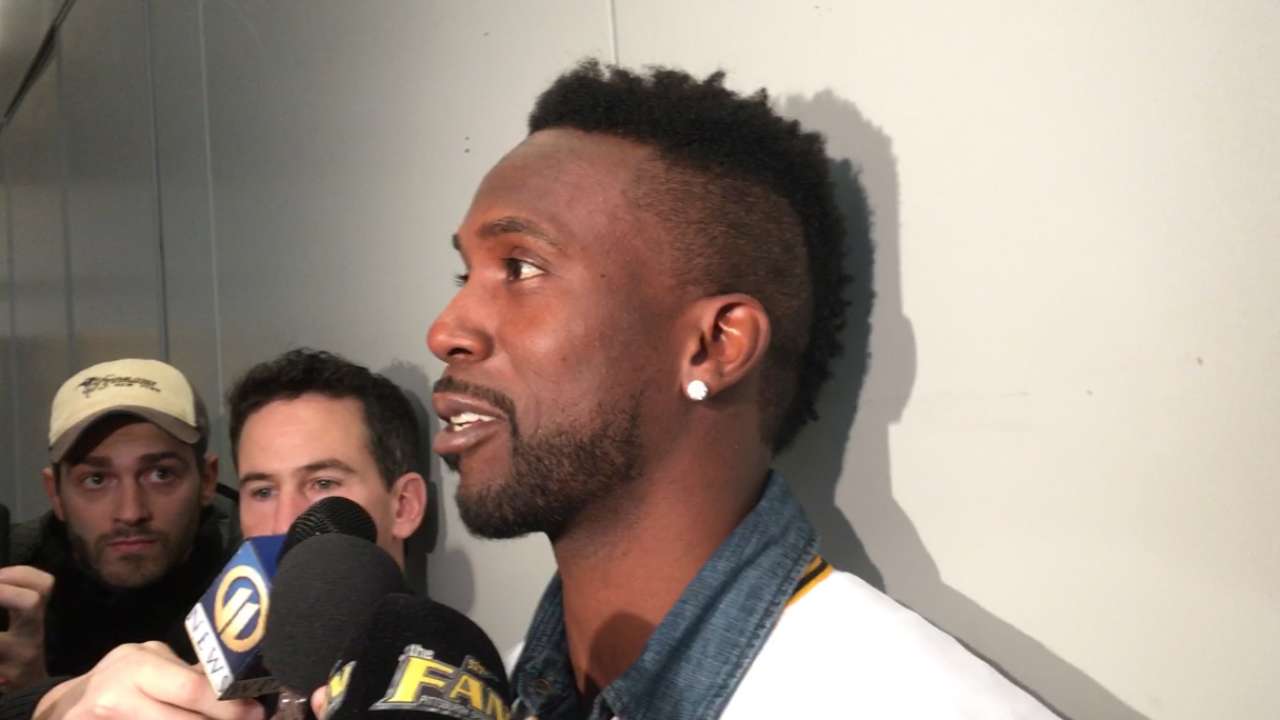 Obviously, whether the Pirates trade their outfielder remains to be seen.
Consider this: As surprised as Robinson was, the deal to Baltimore might have been the best thing that could have happened to him after the 1965 season.
As controversial as the trade was, and as unhappy as Robinson initially was, his years with the Orioles arguably propelled him to the Hall of Fame and made him a baseball icon. He was inducted at Cooperstown in 1982.
"It took me about a week to get over it," Robinson said. "There were some things said about me as to why I was traded, but they weren't true. I knew I could still play the game, and the fans knew I could still play.
"After I thought about it, I said, 'Well, this may be the best thing for me.' Sometimes when you're in one place, you get a little stagnant or a little stale. You think you're doing things the way you're supposed to be doing them 100 percent, but you're really not. That was the jolt at the time, I needed to bring out my talent the way it should have been."
Robinson's career from that point left little doubt he was headed to the Hall of Fame.
"After I got over to Baltimore, people said, 'Well, you have something to prove,'" Robinson said. "I said, 'No.' I knew I could play, and all I had to do was go over there and do what I was capable of doing with the talent they had there -- Boog Powell, Brooks Robinson, the outstanding pitchers."
Robinson's first year in Baltimore (1966) was one of his finest. He led the Orioles to a four-game sweep of the Dodgers in the World Series. It was Robinson's magnificent Triple Crown season. Only two players -- Carl Yastrzemski and Miguel Cabrera -- have since won the award in either league. He led the American League in homers (49), RBIs (122) and batting average (.316). Robinson added the AL MVP Award to his NL trophy and also was MVP in the World Series.
Robinson led the Orioles to three consecutive pennants between 1969 and '71. Baltimore lost the '69 World Series to the "Miracle Mets," but in '70, Robinson was the catalyst for a team that won the AL pennant and quickly disposed of Cincinnati in the World Series.
Robinson is a senior advisor to Commissioner Rob Manfred and an honorary president of the AL. He assists Manfred on issues relating to on-field operations, MLB's annual Civil Rights Game, youth participation and diversity.
Robinson was the first player to win MVP Awards in both leagues, MLB's first African-American manager (Indians, 1975), the NL Rookie of the Year Award in '56, a 12-time All-Star and more.
After Robinson's groundbreaking role with the Indians (1975-77), Robinson managed the Giants (1981-84), O's (1988-91) and Montreal/Washington (2002-06). He won the AL Manager of the Year Award in '89 when he led the Orioles to an 87-75 record, a turnaround from 107 losses the previous season. He also served as their assistant general manager for five years.
You have to wonder if Robinson's resume would be as awesome had that trade 51 years ago not happened. It says here it certainly helped.
Hal Bodley, dean of American baseball writers, is the senior correspondent for MLB.com. Follow him @halbodley on Twitter. This story was not subject to the approval of Major League Baseball or its clubs.