Reflecting on title, Rizzo hungry for another
Longest-tenured Cub says club will miss Fowler, Ross and Wood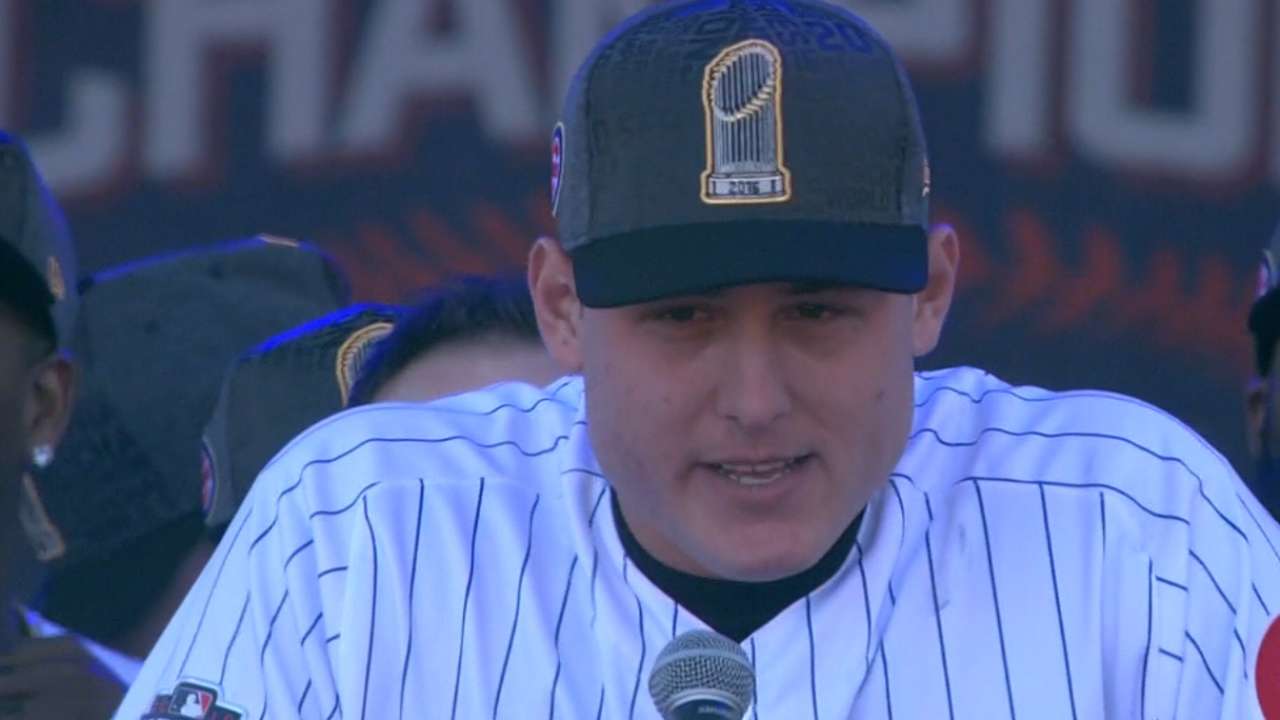 PARKLAND, Fla. -- When Anthony Rizzo watched the documentary of the World Series, he was struck by something Cubs teammate Ben Zobrist said about the seven-game battle against the Indians.
"Zobrist's line stuck out -- 'We knew it was going to be hard, but we didn't think it was going to be this hard,'" Rizzo said of an interview in the Major League Baseball-produced film. "We knew with the so-called curse and against all odds, everything that's happened to the Cubs, that it wasn't going to be easy, but we didn't think it would be that close."
Naturally, if the Cubs were going to end the longest championship drought in professional sports and win their first World Series since 1908, it wasn't going to be a cakewalk. The Cubs rallied from a 3-1 deficit in the best-of-seven series to beat the Indians, winning Game 7, 8-7, in 10 innings and start a party that is still being celebrated around Wrigleyville.
More than a month after third baseman Kris Bryant threw across the diamond to the first baseman for the final out of Game 7 at Progressive Field, Rizzo said Cubs fans he encounters still can't believe what happened.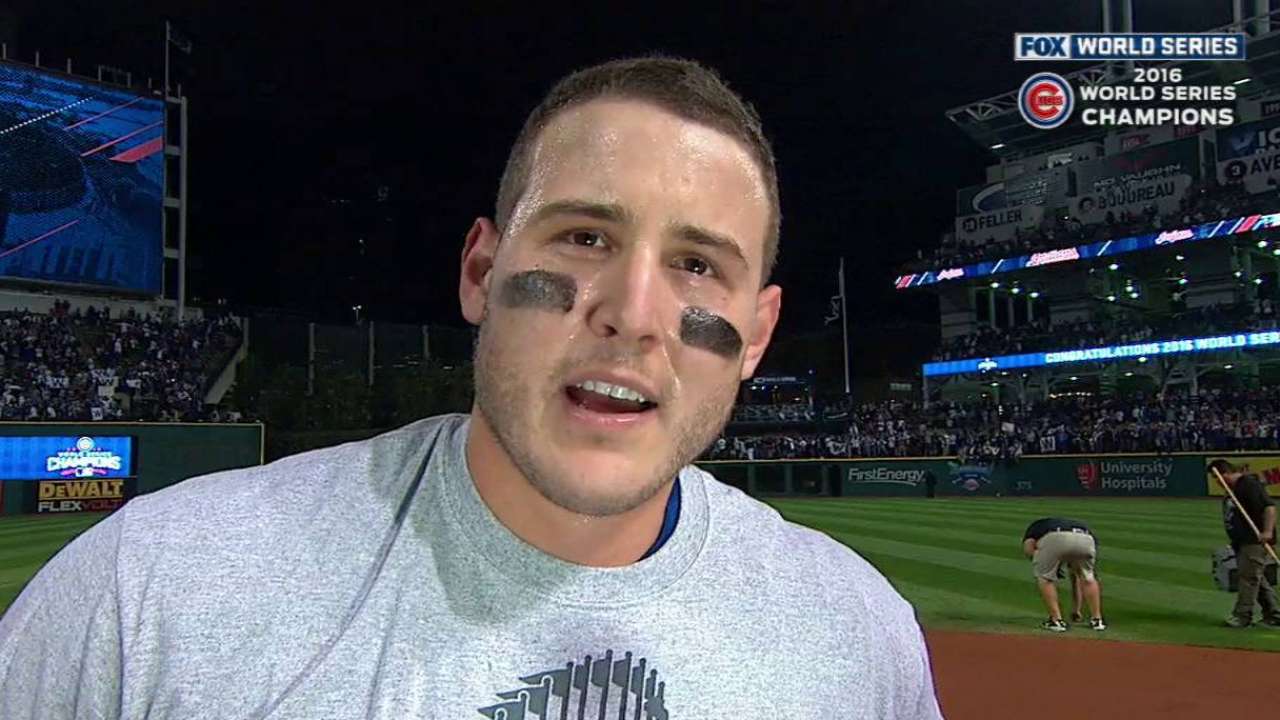 "It's awesome -- it's been fun," said Rizzo, who took time off to explore Thailand and Vietnam before returning home to host his fifth Walk-Off for Cancer charity event. "Going on this vacation really helped get away from everything. Now I'm more focused on getting ready for next year."
He delayed his offseason workout program because the season went an extra month, and says he'll be ready for Opening Day on April 2, when the Cubs face the Cardinals.
"I wanted to start working out earlier, but you have to let the body rest and now it's about being ready," Rizzo said.
Unfortunately for Team Italy, Rizzo, 27, won't be part of its roster in the World Baseball Classic. He did play in the 2013 event, but will skip the coming tournament.
"After the roller coaster of the playoffs, I'd rather go to Spring Training taking it easy and know that I don't have to ramp it up early to be ready for the [World Baseball Classic] and just get ready for the season," he said.
During the Winter Meetings, Cubs manager Joe Maddon said he was working on a new motivational message for 2017. Does he need to do that?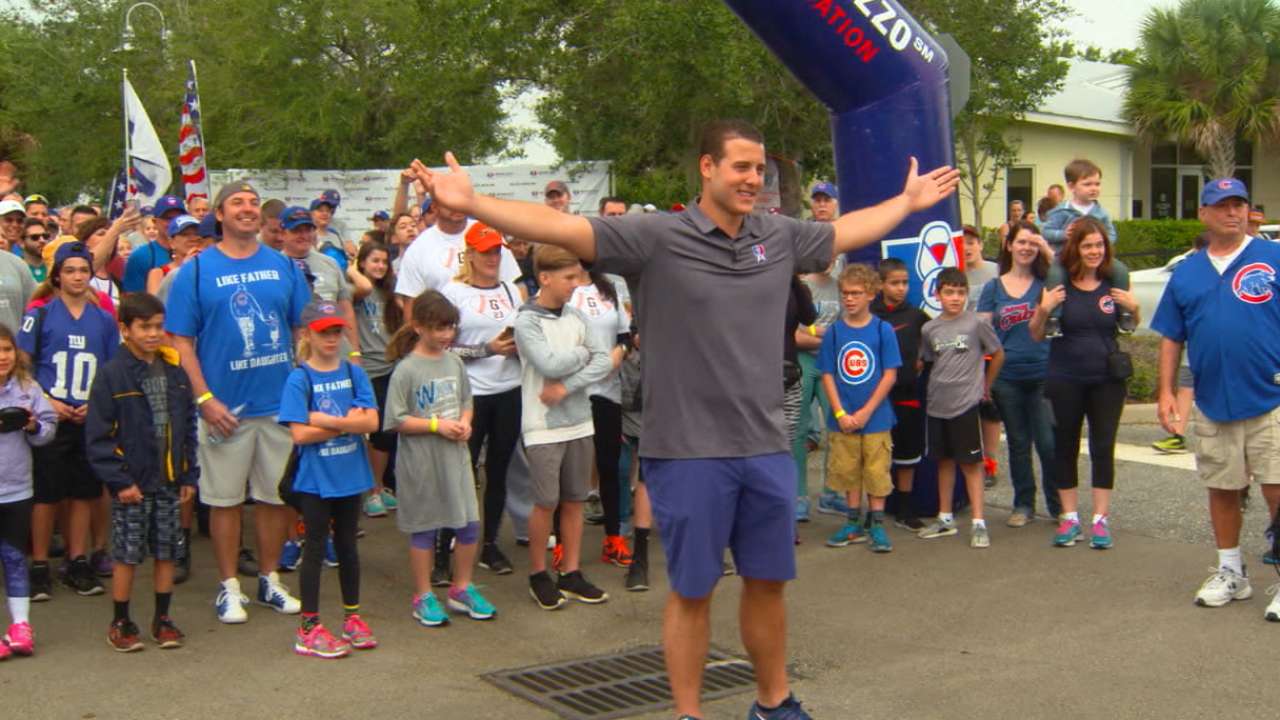 "I think everyone will come in hungry because we're at the top and we want to keep being successful and keep winning," Rizzo said. "For me, I'm more motivated now."
But if the Cubs are going to become the first team since the 1998-2000 Yankees to repeat as World Series champs, they'll have to do so without key players like Dexter Fowler, who signed with the Cardinals, and David Ross, who has retired.
"Personally, it's going to be really, really weird," Rizzo said of not having those two around. "They're two of my closest friends on the team. With [Fowler] signing with the Cardinals, we'll play them six [series] a year, so we'll get to see him a lot. It's going to be a big hit, even with [Travis Wood] not signing back. It'll be three huge clubhouse presences gone. Whatever they did on the field, they did on the field, but as human beings, we'll definitely miss them."
Here's how much the Cubs' roster has changed: Rizzo is now the longest tenured Cubs player.
"I'm getting old," he said, laughing.
There is one more item that needs to be explained. During the Cubs' celebratory parade, Rizzo presented chairman Tom Ricketts with the ball from the final out of the World Series. Rizzo could've presented it to Cubs president Theo Epstein or general manager Jed Hoyer or even Ross as a parting gift. Why did he decide to give it to Ricketts?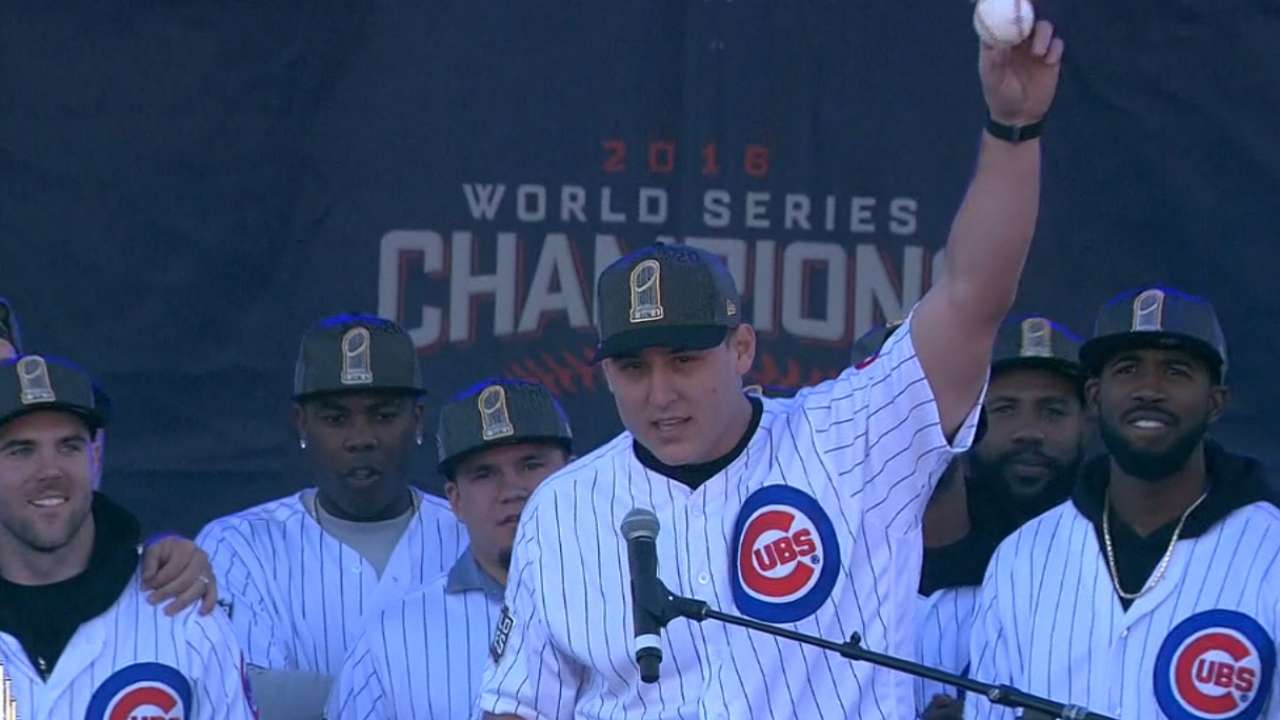 "I weighed all the options," Rizzo said. "That's a special, special ball. I caught it, I put it in my pocket. Thinking about it, about what [Ricketts] sacrificed and what he did for this city and Wrigley Field, making it a better venue than it was, he donated everything and put all his time into building the team and trusting Theo and Jed, and giving them full trust and sitting back and not trying to be in the spotlight at all and just letting them do their thing -- he did it. I feel that ball means so much more to Mr. Ricketts than it would to be sitting in a safety deposit box or on a mantel."
Rizzo also recorded the final out of the National League Championship Series when the Dodgers' Yasiel Puig grounded into a game-ending double play in Game 6. Where's that ball?
"I have it somewhere," Rizzo said, a little sheepishly.
Carrie Muskat has covered the Cubs since 1987, and for MLB.com since 2001. She writes a blog, Muskat Ramblings. You can follow her on Twitter @CarrieMuskat and listen to her podcast. This story was not subject to the approval of Major League Baseball or its clubs.