Dunn signs with Rockies, eyes closer's job
Lefty gets 3-year, $19 million deal, could make more based on games finished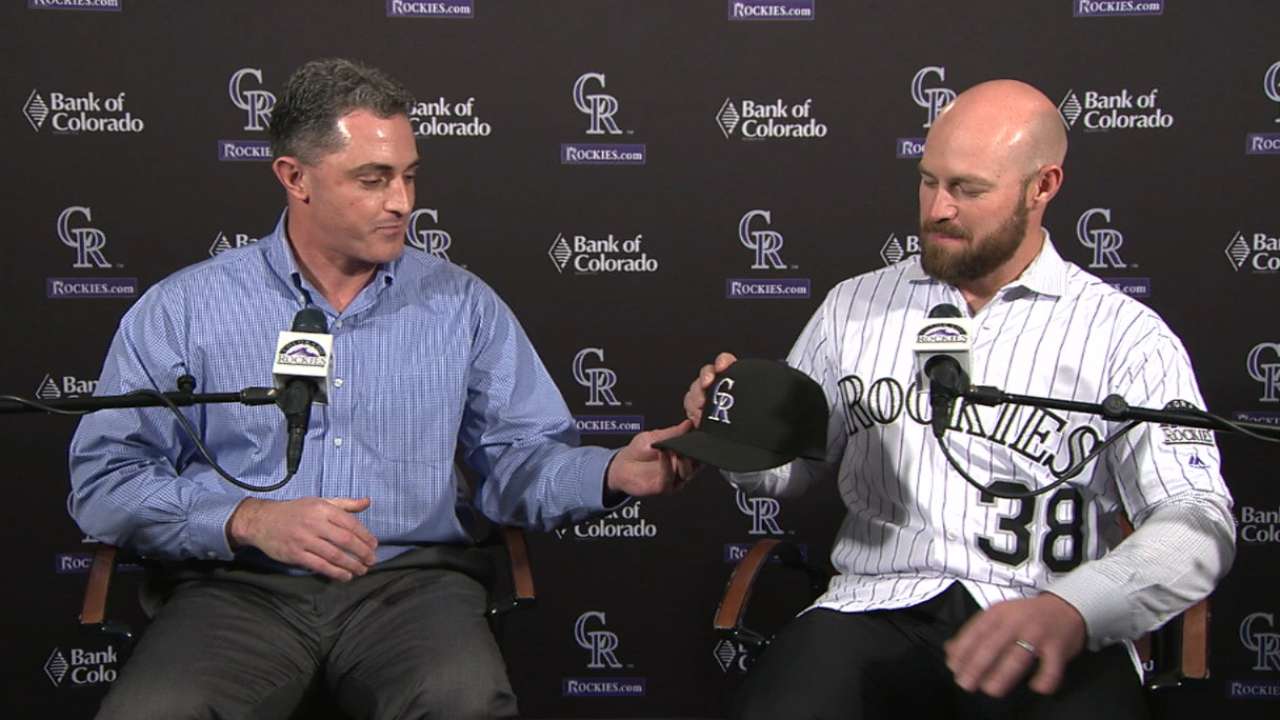 DENVER -- The Rockies on Thursday reached a three-year agreement with free-agent southpaw reliever Mike Dunn, the club announced. Dunn was introduced at a news conference at Coors Field.
"With the needs and some of the upgrades we needed to make, and continue to make in our bullpen, Mike Dunn was a natural fit for us," said Rockies general manager Jeff Bridich, whose bullpen this past season had a Majors-worst 5.13 ERA -- a key reason the club went from contending in July and August to a 75-87 finish, third in the National League West.
According to a Major League source, the contract is guaranteed at $19 million, and the deal includes up to $1 million in games-finished incentives, which means Dunn could be Colorado's closer in 2017.
Dunn, 31, who pitched the past six seasons with Miami, has struck out just under 10 batters per nine innings over an eight-year career with the Yankees, Braves and Marlins. He will receive salaries of $4 million in 2017, and $7 million in '18 and '19. There is a $1 million buyout on a 2020 club/vesting option.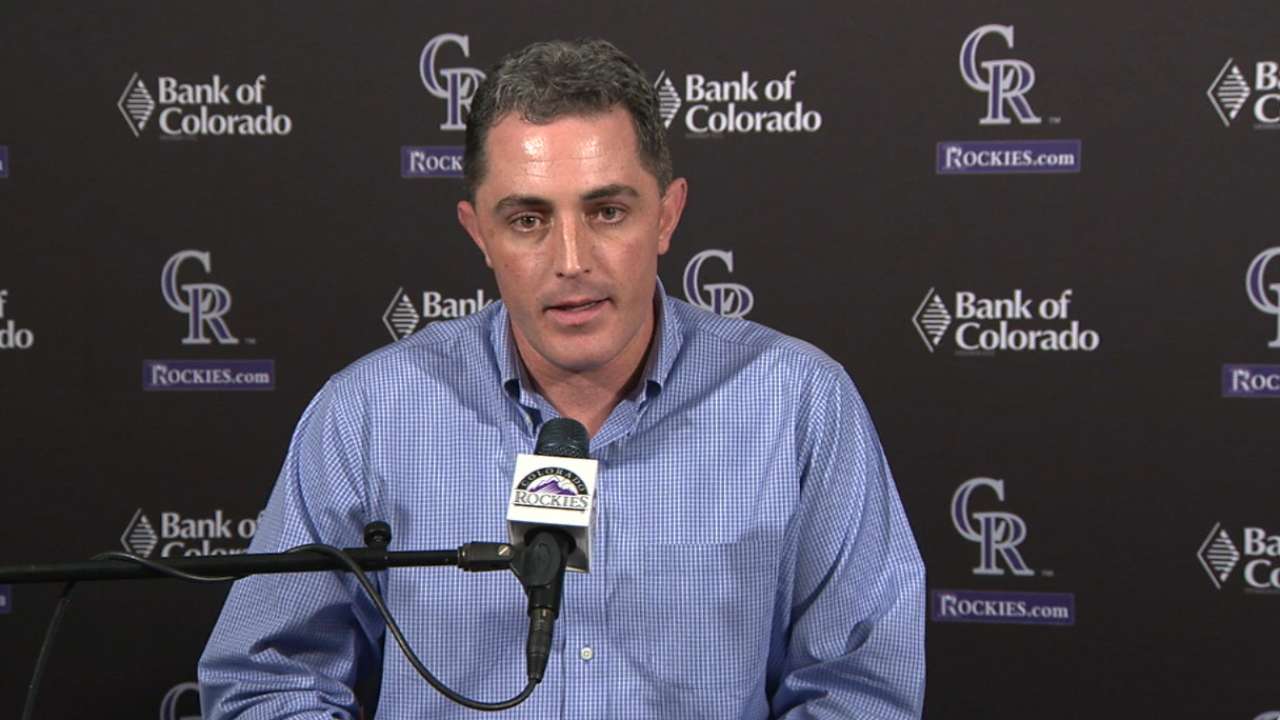 If the club picks up the option, Dunn will receive $6 million in 2020; if he stays on the vesting option -- 130 appearances over 2018 and '19 or 60 in '19 -- he will receive $7 million in '20. He will receive a bonus of $100,000 at 30 and 35 games finished; $150,000 at 40 and 45 games; $200,000 at 50 games; and $300,000 at 55 games.
Dunn would receive a $500,000 assignment bonus if traded.
The lefty didn't shy from his ninth-inning aspirations, but he didn't demand the job, either.
"It's just a club that I really wanted to be at," Dunn said. "I've pitched in the seventh and eighth inning my entire career. I don't think anybody's satisfied with that. You always want to potentially become a closer if you're a reliever. But ultimately I just want to win baseball games."
Dunn was a key lefty setup man for former Marlins manager Mike Redmond, who recently was hired as the Rockies' bench coach under new skipper Bud Black.
"Once he got the job, he reached out to me and we talked a few times," Dunn said of Redmond. "We kind of kept communication open. We talked before that, too, ever since he was my manager. We had a great relationship. I don't necessarily know that he made me want to come here more, because it was already one of my top priorities, but it definitely sweetened the deal."
• Dunn happy to be close to home
Last year, Dunn missed the first two months with a forearm strain -- brought on by the attempt to add a changeup -- then finished 6-1 with a 3.40 ERA in 51 games. Last year's injury marked the first time he had been on a Major League disabled list.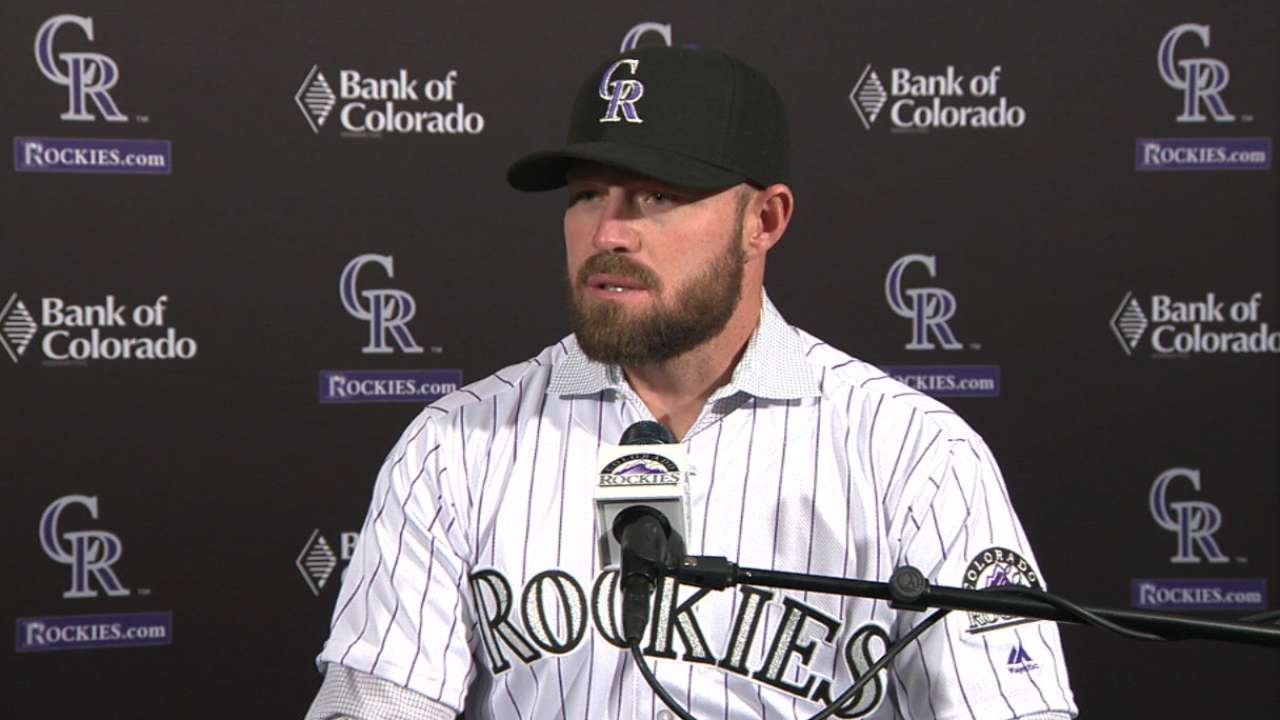 Dunn beefs up a late-innings bullpen that includes three relievers who have some closing experience: Jake McGee, Adam Ottavino and Carlos Estevez. Colorado is also hoping for healthy returns from righties Jason Motte (rotator cuff strains on two occasions), Chad Qualls (colitis), Jairo Diaz (Tommy John surgery) and Miguel Castro (bouts with shoulder soreness).
Dunn is the second veteran to come to terms with the Rockies, who on Tuesday officially signed Ian Desmond to play first base under a five-year, $70 million contract.
The signing of Dunn puts Colorado at 39 players on the Major League roster, one below the limit.
The Rockies finished last season with a payroll of $120,586,480 -- a team record -- although $22 million went to infielder Jose Reyes, who was released and ended up with the Mets.
Reyes' $22 million this year will still lead the club, ahead of right fielder Carlos Gonzalez's $20,428,577. The additions of Desmond at $8 million and Dunn at $4 million bring the current 2017 commitment to slightly more than $87.1 million.
Colorado still has arbitration cases with third baseman Nolan Arenado, center fielder Charlie Blackmon and right-handed starting pitcher Tyler Chatwood. The MLB Trade Rumors site projects Arenado to receive $13.1 million, Blackmon $9 million and Chatwood $4.8 million. That would bring the total to around $114 million, before the signings of low-service time players.
What's next?
Bridich, speaking earlier this week after the Desmond signing, said the bullpen was his top priority.
While the Rockies are remaining flexible to at least monitor first basemen Mark Trumbo and Edwin Encarnacion, landing one of them is unlikely. But the club could make one more bullpen splurge, with possible targets being righties Brad Ziegler, a onetime D-backs closer who pitched in a setup role down the stretch for the Red Sox in 2016, and Joe Blanton, who has developed into a solid reliever and pitched for the Dodgers.
Bridich said this week he could look at adding a veteran catcher to a young group that includes second-year backstop Tony Wolters and rookies Tom Murphy and Dustin Garneau. The Rockies also could use Minor League deals for the catching veteran or potential bench help.
"There's still some time and a lot of talent still out there, but our process will always be eyes and ears open to whatever, whether that's free agency or trade," Bridich said.
Thomas Harding has covered the Rockies since 2000, and for MLB.com since 2002. Follow him on Twitter @harding_at_mlb, listen to podcasts and like his Facebook page. This story was not subject to the approval of Major League Baseball or its clubs.