Close call: Rox could turn to in-house trio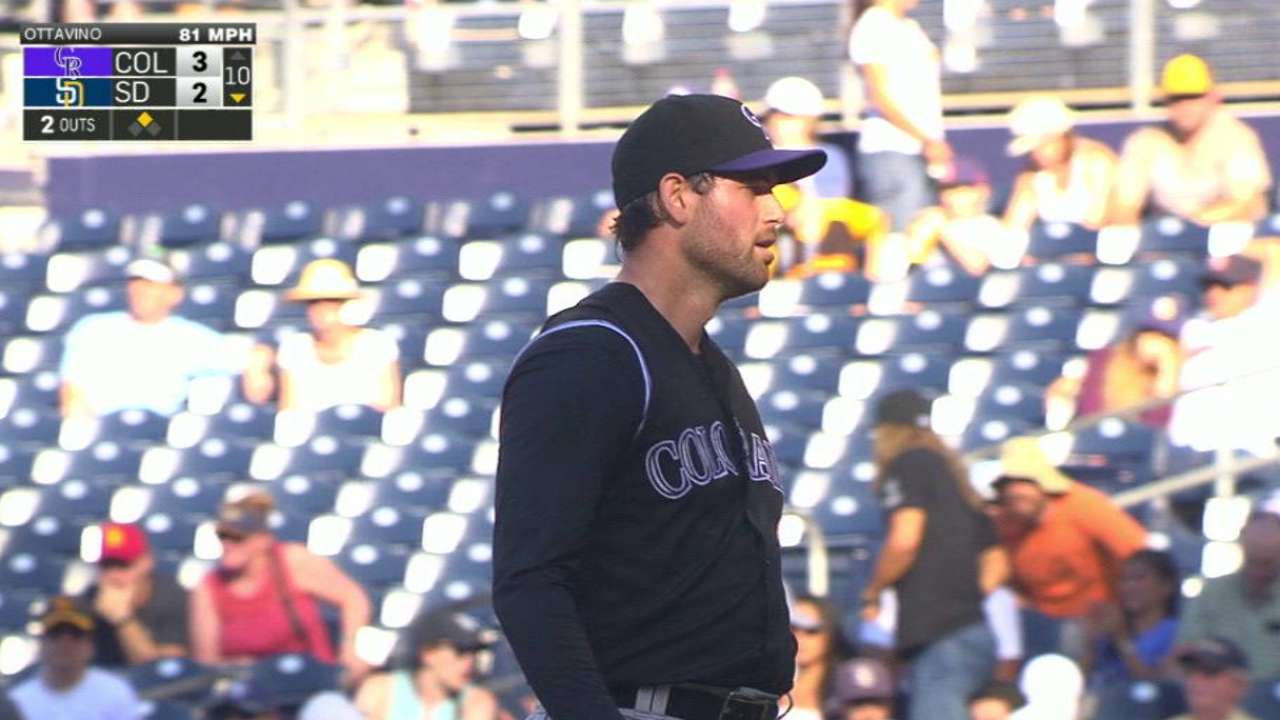 DENVER -- The Rockies' closer for 2017 is not yet known, but chances are, he isn't a stranger.
The Rockies continue to seek late-innings relief help through free agency, but they were a distant third when the Giants signed Mark Melancon for four years at $62 million, and they were a spectator as the Yankees signed Aroldis Chapman for five years and $86 million and the Dodgers re-signed Kenley Jansen for five years and $70 million.
On Thursday, the Rockies reached a three-year, $19 million agreement with free-agent lefty Mike Dunn, a setup man with the Yankees and Marlins. They've also been linked to righty Brad Ziegler, for his experience in the National League West before joining the Red Sox last season and his past closing experience. Still, it's likely that Colorado's closer for the coming season could be familiar.
Who will it be? General manager Jeff Bridich figures everyone will know sometime around Opening Day, April 4 in Milwaukee.
"I don't care," Bridich said. "I don't think it's 100 percent necessary that we have a closer right now. There's a lot of time to figure that out."
The Rockies would be just fine if Adam Ottavino, who showed promise in the role before suffering a right elbow blowout in 2015, or Jake McGee, who had a few adventures but decent results at the start of last season before his left (push-off) knee gave way in June. When McGee was hurt, they went to rookie Carlos Estevez, who had some strong outings, ended up struggling but learned a lot overall during his fast ascent to the Majors.
As is the case with many small- to mid-market clubs that can afford to spend some -- remember, Colorado signed Ian Desmond for five years and $70 million to play first base and it has promised to increase payroll -- a big-money bullpen overhaul is out of the question. So several relievers, including the potential closers, will have to be better than last season.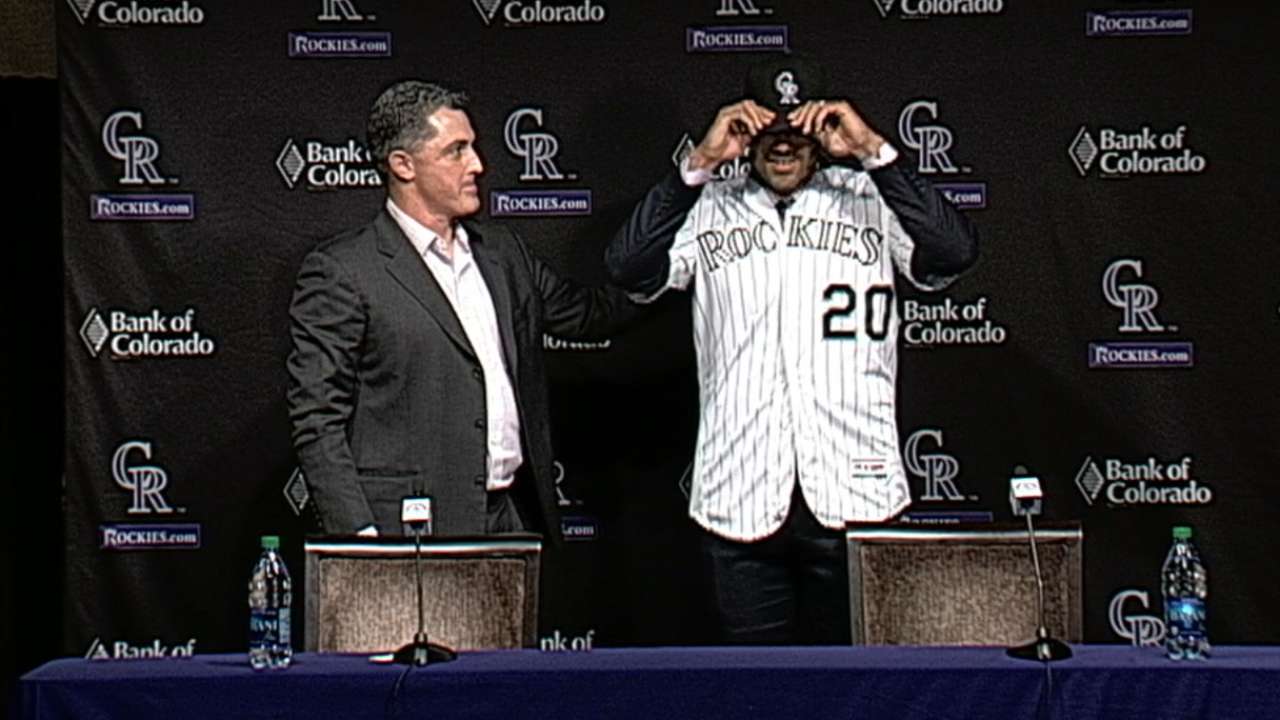 Bridich has confidence in this trio.
"We have quality in-house closer candidates," said Bridich. "Otto's clearly a guy that has shown he can do it in the past. Jake McGee certainly has done it. Estevez did it for a little it last year. We have other guys in line who have the type of ninth-inning arsenal that could do the job."
Let's look at areas of improvement for each:
Ottavino
Ottavino is a solid right-on-right performer because of an effective slider that is essentially multiple pitches -- different grips, different arm actions and from different spots on the rubber. But he became closer material when he improved his effectiveness against lefty batters.
However, when pitchers return from Tommy John surgery, pinpoint command is often last to arrive. That was the case with Ottavino.
The first 39 lefty batters Ottavino faced managed a .281 batting average and a .410 on-base percentage. The good news was he finished strong against lefties, posting final numbers of .256 and .370, respectively. Granted, the 2015 sample was small because Ottavino didn't pitch after April 25, but he earned the closer job while holding lefties to 2-for-15 with five strikeouts and one walk.
McGee
It seems any issues are directly attributable to McGee's knee injury, which limited his push from the rubber and therefore robbed him of his main tool -- velocity.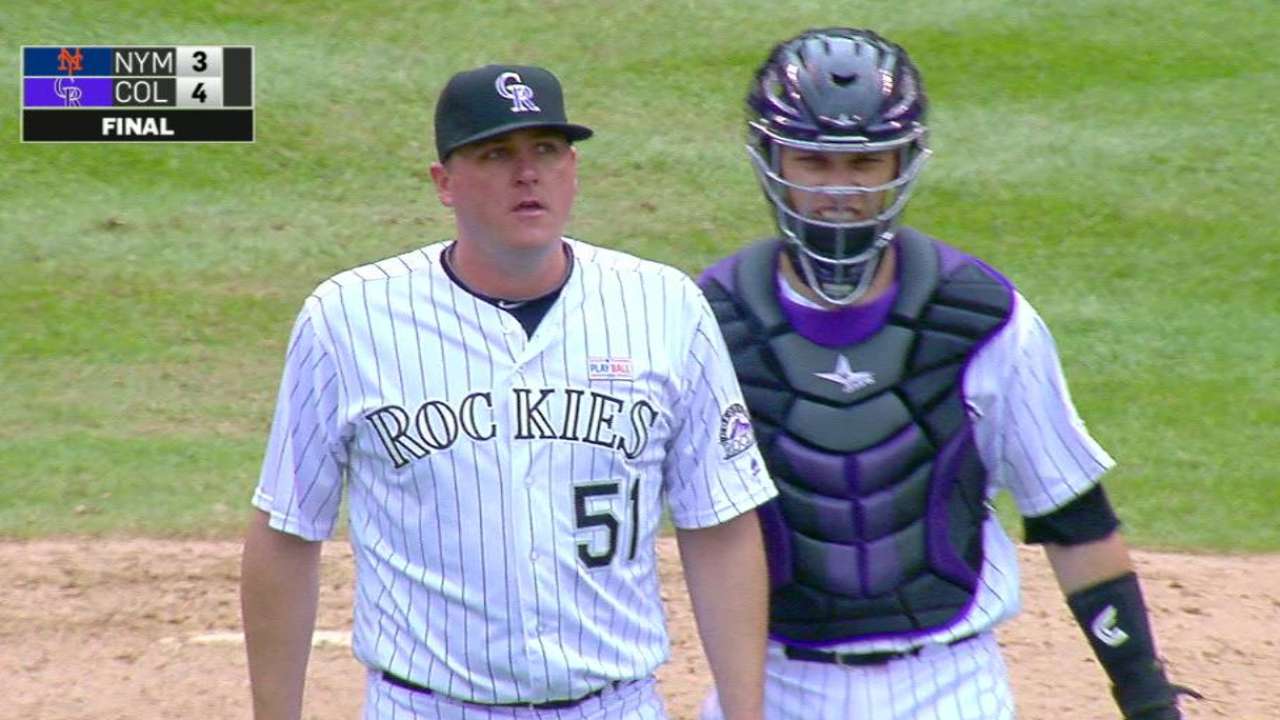 According to Statcast™ data, McGee's opponents hit .214 with a .405 slugging percentage on pitches 95 mph or faster last season. On pitches below 95, they hit .321 and slugged at .585.
In McGee's career, average and slugging are .185 and .285 at 95 or above, and .321 and .542 below.
Estevez
Possessing a fastball easily capable of 100 mph, Estevez made a fast rise to the closer role. A rapid ascent through Double-A and Triple-A had him in the Majors on April 23, 2016, and his first save as a Major League closer was June 11 against the Padres.
But Estevez's areas of inexperience were obvious. He walked 11.4 percent of batters faced. The Major League average for relievers last season was 9.0.
Also, in high-leverage situations, or times a dramatic swing in win probability is possible, opponents posted a .955 OPS vs. Estevez. For reference, Tigers star Miguel Cabrera's OPS for last season was .956. Estevez gave up four of his six homers at high-leverage moments.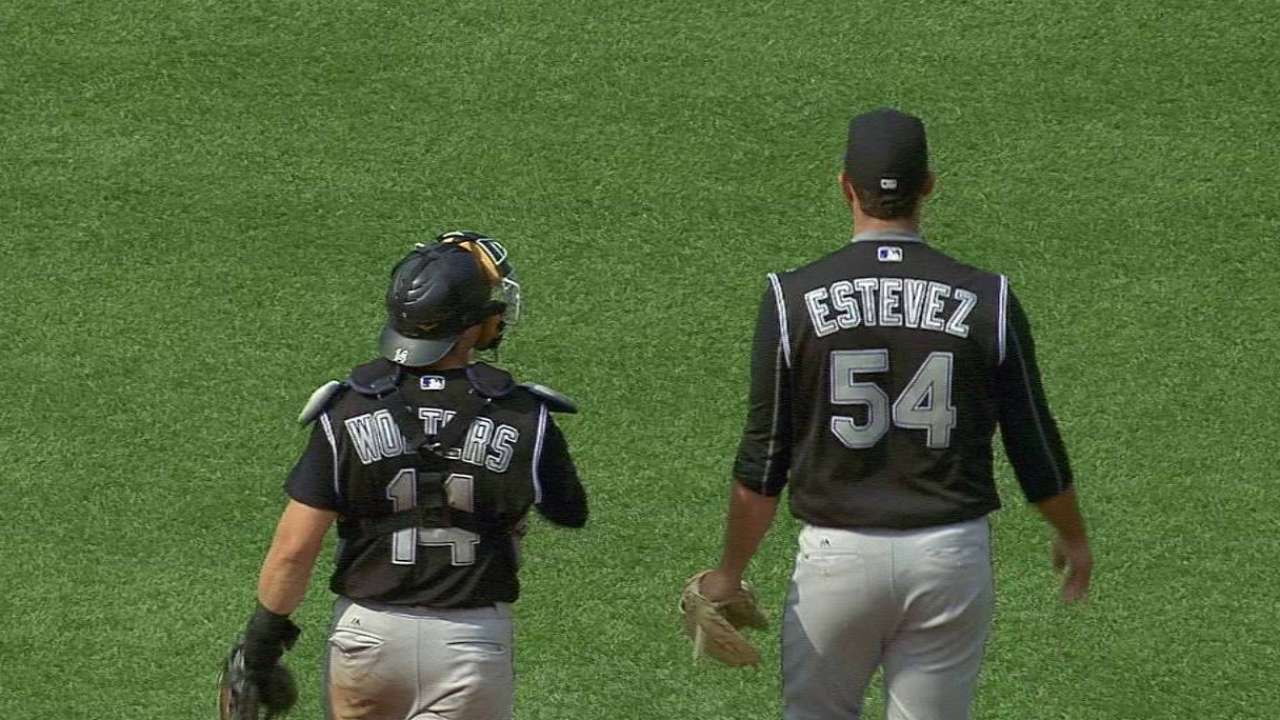 Estevez's OPS against dropped to .757 at medium leverage and .552 at low leverage. For comparison, of the 146 players with enough plate appearances to qualify for a league batting title, the lowest OPS belonged to the Marlins' Adeiny Hechavarria at .594.
It was a trial by fire that could pay off in quicker development.
Thomas Harding has covered the Rockies since 2000, and for MLB.com since 2002. Follow him on Twitter @harding_at_mlb, listen to podcasts and like his Facebook page. This story was not subject to the approval of Major League Baseball or its clubs.