Rangers have in-house candidates for first base
With free agent Encarnacion 'highly unlikely,' Texas to consider Rua, Profar, Gallo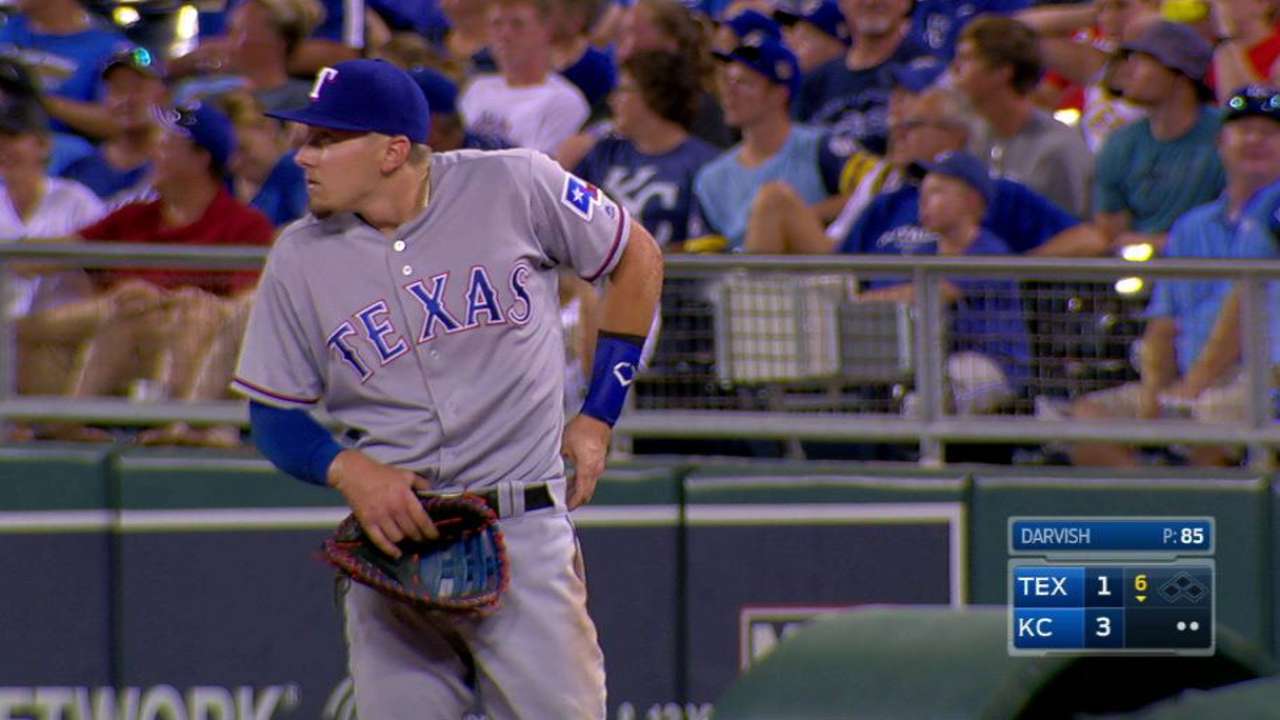 After seven seasons as a Texas Ranger, Mitch Moreland won his first Gold Glove Award in 2016, then celebrated by signing a one-year deal with Boston. With the fan favorite lovingly referred to as #OffensiveThreatMitchMoreland now manning first base at Fenway Park, and Prince Fielder's career ended prematurely by injury, the Rangers have a bit of a conundrum: Who's on first?
Despite early speculation that the Rangers might be a frontrunner for free agent Edwin Encarnacion, general manager Jon Daniels reiterated Wednesday at a media luncheon that signing Encarnacion is "highly unlikely." So, as with any coming-of-age story, the search turns inward.
"We have talked about some other options," Daniels said, "But I think that [a promotion from within] is the most likely course of action."
Encarnacion hit .263 with 42 home runs and an American League-leading 127 RBIs for the Blue Jays in 2016. He is considered to be one of the best hitters available in free agency. The 33-year-old has hit 30-plus home runs in five consecutive seasons.
Signing Encarnacion would fill the power void left by Moreland, who hit 22 home runs this past season. So would moving in-house candidate Joey Gallo, who belted 25 homers in 102 Triple-A games in 2016 and 23 over 87 Minor League games in '15. He also delivered 42 dingers in 126 Minors games in '14.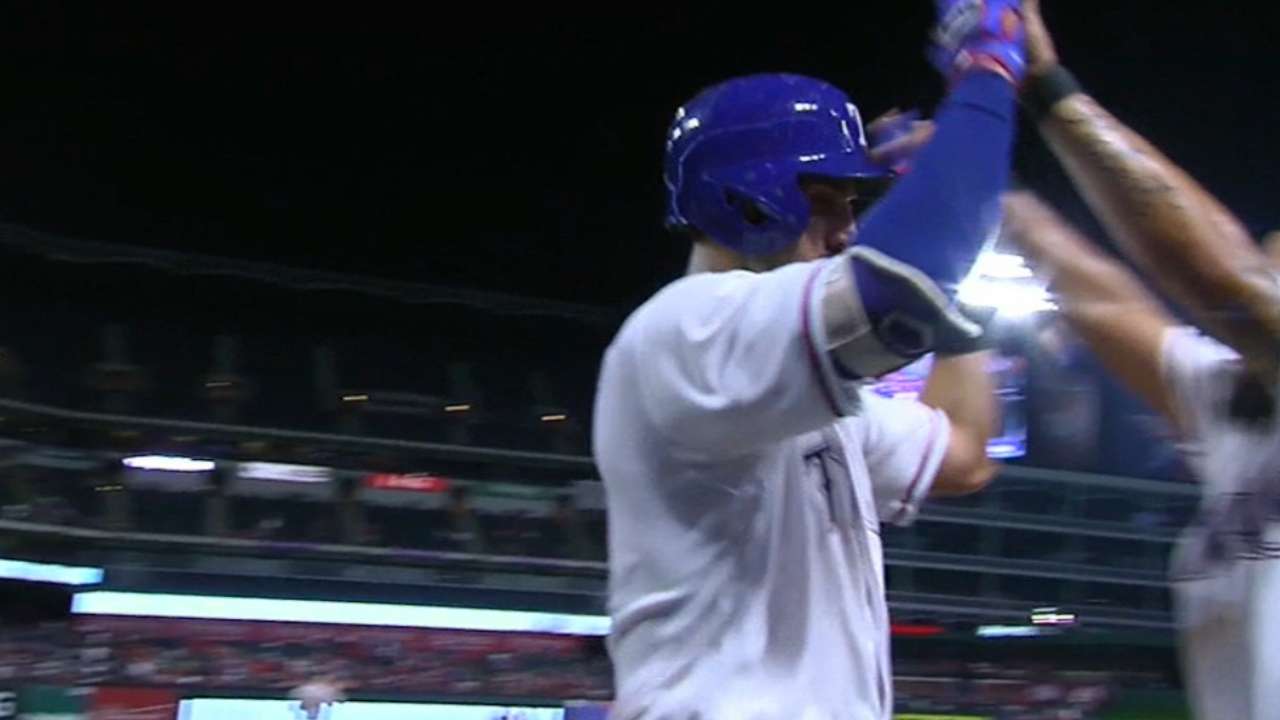 "I mean ..." Gallo began with a pause and a shrug, "yeah, I'm planning on working at first more than I did last offseason [when] I came in looking to be a third baseman, but obviously with [Adrian] Beltre there, and first base technically open, I'm looking at both positions and making sure I'm ready to do both."
If you listen closely enough, that might sound like a player who views first base as an opportunity while admitting that it's not his preferred position. But if Gallo is using words to refrain from saying as much, Jurickson Profar is the yin to Gallo's yang: his lack of words made his opinion clear. Asked if he liked first base, Profar paused and gave a long knowing smile.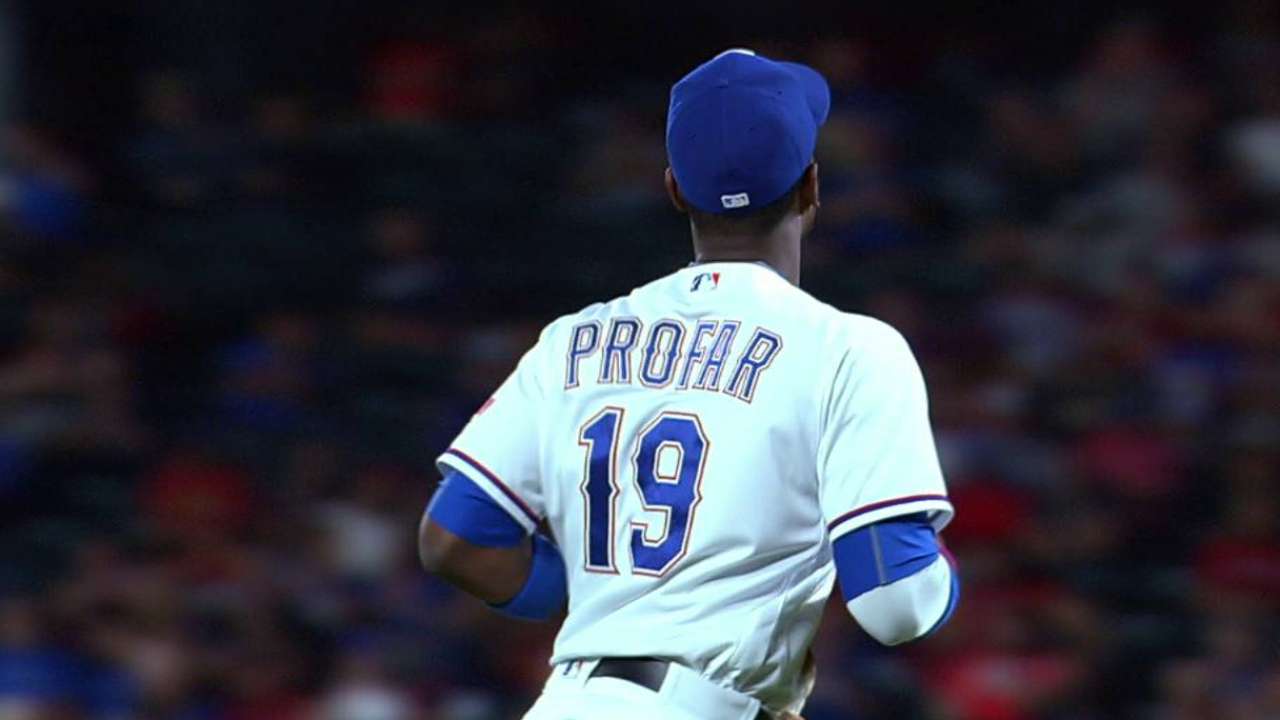 "That's a tough question," he concluded.
It's an odd balance for Profar; he's not a malcontent and is clearly happy just to be playing, especially after injuries cost him to miss all but 12 games (all in the Minors) from 2014-15. But his positional preference is no secret.
"Middle infield," Profar admitted. "But the Rangers already have their middle infield, [so] I'll just get ready and see what happens."
For all of Gallo's power and Profar's athleticism, however, the odds-on favorite to earn the bulk of the playing time might be another young Ranger with a history of position switches: Ryan Rua.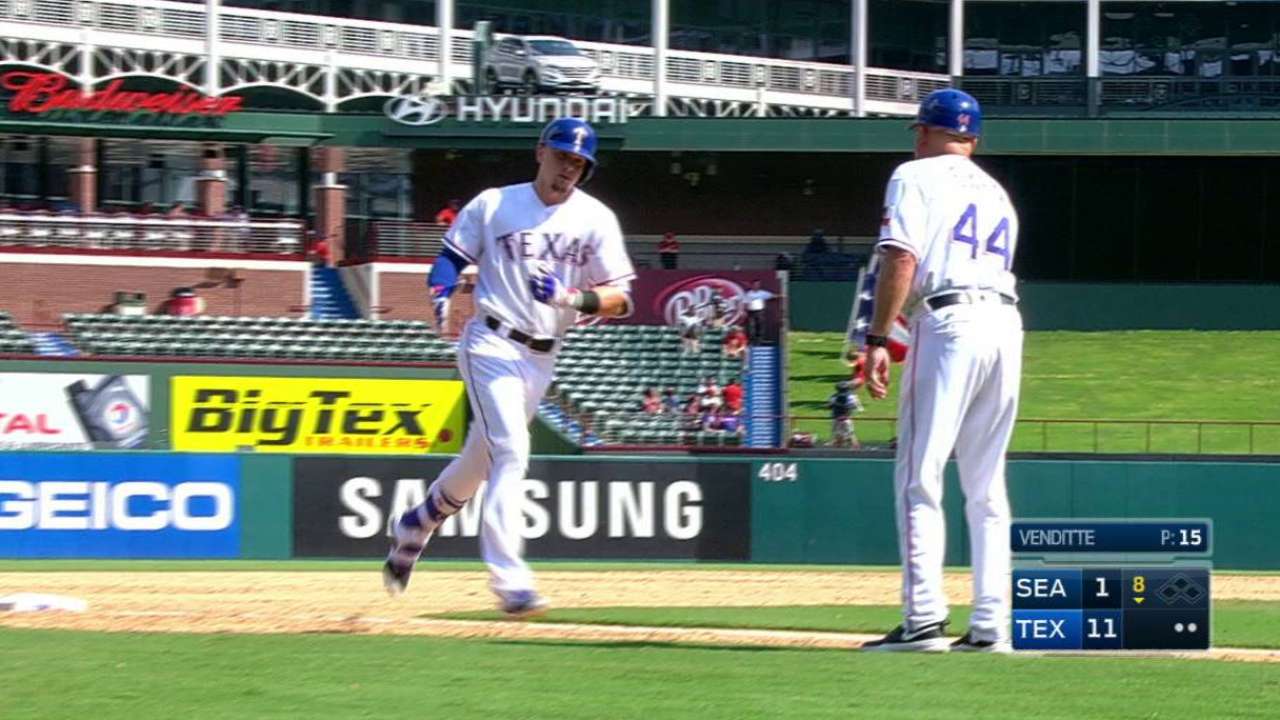 "First base came easier to me because I've played my whole life -- Little League, high school, college -- was all middle infield, and then when I signed, it was third base, then second base for a full year, and then third for another year and a half, then we started mixing in first base and outfield. I think just having that infield experience and a little bigger glove over there, it came a little bit easier to me."
Rua has more experience at first base than either of the more touted prospects. He played 31 games there this past season, bringing his big league total to 44. Profar, meanwhile, surprised the baseball world when, after having never played the position at any level, started a game at first base after only a handful of workouts (he would eventually play 17 games at the position). Gallo looks the part more than than the other two, but he has played as many MLB games at first base as he has in center field (just one, though he has played 40 games at the position at Triple-A).
It's an opportunity for all three, should they still be Rangers come February.
"It's very exciting," Gallo said with a nod. "In years past, I really didn't have a chance out of Spring Training to make the team, but this year, I really do have a real chance to make it, so ... I think it might be more exciting, just knowing that you have a real opportunity to make the team."
Rua concurred, giving credit to his friends and competitors.
"We have a number of guys that could fill that role, and all of us are ultra-competitive. ... Pro and Joey are two of the closer guys on the team that I hang out with, I talk to, I stay in touch with in the offseason, and it's exciting for all of us to have that opportunity. ... We can joke around with each other when we're doing drills and make fun of each other; we all know how we all are. We're all very competitive and all want to be everyday players one day, but we're all at this point in our careers, willing to help the team in whatever way we can."
Levi Weaver is a contributor to MLB.com based in Arlington. This story was not subject to the approval of Major League Baseball or its clubs.