Statcast tells story of Napoli's memorable season
Free-agent slugger saw power numbers dip after hot start for Tribe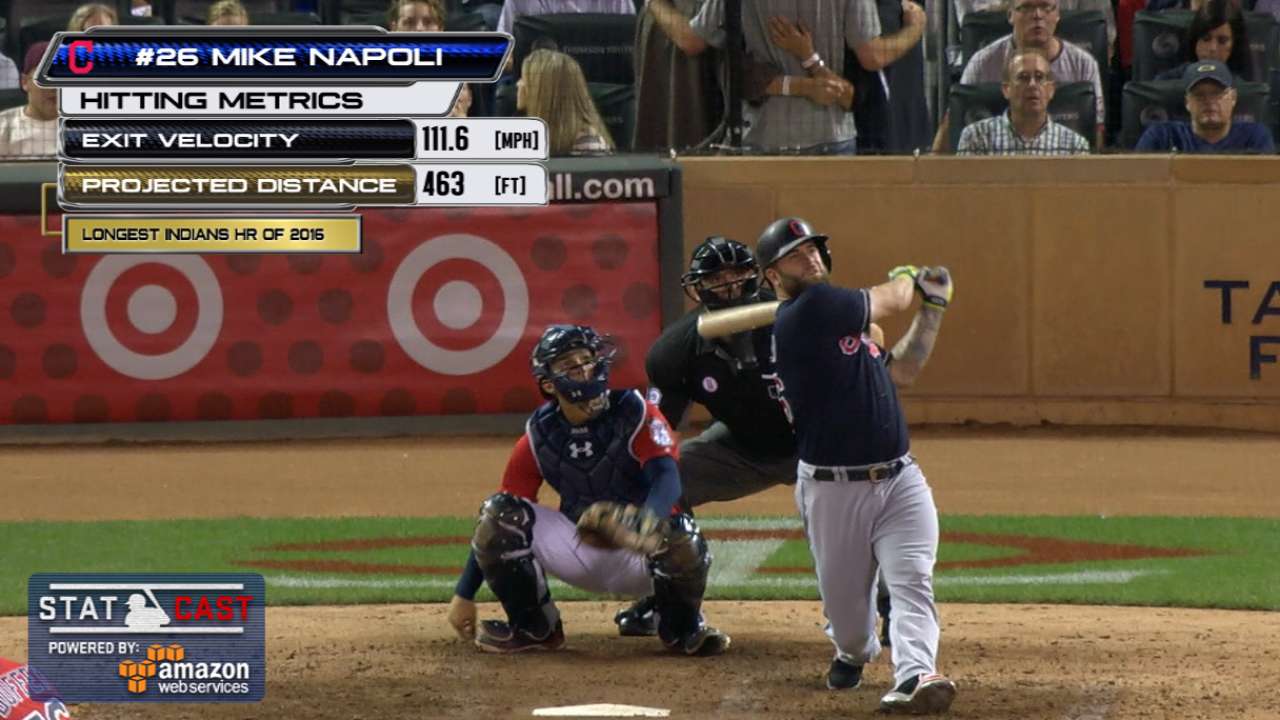 CLEVELAND -- There is a piece of paper that has long been used by the Indians to determine how far a home run flew. It includes a rendering of Progressive Field from a bird's-eye view with a series of lines marking distance points. When a ball lands in the seats, there is an estimated distance that corresponds to the spot.
It is time to toss the paper out the press box window, because Statcast™ not only calculates the projected home run distance, but the spin rate of the pitch, exit velocity of the baseball and launch angle. Really, that only scratches the surface of the data being compiled. The information available can, for example, show just how impressive Mike Napoli was last season, while also providing insight into why teams may be hesitant to hand him a multi-year contract.
The Indians are among the teams keeping in touch with Napoli, who is a free-agent again this offseason on the heels of a productive year with the Tribe. When it came to home runs, Napoli was Cleveland's Statcast™ king. He dropped jaws all summer long with his prodigious power displays. Down the stretch, though, Napoli's power went missing and he slumped over the season's final six weeks.
Cleveland is keeping the entirety of Napoli's body of work in mind as it evaluates whether to keep him in the fold.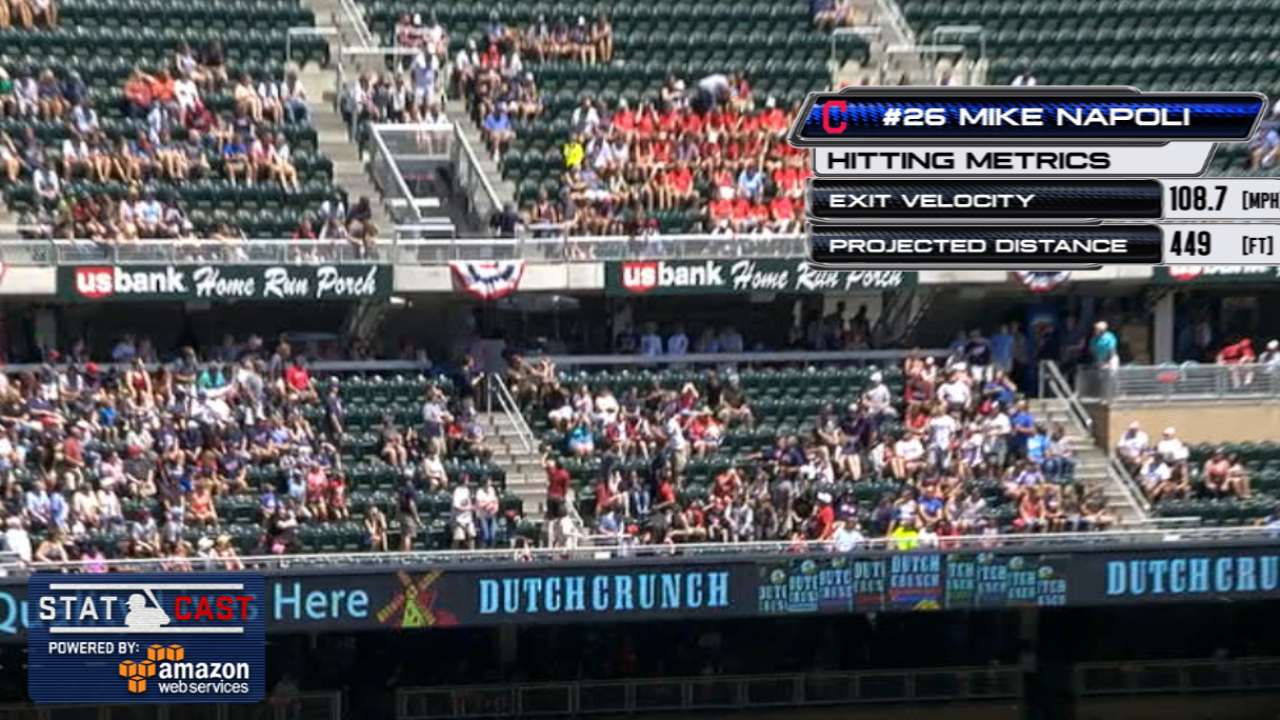 "Nap made a tremendous impact on the field and off the field," Indians general manager Mike Chernoff said during the Winter Meetings last week. "Getting to see him first-hand, we know exactly who he is and have a sense of what we feel like he can contribute. So, I think you take the totality of his season. And then, we have to weigh the conditions of the market."
Let's start with the good that came from Napoli last year.
At 34 years old, Napoli established career highs in games played (150), at-bats (557), home runs (34) and RBIs (101). Behind the scenes, the first baseman emerged as a leader in the clubhouse. Off the field, the "Party at Napoli's" movement was embraced by fans and raised a considerable amount of money for charity. When the Indians made the playoffs, it marked the eighth time in 10 years that Napoli played in the postseason.
And then there were all the fun Statcast™ facts.
Napoli's average home run distance of 413 projected feet ranked fourth in the Majors among players with at least 25 shots, trailing only Trevor Story (422), Giancarlo Stanton (422) and Nelson Cruz (416). Napoli's average exit velocity of 105.6 on his homers ranked 15th among that same group of hitters. He was one of only nine Major Leaguers to have 13 or more homers with an exit velocity of 108 mph or higher.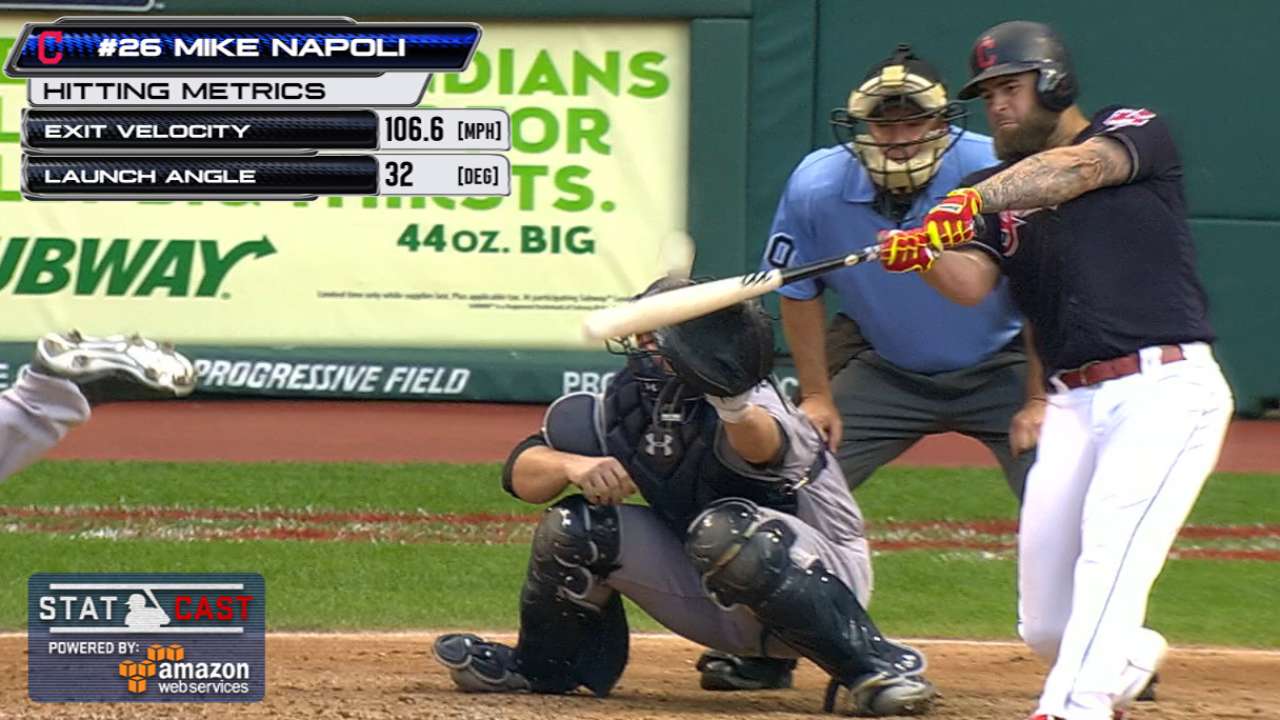 Cleveland hit 25 homers with an exit velocity of 107 mph or higher. Napoli had 14 of those. He also led the Indians in homers consisting of an exit velocity of 108-plus (13 of Cleveland's 20 such homers), 109-plus (eight of 13), 110-plus (four of six) and 111-plus (two of three). The only thing Napoli could not claim was Cleveland's hardest-hit homer of the year. Francisco Lindor earned that with a 112-mph blast on Sept. 30 off Kansas City's Brian Flynn.
Napoli did have the Indians' three longest homers of the year.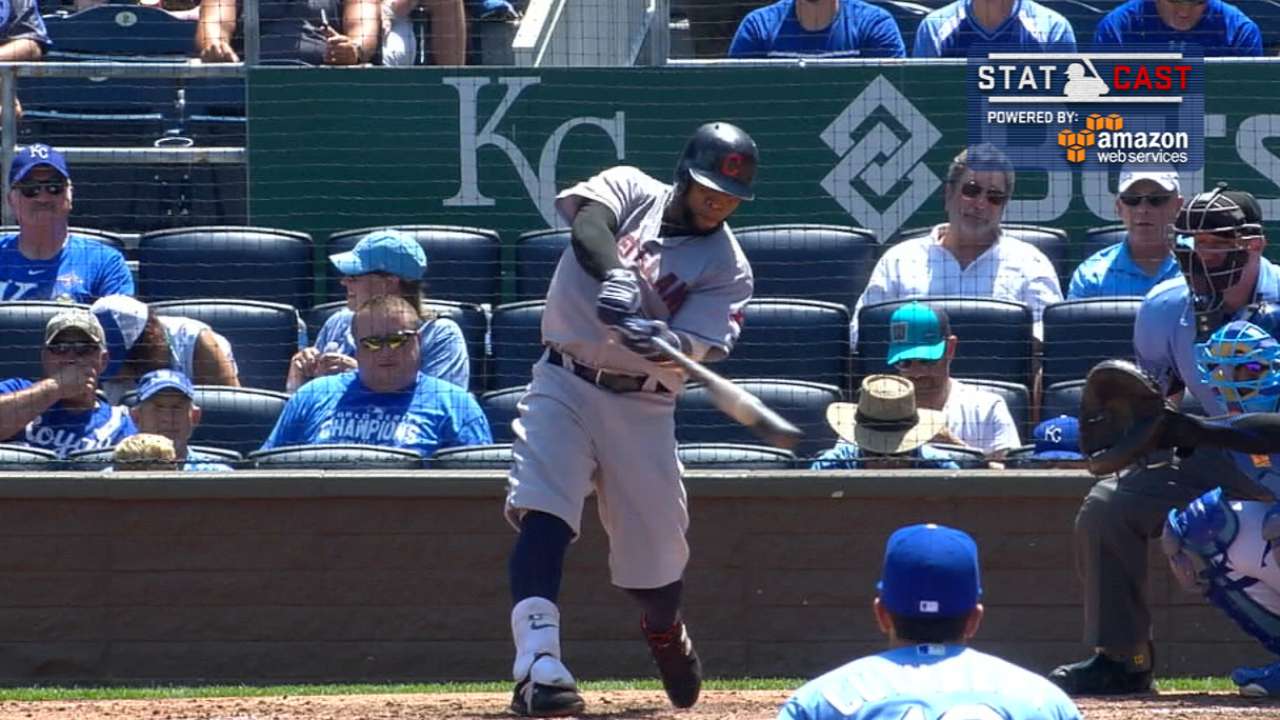 On Sept. 9, the slugger sent a pitch into the third deck above left field at Target Field for a 463-foot blast, marking Cleveland's longest of the year. The most memorable home run of Napoli's season, however, came on July 8. That is when he crushed a pitch off New York's Chad Green 460 projected feet to left at Progressive Field. The baseball nearly hit long-time drummer John Adams, who sits in the top row of the bleachers, just under the ballpark's huge scoreboard.
When looking at Napoli's game-by-game results, a line can almost be drawn above Aug. 15 to serve as a statistical turning point. Before that date, Napoli hit .266 with a .530 slugging percentage. From Aug. 15 through the end of the postseason, he hit .163 with a .281 slugging percentage. That was not just a bad week of tough luck. That is nearly 200 at-bats worth of subpar production.
This offseason, Napoli is seeking a multi-year contract after turning 35 years old on Oct. 31. In a vacuum, the numbers he posted overall in 2016 do not make a two-year pact seem like an unrealistic ask. Given Napoli's age, though, plus the unprecedented volume of work he took on with the Indians, and the season-ending decline, it makes sense why a team might prefer a one-year contract, or a short-term deal with incentives or an option.
Zones 1, 2, 4, 7. Napoli went 0-20 vs. fastballs from 8/15 through end of season. Before that, hit .348 (16-46) w/ .957 SLG. via @statcast pic.twitter.com/wSgD0STGtl

— Jordan Bastian (@MLBastian) December 11, 2016
After poring through the Statcast™ data, there are possible explanations for Napoli's slump.
Before Aug. 15, Napoli hit .348 (16-for-46) with a .957 slugging percentage against fastballs on the inner third of the zone and elevated fastballs over the middle. If those same four zones are isolated for Aug. 15-Oct. 2 (the remainder of the regular season, Napoli went 0-for-21. In that second timeframe, pitchers attacked Napoli with fastballs to those zones 8.1-percent of the time. That rate stayed at 8.2 percent during the postseason.
Part of the problem was an increase in changeups, especially low-and-away, to Napoli as the season progressed. Napoli saw 10.7-percent offspeed pitches in July, but saw that rate climb to 13.2 in August and 18.4 in September. From Aug. 15 on, Napoli received 15.2 percent changeups (5.1 percent low and outside the zone). Those rates had been 9.5 percent and 2.7 percent in the pre-Aug. 15 time period.
From Aug. 15 through the end of the regular season, only Nelson Cruz (6.7 percent) and Chris Carter (6.2) saw more changeups than Napoli (5.3) that were low and outside the strike zone. The heavy dose of offspeed contributed to Napoli's struggles with fastballs inside or elevated. As a result, Napoli's average exit velocity on balls in play dropped to 86.9 mph from Aug. 15 on, compared to 89.1 earlier in the year (league average was 88 mph).
One person with knowledge of the negotiations between the Indians and Napoli indicated that the second-half slide had not been a major part of talks to this point. That said, the numbers are there, and they paint a picture of a slugger who fought fatigue as the season wore on. The Statcast™ data also shows that, when Napoli was at his best, he put on an incredible power show that Tribe fans won't soon forget.
Jordan Bastian has covered the Indians for MLB.com since 2011, and previously covered the Blue Jays from 2006-10. Read his blog, Major League Bastian, follow him on Twitter @MLBastian and listen to his podcast. This story was not subject to the approval of Major League Baseball or its clubs.