Clemens, Manny, A-Rod headline past Dec. 13 deals
Roger Clemens, Manny Ramirez and Alex Rodriguez.
When one thinks of baseball in the 1990s and 2000s, it would be nearly impossible to not think of those names as three of the most elite players of the era. But besides their shared place as titans of a generation of ballplayers, the trio has something else in common: They all made some of the biggest splashes in free-agent history on the date of Dec. 13.
Each of these players' deals set an industry standard when the ink dried, making major statements on behalf of both themselves and their teams. While it may have been inevitable either way, these three contracts elevated the market to the sky-high asking prices we see from free agents today. As we await the next free-agent signings for 2017, here's a look back at three landmark deals made on this day in baseball history:
Dec. 13, 1996: Roger Clemens signs with the Blue Jays
A 13-year run that saw Clemens claim three Cy Young Awards and an American League MVP came to a close on this day 20 years ago, when "The Rocket" agreed to a three-year, $25.75 million deal with Toronto. The contract's average annual value of $8.25 million set a record for the highest awarded to a pitcher at the time, topping John Smoltz's annual average of $7.75 million with the Braves. It also included an option for a fourth year that later became guaranteed.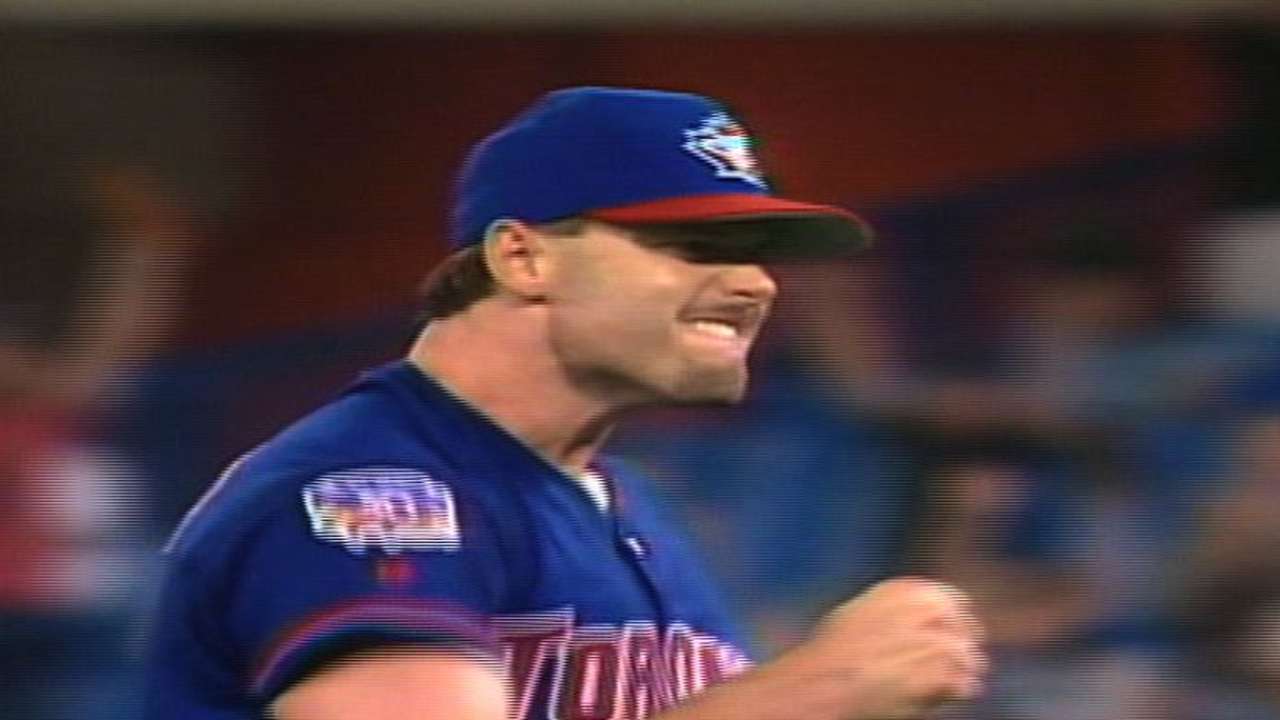 The move was seen as both a statement and a gamble at the time for an up-and-coming Blue Jays squad, considering that Clemens was entering his age-34 season, and had just posted back-to-back campaigns with an ERA higher than 3.50. The right-hander enjoyed an unprecedented late-career resurgence, beginning with his two years north of the border. He went 41-13 in Toronto, capturing consecutive ERA and strikeout titles, as well as his fourth and fifth AL Cy Young Awards in 1997-98. Though Toronto seemed to be forming a talented rotation by pairing Clemens alongside 1996 Cy Young winner Pat Hentgen and ERA champion Juan Guzman, the Jays couldn't get over the hump before trading Clemens to the Yankees in February 1999.
Dec. 13, 2000: Manny Ramirez signs with the Red Sox
Boston general manager Dan Duquette, now stationed in the Orioles' front office, kicked off the Red Sox's centennial season loudly on this day 16 years ago, by wresting Ramirez away from the Indians with an eight-year, $160 million deal. The contract briefly made Ramirez the highest-paid player in baseball, until Rodriguez stole the headlines by signing his industry-shattering, 10-year, $252 million contract with the Rangers a month later. Player options for 2009 and 2010, valued at $20 million each, pushed the total value of Ramirez's contract to his original asking price of 10 years and $200 million.
"I'm just tired of seeing New York always win," said Ramirez -- who grew up in Manhattan's Washington Heights neighborhood -- at his introductory press conference in Boston.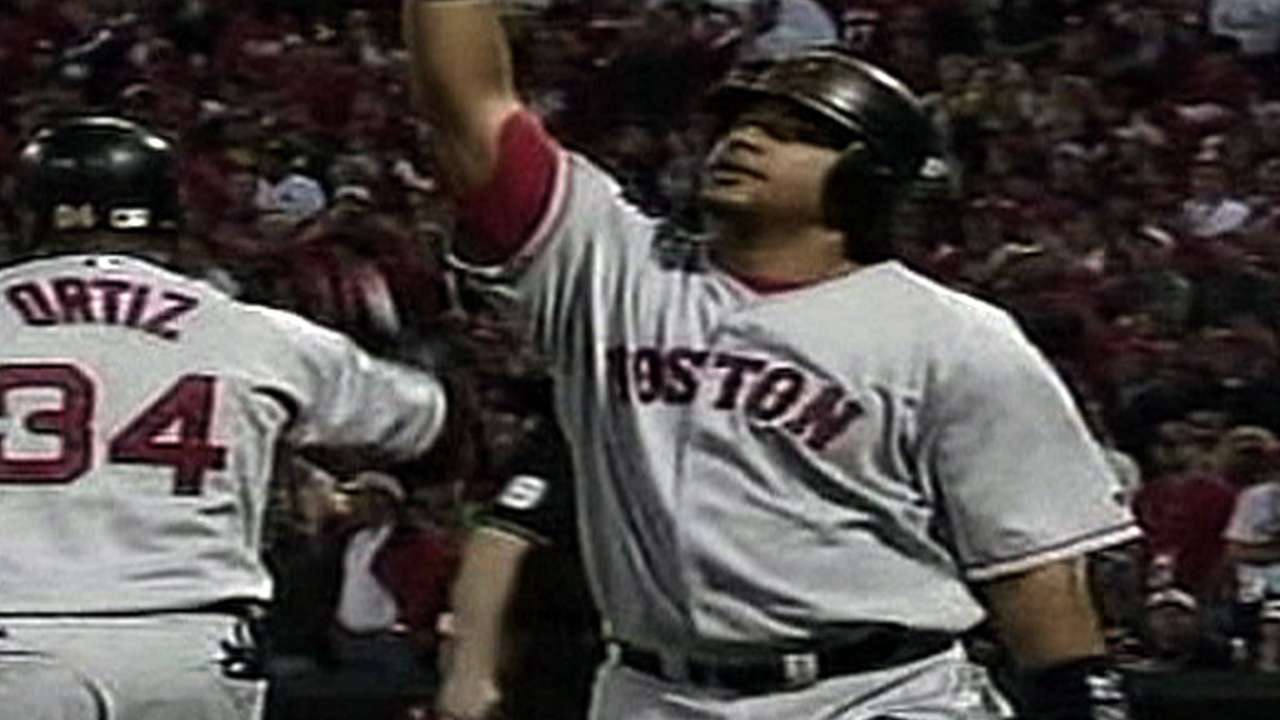 It was an unprecedented investment for Boston, but it paid dividends immediately. Ramirez famously cleared the Green Monster in his first home at-bat in Fenway Park in 2001, something he would do countless times over his seven-and-a-half seasons in New England -- especially against the Yankees. He was also instrumental in helping the Red Sox reverse the curse in 2004, when he was named World Series MVP, and then claim the title again in 2007.
December 13, 2007: A-Rod re-signs with the Yankees
Rodriguez holds the distinction of resetting the free-agent ceiling twice in his memorable career. After opting out of his aforementioned record deal during the final game of the 2007 World Series, Rodriguez made history once again, nine years ago today, by signing a 10-year, $275 million deal to remain with the Yankees. A-Rod famously negotiated his new contract without agent Scott Boras, after reports first surfaced that then-Yankees senior vice president Hal Steinbrenner would refuse to negotiate with the star third baseman because his opt-out nullified a $21.3 million subsidy the team was scheduled to receive from the Rangers.
"If he hung up on me, I wouldn't have been surprised," Rodriguez said of the initial rocky period with Steinbrenner. "I thought my career was over with the Yankees."
Far from it. Fresh off an MVP season in 2007, Rodriguez led the AL with a .573 slugging percentage in '08, before helping to lead New York to its 27th world championship in 2009. Despite signing his new landmark deal at age 32, Rodriguez played nine more seasons in the Bronx (with a potential 10th nullified by his year-long suspension in 2014), earning several more performance bonuses as he climbed his way into the 3,000-hit club, and up to fourth place on baseball's all-time home-run list.
Other notable Dec. 13 deals
Clemens, Ramirez and Rodriguez are not the only marquee players who signed the dotted line on Dec. 13. Jason Giambi inked a seven-year, $120 million contract with the Yankees on this day in 2001, and two years later, closer Keith Foulke signed a three-year deal with the Red Sox. Meanwhile, the 2017 free-agent puzzle is far from completed as several of the biggest names, including Edwin Encarnacion, Jose Bautista and Mark Trumbo, remain unsigned. It's unlikely any of those sluggers will move the needle the way Clemens, Ramirez and Rodriguez did, but if they were to sign a headline-making deal, history says today would be a perfect time to do it.
Matt Kelly is a reporter for MLB.com based in New York. Follow him on Twitter at @mattkellyMLB. This story was not subject to the approval of Major League Baseball or its clubs.