Inbox: How will Braves use Rodriguez?
Beat reporter Mark Bowman answers questions from fans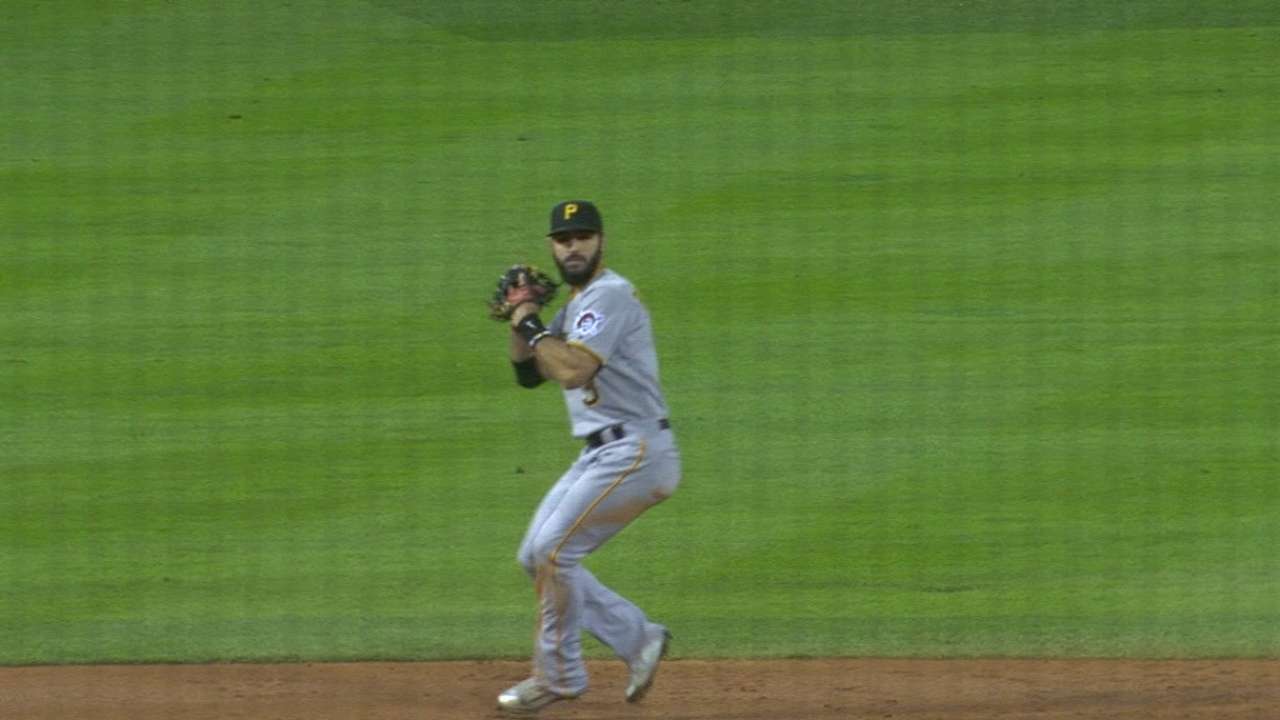 How do the Braves plan to utilize Sean Rodriguez?
-- Mary P., Knoxville, Tenn.
Maybe it had something to do with the fact I had just finished a half-marathon and had mom's Thanksgiving feast staring at me when I got the news, but I'll admit I was not initially enamored with the Braves signing Rodriguez to a two-year, $12.5 million deal.
Once I rehydrated, feasted and napped, I quickly came to realize how significant this deal might prove to be. We don't know if that recently developed leg kick will allow the 31-year-old infielder to duplicate the 18-homer, .859 OPS season he had with the Pirates last year. But we know Rodriguez stands as a super-utility option whose versatility could prove beneficial throughout both the infield and outfield. He doesn't need to be used in a strict platoon and, thus, I'm anticipating he'll end up logging more innings at second base than any other Braves player, at least until Ozzie Albies has a chance to prove whether he can recover from his elbow fracture and become Major League ready next season.
• Submit a question to the Braves Inbox
Rodriguez's presence also enhances the versatility Jace Peterson can provide while also playing each of the infield and outfield positions. If there's a day when manager Brian Snitker doesn't want to use Adonis Garcia against a tough right-hander, he'll have the option to put both Rodriguez and the left-handed-hitting Peterson in the same lineup.
What else should we expect the Braves to do this offseason?
-- Brian K., Tampa, Fla.
You know how general manager John Coppolella often says, "We're like 7-Eleven: We might not always be doing business, but we're always open." Well what he fails to mention is the fact that his 24-hour operation includes a cold-call approach with which he is essentially always trying to generate business or see where some "outside-the-box" ideas might lead.
If you're wondering if there is ever a time to sleep on the possibility of Coppolella making some kind of move, remember that the Opening Day Eve trade that sent Craig Kimbrel and Melvin Upton Jr. to San Diego was essentially consummated around 3 a.m. ET as Coppolella made his way from Orlando to Atlanta for his daughter Reese's 4th birthday party. The Justin Upton trade that brought Max Fried into Atlanta's system was completed while Coppolella was celebrating his son Edric's 6th birthday.
So given he has proven time and again how appropriate the 7-Eleven line is to his work ethic, we shouldn't assume Coppolella is done making moves simply because he has already constructed a roster he could take to Spring Training with legit aspirations to at least compete for a winning record during the regular season.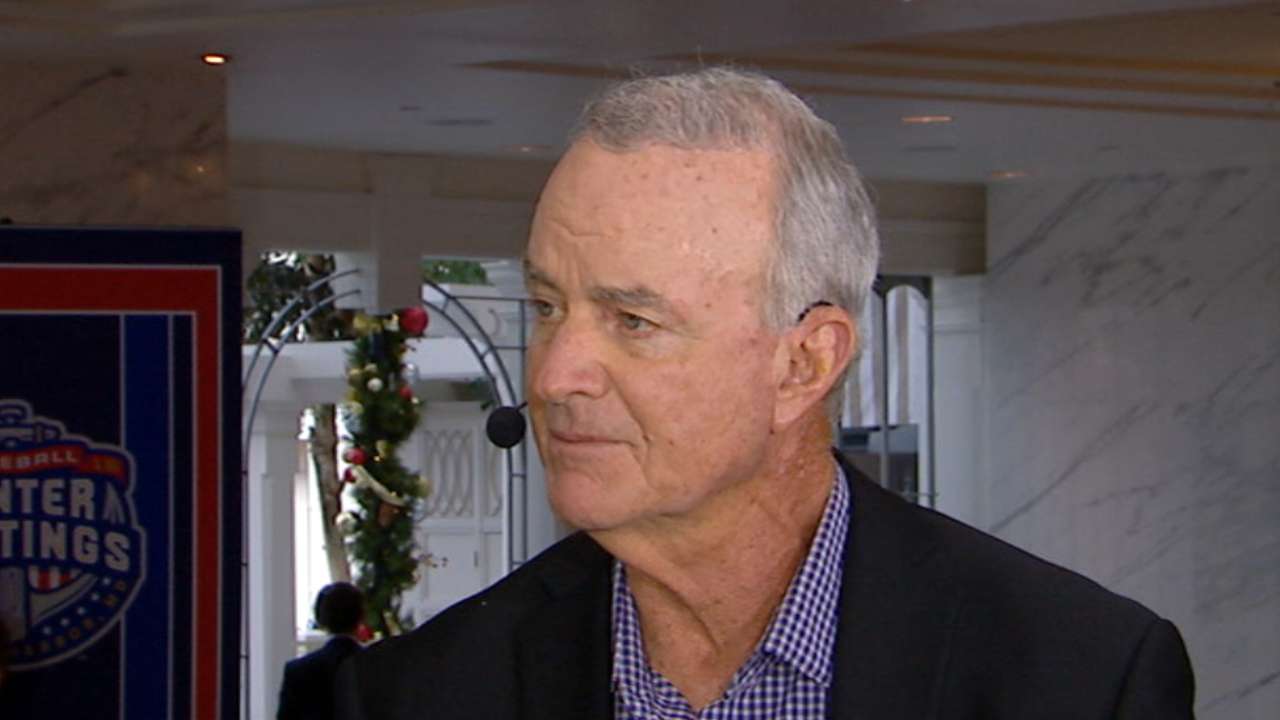 Even as Coppolella and president of baseball operations John Hart spelled out why it didn't necessarily make sense for them to trade for Jose Quintana last week, there was reason to believe Quintana or another similar proven starter might still be on the radar in the event that a sensible deal presents itself within the next couple of months.
The Braves have also indicated they would be comfortable entering the season with Tyler Flowers and Anthony Recker as their catchers. While this might be true, expect them to continue exploring trade options that might materialize once other teams get a better sense for how these next few weeks and months might influence their catching plans. The price of one potential free-agent target, Welington Castillo, will likely exceed the Braves' comfort zone.
If the Braves opt to put Mallex Smith at Triple-A Gwinnett to begin the season -- and it seems they're leaning that way -- they may opt to add another bench piece before the season. The versatility possessed by Rodriguez, Peterson and Chase d'Arnaud provides them a chance to remain flexible with their search. They haven't ruled out the possibility of reuniting with Kelly Johnson, who would bring some power potential, versatility and the option to get another of the Mets' prospects at some point next summer.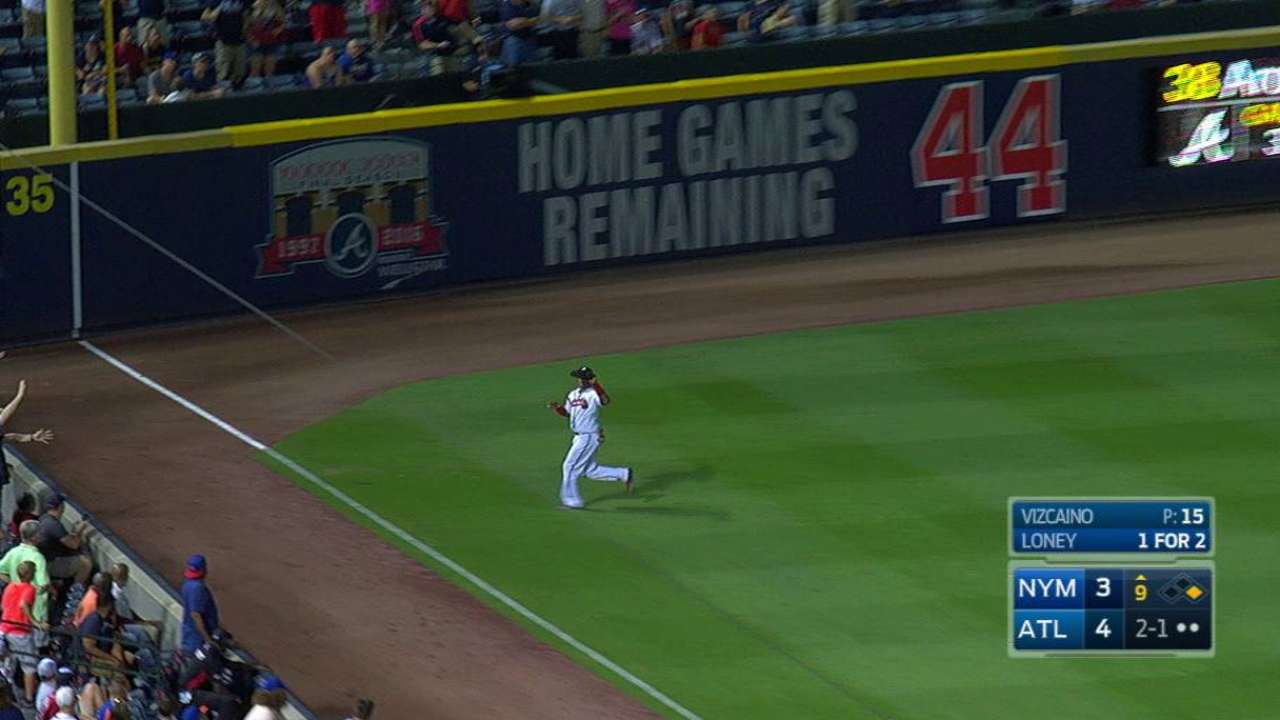 Who is the potential closer of the future? I don't see Arodys Vizcaino truly filling that roll.
-- Ray N., Atlanta
Given that Vizcaino compiled a 1.68 ERA and converted 15 of 17 save opportunities in the 49 appearances he made from Aug. 1, 2015-June 5, 2016, as the Braves' closer before arm ailments derailed him, I'm certainly not ready to give up on his potential to capably fill this role. But at the same time, I realize his health history creates some concerns about whether he will prove to be durable enough to handle these responsibilities on a long-term basis.
As you've seen, the Braves have been taking gambles on some power arms with the hope that some of these young relievers might suddenly find the strike zone, much like Jose Ramirez and Mauricio Cabrera did this past season.
Vizcaino, Ramirez and Cabrera provide the Braves some closing options for the future. But if lefty A.J. Minter lives up to the hype created this past season, he could also emerge as another late-inning weapon capable of handling high-leverage situations that extend beyond the game's final three outs.
Mark Bowman has covered the Braves for MLB.com since 2001. This story was not subject to the approval of Major League Baseball or its clubs.