Crew nets Bandy, deals Maldonado to Halos
Minors pitcher Gagnon also traded to Los Angeles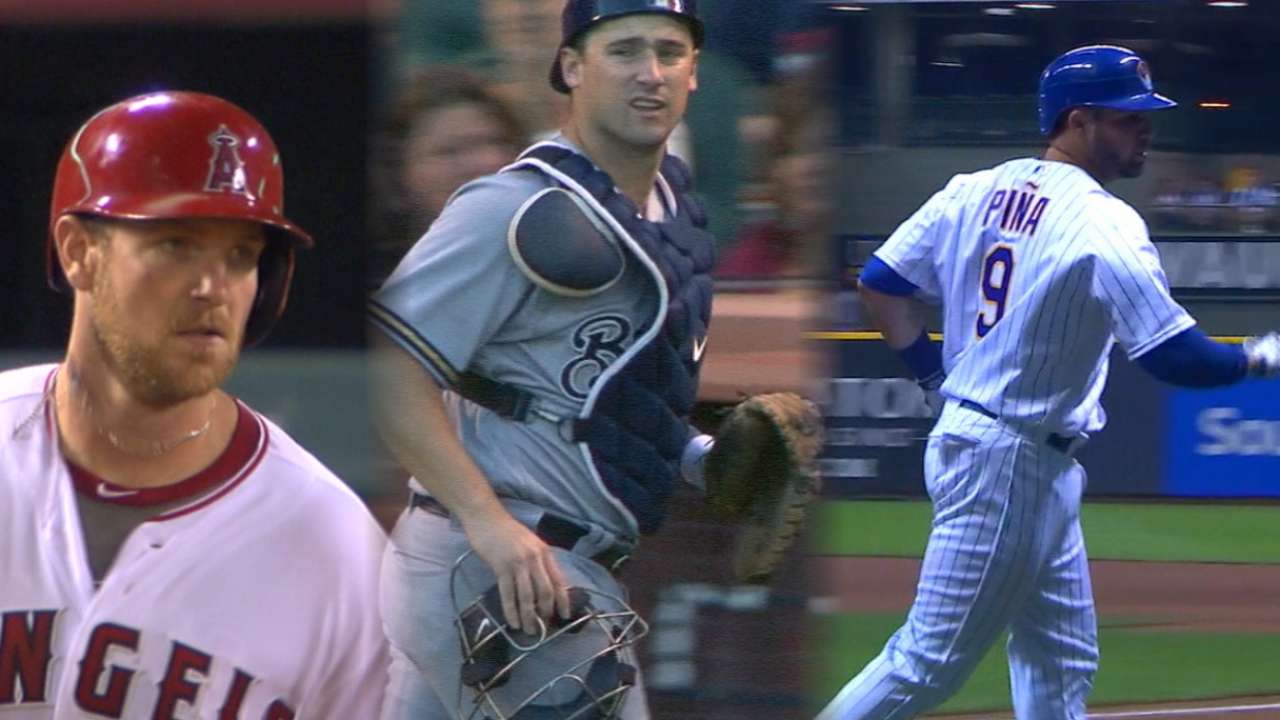 The Brewers got younger at catcher and the Angels brought home a player who once was their own in a swap between the teams on Tuesday.
The Brewers have traded longtime backup Martin Maldonado to the Angels along with Minor League pitcher Drew Gagnon for 26-year-old Jett Bandy, who joins Manny Pina and Andrew Susac as the leading candidates to work behind the plate for Milwaukee in 2017.
Maldonado, 30, is arbitration-eligible this winter and has two remaining years of club control. Bandy made his big league debut in 2015 and appeared in 70 games for the Angels this past season, hitting .234/.281/.392 with eight home runs.
"I'm a little bit surprised," Maldonado said, "but [Brewers general manager David] Stearns has been good with me about the whole situation. I know they're working really hard on rebuilding mode. That's part of the business.
"The Angels GM called me and said, 'Welcome to the Angels.' I said, 'No, welcome back.' I'm pretty excited."
Maldonado, a superior defender with a cannon of a throwing arm, was originally drafted by the Angels in 2004, but was admittedly immature and prone to off-the-field trouble as a Minor Leaguer and was released in January '07. The Mariners offered him a chance to pitch, but he signed with the Brewers instead and had been in Milwaukee's organization ever since, appearing in each of the past six seasons in the Major Leagues.
Maldonado spent most of that time as a backup to All-Star Jonathan Lucroy, appearing in just 355 games over that span. Maldonado is a .217/.299/.342 hitter, but he is better known for his assertive style of game-calling and 35-percent-caught stealing rate.
"When they released me, that was a wake-up call to me," Maldonado said of the Angels. "If that doesn't happen, I maybe never would have made it to the big leagues."
Maldy didn't play every day, but he had a flair for the dramatic: https://t.co/rdQy0Ih0dYhttps://t.co/c99hiWYGebhttps://t.co/LWcRNN00xI pic.twitter.com/PoScVvKgM8

— Adam McCalvy (@AdamMcCalvy) December 13, 2016
Bandy made it back to the big leagues with the Angels last May.
"I've been with the Angels my whole career, and this is my first trade," he said. "Life throws you a couple of turns here and there, and now I'm a Milwaukee Brewer and I'm happy to be one."
The Brewers will determine their catching rotation later, Stearns said. Pina is coming off two of his best Triple-A seasons, and he earned a look in Milwaukee late in 2016. The Brewers acquired Susac in an Aug. 1 trade with the Giants, and he made it to Milwaukee by season's end as well.
"He's a well-rounded catcher," Stearns said. "He comes with an above-average defensive profile across the board, has been a very successful catcher in controlling the running game throughout his career. That stems from both a strong arm and an exceptionally accurate arm. We believe he handles pitching staffs well.
"And on the other side of the ball, he comes with a great deal of power. He has a great deal of raw power that we believe has the potential to develop into home run power as he continues to mature in the Major Leagues. … It hasn't shown up in massive home run numbers throughout his career, but he's consistently hit the ball hard."
The trade marked the end of an era for the Brewers, who essentially had been set at catcher with Lucroy and Maldonado since 2011.
"We'll have to be cognizant of the fact that some of our pitchers and some of our catchers don't have a longstanding, pre-existing relationship," Stearns said. "We'll make sure that during Spring Training we take care to introduce those guys and make sure everyone gets exposure to various catcher and pitcher combinations."
Adam McCalvy has covered the Brewers for MLB.com since 2001. Follow him on Twitter @AdamMcCalvy, like him on Facebook and listen to his podcast. This story was not subject to the approval of Major League Baseball or its clubs.