Inbox: What does future hold for Galvis?
Beat reporter Todd Zolecki answers questions from Phillies fans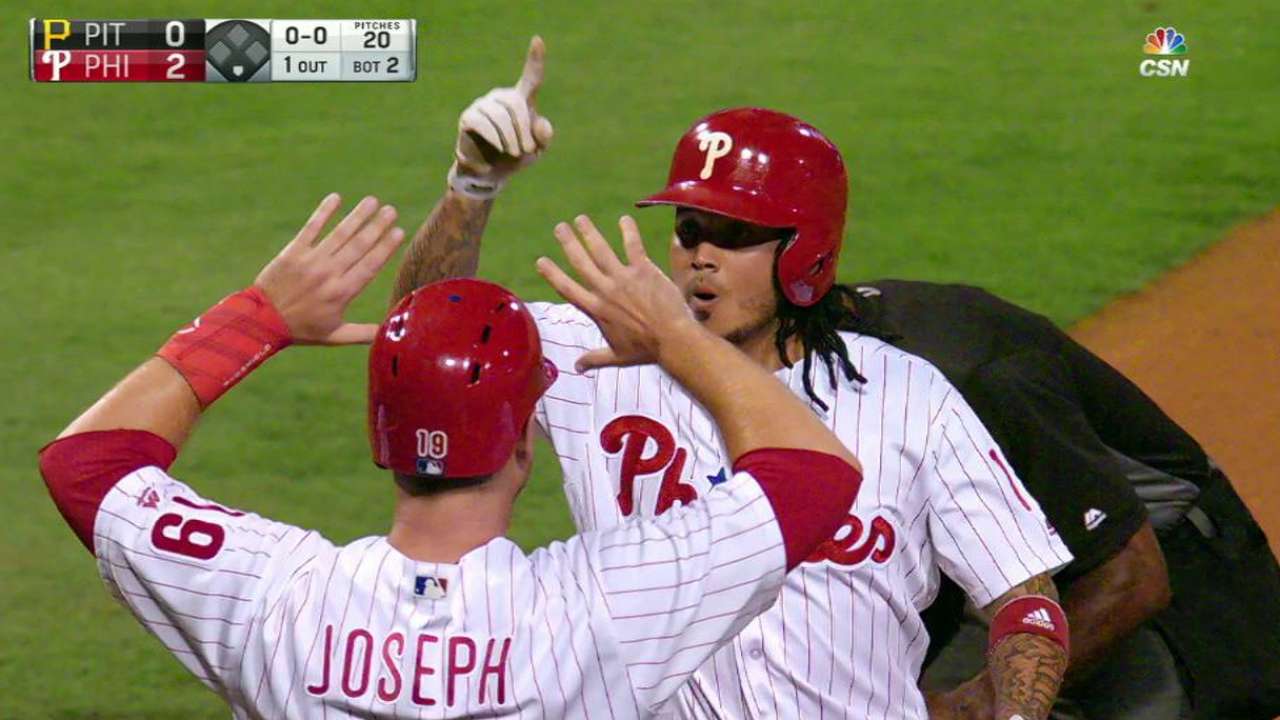 Do you think the Phillies will break up their outstanding shortstop (Freddy Galvis) and second base (Cesar Hernandez) double-play combo?
-- Debbie, Wilmington, Del.
Shortstop J.P. Crawford is the No. 2 prospect in baseball, according to MLBPipeline.com. He will open the season with Triple-A Lehigh Valley, but if he does what he is supposed to do, then he should be in the big leagues before the end of the season. And when Crawford arrives, he is not going to be a part-time player. Assuming that happens, the Phillies will have to figure out what to do with Galvis.
Galvis hit 20 home runs last season and played Gold Glove-caliber shortstop, but he also posted just a .274 on-base percentage, which was the lowest mark among 146 qualified hitters in Major League Baseball. If Galvis wants to continue to play every day, he needs to shorten his stroke and start getting on base more. One scenario would have Galvis moving to second base once Crawford arrives, but that might be a harder sell if Hernandez is getting on base at a .371 clip (as he did in 2016), compared to Galvis' .274.
• Submit a question to the Phillies Inbox
The Phillies are clearly waiting and hoping that some prospects mature into a nucleus that they can build around. What do you see as the tipping point at which they could move from "wait and hope" to "let's sign the difference-maker(s) we need to really go for it?"
-- Kevin C., Springfield, Pa.
If the Phillies see enough progress from their prospects and young players in 2017, I believe they will hit the free-agent market next offseason. But they probably will anyway because they have to re-engage the market at some point. I also believe they have their eyes on the 2018-19 free-agent class, which could include Bryce Harper and Manny Machado.
I'm a bit surprised at how many people lately (perhaps it is a vocal minority) are asking why the Phillies haven't attacked the free-agent market harder this offseason. Some wanted Ian Desmond or a hitter of that ilk, for example. Now, Desmond certainly would have helped the Phils' lineup next year, but I'd rather save the $70 million he cost and use it to try to sign a superstar in a year or two.
It is important to remember that 2017 is about the Phillies' young players. By the end of next year, the Phils will have a clearer picture about who can play and who can't. And knowing that should allow them to spend their money more wisely. In other words, if they had signed Desmond, they would have had fewer opportunities to learn about Roman Quinn, Aaron Altherr, Nick Williams and Dylan Cozens next season. What if one or two of those guys are the real deal? Then the Phillies can say, "OK, now we can spend our money somewhere other than the outfield."
When will the Phillies start playing for the playoffs again?
-- Yehudah C., Atlanta
I can see the Phils competing for at least a Wild Card spot in 2018.
Todd Zolecki has covered the Phillies since 2003, and for MLB.com since 2009. Follow him on Twitter and listen to his podcast. This story was not subject to the approval of Major League Baseball or its clubs.