Headley, Yanks seek strong start to season
Like club, veteran third baseman scuffled in April before turnaround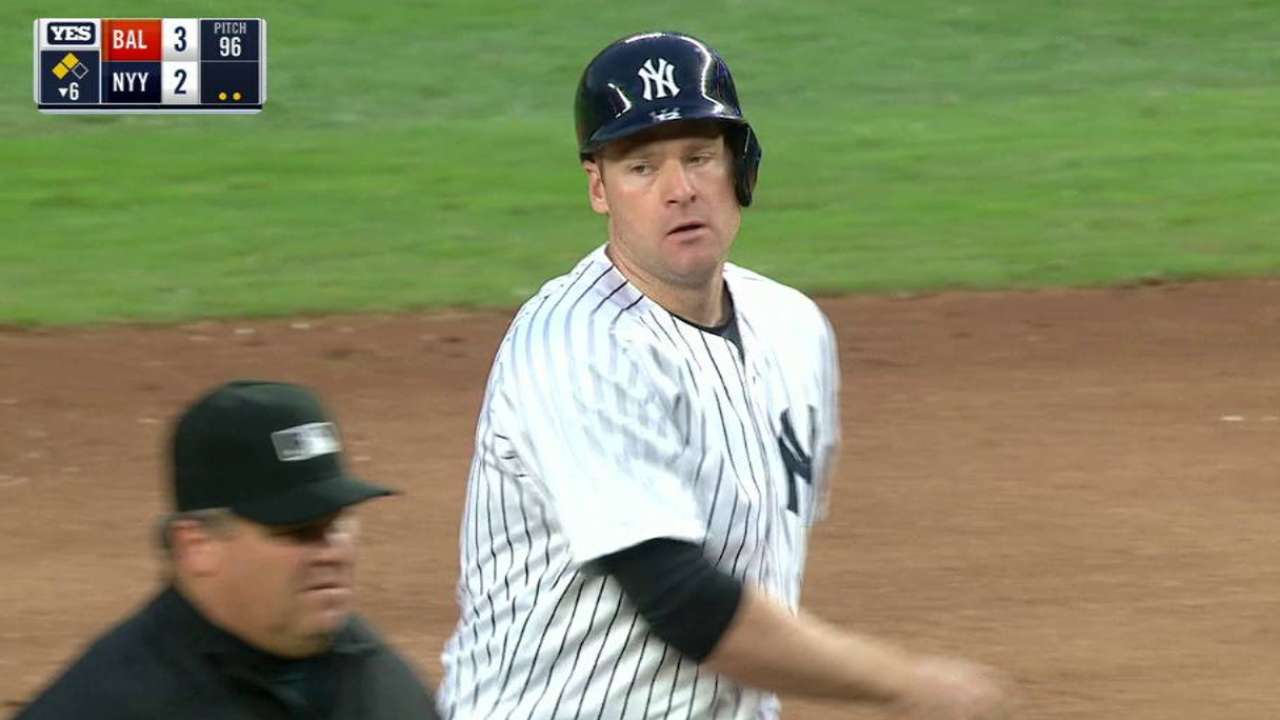 NEW YORK -- There were nibbles of interest when the Yankees dangled Chase Headley on the trade market this offseason, but general manager Brian Cashman said that he ultimately turned down what was presented to him, deciding instead to keep the veteran switch-hitter locked in at third base.
In all likelihood, that means Headley will return for a third full season in New York in 2017, making him an important part of the ongoing transition as the Yankees attempt to pull off the tough task of contending in the American League East while also continuing to break in their crop of fresh talent.
"It's exciting. I think the game is shifting to younger players; I think everybody is doing that," Headley said. "Our young players are exciting. Obviously [Gary Sanchez] has been otherworldly so far, but you see Aaron Judge, you see Tyler Austin, you see Rob Refsnyder. The pitching, Chad Green, [Bryan Mitchell] and [Luis Cessa] and [Luis Severino]. There's some intriguing arms there."
The 32-year-old Headley and outfielder Brett Gardner have been frequently mentioned as two of the most likely Yanks to be traded this offseason, but while Cashman said he continues to receive hits on Gardner, outside interest in Headley has cooled.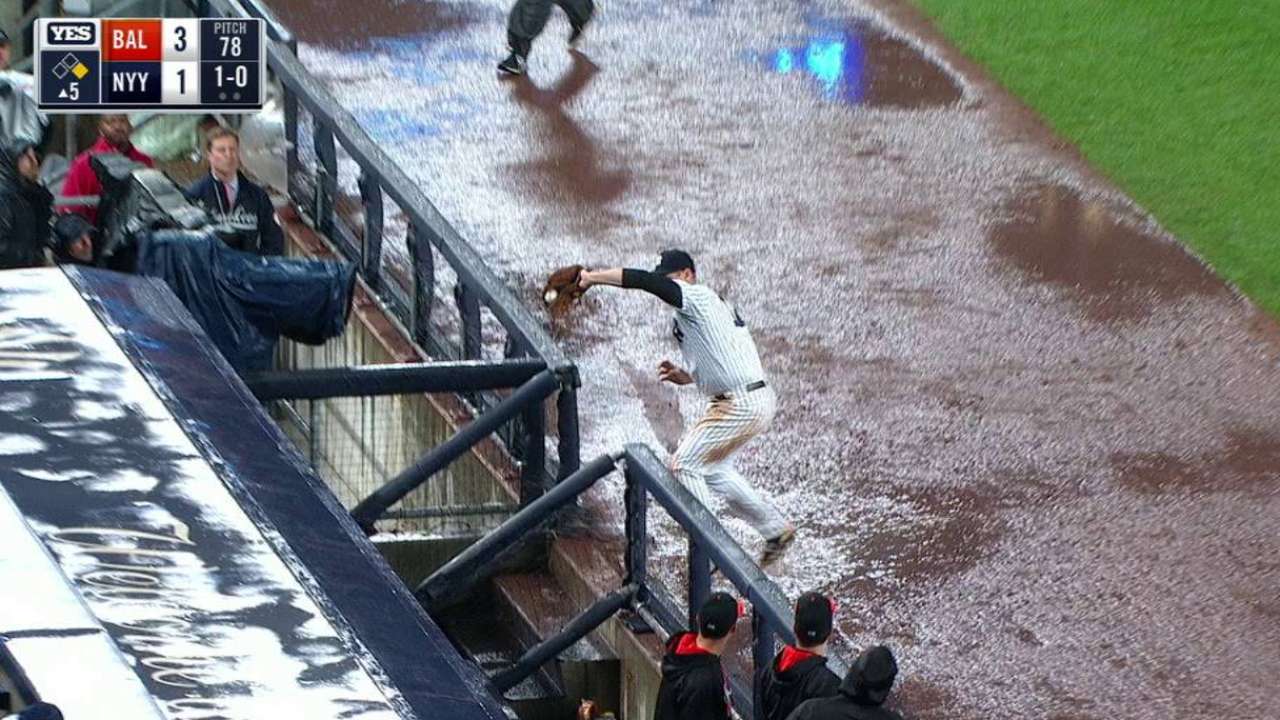 The Yankees balked at the idea of eating the majority of the two years and $26 million remaining on Headley's contract, and they will instead hope that Headley can continue the positive signs that he showed after fighting through a frigid April in which he batted .150 with no extra-base hits.
"I feel like I played pretty well, with the exception of the six weeks to start the season," Headley said. "You're judged by all of the season, so you can't just cut off one piece and say, 'I had a great season.' That's not how it goes. Obviously it was disappointing to start that way, because I think it contributed to the way that the team struggled early on."
Consistency was lacking in several departments for the Yanks, who could not help but look back at their 9-17 April and wonder what might have been. They went 75-61 (.551) the rest of the way, though it took until the middle of June to get above .500 for good.
"We talk about it in Spring Training, every game means the exact same amount," Headley said. "Toward the end of the season, you feel like you're playing bigger games, but the reason they're bigger games is because the games in the beginning that you didn't take care of business. That's the hole that we dug for ourselves, so we've got to find a way to do better next year to get out of the gate."
Headley finally got that elusive extra-base hit May 12, hitting a two-run homer against the Royals. From May 1 through the end of the season, he drove the ball more consistently, compiling a .265/.338/.418 slash line with 18 doubles, 14 homers and 49 RBIs in 121 games.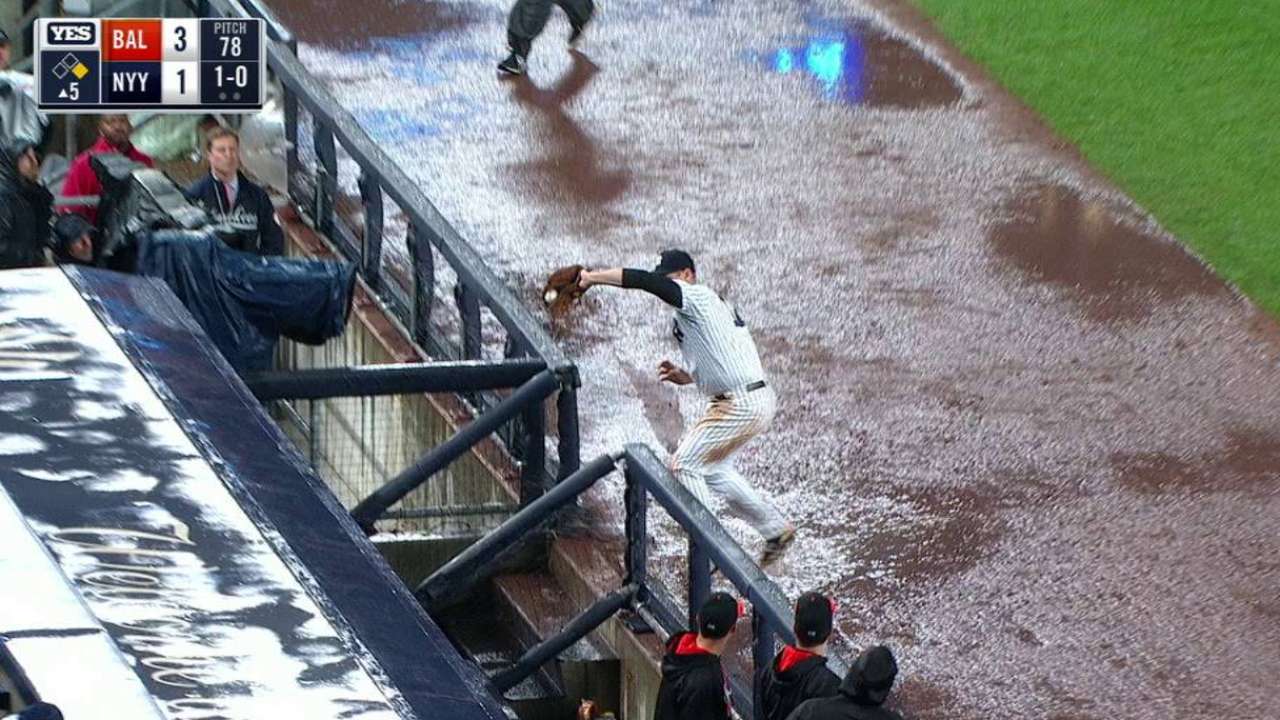 Headley said that there were mechanical issues that needed to be ironed out, crediting the assistance of hitting coaches Alan Cockrell and Marcus Thames, but simply finding a way to relax also helped.
"It certainly lasted longer than anything I've ever dealt with as far as struggling on the field. It was frustrating," Headley said. "I think I said even back then: right-handed, I felt pretty good, I just wasn't getting any hits from that side. Left-handed, I was really out of whack. For whatever reason, I couldn't right the ship for six weeks, which was a long time."
While Headley was satisfied with his defense, cutting his error total from a career-high 23 in 2015 to just 10, his .712 OPS ranked last among the 23 Major League third basemen who qualified for their league's batting title in 2016. His .329 on-base percentage ranked eighth out of the 12 qualified AL third basemen.
"I think I still have more offensively that I can do," Headley said. "I'm constantly talking with Alan and Marcus about some tweaks that we might be able to use and produce a little bit more."
Bryan Hoch has covered the Yankees for MLB.com since 2007. Follow him on Twitter @bryanhoch and on Facebook. This story was not subject to the approval of Major League Baseball or its clubs.