Versatile Jaso prepping to play some third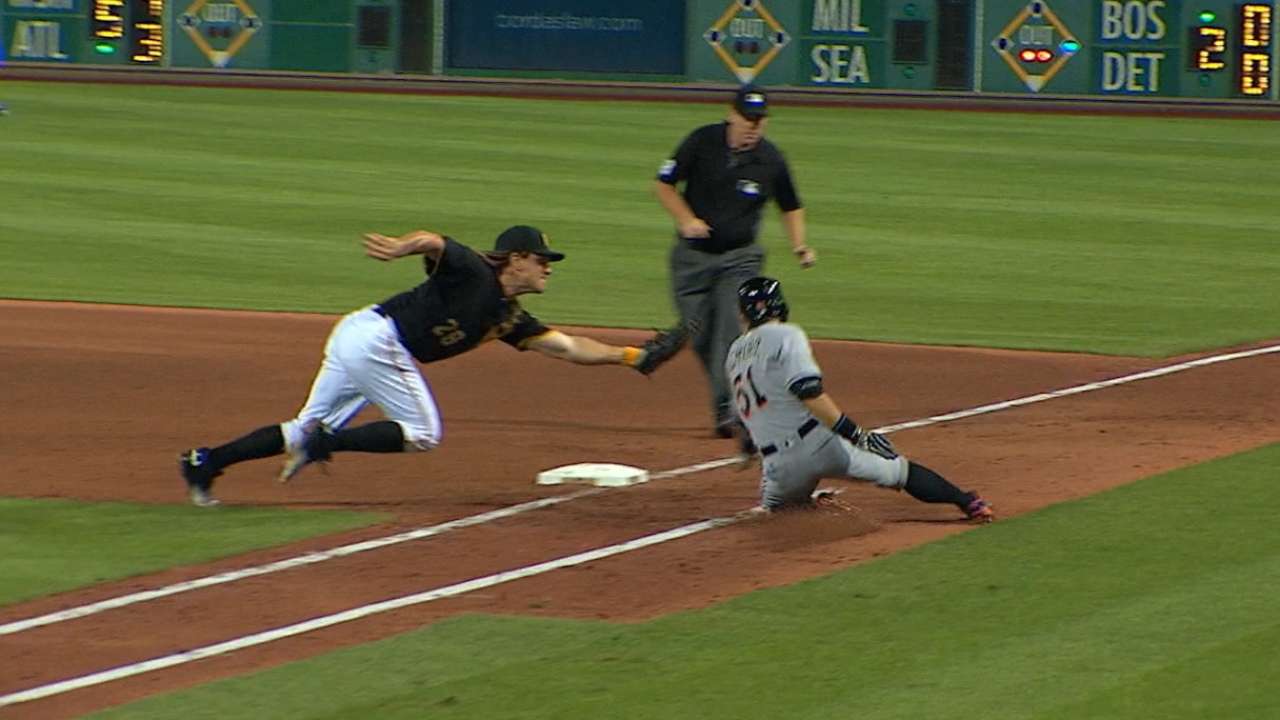 PITTSBURGH -- After heading home from a snowy weekend in western Pennsylvania, John Jaso planned to enjoy a bit more downtime on his boat, near the Gulf of Mexico's sunny shores. Then he can check his mail, unwrap a brand new glove and get to work.
Another new position, another January on the back fields of the Pirate City training complex.
"Grouper season ends Dec. 31, so I'll do it then," Jaso said, smiling. "I need to crush it before Dec. 31."
At the end of the season, the Pirates asked Jaso to work in right field, essentially preparing him to fill in for former teammate Matt Joyce as a left-handed-hitting outfielder while remaining at first base. Jaso took it a step further, volunteering to work at third base.
With his time behind the plate over, Jaso picked up first base quite quickly last season. He's worked in the outfield before. So why add third to the mix? As general manager Neal Huntington put it last week, the Pirates didn't want to "discourage" Jaso. It's hard to do so.
Fresh off learning first base, the 33-year-old is doing everything possible to keep a glove on his left hand and, in this case, a ball in his right hand.
"I like to throw the baseball. It's one thing I had catching, I feel like, was a strong arm," Jaso said at PirateFest. "I loved throwing the ball. First base, you don't get to do too much of that. Outfield, third base, you do. I just figure those corners, I'd probably do OK there."
The Pirates won't turn down his offer to add versatility. Jaso figures to sit behind Josh Bell on the first-base depth chart, though he'll still spend time there. He may even back up Bell late in games like Sean Rodriguez did for Jaso early this past season.
Huntington and manager Clint Hurdle have pointed to Adam Frazier and Alen Hanson as their likely super-utility replacements for Rodriguez, but Jaso's flexibility could help offset the loss while providing more offensive potential.
"I just want to set myself up in a good position where guys can have rest, I can get in the lineup somehow and increase my chances for playing time," Jaso said. "That's what I want to do. I want to play."
Jaso doesn't shy away from the work, either. His dreadlocked hair and relaxed demeanor may convey a carefree personality, but Jaso strives for excellence. He didn't play much outfield with the Rays, but he frequently tracked fly balls during batting practice in Tampa Bay. As Jaso put it, he won't be "content with mediocrity at all."
So for the second straight offseason, he'll commute south from his home in St. Petersburg Beach, Fla., to Pirate City in Bradenton. He spent three days a week there last January, working to learn first base. He might go four or five days a week next month -- after grouper season, that is.
"I love it. I love playing the game," Jaso said. "I'll be down there quite a bit."
Adam Berry has covered the Pirates for MLB.com since 2015. Follow him on Twitter and Facebook, read his blog and listen to his podcast. This story was not subject to the approval of Major League Baseball or its clubs.