MLB.com Columnist
Jim Callis
Mock Draft 1.0: Early look at 2017's Top 10 picks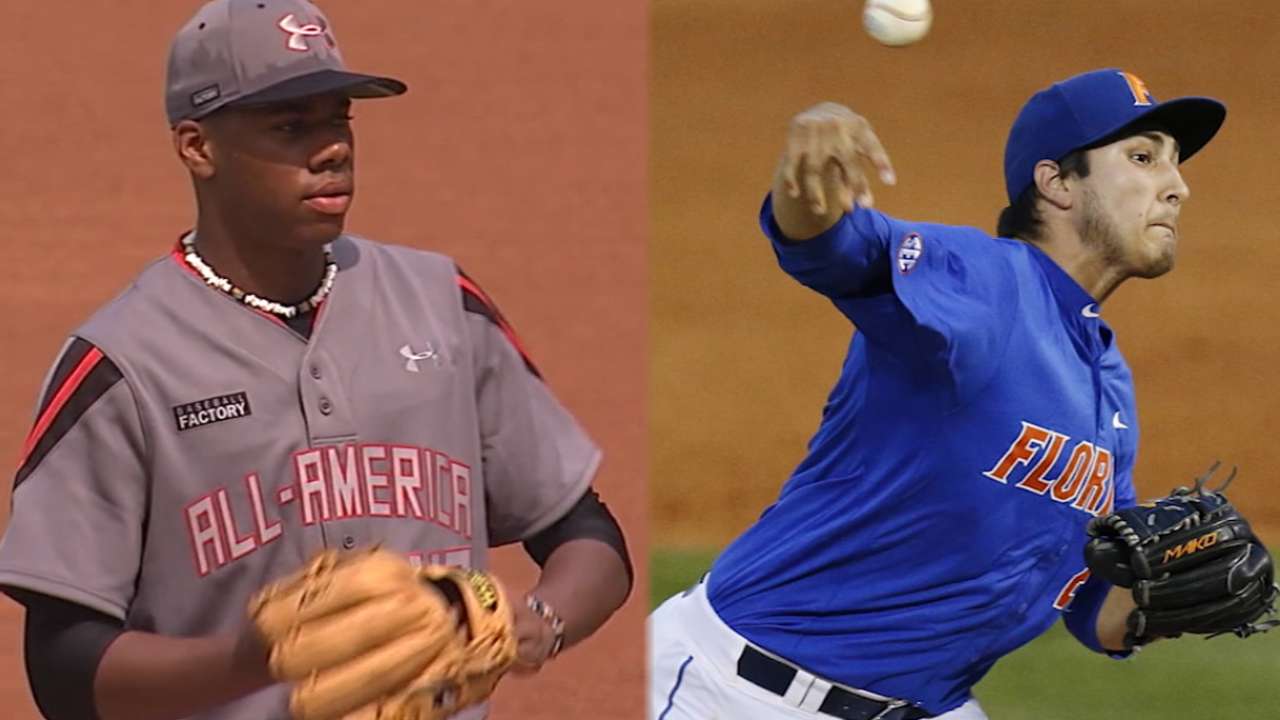 Six months in advance of the 2017 Draft, we're taking a stab at guessing how the first 10 selections will play out. It's too early to know anything for certain, but we'll give it our best shot. Last year, Jonathan even nailed the Rockies taking Riley Pint at No. 4.
Here's how we see the beginning of the Draft unfolding in June:
1. Twins
Callis: Alex Faedo, RHP, Florida. Hunter Greene is the consensus top prospect right now, but I can't see Minnesota's new regime becoming the first to take a high school right-hander at 1-1. The Twins are more apt to take whomever they deem as the best of a deep college pitching crop.
Mayo: Hunter Greene, RHP, Notre Dame HS (Sherman Oaks, Calif.). It's true that a high school right-hander never has gone No. 1 overall, but Greene is the kind of dynamic athlete and performer who could finally break that streak.
2. Reds
Callis: Jeren Kendall, OF, Vanderbilt. For the second straight year, Cincinnati takes a college bat at No. 2. Kendall is the best of a weak college position player class, with nifty all-around tools mitigated somewhat by swing-and-miss concerns.
Mayo: Kendall. In three of the past four years, the Reds have drafted at least one college bat in the first round. Kendall is the clear-cut best college position player in the Draft, so Cincy may not want to let him go by.
3. Padres
Callis: Greene. Just like in 2016, the first prep arm will come off the board at No. 3. Greene is too talented -- he'd be a first-rounder as a shortstop, too -- to last any longer than this.
Mayo: Faedo. A strong spring as the Gators' Friday night starter could mean he goes off the board in the top two, but the idea of Faedo pitching at Petco Park pretty quickly should have San Diego fans excited.
4. Rays
Callis: Kyle Wright, RHP, Vanderbilt. It's very possible that Wright will emerge as the best college arm and No. 1 overall pick, and that the first two selections both could be Commodores.
Mayo: Royce Lewis, SS/OF, JSerra Catholic HS (San Juan Capistrano, Calif.). In three of the past four Drafts, Tampa Bay has taken a high school bat with its first selection, so why not make it four out of five? The Rays haven't picked this high since having the No. 1 pick in 2008, when they took prep shortstop Tim Beckham over Buster Posey.
5. Braves
Callis: Lewis. After loading up on pitching at the top of the 2016 Draft, it makes sense for Atlanta to grab one of the few top-10-worthy position players. The Braves do have Dansby Swanson at shortstop, but many evaluators believe Lewis will end up in center field.
Mayo: Wright. The Braves have been high-school heavy in the past couple of Drafts. Imagine what adding an advanced college arm with front-line starter potential could look like.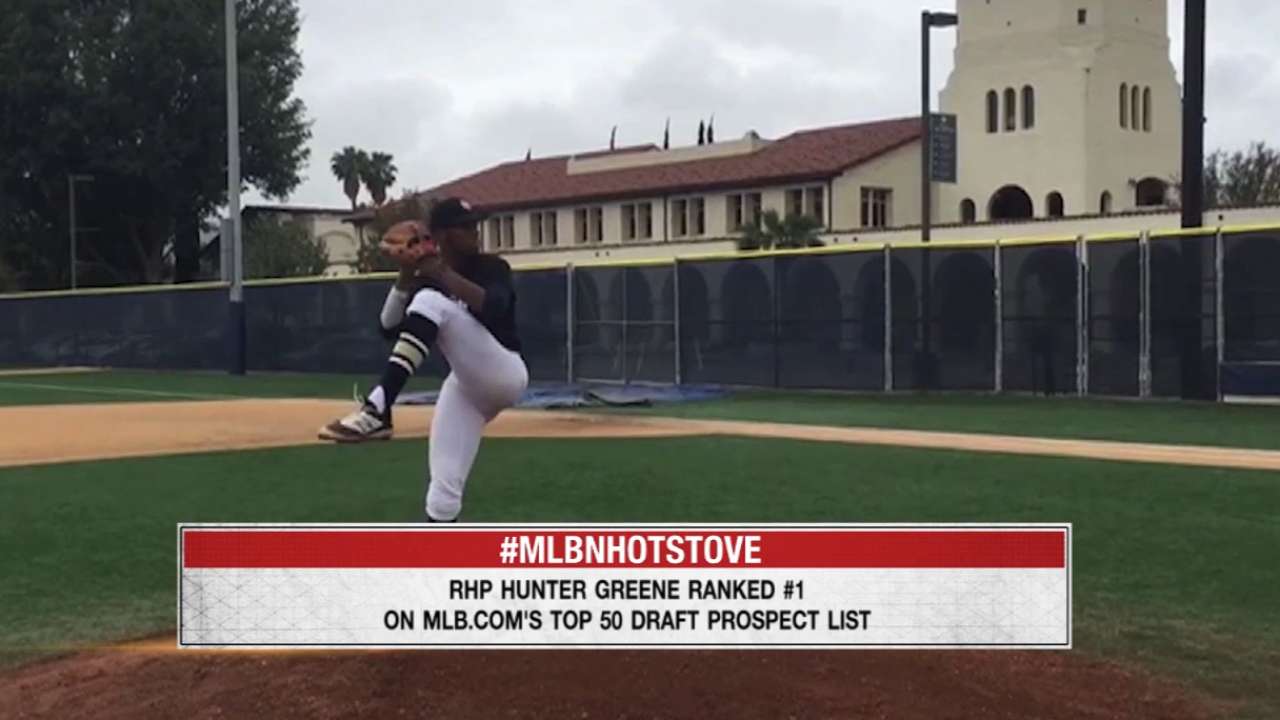 6. Athletics
Callis: Brendan McKay, LHP/1B, Louisville. Depending on who you talk to, McKay is a potential No. 3 starter and the best pure hitter in this year's college crop. He might be both.
Mayo: J.B. Bukauskas, RHP, North Carolina. After back-to-back high school bats in 2012 and '13, Oakland has gone back to college in the first round of the past three Drafts. Next June will make it four as the A's add Bukauskas after taking A.J. Puk from the college pitching ranks last June.
7. D-backs
Callis: Bukauskas. He has the most electric arm in college baseball, and Arizona (albeit a different regime) drafted him out of high school in 2014.
Mayo: D.L. Hall, LHP, Valdosta (Ga.) HS. The D-backs took college hitters with their past two top picks, including Swanson No. 1 overall in 2015, but there isn't one to take here. Scouting director Deric Ladnier did like high school lefties (Danny Duffy, Mike Montgomery) back when he was in Kansas City.
8. Phillies
Callis: Tanner Houck, RHP, Missouri. Philadelphia's system is hitter-heavy, so a quick-to-the-Majors pitcher like Houck would make sense.
Mayo: Houck. Houck's hard sinker could be a very good weapon in the Phillies' very hitter-friendly home park. After aggressively pursuing high school talent in the 2016 Draft, adding a more advanced college arm might not be a bad idea.
9. Brewers
Callis: Pavin Smith, 1B, Virginia. The demand for college bats is high while the supply is low, so they'll get pushed up boards. While teams would rather not take a first baseman this high, Smith can hit for average and power and play quality defense.
Mayo: Jordon Adell, OF, Ballard HS (Louisville, Ky.). Milwaukee hasn't been afraid to roll the dice on high-ceiling prep talent, and Adell might have the best all-around raw tools in the Draft class. Being able to touch 97 mph isn't a bad safety net, either.
10. Angels
Callis: Adell. He has the best all-around tools in this Draft, though he comes with some concerns about his bat. If Adell hits this spring, he won't last this long.
Mayo: Alex Lange, RHP, Louisiana State. Strong and durable, Lange has two plus pitches and an improving changeup that point to a future as a workhorse starter at the big league level. The Angels went college bat in last year's first round, but there isn't necessarily one that makes sense here in this class.
Jim Callis is a reporter for MLB.com. Follow @jimcallisMLB on Twitter. Jonathan Mayo is a reporter for MLBPipeline.com. Follow him on Twitter @JonathanMayo and Facebook. Listen to them on the weekly Pipeline Podcast. This story was not subject to the approval of Major League Baseball or its clubs.