Bucs' Stewart '100 percent' after knee surgery
Backup catcher says he's run full speed, made quick cuts with no issues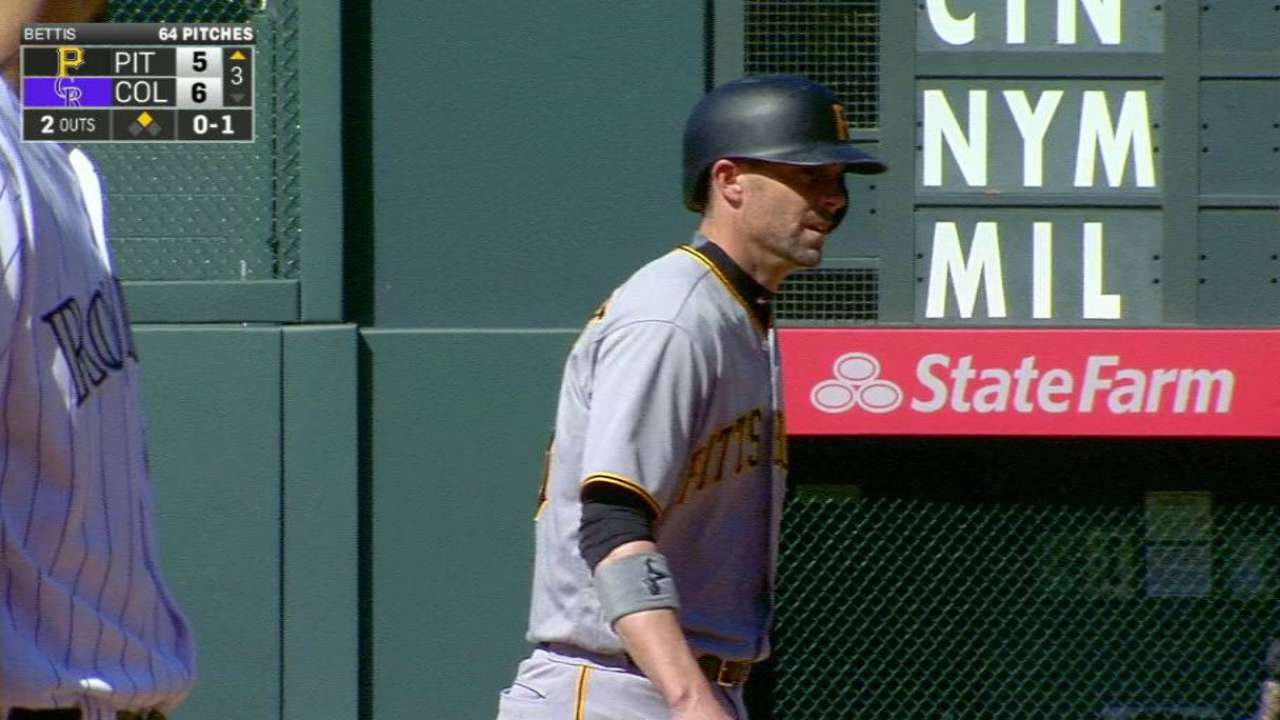 PITTSBURGH -- The Pirates used six catchers this past season, a revolving door that started spinning with injuries to starter Francisco Cervelli and backup Chris Stewart.
Stewart was particularly bothered by a balky left knee worn down by a career spent squatting behind the plate. The 34-year-old, limited to 34 games, underwent arthroscopic surgery on Sept. 20. He reported to PirateFest this weekend in top shape, already looking forward to Spring Training and what he hopes will be a healthy season.
"It's good. I feel like I'm back to 100 percent for the first time in six months," Stewart said Sunday. "I'm just anxious. I want to fast-forward to Spring Training, get on the field and really test it out."
Stewart said he has run full speed, made quick cuts and "probably done more stuff than is required of me on the baseball field," and his knee has held up fine. He was a valuable backup catcher in 2014-15, batting .292/.340/.336 in 107 games, but he hit just .214 in 113 plate appearances in '16.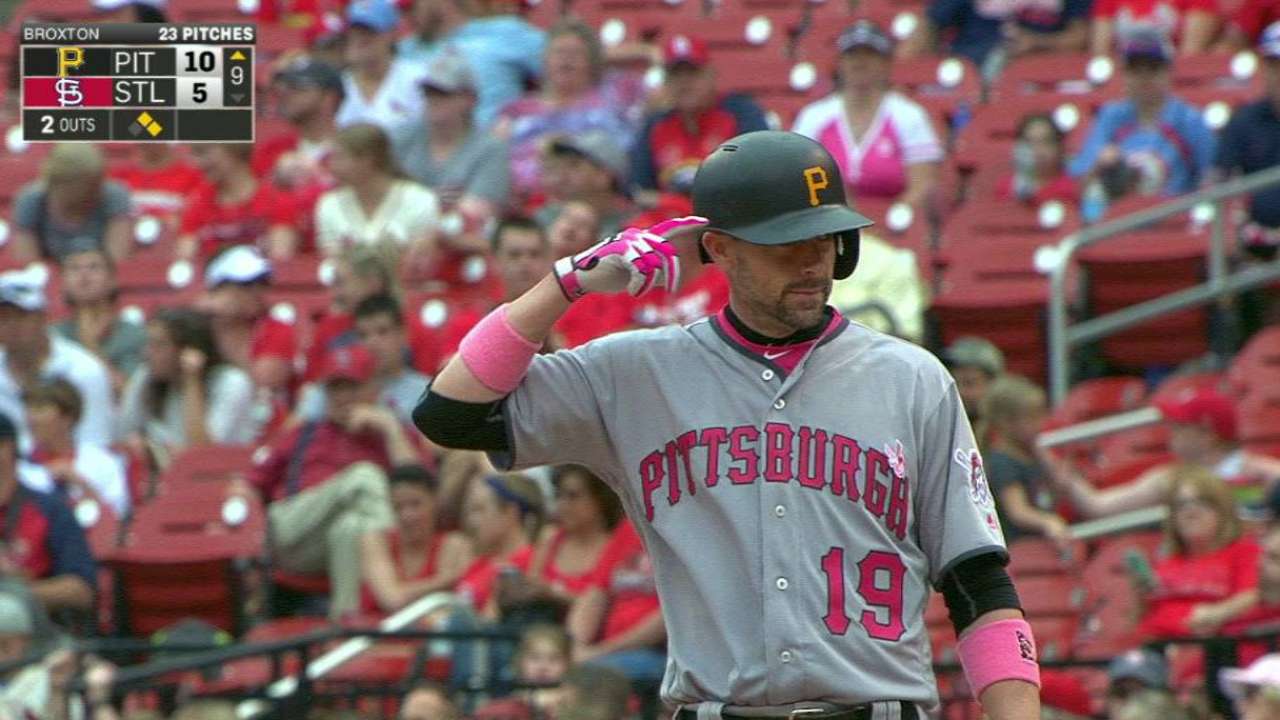 There were times this year when Stewart was physically unable to play on back-to-back days. The Pirates may not ask him to do so next season, but Stewart would like to be capable of playing consistently if the situation calls for it.
"I'd like to be able to be in there every day, but I'd also like to stay healthy and help the team," Stewart said.
Stewart signed a multiyear deal last offseason, giving him a guaranteed contract in Pittsburgh next season with an option for 2018. The timing was fortuitous, as Stewart could complete his rehab with an eye on the season, not feeling like he had to prove he was healthy as soon as possible.
"I feel great. My rehab went great. Still working to get back even better than when I started," Stewart said. "I feel like I'm in the best shape I've ever been in now. Still got six weeks to train, so I should be coming in ready to rock."
Around the horn
• Speaking to fans at Sunday's "Ask Pirates Management" session, general manager Neal Huntington reiterated the Pirates "are still engaged" with free-agent starter Ivan Nova. The Pirates worked to extend Nova toward the end of the season, but he is sure to be in high demand as possibly the top available starter on the open market.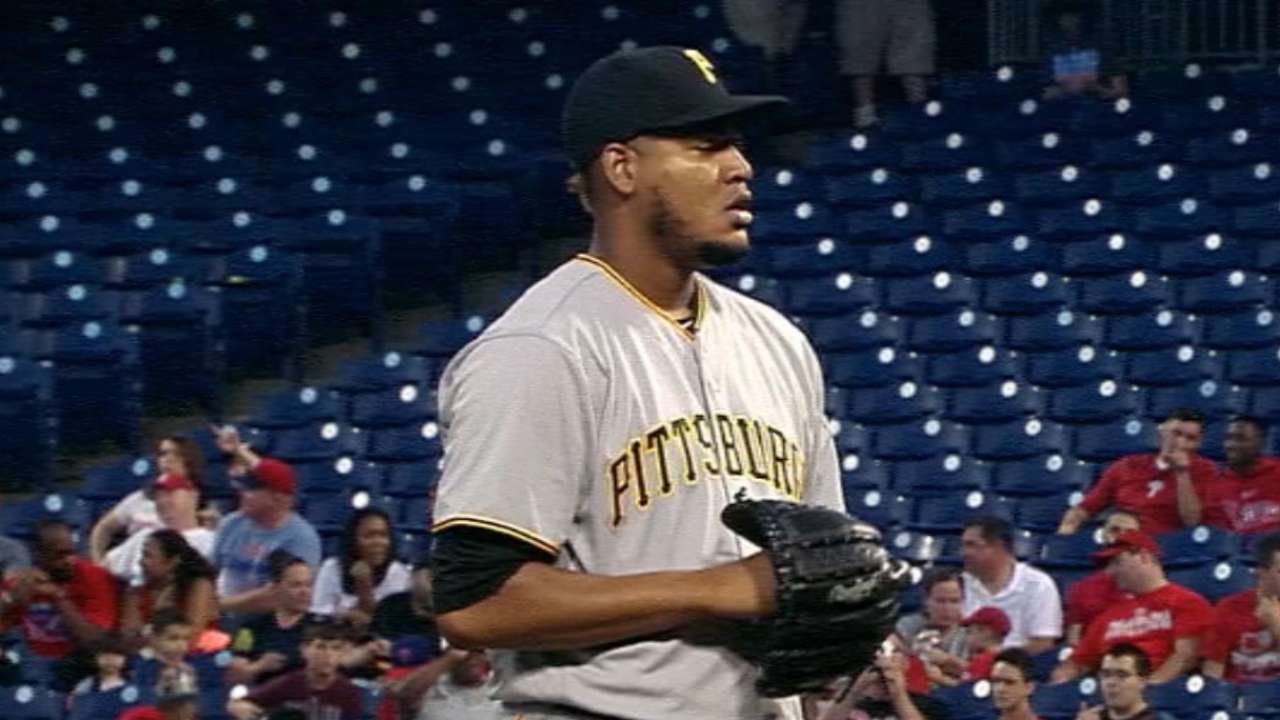 • Curiously, Pirates brass fielded at least three questions from young children about whether Starling Marte will move to center field next season, an ongoing storyline this offseason. When the question was asked for a second time Sunday, manager Clint Hurdle smiled and said he would "ask Santa" about it.
The Pirates have yet to reveal how they will align Marte, Andrew McCutchen and Gregory Polanco.
• Shortstop Jordy Mercer, who missed some time at the end of the season with a forearm/flexor injury, said he was back to 100 percent. He has played catch and completed rehabilitation work assigned by head athletic trainer Todd Tomczyk.
"I may even throw harder," Mercer quipped. "We'll see."
• Pitching coach Ray Searage confirmed left-hander Wade LeBlanc, recently signed to a non-guaranteed deal with an option for 2018, will be among the 10 or so pitchers stretched out to start in Spring Training. LeBlanc likely will wind up in the bullpen, but the Bucs were intrigued by his success as a starter in Triple-A early this past season.
Adam Berry has covered the Pirates for MLB.com since 2015. Follow him on Twitter and Facebook, read his blog and listen to his podcast. This story was not subject to the approval of Major League Baseball or its clubs.