Fuld's Wiffle Ball tourney features host of big leaguers
Event at South Florida will raise money to help fight diabetes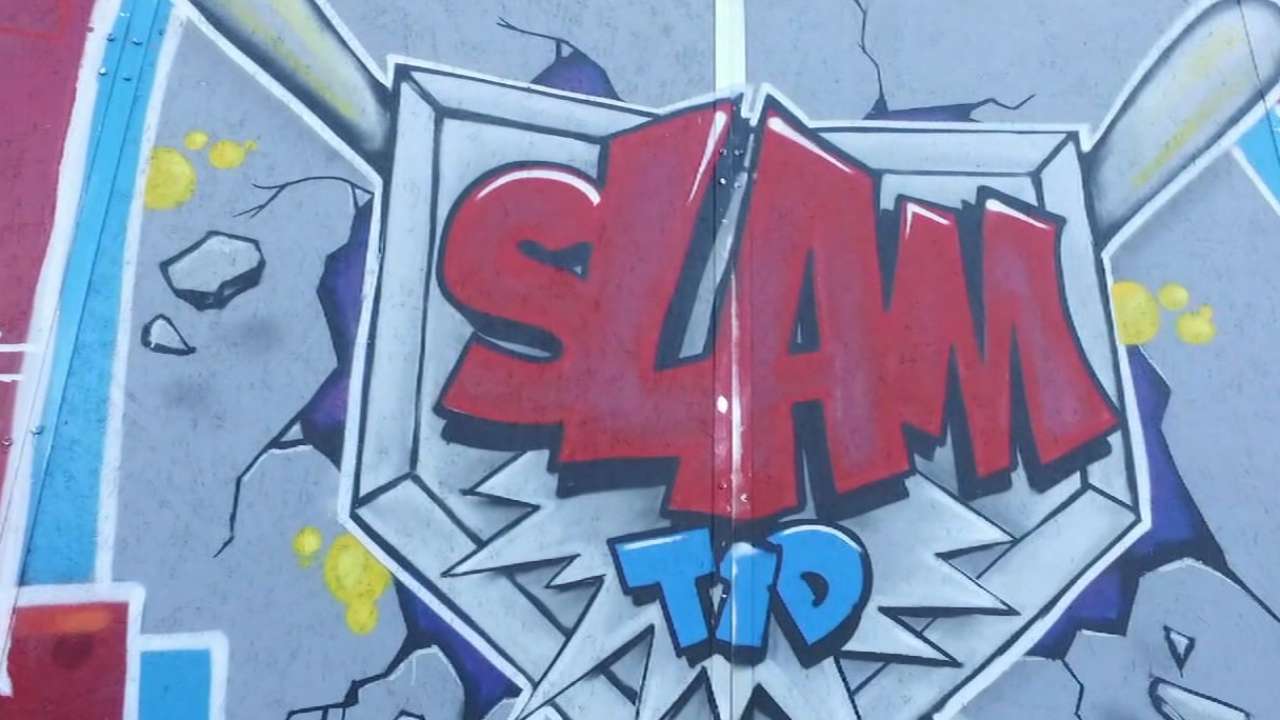 TAMPA, Fla. -- Every year, the SlamT1D Sam Fuld Classic on the University of South Florida campus is growing.
The Wiffle Ball fundraiser, hosted by the former Rays outfielder, has grown in three years from a small gathering to supplement Fuld's Type 1 diabetes camps to a yearly phenomenon. The number of teams has nearly doubled since the inaugural tournament in 2014 and the amount of money raised for Type 1 diabetes has quadrupled.
Last year's Fuld Classic in Tampa was spread across four mostly simple, miniature fields. There was a standard field with mesh walls, replicas of Fenway Park and Yankee Stadium using the same sort of fence, and a novelty "Sandlot" field dotted with fake trash and wooden fencing.
Little Wrigley is a different animal.
"I don't think that the crew would say extravagant," SlamT1D CEO Jeff Kolok said. "I think they'd say pain in the you-know-what."
The plywood walls are propped up with the help of steel beams. Replica ivy lines the wall to complete the authentic Wrigley aesthetic. The crew set up at South Florida on Tuesday, linking panels together to have the field in peak condition for Saturday's event. Once the field was in place, MLB.com set up a camera behind home plate and an announcers table along the first-base line for a livestream through the morning and early afternoon.
The third-annual classic was the most elaborate yet -- and in turn, raised its most money. After raising more than $50,000 in 2015, Fuld and Co. brought in more than $82,000 this year. Twenty teams competed for the tournament championship -- up from 16 a year before -- and there was at least one current Major League player or prospect there to pair with amateurs.
Fuld reprised his role as the captain of the Fighting Fulds, which included some former Stanford teammates. Tampa Bay starting pitcher Chris Archer sat on the bench for a team filled with Tampa Bay Rays employees. Rays outfielder Kevin Kiermaier helped guide the Broadview Bombers to the No. 1 seed. Blue Jays prospect Dante Bichette Jr., a St. Petersburg, Fla., native, suited up with his father, former Major Leaguer Dante Bichette, and former Toronto outfielder Chris Colabello with Wifflesauce.
Cubs manager Joe Maddon even sat in for the broadcast of the event's home run derby and all-star game.
"We've got more interest. We upped the number of teams in the tournament," Fuld said. "The fundraising numbers went up. The whole deal just continues to grow.
"It's not surprising. It's a whole lot of fun and the beauty of it is it's a level playing field."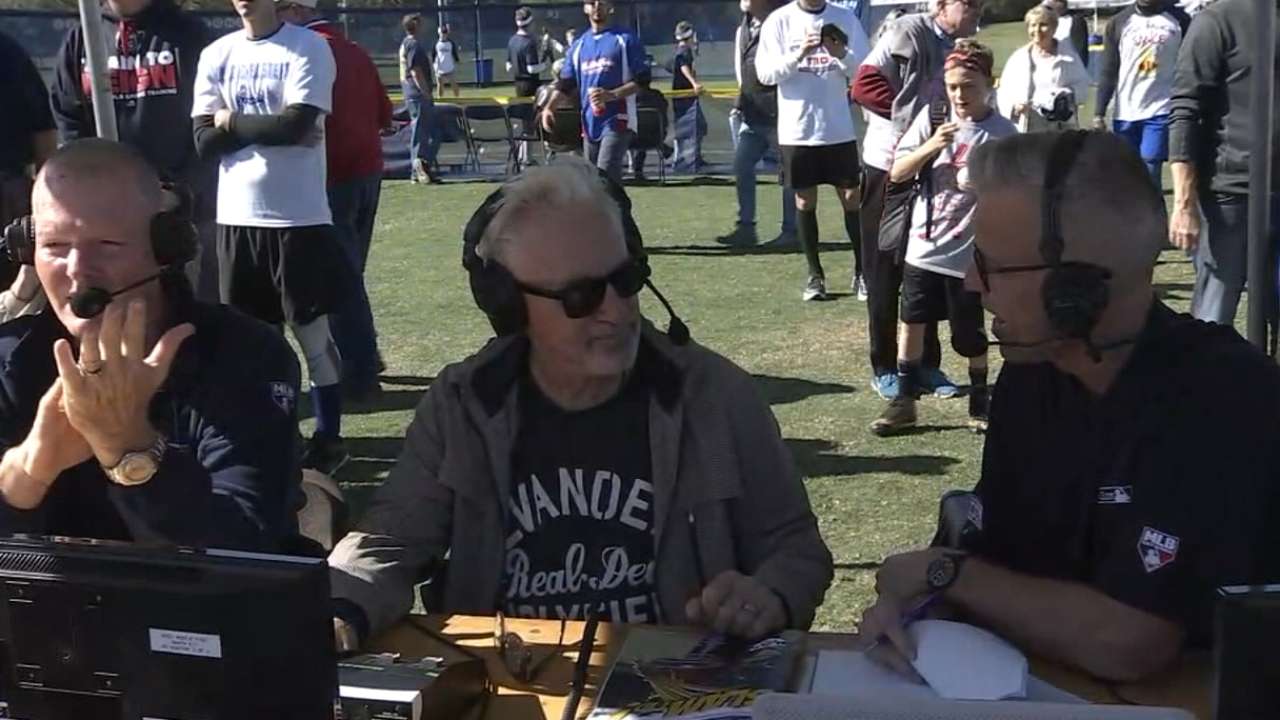 Fuld traded homers with a preteen opponent. Kiermaier dropped a rare fly ball. Giants starting pitcher Matt Moore pushed a slew of position players to their limit as the runner-up in the home run derby.
"It's coming down to reality," Braves infielder Sean Rodriguez said. "Knowing you can swing and miss at a Wiffle Ball a lot more than you would like."
Rodriguez, like most other players who try to attend the event on a yearly basis, has crossed paths with Fuld at some point during his career and seen the outfielder's devotion to this particular cause.
"It's something that he deals with, and he wants to raise awareness and raise money to help people out. I was all in," said Archer, who was traded from Chicago to the Rays in the same trade as Fuld. "He's a special guy. Anything he asks me to do, I'm going to do it."
Fuld, who now lives in Jupiter, Fla., was diagnosed with Type 1 diabetes when he was 10 and has run Sam Fuld's T1D Sports Camps at USF every winter since 2012. Kolok heard about Fuld's efforts a few years in and reached out to bring one of his SlamT1D tournaments to Florida.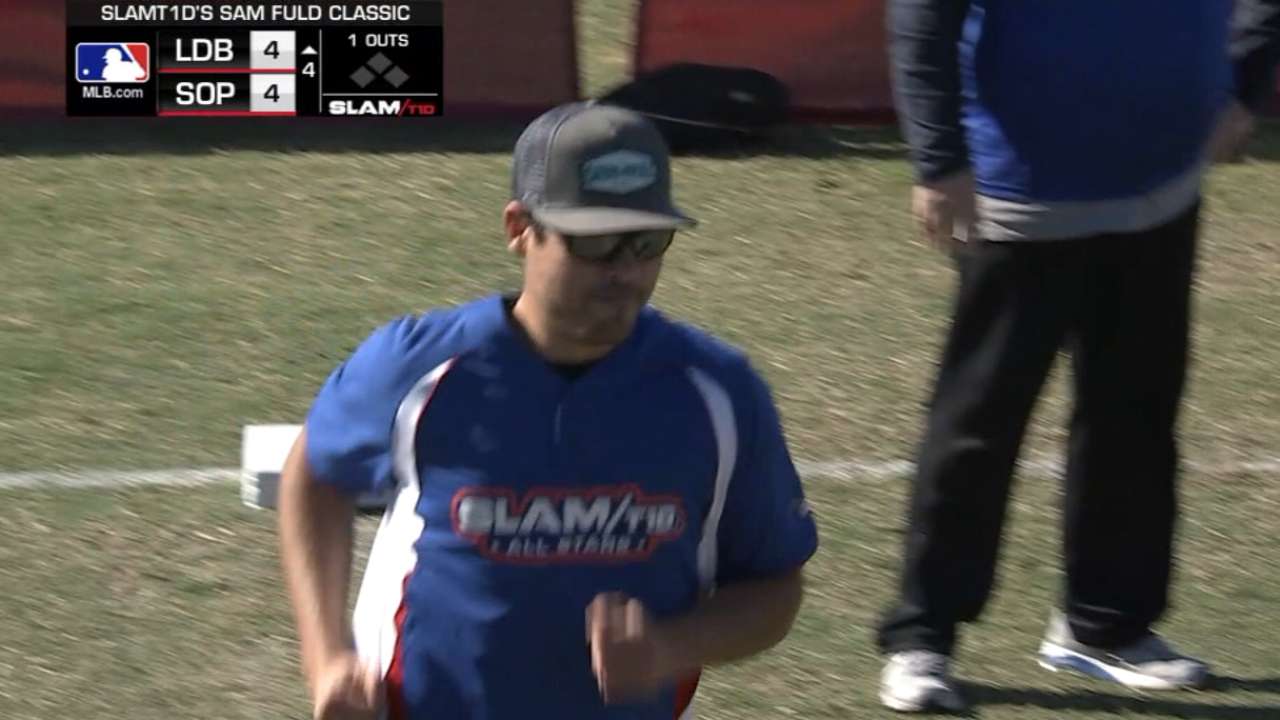 The Wiffle Ball tournaments were already a small phenomenon up in New England. The biggest tournament, in Kolok's home of Vermont, raised more than $100,000 this year and has drawn former MLB All-Stars Luis Tiant, Roy White and Bill Lee in past years.
Running camps strictly in the Northeast was limiting, though. They had to take place during the spring or summer, which meant current players couldn't attend. Working with Fuld has opened an additional pipeline.
"That's difficult for players who are current," Kolok said of his original tournaments. "This makes a lot more sense." Expect even more of these tournaments to pop up during the MLB offseason during the coming years. Fuld has expressed interest in bringing one to the east coast of Florida -- closer to his home -- and Kolok said he's talked to a number of players about bringing one to Arizona.
The event draws more than 200 players and dozens of additional spectators during only its third year. The level of competition is always strong, the participation of Major Leaguers is always expected and even the always volatile Florida weather has held up each year.
"We've been lucky," Fuld said. "Mother Nature is a Type 1 diabetic, maybe."