MLB.com Columnist
Alyson Footer
Diversity, inclusion points of emphasis at Winter Meetings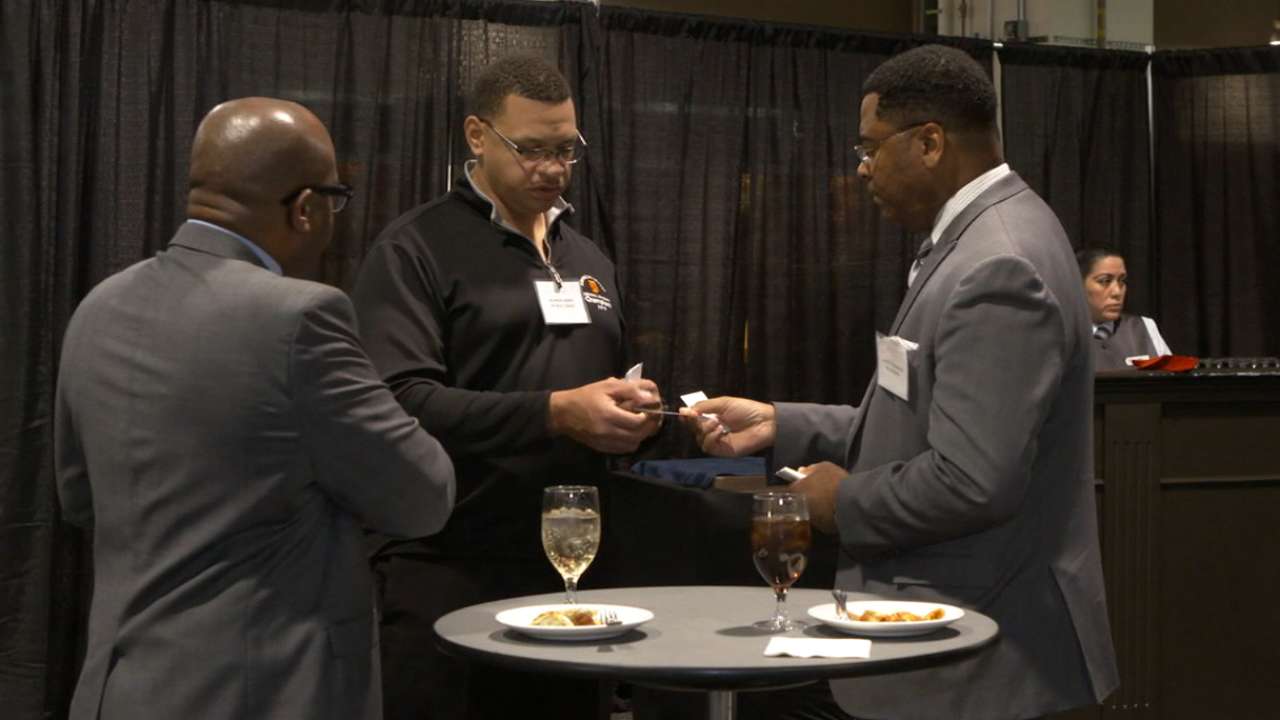 Trades and free-agent signings garner most of the attention at Major League Baseball's Winter Meetings every year, but the four-day industry convention isn't limited to wheeling and dealing among front offices.
MLB has become increasingly visible as a proponent of social responsibility, and has taken measures to ensure awareness is as much a part of its year-round business efforts as anything baseball-related.
At the Winter Meetings, MLB hosted several activities to continue its advancement into an era of inclusion, diversity and opportunity.
"We want to show there is a place for everyone in baseball," said Renee Tirado, MLB senior director, recruitment. "We will see these diversity efforts continue to grow."
The following is a list of events that took place this past week during the Winter Meetings:
Women in Baseball Networking Reception
MLB hosted a networking reception for women across the industry attending the Winter Meetings. Annually, close to 100 women attend the meetings from the Office of the Commissioner, MLB Advanced Media, MLB Network and the 30 clubs. The reception allowed the attendees to connect with contacts, meet new colleagues and share tips for success.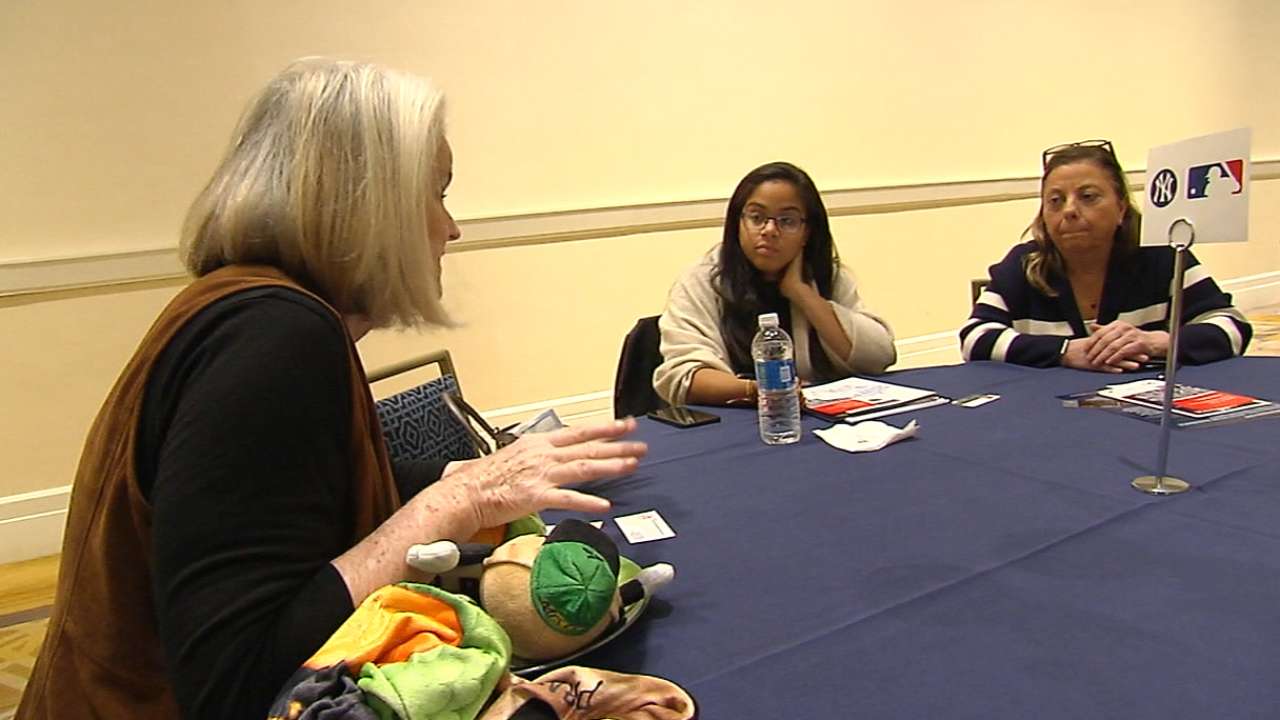 Pathways to Careers in Baseball Panel
Six leaders in the industry were featured during this panel, which engaged the audience in a discussion about tips and takeaways to entering a career in baseball operations.
This was a diverse panel that included longtime executives firmly entrenched in their careers as well as those whose paths in baseball began in more recent years.
The group included Kim Ng, MLB senior vice president of baseball operations; Farhan Zaidi, Los Angeles Dodgers general manager; Rachel Balkovec, Houston Astros strength and conditioning coordinator; Oz Ocampo, Houston Astros international baseball operations; Ronnie Richardson, Kansas City Royals director of Minor League operations; and Amanda Hopkins, Seattle Mariners scout.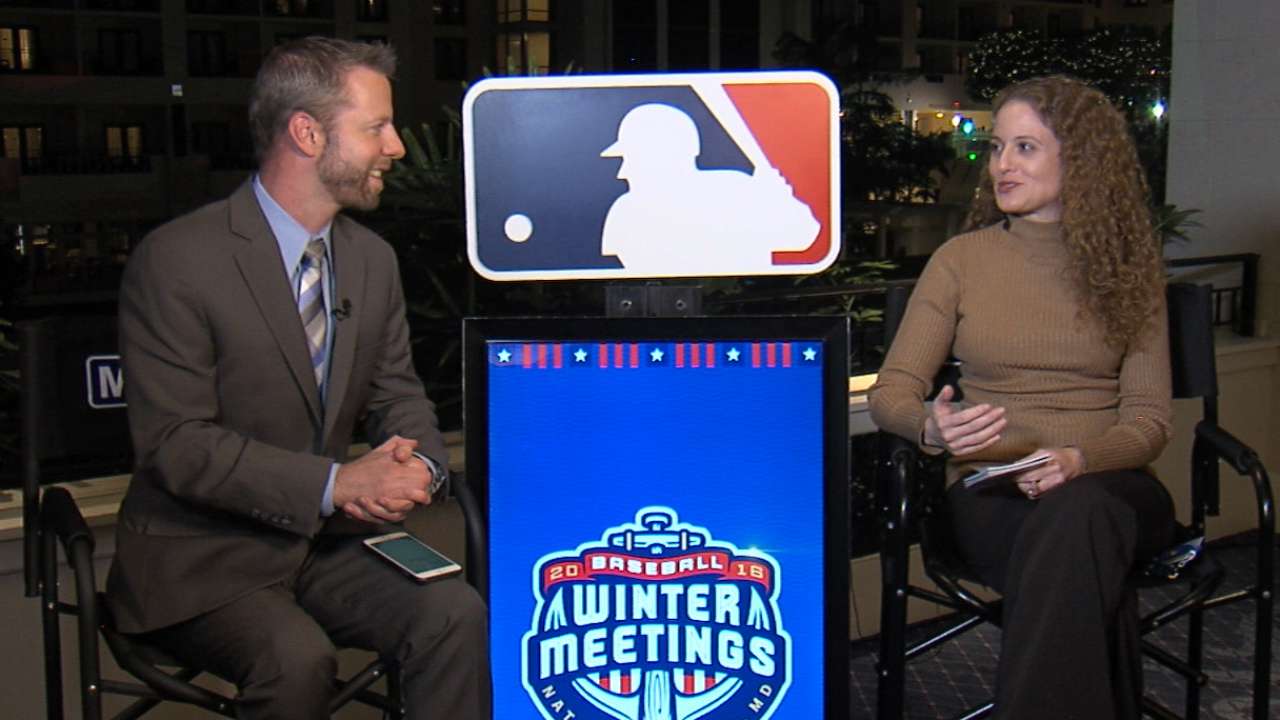 Inclusion Presentation to Farm Directors
Vice president of social responsibility and inclusion Billy Bean addressed club farm directors, reviewing 2016 efforts around the league and previewing the content he will use for '17 Minor League camp attendees during Spring Training.
Bean has spent most of the past 2 1/2 years since the Commissioner appointed him to spearhead inclusion and awareness efforts speaking with hundreds of people in baseball, from the Commissioner's Office to the front offices of the 30 teams to every level of each organization.
Domestic Violence Awareness
This was the second year that Major League Baseball conducted an open Domestic Violence, Sexual Assault and Child Abuse (DVSA) training session for club personnel.
Training presentations hosted by the Commissioner's Office covered an overview of the MLB Non-Playing Personnel Policy, including related information such as policy-specific definitions of domestic violence, sexual assault and child abuse; information on the bystander approach on being a proactive positive ally through realistic, safe, and practical means; intervention best practices, which includes redirecting information and or seeking advice from expert service providers; and key takeaway information specific to available local and national resources/services.
Winter Meetings Auction
Annually, MLB hosts a charitable auction to support individuals and families affected by cancer. An exciting array of unique MLB and club items were available, with proceeds benefiting MLB Charities, while also supporting Play Ball programming and the renovation of the newly dedicated Shannon Forde Field in Little Ferry, N.J.
Forde, a pioneer for women in baseball public relations who worked for the New York Mets for 20-plus years, battled breast cancer for several years until passing away on March 4, 2016. Renovations to Shannon Forde Field, in Little Ferry, where Forde grew up and lived with her husband and two children, will include dugouts with protective fencing and benches, perimeter fencing, bleachers, a backstop and scoreboard and field signs.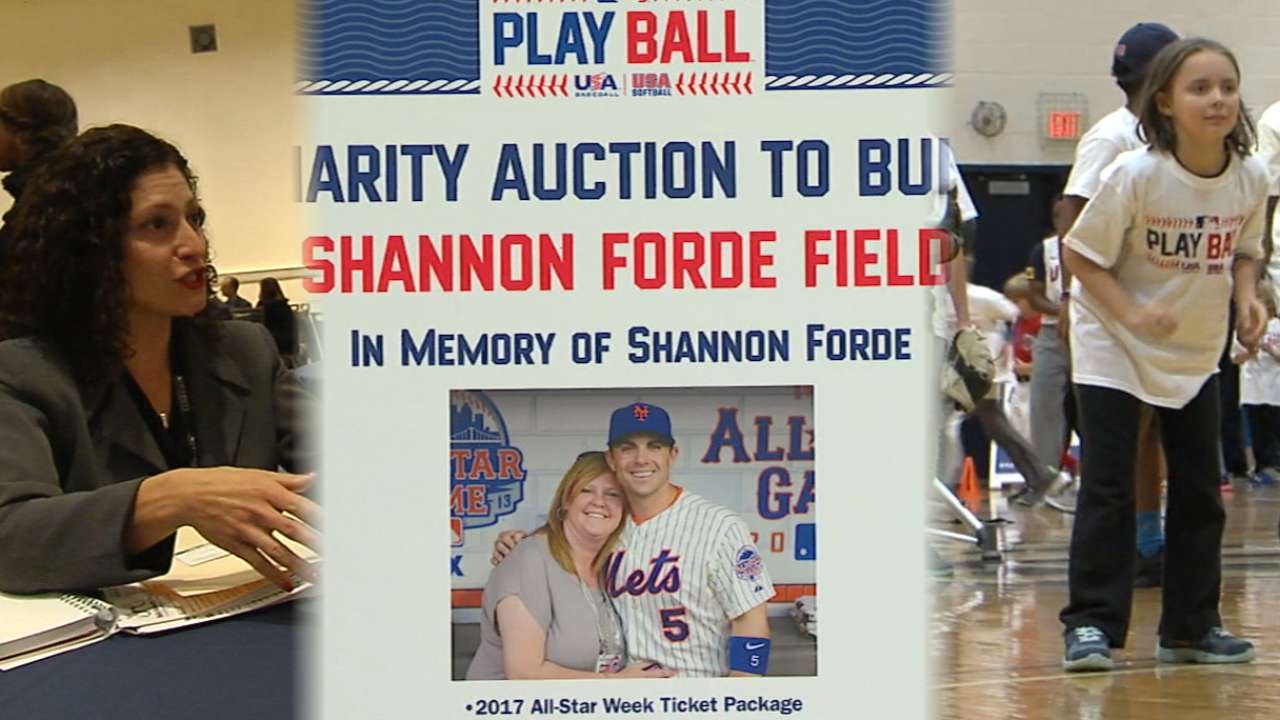 The Winter Meetings Auction began four years ago and has raised over $900,000 for several cancer-related causes as well as providing assistance to families of baseball executives and media members who died from the disease.
"For the 30 clubs and the league to come together for the cause of cancer -- whether it's been Stand Up To Cancer or Lungevity or a specific person who has passed and we're helping the family with expenses to get by -- it's extraordinary," said Melanie LeGrande, MLB director of community affairs. "For in five years to generate more than $900,000, it's compelling and impactful."
Play Ball event
MLB hosted a Play Ball event for 200 youth representing the DC District 3 Little League (Dept. of Parks and Recreation), Washington Nationals Youth Baseball Academy and Kendall Demonstration Elementary School, which serves deaf and hard of hearing students from birth through eighth grade.
Former Major Leaguer and the MLB ambassador of inclusion Curtis Pride joined MLB executives, USA Baseball and USA Softball clinicians and others in working with the youth at Gallaudet University, where Pride is head baseball coach.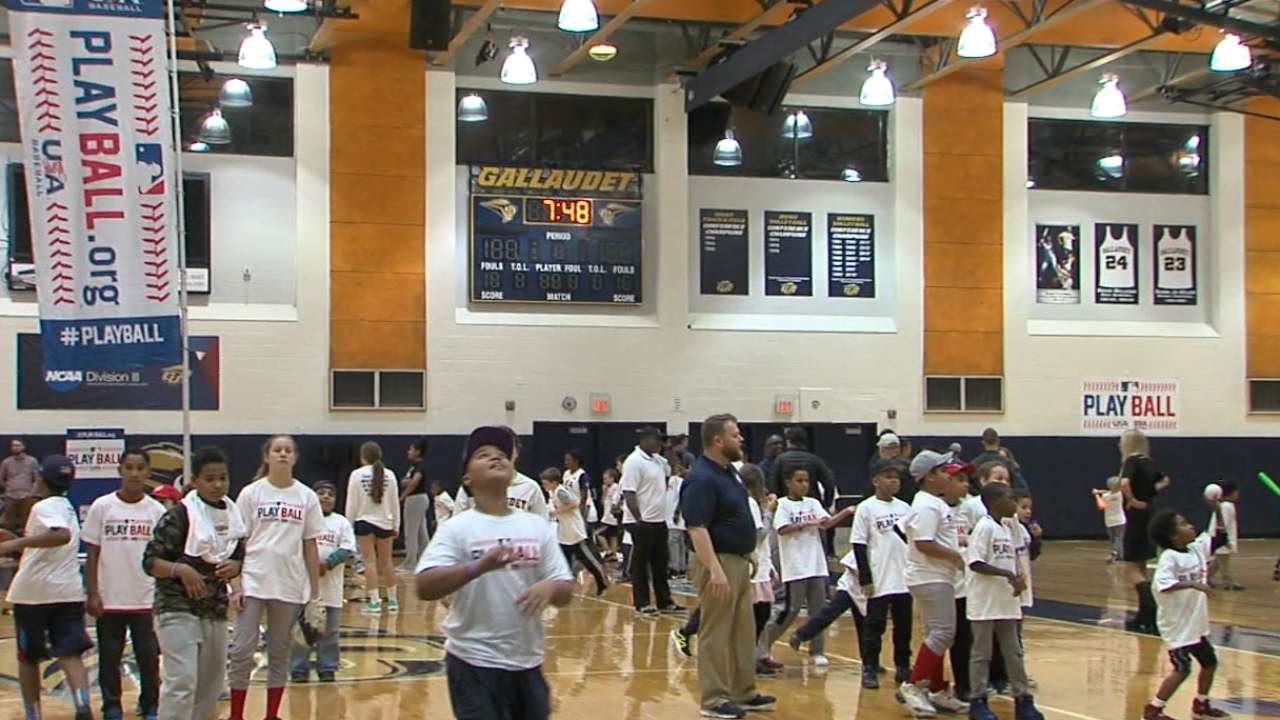 Baseball Industry Network Meet-Up
The Baseball Industry Network was open to individuals working in and/or connected to the baseball industry, and included professionals at the Major and Minor League level, agents, baseball writers and bloggers, baseball-related manufacturers and equipment companies, current and former professional players and more. The event provided an opportunity for continued networking, developing mentoring relationships and sharing best practices.
MLB Careers HR session
Attendees had a networking and learning opportunity and heard from the MLB talent acquisition team about the summer internship program, requested skill sets for employment and resume tips.
Sustainability Presentation to club public relations directors
Director of ballpark operations and sustainability Paul Hanlon delivered a presentation on greening and sustainability efforts across the league.
Topics included an overview of current efforts, such as the All-Star Game, World Series and the Green Sports Alliance, in addition to media coverage examples and opportunities, as well as industry best practices and strategies for 2017.
Supplier Diversity Summit Panel
MLB senior director of diversity and strategic alliances Corey Smith hosted a panel on MLB and club supplier and procurement practices. The panel included representatives from minority and women-owned businesses who have a vendor relationship with Major League Baseball.
Supplier Diversity speed rounds
Following the Supplier Diversity Summit Panel, current and potential suppliers met with club and league office personnel to assess opportunities in an informal, quick-tempo, information-gathering setting.
The session included speed rounds between vendors and clubs, where vendors could introduce themselves and give a quick pitch on who they are and how they want to do business. Approximately 100 attendees from 50 vendors participated.
Supplier Summit event
This event celebrated the success of MLB's diverse suppliers and provide an opportunity for networking.
Alyson Footer is a national correspondent for MLB.com. Follow her on Twitter @alysonfooter. This story was not subject to the approval of Major League Baseball or its clubs.