All eyes to be on McCutchen at PirateFest
Annual two-day event runs noon-7 p.m. Saturday, noon-4 p.m. Sunday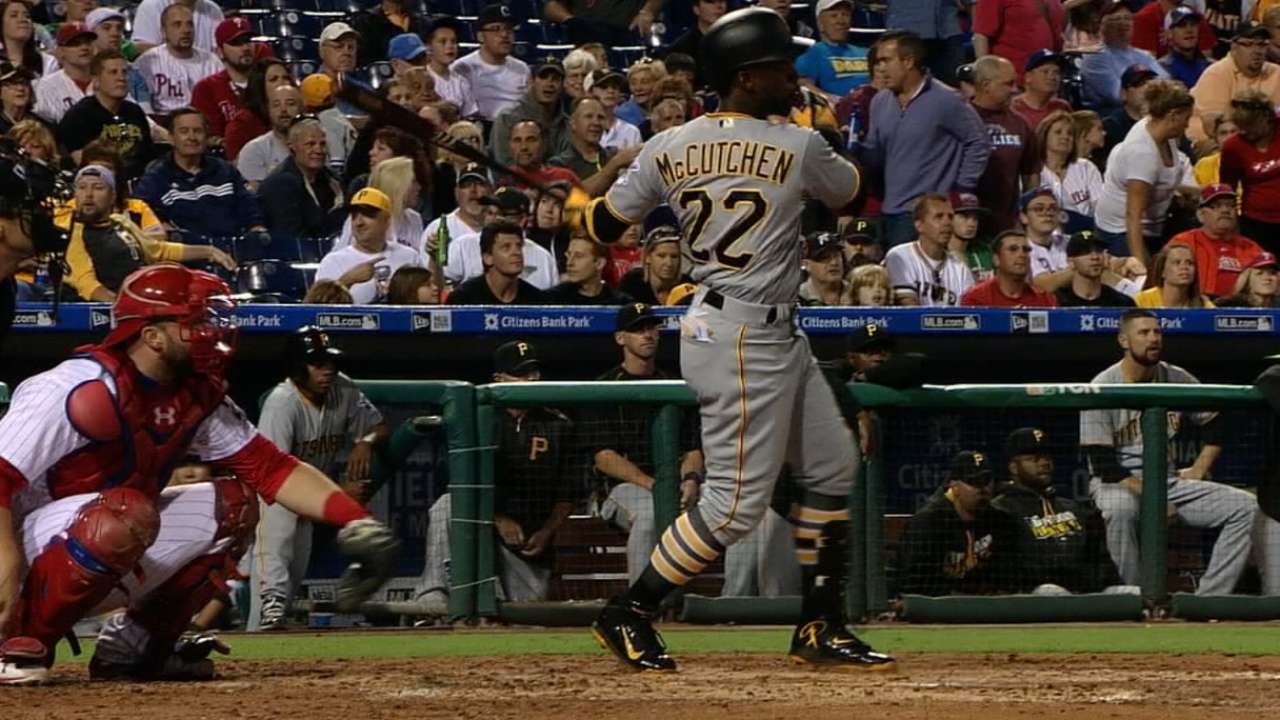 PITTSBURGH -- The 27th annual PirateFest is set to begin today, and after a busy week of trade rumors, all eyes will be on Andrew McCutchen.
McCutchen is among the large contingent of players and coaches scheduled to appear at the David L. Lawrence Convention Center during the two-day event. This year's PirateFest will begin with a season-ticket holder event from 10 a.m.-noon ET today then opens to the public from noon until 7 p.m. Season-ticket holders can return from 10 a.m.-noon on Sunday, with the general public hours running from noon to 4 p.m.
The weekend will include all kinds of activities, autograph sessions, games, prizes and opportunities to interact with Pirates players and coaches. The full schedule and more information are available at pirates.com/piratefest.
There will be a bit of intrigue at this year's event, as McCutchen is slated to attend after being the subject of a month's worth of trade speculation that called into question his future in Pittsburgh. But McCutchen is still a Pirate, and general manager Neal Huntington said that's "unlikely" to change before Opening Day.
How will McCutchen handle the questions about the idea that he was available in trade talks? More interesting will be fans' reaction to the front office, specifically in the open "Ask Pirates Management" question-and-answer session with Huntington, president Frank Coonelly and manager Clint Hurdle.
The front office didn't reach out to McCutchen to keep him posted on every rumor over the last month -- "We would have had to be on the phone with him every three or four minutes," Huntington quipped -- but the GM was planning to speak with his franchise player some time before the doors open on Saturday morning.
"We'll talk with him and share with him what I've shared with [the media]: We like him a lot. He's been a core part of our success. We anticipate him being a core part of our success going forward," Huntington said on Thursday as the Winter Meetings came to a close. "There are realities of the game. As players near free agency, organizations have a choice to make. Do they get current and future contributions for hopefully many more years, or do you hold?
"In this situation, we held a very, very good player that's been a big part of our past and has a great chance to be a big part of our future and present."
The organization's past, present and future will be represented at PirateFest. A number of Pirates alumni will sign autographs, including Dave Parker, Bill Mazeroski, Jack Wilson, Kevin Young, Doug Drabek and Kent Tekulve. The coaching staff will interact with fans and give tips in the PirateFest batting cages. Several key prospects in Pittsburgh's long-term plans will be on hand, including Tyler Glasnow, Josh Bell and Nick Kingham.
Among the other players scheduled to attend: Gerrit Cole, Tony Watson, Jordy Mercer, John Jaso, Chris Stewart, David Freese, Felipe Rivero, Adam Frazier, Trevor Williams, Steven Brault, Drew Hutchison and Chris Bostick. And, of course, McCutchen.
Adam Berry has covered the Pirates for MLB.com since 2015. Follow him on Twitter and Facebook, read his blog and listen to his podcast. This story was not subject to the approval of Major League Baseball or its clubs.